2020 Vitus Sommet: Everything you need to know
2020 Vitus Sommet: Everything you need to know
Vitus mountain bikes give you serious bang for your buck. They are priced very competitively and have components that you would find on much more expensive bikes. The 2020 Vitus Sommet is an enduro mountain bike offering great capability and more accessibility. Here is my rundown of the 2020 Vitus Sommet to help you decide if it is the bike for you.
The Vitus Sommet is a long travel enduro bike, so if you are the type of person that likes to ride more technical trails, but doesn't want to spend premium brand money, this could be the bike for you. If you can, you should opt for the VR version, as the components are much better than the base level bike. However, if the base version is all you can stretch to, it is a good platform to add upgrades later on.
The 2020 Vitus Sommet has had some upgrades since the 2019 version. Components have been updated and they now how much better quality suspension components, after complaints of poor quality from the Manitou Mattock Comp fork on the previous base model.
Depending on which version of the bike you buy, you get between 160mm and 170mm of travel on the forks from either Manitou, RockShox or Fox.
Most versions have 27.5″ and 29″ wheeled options to suit your personal preferences. The base model has a 1X10 Deore drivetrain, while all the others have 1X12 from Shimano and SRAM.
Some nice features that are worth mentioning are the threaded bottom bracket, for ease of maintenance and the neatly positioned cable routing under the down tube. The cable routing is protected by a plastic guard.
As I said above, if you can, try to buy the VR version (unless you are looking at the much higher end versions). The extra cash will give you an extra 10mm of travel on the fork and an SX Eagle 12 speed drivetrain, which will make climbing much easier. You will also get much more powerful brakes in the form of the SRAM Guide RE, which you will find on electric and higher end enduro bikes.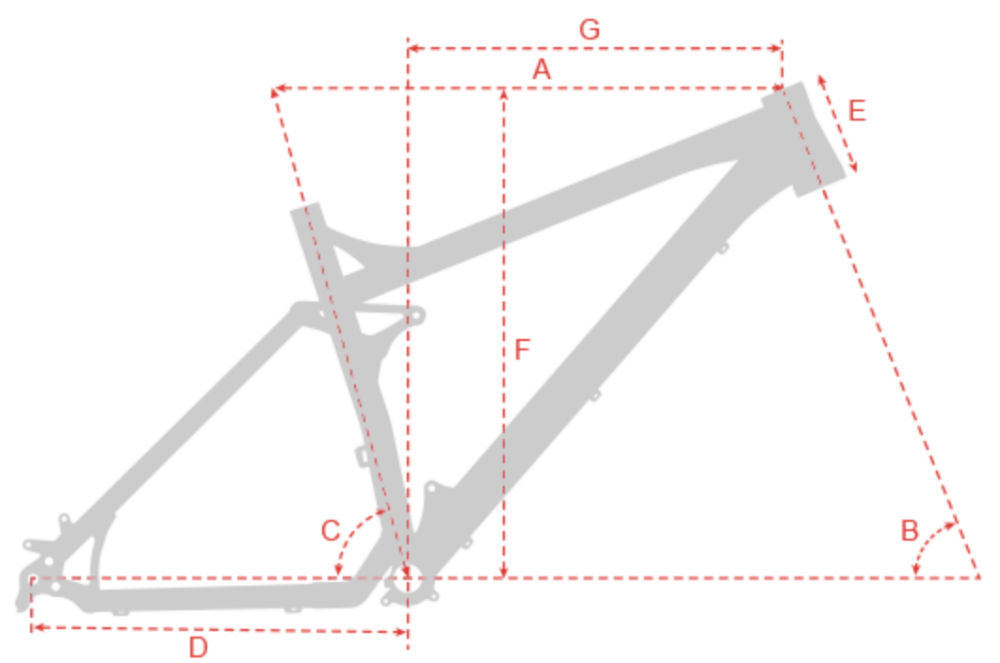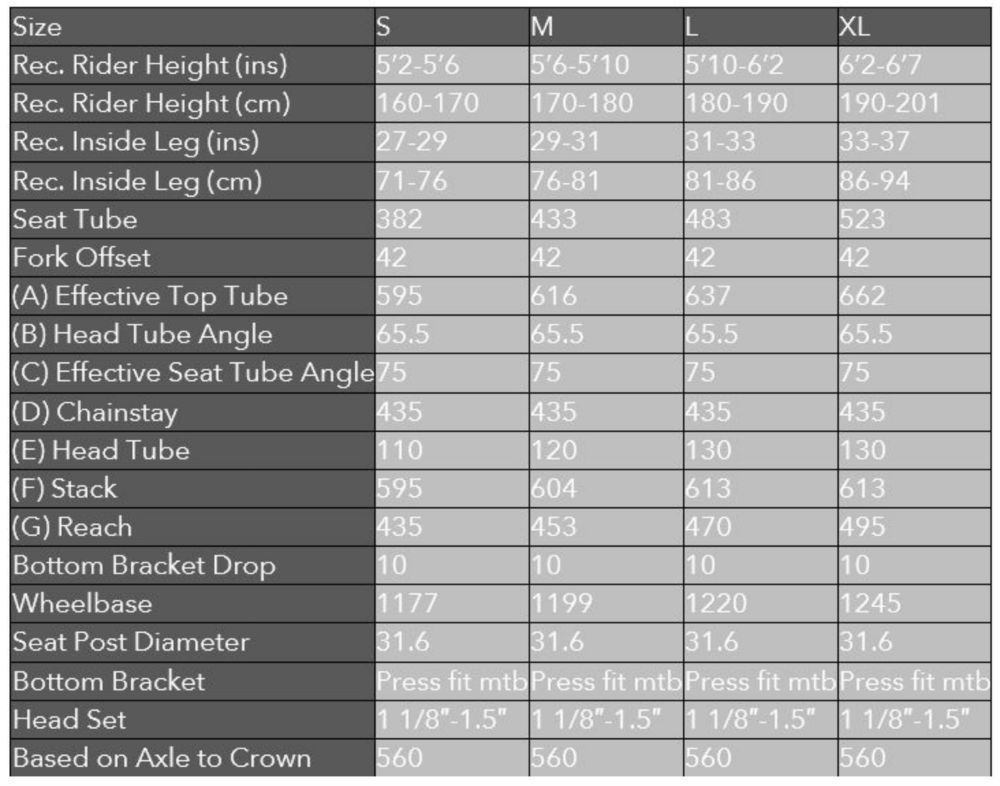 The geometry give the Vitus Sommet a well balanced ride. Climbing is a bit less efficient thanks to the relatively slack seat post angle, therefore the 12 speed versions are worth looking in to.
This is a bike that feels more at home on more technical terrain. it is lots of fun on downhills and is very responsive on technical trails. This is partly thanks to the supple feel and progressiveness of the shock.
The base level MT501 Shimano brakes are reliable, but not particularly powerful. Therefore, if you tend to ride lots of downhill trails at top speed, you should opt for the VR or be prepared to upgrade them later on. However, you do have to remember this is an enduro mountain bike that starts at £1,799/$1,999. This is an excellent price and if it allows you to ride the terrain you want to ride, it shouldn't be sniffed at. The base level bike is a great platform to add upgrades to it as you feel like it and can afford it.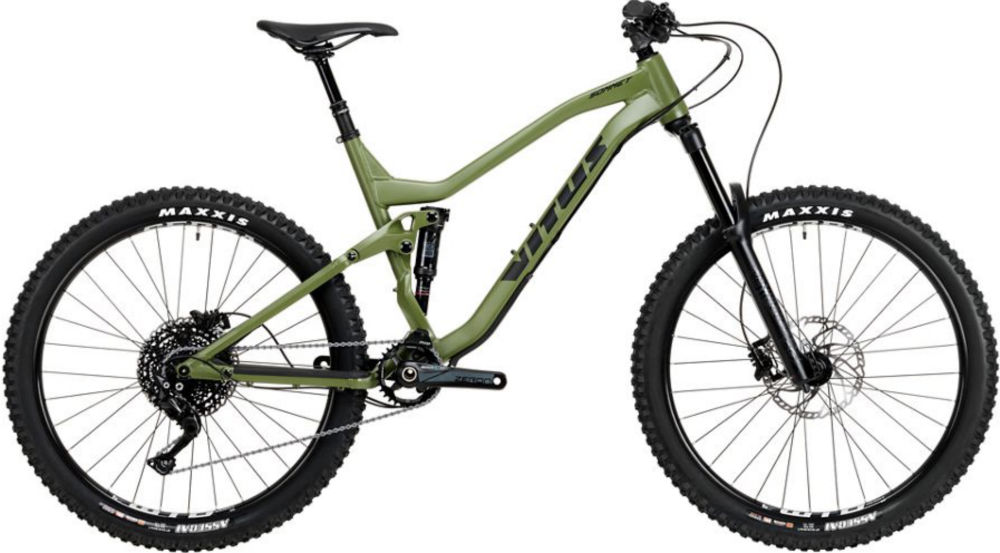 Frame: Sommet 27″ full suspension frame, 6061 Alloy, 160mm travel
 
Forks: RockShox 35 Gold, 27.5″, 160mm, travel, Maxle Stealth, Boost 15x110mm, DebonAir spring, 44mm offset
 
Rear Shock: RockShox Deluxe Select R, 205×62.5mm, DebonAir spring, 2 tokens, Trunnion mount, 22x8mm
 
Brakes: Shimano MT501, resin pads without fin, 203mm rotors
 
Shifter: Shimano Deore SL-M6000-IR, 10 speed, Rapidfire, I-Spec II
 
Front Derailleur: N/A
 
Rear Derailleur: Shimano RD-M6000, GS, Shadow Plus
 
Cassette: Sunrace CSMS2, 11-46T
 
Chainset: SR Suntour Zeron, 32T, 170mm, GXP, 68/73mm, 53mm Boost
 
Chain: KMC e10S, EPT, anti-rust
 
Rims: WTB Serra i29, 27.5″, 29mm inner rim width
 
Front Hub: WTB Serra i29, Boost 110x15mm, 6-bolt, disc
 
Rear Hub: WTB Serra i29, Boost 148x12mm, 6-bolt, disc
 
Tyres: Front: Maxxis Assegai, 27.5×2.5″, 3C MaxxTerra, EXO+, TR; Rear: Maxxis Assegai, 27.5×2.5″, 3C MaxxTerra, EXO+, TR
 
Saddle: Nukeproof Neutron
 
Seatpost: Brand X Ascend, 31.6mm, left hand remote lever
 
Seat Clamp: Vitus, 34.9mm diameter, quick-release lever
 
Stem: Vitus, 50mm, 31.8mm diameter 3° rise, stack 45mm
 
Bars: Nukeproof Neutron, 25mm rise, 31.8mm diameter
 
Headset: Acros, zero stack 44/56mm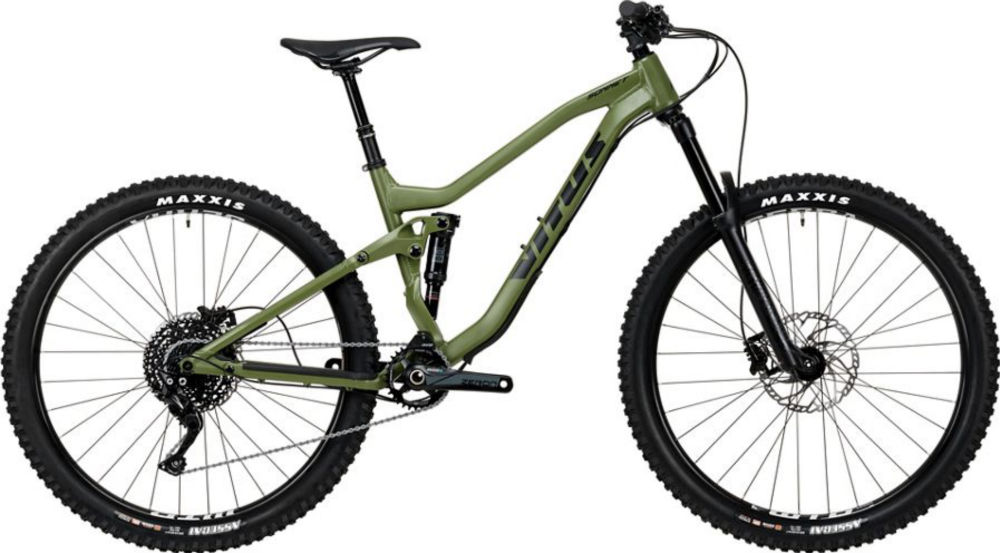 Frame: Sommet 29″ full suspension frame, 6061 Alloy, 160mm travel
Forks: RockShox 35 Gold, 29″, 160mm travel, Maxle Stealth, Boost 15x110mm, DebonAir spring, 44mm offset
Rear Shock: RockShox Deluxe Select R, 205×62.5mm, DebonAir spring, 2 tokens, Trunnion mount, 22x8mm
Brakes: Shimano MT501, resin pads without fin, 203mm rotors
Shifter: Shimano Deore SL-M6000-IR, 10 speed, Rapidfire, I-Spec II
Front Derailleur: N/A
Rear Derailleur: Shimano RD-M6000, GS, Shadow Plus
Cassette: Sunrace CSMS2, 11-46T
Chainset: SR Suntour Zeron, 32T, 170mm, GXP, 68/73mm, 53mm Boost
Chain: KMC e10S, EPT, anti-rust
Rims: WTB Serra i29, 29″, 29mm inner rim width
Front Hub: WTB Serra i29, Boost 110x15mm, 6-bolt, disc
Rear Hub: WTB Serra i29, Boost 148x12mm, 6-bolt, disc
Tyres: Front: Maxxis Assegai, 29×2.5″, 3C MaxxTerra, EXO+, TR; Rear: Maxxis Assegai, 29×2.5″, 3C MaxxTerra, EXO+, TR
Saddle: Nukeproof Neutron
Seatpost: Brand X Ascend, 31.6mm, left hand remote lever
Seat Clamp: Vitus, 34.9mm diameter, quick-release lever
Stem: Vitus, 50mm, 31.8mm diameter 3° rise, stack 45mm
Bars: Nukeproof Neutron, 25mm rise, 31.8mm diameter
Headset: Acros, zero stack 44/56mm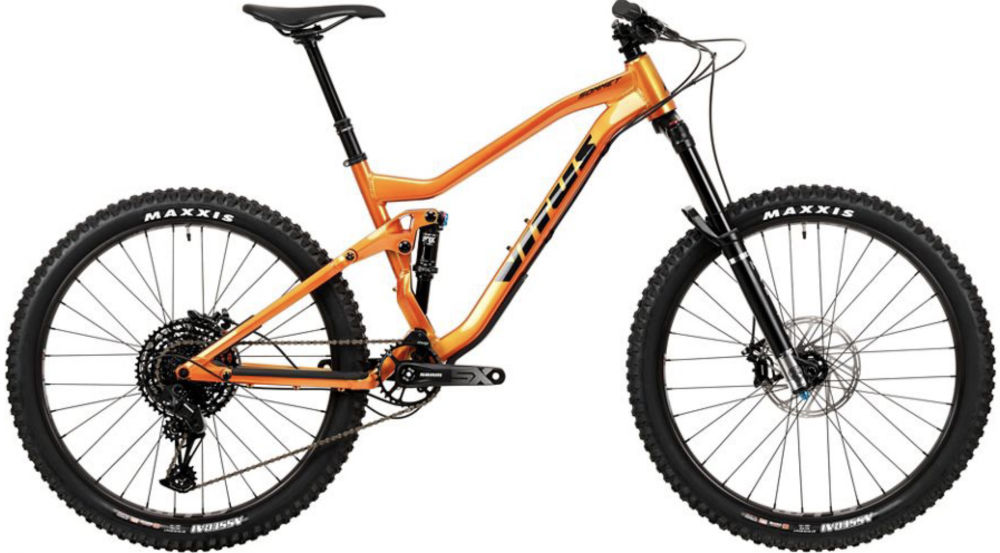 Frame: Sommet 27.5″ full suspension frame, 6061 Alloy, Boost, 160mm travel
Forks: Manitou Mezzer Pro, 27.5″, Boost, 170mm, MC2 damper (HSC/LSC/LSR adjust), 44mm offset, Dorado Air Spring with IRT
Rear Shock: Fox Float DPS Performance, 3-position lever, Trunnion mount, EVOL LV air spring, 205×62.5mm, 0.4 spacer, custom tune
Brakes: SRAM Guide RE, 200mm Centerline rotors
Shifter: SRAM SX Eagle
Front Derailleur: N/A
Rear Derailleur: SRAM SX Eagle
Cassette: SRAM SX Eagle PG1210, 11-50T
Chainset: SRAM SX Eagle, Boost 148 DUB, 170mm, 32T
Chain: SRAM SX Eagle
Rims: WTB ST Light i30, TCS 2.0, 27.5″, 30mm inner rim width, sleeved, 32H
Front Hub: Vitus DHF112, Boost 15x110mm, double sealed bearings, 32H, 6-bolt
Rear Hub: Vitus M5ER, Boost 12x148mm, double sealed bearings, 32H, 6-bolt
Tyres: Front: Maxxis Assegai, 27.5×2.5″, 3C MaxxTerra, EXO+, TR; Rear: Maxxis Assegai, 27.5×2.5″, 3C MaxxTerra, EXO+, TR
Saddle: Nukeproof Neutron
Seatpost: Brand X Ascend, 31.6mm, left hand remote lever
Seat Clamp: Vitus, 34.9mm diameter, quick-release lever
Stem: Nukeproof Neutron, 45mm, 31.8mm diameter, 0° rise
Bars: Nukeproof Horizon, AL7050 Aluminium, 25mm rise, backsweep 9°, upsweep 6°, 31.8mm diameter
Headset: Acros, zero stack 44/56mm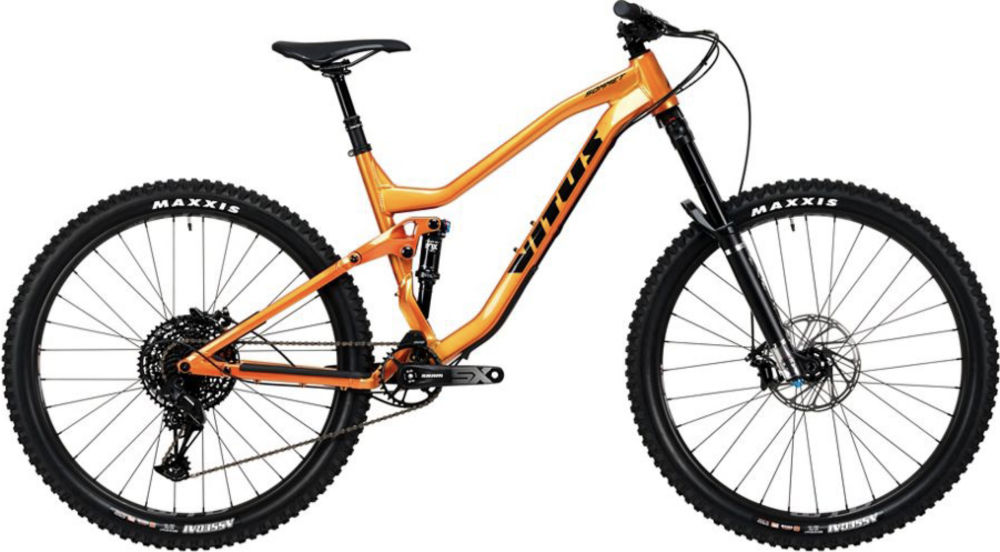 Frame: Sommet 29″ full suspension frame, 6061 Alloy, Boost, 160mm travel
Forks: Manitou Mezzer Pro, 29″, Boost, 170mm, MC2 damper (HSC/LSC/LSR adjust), 44mm offset, Dorado Air Spring with IRT
Rear Shock: Fox Float DPS Performance, 3-position lever, Trunnion mount, EVOL LV air spring, 205×62.5mm, 0.4 spacer, custom tune
Brakes: SRAM Guide RE, 200mm Centerline rotors
Shifter: SRAM SX Eagle
Front Derailleur: N/A
Rear Derailleur: SRAM SX Eagle
Cassette: SRAM SX Eagle PG1210, 10-50T
Chainset: SRAM SX Eagle, Boost 148 DUB, 170mm, 32T
Chain: SRAM SX Eagle
Rims: WTB ST Light i30, TCS 2.0, 29″, 30mm inner rim width, sleeved, 32H
Front Hub: Vitus DHF112, Boost 15x110mm, double sealed bearings, 32H, 6-bolt
Rear Hub: Vitus M5ER, Boost 12x148mm, double sealed bearings, 32H, 6-bolt
Tyres: Front: Maxxis Assegai, 29×2.5″, 3C MaxxTerra, EXO+, TR; Rear: Maxxis Assegai, 29×2.5″, 3C MaxxTerra, EXO+, TR
Saddle: Nukeproof Neutron
Seatpost: Brand X Ascend, 31.6mm, left hand remote lever
Seat Clamp: Vitus, 34.9mm diameter, quick-release lever
Stem: Nukeproof Neutron, 45mm, 31.8mm diameter, 0° rise
Bars: Nukeproof Horizon, AL7050 Aluminium, 25mm rise, backsweep 9°, upsweep 6°, 31.8mm diameter
Headset: Acros, zero stack 44/56mm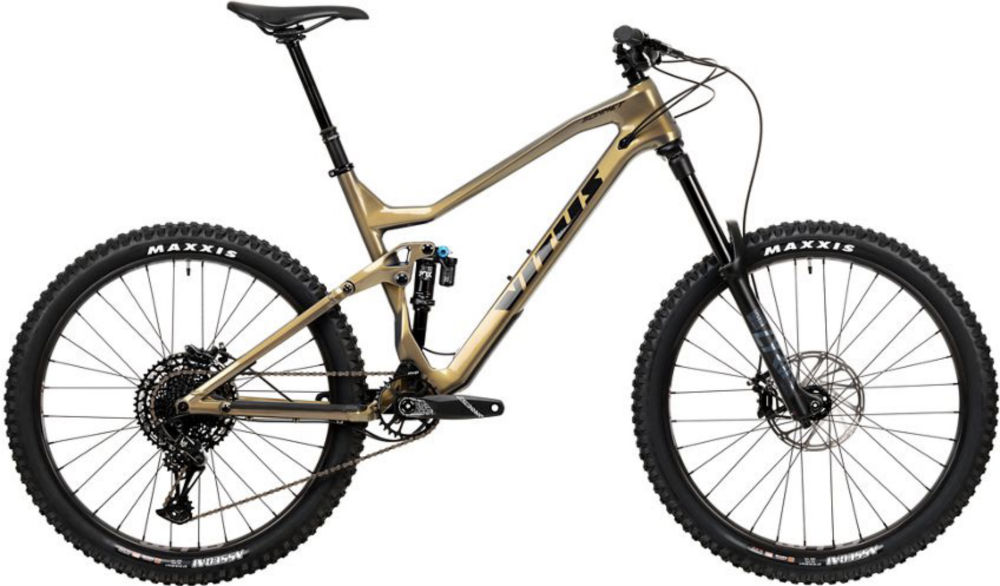 Frame: Sommet 27.5″ full suspension frame, Carbon front triangle, 6061 Alloy rear, 160mm travel
Forks: RockShox Lyric Select Charger RC, 27.5″, Maxle Stealth, Boost 15x110mm, DebonAir spring, 37mm offset, tapered, C2
Rear Shock: Fox Float DPX2 Performance, 3-position lever, Trunnion mount, EVOL LV air spring, 205×62.5mm, 0.6 spacer, custom tune
Brakes: SRAM Guide RE, 200mm Centerline rotors
Shifter: Shimano Deore SL-M6000-IR, 10 speed, Rapidfire, I-Spec II
Front Derailleur: N/A
Rear Derailleur: SRAM NX Eagle
Cassette: SRAM NX Eagle PG1230, 11-50T
Chainset: SRAM Descendent Eagle, Boost 148 DUB, 170mm, 32T
Chain: SRAM SX Eagle
Rims: WTB ST Light i30, TCS 2.0, 27.5″, 30mm inner rim width, sleeved, 32H
Front Hub: Vitus DHF112, Boost 15x148mm, double sealed bearings, 32H, 6-bolt
Rear Hub: Vitus M5ER, Boost 12x148mm, double sealed bearings, 32H, 6-bolt
Tyres: Front: Maxxis Assegai, 27.5×2.5″, 3C MaxxTerra, EXO+, TR; Rear: Maxxis Assegai, 27.5×2.5″, 3C MaxxTerra, EXO+, TR
Saddle: Nukeproof Neutron
Seatpost: Brand X Ascend, 31.6mm, left hand remote lever
Seat Clamp: Vitus, 34.9mm diameter, quick-release lever
Stem: Nukeproof Neutron, 31.8mm diameter 0° rise, 45mm
Bars: Nukeproof Horizon, AL7050, 25mm rise, backsweep 9°, upsweep 6°, 31.8mm diameter
Headset: Acros, zero stack 44/56mm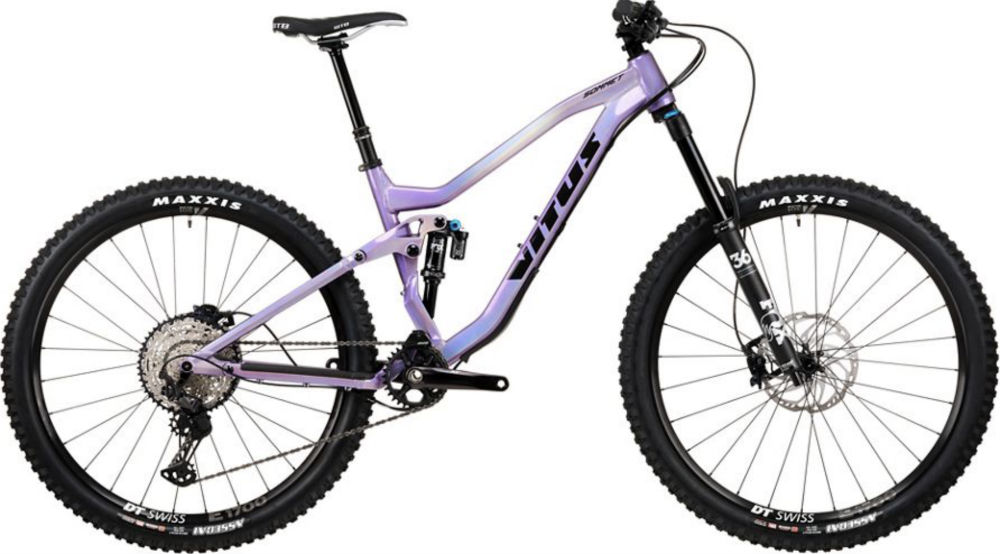 Frame: Sommet 29″ full suspension frame, 6061 Alloy, Boost, 160mm travel
Forks: Fox Float 36 Performance, 170mm, 29″, GRIP Damper, Kabolt 110, 44mm offset
Rear Shock: Fox Float DPX2 Performance, 3-position lever, Trunnion mount, EVOL LV air spring, 205×62.5mm, 0.6 spacer, custom tune
Brakes: Shimano SLX 7120, 4-piston, metal pads with fin, SM-RT70 203mm rotors
Shifter: Shimano SLX SL-M7000-IR, 12 speed, Rapidfire Plus, I-Spec EV
Front Derailleur: N/A
Rear Derailleur: Shimano XT RD-M8100, SGS, top normal, Shadow Plus
Cassette: Shimano SLX CS-M7100-12, 10-51T, Hyperglide+
Chainset: Shimano XT FC-M8100-1, Hollowtech II, 170mm, 32T, chainline 52mm
Chain: SRAM SLX CN-M7100
Rims: DT Swiss E1700 30, 29″, 30mm inner rim width
Front Hub: DT Swiss E1700 30, Boost, 15x110mm, Centerlock
Rear Hub: DT Swiss E1700 30, Boost, 12x148mm, Centerlock
Tyres: Front: Maxxis Assegai, 29×2.5″, 3C MaxxTerra, EXO+, TR; Rear: Maxxis Assegai, 29×2.5″, 3C MaxxTerra, EXO+, TR
Saddle: WTB Volt 142 Comp
Seatpost: Brand X Ascend, 31.6mm, left hand remote lever
Seat Clamp: Vitus, 34.9mm diameter, quick-release lever
Stem: Nukeproof Neutron, 45mm, 31.8mm diameter, 0° rise
Bars: Nukeproof Horizon, AL7050 Aluminium, 25mm rise, backsweep 9°, upsweep 6°, 31.8mm diameter
Headset: Acros, zero stack 44/56mm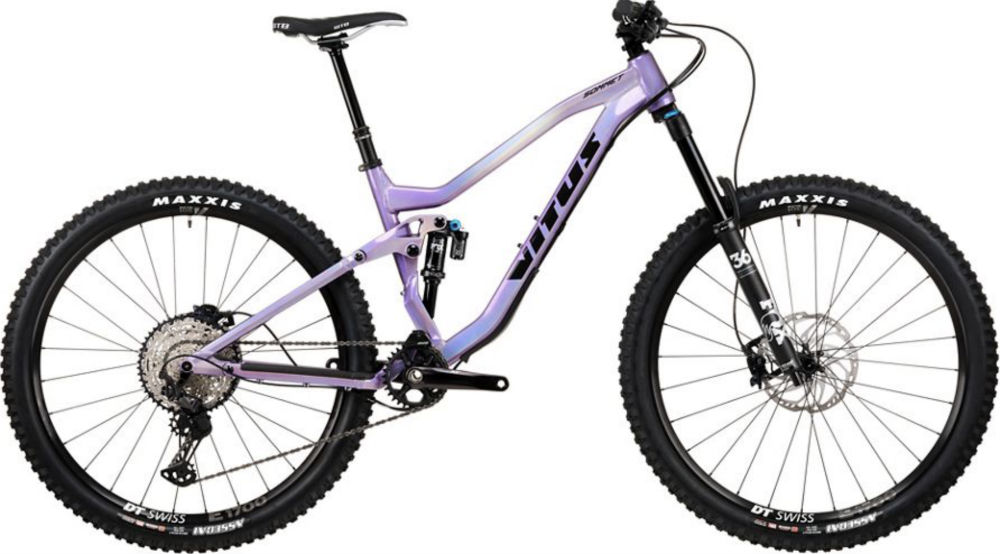 Frame: Sommet 27.5″ full suspension frame, Carbon front triangle, 6061 Alloy rear, 160mm travel
Forks: Fox Float 36 Performance, 27.5″, 170mm, GRIP damper, Kabolt 110, 44mm offset
Rear Shock: Fox Float DPX2 Performance, 3-position lever, Trunnion mount, EVOL LV air spring, 205×62.5mm, 0.6 spacer, custom tune
Brakes: Shimano SLX 7120, 4-piston, metal pad with fin, SM-RT70 203mm rotor
Shifter: Shimano SLX SL-M7100-IR, 12 speed, Rapidfire Plus, I-Spec EV
Front Derailleur: N/A
Rear Derailleur: Shimano XT RD-M8100, SGS, top normal, Shadow Plus
Cassette: Shimano SLX CS-M7100-12, 10-51T, Hyperglide+
Chainset: Shimano XT FC-M8100-1, Hollowtech II, 170mm length, 32T, chainline 52mm
Chain: Shimano SLX CN-M7100
Rims: DT Swiss E1700, 27.5″, 30mm inner rim width
Front Hub: DT Swiss E1700, Boost, 15x110mm, Centerlock
Rear Hub: DT Swiss E1700, Boost, 12x148mm, Centerlock
Tyres: Front: Maxxis Assegai, 27.5×2.5″, 3C MaxxTerra, EXO+, TR; Rear: Maxxis Assegai, 27.5×2.5″, 3C MaxxTerra, EXO+, TR
Saddle: WTB Volt 142 Comp
Seatpost: Brand X Ascend, 31.6mm, left hand remote lever
Seat Clamp: Vitus, 34.9mm diameter, quick-release lever
Stem: Nukeproof Neutron, 31.8mm diameter 0° rise, 45mm
Bars: Nukeproof Horizon, AL7050 Aluminium, 25mm rise, backsweep 9°, upsweep 6°, 31.8mm diameter
Headset: Acros, zero stack 44/56mm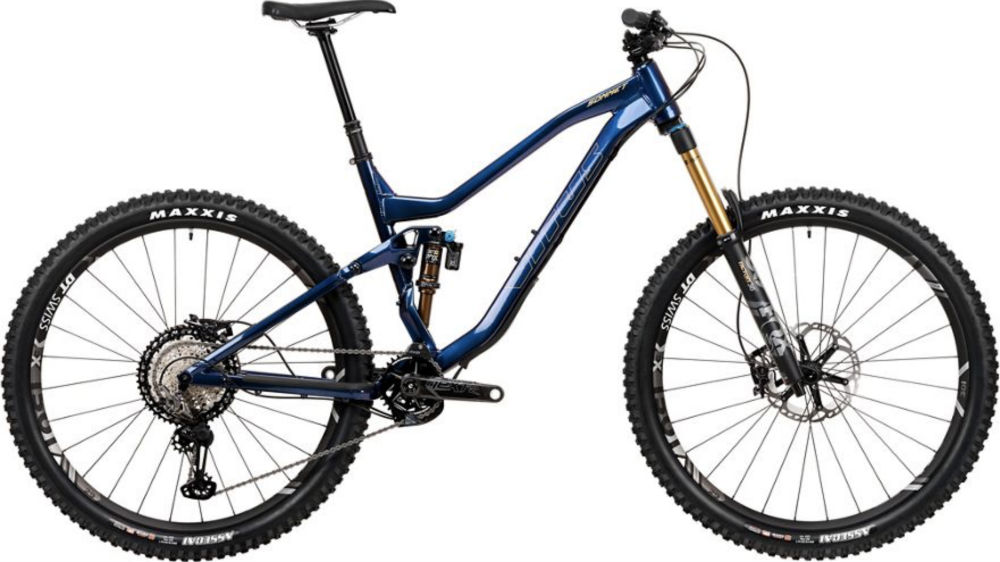 Frame: Sommet 29″ full suspension frame, 6061 Alloy, Boost, 160mm travel
Forks: Fox Float 36 Factory, 170mm, 29″, FIT GRIP 2 Damper, light compression tune, HSC/LSC/HSR/LSR adjusters, Kabolt 110, 44mm offset
Rear Shock: Fox Float DPX2 Factory, 3-position lever, Trunnion mount, EVOL LV air spring, 205×62.5mm, 0.6 spacer, custom tune
Brakes: Shimano XT M8120, 4-piston, metal pad with fin, MT800 203mm rotors
Shifter: Shimano XT SL-M8100-R, I-Spec EV, 12 speed
Front Derailleur: N/A
Rear Derailleur: Shimano XTR RD-M9100, Shadow Plus
Cassette: Shimano XT CS-M8100-12, 10-51T
Chainset: Race Face NEXT R, Carbon, 32T Shimano, 170mm
Chain: Shimano XT CN-M8100
Rims: EX1501 Spline 30, 29″, 30mm inner rim width
Front Hub: EX1501 Spline 30, Boost 110X15mm, Centerlock
Rear Hub: EX1501 Spine 30, Boost, 148x12mm, Centerlock, microspline
Tyres: Front: Maxxis Assegai, 29×2.5″, 3C MaxxTerra, EXO+, TR; Rear: Maxxis Assegai, 29×2.5″, 3C MaxxTerra, EXO+, TR
Saddle: WTB Volt 142 Race
Seatpost: Brand X Ascend, 31.6mm, left hand remote lever
Seat Clamp: Vitus, 34.9mm diameter, quick-release lever
Stem: Nukeproof Horizon, 50mm, 31.8mm diameter
Bars: Nukeproof Horizon, AL7050 Aluminium, 25mm rise, backsweep 9°, upsweep 6°, 31.8mm diameter
Headset: Acros, zero stack 44/56mm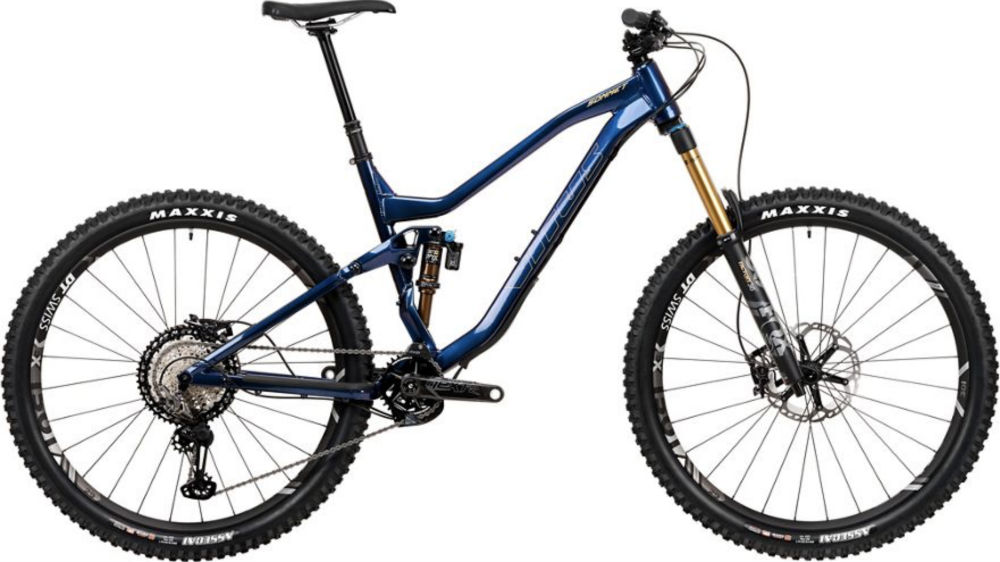 Frame: Sommet 27.5″ full suspension frame, Carbon front triangle, 6061 Alloy rear, 160mm travel
Forks: Fox Float 36 Factory, 27.5″, FIT GRIP 2, 170mm, light compresson tune, HSC/LSC/HSR/LSR adjusters, Kabolt 110, 44mm offset
Rear Shock: Fox Float DPX2 Factory, 3-position lever, Trunnion mount, EVOL LV air spring, 205×62.5mm, 0.6 spacer, custom tune
Brakes: Shimano XT M8120, 4-piston, metal pad with fin, MT800 203mm rotors
Shifter: Shimano XT SL-M8100-R, 12 speed, I-Spec EV
Front Derailleur: N/A
Rear Derailleur: Shimano XTR RD-M9100, Shadow Plus
Cassette: Shimano XT CS-M8100-12
Chainset: Race Face Next R, Carbon, 30T Shimano, 170mm length
Chain: Shimano XT CN-M8100
Rims: EX1501 Spline, 27.5″, 30mm inner rim width
Front Hub: EX1501 Spline, Boost 110x15mm, Centerlock
Rear Hub: EX1501 Spline, Boost, 148x12mm, Centerlock, microspline
Tyres: Front: Maxxis Assegai, 27.5×2.5″, 3C MaxxTerra, EXO+, TR; Rear: Maxxis Assegai, 27.5×2.5″, 3C MaxxTerra, EXO+, TR
Saddle: WTB Volt 142 Comp
Seatpost: Brand X Ascend, 31.6mm, left hand remote lever
Seat Clamp: Vitus, 34.9mm diameter, quick-release lever
Stem: Nukeproof Horizon, 50mm, 31.8mm diameter
Bars: Nukeproof Horizon, AL7050 Aluminium, 25mm rise, backsweep 9°, upsweep 6°, 31.8mm diameter
Headset: Acros, zero stack 44/56mm