Antinatüral MTB & MX Apparel: An alternative to the big brands
Working in the mountain bike world you come across some really cool brands. One that I have recently discovered is Antinatural. They offer riders something different to the usual big brands, and their clothing looks and performs just as well.
Who are Antinatural?
Antinatural is a british brand, focussed on race and race inspired mountain bike clothing. Their focus is freedom of movement and comfort. Additionally, their stuff looks great, which is what originally drew my attention to them. The jerseys are made by Antinatural in the UK out of Italian fabrics. Therefore, you can be assured the quality is top notch.
Who is Antinatural for?
Antinatural mountain bike clothing is for riders that fancy a change from the usual big brands, but don't want to compromise on performance or style.
The Antinatural Range
MTB Jerseys
The jerseys are all made from Dri-Ride fabric. This stuff has the all important moisture wicking properties that are needed to keep you comfortable on your ride. The fabric is also anti-bacterial, this means that it has been treated to keep those sweaty smells at bay.
One of the features I like about the long sleeve jersey is the Sanchez Sleeve. This is a micro fibre patch on the top of the sleeve, named after the "dirty sanchez" (google it, but not on your work's computer). It is designed to wipe away mud from your face and goggles while you are riding. They can also be custom printed for you.
Click here for more information on buying mountain bike jerseys
There are a few different cuts and styles to choose from:

The Large Mesh Jersey
This one is a well ventilated long sleeve jersey. Its large mesh fabric keeps you cool by allowing great airflow around your body. This makes it a great jersey for all types of riding.
[table id=75 /]
Use Promocode: TFORTUNE20
The Holeshot Jersey
The holeshot jersey also has large mesh ventilation fabric, but this one is designed more for racing. It's multi-panel design follows the contours of your body, for maximum comfort, freedom of movement and aerodynamics. This jersey also has a waterproof mobile phone pocket, so you can keep your strava going during the race.
The Holeshot comes in both long and short sleeve versions.
[table id=76 /]Use Promocode: TFORTUNE20
The ANTI Jersey
The Anti Jersey is a cool short sleeve jersey, and is great for all types of riding, but has a more enduro style to it. It is made from the Dri-Ride fabric, but it doesn't have the mesh ventilation, which may be more suitable for other riders.
It comes in five different colour combos.
[table id=77 /]
Use Promocode: TFORTUNE20
MTB Shorts
The ANTI shorts have a downhill style and made out of a light weight material. The material isn't just light, it is also very tough, which is what you need when you and your bike part company and you are skidding down the trail on your bum.
The multi-panel construction is designed to allow unrestricted movement. These shorts have a cargo pocket on each leg, which are very deep. One is zipped and one has velcro, to keep your belongings safe.
[table id=78 /]
Use Promocode: TFORTUNE20
Custom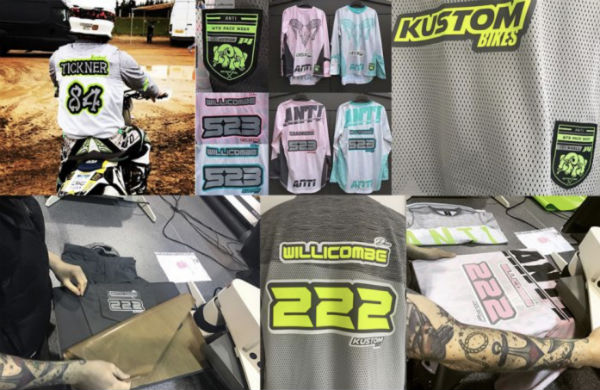 If you are the type of person that likes to be unique, or wants a particular racing livery on your jersey, Antinatural can create custom products to your own specification. This is also great for teams and clubs.
You can design your own or have their graphic designers create something for you.
Antinatural provide a huge list of customising options. Whether you just want your name and race number on the back, to custom tags and club badges. All of the designs are sublimated in to the fabric, this means that they will never fade or be scrubbed off during a crash.
What do you think?
Do you like Antinatüral mountain bike clothing? I think for the price of their products, you can get some great quality clothing for riding in, that is just a bit different. Keep an eye open for the 2019 range and  their new line of children clothing. Check them out at http://antinatural.co.uk.
Let me know what you think in the comment section below.