What Are The Best Flat Pedal Mountain Bike Shoes?
If you don't use proper flat pedal mountain bike shoes, you are missing a trick. They offer so much more grip than your normal trainers ever will. Their soles are made for the job of keeping your feet firmly on the pedals, even when the trail gets a bit bouncy. When I first got mine, I was very impressed and shocked at the amount of grip they give you. Here are some of the best flat pedal mountain bike shoes.
To really get the most out of riding without committing to clipping yourself to the pedals, a pair of paper flat pedal mountain bike shoes are a must. Flat pedal mountain bike shoes started to gain popularity in the early 2000s, thanks to the development of super sticky rubber soles. The shape and material of the sole gives you maximum contact with the pedals. Also, they became more popular when pro riders such as Sam Hill wore them for competition. This type of mountain bike shoe is usually quite flexible, this makes them more comfortable to walk in. The design of proper flat pedal mountain bike shoes, give your feet protection from stray rocks and impact protection for jumps. However, they don't provide amazing cycling efficiency, as opposed to shoes that clip to the pedals, as you can't pull up with the one foot while pressing down with the other. Also they are not as secure and are also generally heavier.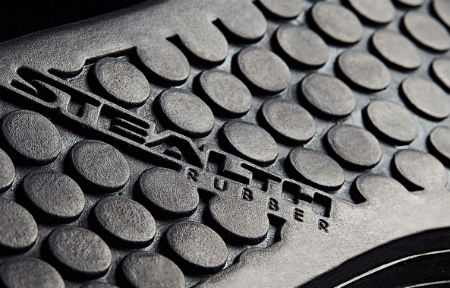 The soles of many of the best flat pedal mountain bike shoes are take their technology from climbing shoes. These developments give incredible amounts of grip. This gives you the security of being able to quickly dab a foot down if you need to too.
Do I Need Flat Pedal Mountain Bike Shoes?
Like most people, I started out mountain biking wearing old trainers, skate shoes, and even old hiking shoes. The hiking shoes gave me no feel of the pedals and the old trainers and skate shoes just got chewed up by the pedals and didn't really give me much grip.
I wouldn't say that a pair of flat pedal mountain bike shoes is essential, but once you have tried them, you will notice the advantages straight away. The first thing I noticed was the grip. Instead of slipping pedals and my feet floating in the air on jumps and bumps, I felt nice and secure. I ride in the French alps, so the terrain can get pretty technical and steep. Therefore, I am open to anything that helps me stay on the bike. 
Advantages of Flat Pedal Mountain Bike Shoes Over Skate Shoes
It is quite common that mountain bikers wear skate shoes or something similar to ride in. Therefore, I will compare flat pedal mountain bike shoes to skate shoes.
As I said before, flat pedal mountain bike shoes have way more grip than a pair of skate shoes. You will get on fine with a pair of normal shoes when you start mountain biking, but you will start to progress. This means you will be riding faster and taking on more technical terrain. This is when you will notice that the grip isn't quite good enough. 
The images above show the difference between the sole on a skate shoe and the sole of the Five Ten Freerider flat pedal mountain bike shoe. The skate shoe is designed to grip on to a skateboard's grip tape and the Five Ten Freerider's sole is designed to hold on to the pins of your flat mountain bike pedal. You can see quite a difference in the two designs. So, choosing a shoe designed for the job will do a much better job at keeping you secured to the pedals.
The best flat pedal mountain bike shoes also offer a certain level of protection. The toe box is designed to take impacts from rocks pinging up and hitting you on the toe and any other impacts you might get. They are made from tough material that prevents tree branches poking holes in your feet. Proper mountain bike shoes also absorb some of the force from impacts you get when jumping or taking drops. 
Riders like their flat pedal mountain bike shoes to have a certain amount of flex to them, not lots, but just enough. This is so there is a good balance between walking around and performance not he bike. They also require a certain level oaf grip when waling around on dirt. Skate shoes are very flexible and don't have much grip on loose mud.
Protection From The Elements
Skate shoes don't really protect your feet from the elements. Some mountain bike shoes are not completely waterproof, but they do offer more protection and comfort. Some are made from water resistant material and some have a neoprene collar to stop dirt getting in the top of the shoe. Depending where you ride, wet feet are a reality of mountain biking. But, if you can hold it off, the more comfortable  and less distracted you will be, which means more fun.
To Clip in or to Not Clip in?
For some, clipping in to your pedals is ideal. If you are considering buying clipless shoes (yes you clip in with lipless shoes), I recommend that you use them on familiar trails first and practice getting your feet in and out  before you go. When I used lipless pedals, all my falls were slow speed elbow bangers, were I couldn't get my feet out in time. So, set them as loose as possible at first.  There are some advantages and disadvantages to clipping in.
No chance of slipping a pedal
Can ride faster as you are more secure on rough terrain
Pedalling is easier, as you can pull and push with opposite feet.
More control when you get used to them
More protection from impacts
Disadvantages of Clipless
Scary to start off with
Difficult to dab a foot down when you need to
More expensive to buy
More difficult to walk around in
Personally, I prefer flat pedal mountain bike shoes, but maybe one day I will go back to clipless pedals, I just haven't had the urge to do so yet.
The Best Flat Pedal Mountain Bike Shoes
Super comfy
Grippy
Look good
You can wear them off the bike with no problems
Can take a while to dry out. I have heard that some people have had quality issues (I have never had a problem).
These are my personal favourites. They are the comfiest trainers I have ever had and the grip is fantastic. Five Ten's background is in climbing shoes, and they have brought their Stealth Rubber soles to the mountain bike world. Not only does it give the grip we all need, it absorbs a lot more shock than your standard trainers ever would.
The Five Ten freerider is an all mountain shoe, meaning that it isn't too bulky and stiff, so it is suitable for all kinds of riding. It's construction allows you to walk around and ride in comfort. I have two pairs, one for riding and another for day to day wear.
There are different options available from Five Ten to cater for different riders needs. 
These shoes are not waterproof, but that has never bothered me. You are bound to get wet feet while mountain biking at some point. You can buy waterproof socks if you really want to stay dry. I recommend Sealskinz.
Easy to clean
Comfy
Lots of protection
It is not all about Five Ten though, there are a few alternative flat pedal mountain bike shoes. The Shimano GR7 is definitely one to check out. They offer superb grip, build quality and stiff soles. This will allow you to get the power down on to those pedals a bit more efficiently.
There is a good amount of protection too. This shoe has a neoprene ankle collar, which stops the majority of soil and grit getting in the top. The leather upper is designed to reduce water ingress, while the thicker molded toe will protect you from those nasty rock strikes.
I would recommend these to anyone that wants an all round flat pedal mountain bike shoe. They look pretty good and come in four cool colour ways.
Water resistant
High quality
Good grip
Sizing may not be perfect. If you are in between sizes, go for the larger option.
It's not a jacket….it's a shoe, and a very good one. The Giro Jacket II is a high quality shoe, that offers great comfort, grip and pedal feel. The upper is breathable to reduce sweaty foot syndrome, but it is also water resistant. It isn't completely waterproof, but water only gets in when it is super wet (but they do dry out pretty quickly
These flat pedal mountain bike shoes also have really good shock absorbing properties, thanks to the EVA cushioning in the mid sole and the Poron XRD (an open cell material) heel pad.
These shoes are built to last too, Giro have excellent build quality, so they should last you a long time.
Great comfort
Good on and off the bike
A bit different to the norm
If you fancy a change from the more common brands, Afton are worth a look. They won the design and innovation award in 2018 with the Keegan. It has something called a mono-directional shank, allowing extra stiffness to you pedaling, reduced vibration and enhanced power transfer. The sole offers excellent grip and it has a reinforced toe box, this obviously useful on the bike, but it also helps you walk around on the trails and climb up steep slopes.
They are super comfortable, with a snug fit. The venting means they are breathable, and the Anti-Microbial inner soles keep them fresh for longer.
Choose The Best Flat Pedal Mountain Bike Shoes!
These are all great products ranging from the old faithful (Five Tens) to the new kid on the block. To be honest you can't go wrong with any of these, so it is all down to personal taste.
If you are are a beginner to mountain biking don't worry too much about buying flat pedal mountain bike shoes. But, you may want to budget for a pair for when you get better.
Are there any alternatives you believe should be on this list? If so let me know in the comments below. Also, if you have any feedback for the site, you can email me at tom@mtb-threads.com.
Thanks for reading!