Being able to jump properly on a mountain bike is a great skill to have. It allows you to clear obstacles, gaps and is brilliant fun. When out on the trails, it isn't always the best environment to learn how to jump. There can be pressure from others around you, you may be tired from riding or just plain scared. However, you can now practice anywhere with portable mountain bike ramps. These are easy to get out of the garage and take wherever you want to practice. Here are my tips for buying mountain bike ramps.
First of all, to start jumping properly, you should get some theory down. I would love to prepare a video for you to show you how to jump. But, this GMBN video is way better than I could ever make, therefore, I recommend you give it a watch.
Blake certainly knows what he is talking about, but if you have a mountain bike ramp at home, you will be able to practice your jumps after work or school. This will give you a head start for when you hit the trails.
Types of Mountain Bike Ramps
There are a few different types of rams out there. But, you need to make sure that they will be able to withstand the weight of the rider and the bike smashing in to it.
Basic Mountain Bike Ramps
These ramps are made for kids! They are made from plastic and are primarily for skating and scooters. More expensive ones are advertised as being good for BMX bikes, therefore small kids may get away with using them on bikes.
As with anything, you get what you pay for, I would avoid the cheaper ones, as they are likely to crack. The key thing to look at with any of these ramps is the amount of weight they are designed to take. 
For example, the Rampage Single Mini Launch Ramp is designed to take 90kg including equipment. Where the Rampage Large Launch Ramp will take 100kg.
The shape of these mountain bike ramps is nice and progressive, without a big kick. Therefore, they will send you far rather than high.
Adults will not get away with using ramps of this kind on a mountain bike.
Proper Mountain Bike Ramps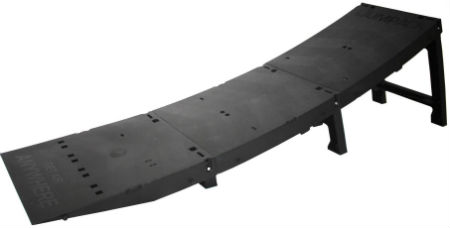 The weight of a mountain bike and its rider is a lot more than a kid on a micro scooter. Therefore, we need something a little more substantial. Luckily, there are some brilliant options for honing your jumping skills. There is a cost attached to them, but I have found some brilliant mountain bike ramps that you might be interested in.
The Jumpack 3 Piece Mountain Bike Ramp is a clever bit of kit. You can take it anywhere, as it folds up in to a backpack style carrier. This means you can ride with it to your local park or wherever, set it up and practice jumping.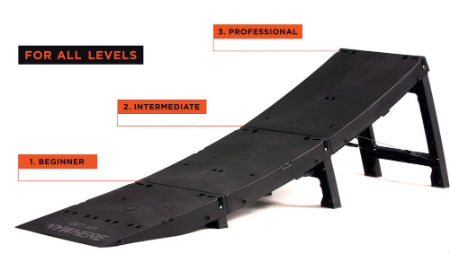 What I really like about this mountain bike ramp, is that you can adjust it to suit your jumping experience. You can vary its height by removing the sections with an Allen key, making it smaller. If you decide that you need more air, you can actually bolt on extensions to make it bigger.
This adjustability makes it very good value for money, as you will get more out of it as you progress. Additionally, friends and family of different skill levels will be able to use it.
Check out the video below. The guy is on a BMX, but it will work just as well for mountain bikers. You will notice that it doesn't slip, even when he it spinning off it. The feet are nice and grippy, but it is important to note that they only go one way. Therefore, the manufacturers don't recommend using it as a landing.
Deployment: Under 15 seconds
Riding Level: Beginner or Pro
Portability: Foldable, comes with custom backpack holster
Weight: 6kg
The MTB Hopper Lite, is a more expensive option. It is also a bit heavier at 10kg. This is a more substantial mountain bike ramp, with extra feet that are adjustable to cope with different surfaces.
This mountain bike ramp is also very portable. You carry it like a backpack, making it very easy to take to wherever you want to practice. You may not want to ride very far with it, but I like how portable it is. It even has reflective stickers on it for riding in low light.
The MTB Hopper Lite takes a bit longer to set up than the Jumpack, but it has more elements to it, in order to keep it level on uneven ground.
You can adjust the shape of this mountain bike ramp, depending on what you want to do with it. For example, you can give it more of a kick for height, or lower it for distance.
Check out the video of the Spanish dude below. He is pretty happy with it!
Deployment: A couple of minutes
Riding Level: Beginner or Pro
Portability: Foldable, can wear it like a backpack
Weight: 10kg
We are getting in to luxury ramp territory here. There is actually two ramps in this kit, with a table top. This is why it is more expensive than the others. You can't carry this one on your back due to its size. But it fits nicely in the boot of your car.

This mountain bike ramp is great for getting to grips with tabletops and gaps. It isn't just for experienced riders though, kids and beginners will be able to progress well with it, even if they are just rolling over it to start with. The MTB Hopper Coach can be modified to change its shape to suit all levels of rider. Its low height and roll down ramp is ideal for building confidence helping riders commit.
If you are serious about your skills and can stretch to nearly £700 for a mountain bike ramp, this would be excellent. It is used by mountain bike schools quite a lot to hone their student's skills. 
Deployment: A few minutes
Riding Level: Beginner or Pro
Portability: Foldable, can fit in the car
Weight: 40kg
These mountain bike ramps are pretty good. I would love the MTB Hopper Coach, but realistically I think that the Jumpack 3 Piece Ramp Kit would be a fantastic way to build up jumping skills. It is also cheaper than the MTB Hopper Lite. Therefore, I think it is probably the best value for money.
Unless you are buying for a small child, or for some light skating, I would avoid the cheap, basic ramps. They are just not strong enough for continuously smashing in to them with a mountain bike.
Let me know what you think of these mountain bike ramps in the comments section below.