The Santa Cruz Heckler has gone though several guises since its introduction in 2016, but for 2020, it came back as an ebike. The revisions the Santa Cruz Heckler ebike has gone through positions it perfectly within the Santa Cruz range.
Santa Cruz's first electric mountain bike uses a Shimano system with a STEPS M8000 motor, which is powered by a removable 504 Wh battery. It comes with the E7000 remote to control all the elctrics and you will find the the E7000 display on the less expensive R and S models, but the two higher-end models use the E8000 colour display. As you would hope for a bike of this price, it is pretty capable. Check out the video of Danny Macaskill putting it through its paces below.
The rear suspension is specially tuned to cope with the demands of riding electric mountain bikes off-road. The frame of the Santa Cruz Heckler ebike is the high-quality CC carbon fibre, which is proven to work extremely well on their high-end mountain bikes. Although, it does not feature the flip-chip that you will find on the Megatower or Hightower. Santa Cruz has developed special handlebars for the Heckler. It features ports for internally routed display and remote cables, keeping the cockpit nice and clean.

You also get a lifetime guarantee on the frame and bearings, giving you peace of mind when buying a pricy bike like this.

Unlike most mountain bikes on the market these days, you do not get a choice of wheel size. The Heckler rolls on 27.5" wheels front and rear, fitted with 2.6" wide MAXXIS tyres.
Santa Cruz has focused on how the Heckler performs on trails with its geometry. With a 465 mm reach for the large-sized version and a slack head angle of 65.5° and the 76° seat tube angle, the heckler is quite typical of modern mountain bikes, as is the 445mm chainstay length.

The 165 mm cranks will give you enough ground clearance for technical climbs. The long head tube measures in at 135 mm, which will give you good control even on steep descents.
Santa Cruz Heckler Ebike Models
There are four versions of the Santa Cruz Heckler ebike. The entry-level version is the CCR 27.5, which costs £6,765, the XX1 AXS RSV is the top of the range bike and features SRAM's wireless drivetrain. This bike will cost you £12,087 for the privilege.

Unfortunately, the Santa Cruz Di2 handlebar isn't available on their most affordable model, but you do get powerful four-piston brakes on all versions.

The two top-end versions of the Santa Cruz Heckler come with Santa Cruz's Reserve carbon wheels, with a downhill rim on the rear for extra durability.
Santa Cruz Heckler CC XX1 AXS RSV 27.5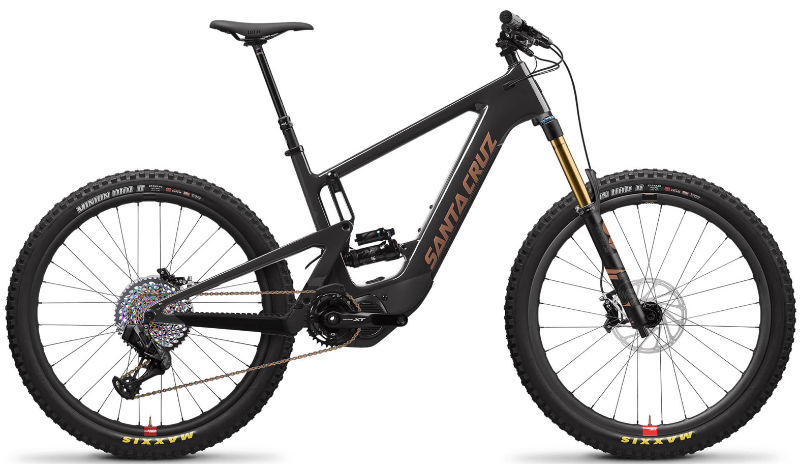 Frame Carbon CC 27.5 150mm Travel VPP™
Shock RockShox Super Deluxe Select Ultimate
Fork FOX 36-E Float Factory, 160mm, 27.5″
Brakes SRAM Code RSC
Drivetrain SRAM XX1 Eagle AXS, 12spd
Battery Shimano 504Wh Integrated
Motor Shimano DU-E8000
Display Shimano Display Unit E8000
Seatpost RockShox Reverb Stealth
Handlebar Santa Cruz Di2 Carbon, 25mm rise
Stem i9 A35
Rims Santa Cruz Reserve 30 V2 27.5″ Carbon Rims
Hubs i9 Hydra
Tires Maxxis Minion DHR II, 27.5×2.6 EXO+ TR
Santa Cruz Heckler CC X01 RSV 27.5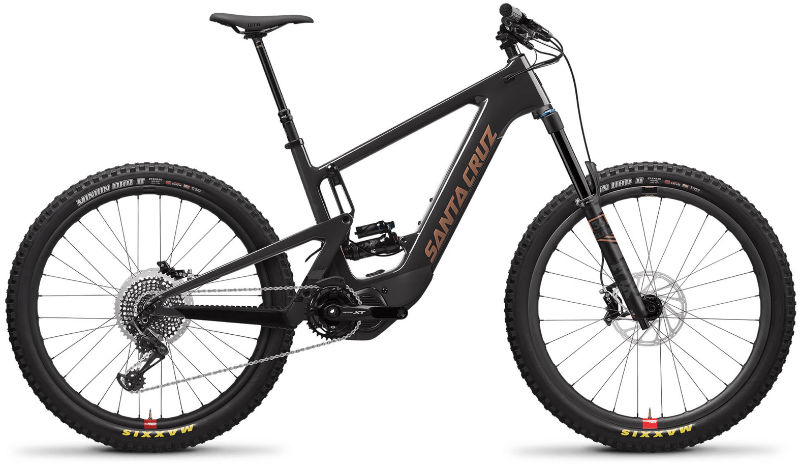 Frame Carbon CC 27.5 150mm Travel VPP™
Shock RockShox Super Deluxe Select Ultimate
Fork FOX 36-E Float Performance Elite, 160mm, 27.5″
Brakes SRAM Code RSC
Drivetrain SRAM X01 Eagle, 12 spd
Battery Shimano 504Wh Integrated
Motor Shimano DU-E8000
Display Shimano Display Unit E8000
Seatpost RockShox Reverb Stealth
Handlebar Santa Cruz Di2 Carbon, 25mm rise
Stem Race Face Aeffect R
Rims Santa Cruz Reserve 30 V2 27.5″ Carbon Rims
Hubs DT Swiss 350
Tires Maxxis Minion DHR II, 27.5×2.6 EXO+ TR
Santa Cruz Heckler CC S 27.5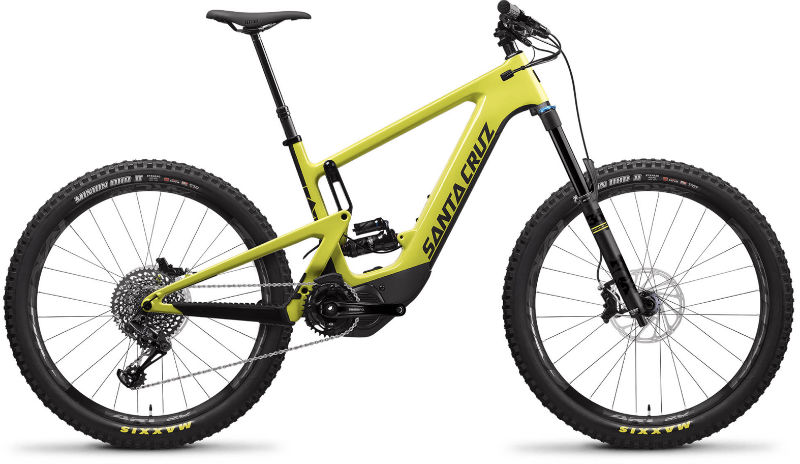 Frame Carbon CC 27.5 150mm Travel VPP™
Shock Rear Shock RockShox Super Deluxe Select+
Fork FOX 36-E Float Performance, 160mm, 27.5″
Brakes SRAM Code R
Drivetrain SRAM GX Eagle, 12spd
Battery Shimano 504Wh Integrated
Motor Shimano DU-E8000
Display Shimano Display Unit E7000
Seatpost RockShox Reverb Stealth
Handlebar Santa Cruz Di2 Carbon, 25mm rise
Stem Race Face Aeffect R
Rims RaceFace ARC HD 30 27.5″ Rims
Hubs DT Swiss 370
Tires Maxxis Minion DHR II, 27.5×2.6 EXO+ TR
Santa Cruz Heckler CC R 27.5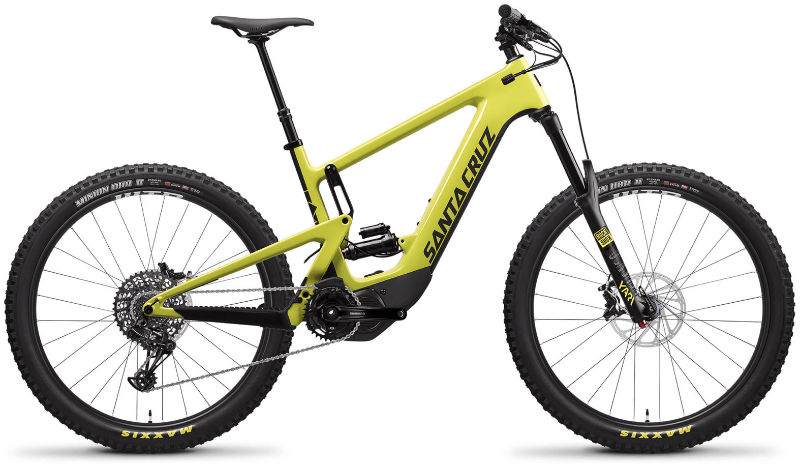 Frame Carbon CC 27.5 150mm Travel VPP™
Shock RockShox Super Deluxe Select
Fork RockShox Yari RC, 160mm, 27.5″
Brakes SRAM Guide RE
Drivetrain SRAM NX Eagle, 12spd
Battery Shimano 504Wh Integrated
Motor Shimano DU-E8000
Display Shimano Display Unit E7000
Seatpost Race Face Aeffect, 31.6
Handlebar Race Face Aeffect R
Stem Race Race Face Ride
Rims WTB ST i29 TCS 2.0 27.5″ Rims
Hubs SRAM MTH 746
Tires Maxxis Minion DHR II, 27.5×2.6 EXO+ TR