Best Mountain Biking Sunglasses
Mountain biking isn't much fun when you have mud and grit in your eyes. Also, when you are squinting when riding in to the sun, you can easily misjudge a jump, drop or unexpected feature on the trail. Therefore, you really should protect your eyes from nature. Here is my guide to buying the best mountain bike sunglasses and I will give you some great options.
What You Should Look For In The Best Mountain Bike Sunglasses
I am going to start with how mountain bike sunglasses cover your eyes. As you are barrelling along a trail your eyes are susceptible to mud, dust, wind and anything else you may encounter. Therefore you are better off choosing glasses that wrap around your face, rather than flatter ones. Glasses with good coverage will prevent anything getting in your eyes that would stop you riding to your best ability.
When it comes to wrap around mountain bike sunglasses, look at how well they are ventilated, as this will prevent them from fogging up when you are getting a bit sweaty on those tough climbs.
Comfort is really important when choosing mountain bike sunglasses. You need to make sure that they are designed to not interfere with your helmet. Glasses with even distribution of pressure either side of your head and on the bridge of your nose is essential. If you wear unbalanced glasses, you will have uncomfortable pressure points that will annoy you while riding.
Make Sure They Are Non-Slip
You are going to get sweaty on a ride and you really don't want your glasses slipping down your nose every few seconds. Therefore, make sure your mountain bike sunglasses have enough grips to stop this happening. Many come with rubberised material on the nose and arms. If they are quality glasses, they should still stay on your face even if you take a tumble. 
Polarised or Non-Polarised?
Polarised sunglasses filter out reflective glare. However, I wouldn't recommend buying polarised sunglasses for mountain biking. They are more expensive than non-polarised lenses and are more susceptible to scratches. But the main reason for not going for polarised lenses, is that they can affect your depth perception. This is not ideal when you are trying to judge your speed for a jump.
You should really choose a pair of mountain bike sunglasses with high contrast. This is because when riding in and out of forests, you ride through light and shady areas. Low contrast lenses make it difficult to pick the details out when the light changes. Personally, I prefer to use lenses that are a bit too light, rather than ones that are too dark, so I can see the rocks and roots on the trail in the shady parts.
If you can stretch to the extra cost, look for contrast enhancing lenses, such as Oakley Prizm. These make everything look like life is in HD, by increasing the contrast and filtering out harsh colours. This makes it easy for you to adapt to the trail and is much safer.
Photochromic lenses are also known as transition lenses. Mountain bikers can really benefit from this type of lens, as the level of darkness changes with the amount of light they are exposed to. They don't change instantly, so they won't suddenly be 100% light as soon as you ride in to the shade. But they are great for days when you are riding in different conditions. One of the advantages of transition lenses, is that you don't need to carry different pairs of glasses or keep swapping the lenses to suit the light conditions.
If you wear glasses to correct your eyesight, you should get prescription sunglasses for mountain biking too. This is obviously something you need to go to the optician's for, but they will be able to give you the best solution for you.
Things To Avoid With Mountain Bike Sunglasses
You really want to be able to ride your best whenever you are on your bike. You also want to be as safe as possible. There are a few things that will affect your performance when riding if you choose the wrong eyewear. 
Dark lenses – No prizes for guessing why you shouldn't go for super dark lenses. But, they prevent you from seeing some features and hazards, especially when you ride in to dense woodland. 
Glass or plastic lenses – These can shatter pretty easily, and I'm sure you realise why that isn't a good thing. Make sure that your lenses are polycarbonate.
Metal frames – You may think that metal frames are nice and strong. But you won't be saying that when you crash and the arm is sticking out of your cheek.
Some Of The Best Mountain Biking Sunglasses

No matter what sport you are doing, Oakley will make a pair of excellent sunglasses for it. And the chances are, they will be the best ones available. The Rider EV Advancer is one of those pairs of sunglasses. They are light, comfortable and they look great.
The EV range is probably the best selection of sunglasses Oakley make. These are the Advancer version, which has an adjustable nose piece that moves the frame and lens away from the face. This mens that you have less chance of fogging up.
What I like about the Oakley Radar mountain bike sunglasses, is that they are a bit more understated compared to other Oakley products. I also like the fact that they are easy to forget they are on your face. This is due to their comfort and fit. The comfort is helped by the very light weight. At just 29g, you barely notice that they are there. There are non pressure points around the nose, ears or the sides of the head, so you can wear them all day without feeling the pinch.
The lenses are the main feature of the Oakley Reader EV Advancer though. There are a few options available. The cheapest is the HDO lens, which comes in a variety of colours. The Prize lens is excellent and makes everything more vivid and look like an Instagram filter. This vividness is useful when spotting changes in the trail ahead.
As with any of Oakley's eyewear, you can buy replacement and alternative lenses for the Rider EV Advancer. They are super easy to swap too.
Advancer technology designed to instantly open airflow to combat fogging and overheating
Radar EV silhouette with a larger lens for extended coverage
Lightweight O-Matter material provides durability and all-day comfort
Unobtainium nosepads and temples increase grip
Plutonite lens construction
Look great
Secure fit
Very good lenses
Comfortable
Very comfortable, look great and perfect for all year round riding.
POC Do Half Blade Clarity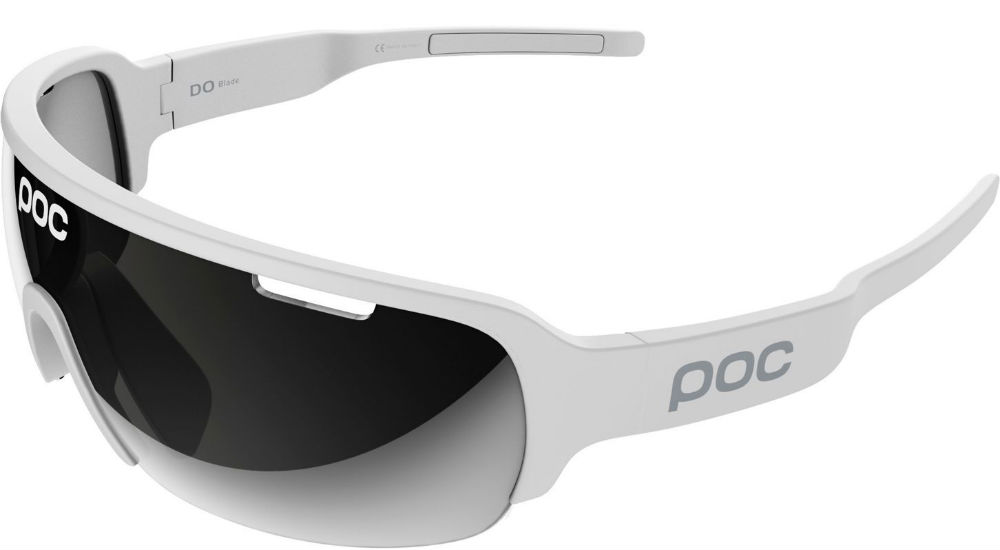 POC's design is pretty unique, some people may love it and others will hate it. But, whichever camp you are in, there is no denying that they are great for mountain biking. The POC Do Half Blade Clarity is based on the Do Blade Clarity, but the bottom half of the frame has been removed. This allows full field of view, top to bottom, so you can see the trail unobstructed.
The tall frame is ideal for a rider's tilted head position. The frame design makes it super easy to swap lenses for different conditions. The only slight disadvantage of the half frame, is that it is easy to scratch the lens if you drop them.
The lens gives you great clarity, but they are not quite up to Oakley's Prizm lens standard. The Ripel lens coating makes water bead up and roll off. This is better than the streaking you get from other lenses. It also makes them easy to clean.
The nosepiece and "ear socks" are adjustable and have a hydrophobic rubber material that repels water keeping them sitting on your face securely.
The air holes at the top of the lens allow good ventilation, which helps them de-mist very quickly.
Grilamid frame construction
Hydrophilic rubber coated inserts
Interchangeable lens system
Lens designed by Carl Zeiss Vision
Frameless bottom
Ripel lens coating
Anti-fog lens treatment
Great coverage
Easy to change lens
Ripel treatment works well
May not to be everyone's taste
Great coverage and great field of view. But, the aesthetics may not appeal to everyone.

The Smith Tempo Max has larger lenses than the standard Tempo, to give you more coverage. The lenses are easily changed to suit the conditions you are riding in. 
The frame is made from Grilamid TR90. This is a very lightweight and flexible material, that is very strong. This means that the frame is really tough and you will have to have a pretty serious crash to break it.
Even though the nose piece isn't adjustable like the Oakley and the POC glasses above, these glasses sit securely on your face. This is thanks to the metal coated nose pads, which repel moisture to prevent them from slipping down your nose.
The lightness of these glasses, along with the nose pads make the Smith Tempo Max very comfortable to wear.
The Smith Tempo Max are available in a number of colours and with different types of lenses.  Personally, I think they look great and are a bit more understated than many of the alternatives.
Medium fit and coverage
Auto-lock hinges
9-base lens curvature
Performance injected TR90 frame
Megol nose pads
Semi-rim construction
Interchangeable lenses
RX compatible
Comfortable 
Lightweight
Look great
Very comfortable with more understated looks than alternatives. 
dhb Triple Lens Sunglasses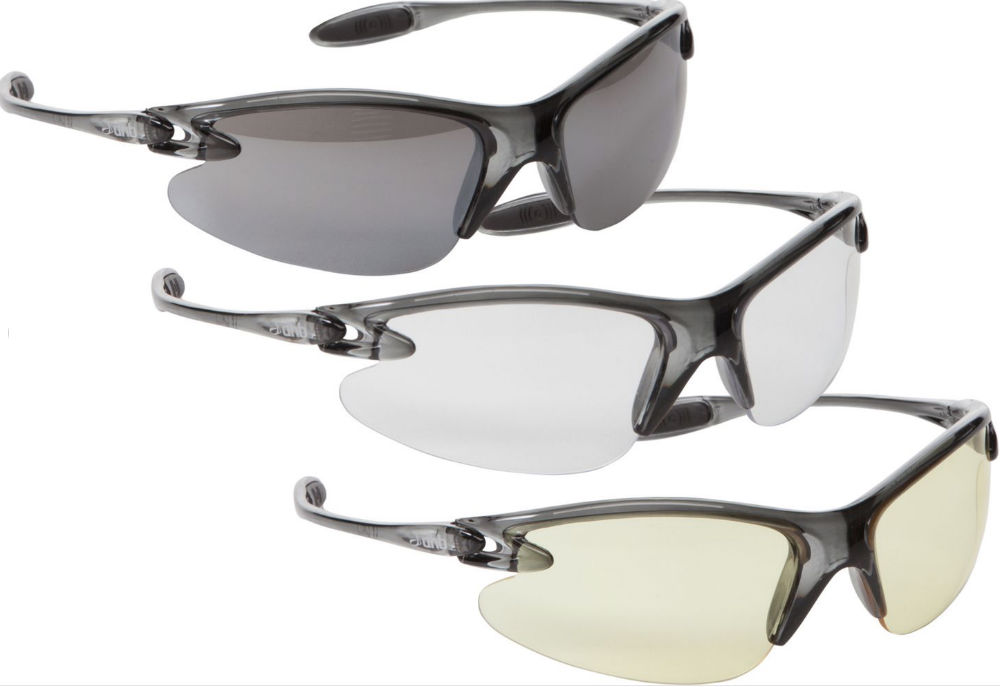 These sunglasses are best sellers from dhb. They are super cheap and very versatile. As the name suggests, they come with a set of three lenses. The clear lens is for ultra low light conditions, the grey for bright sunny conditions and the yellow for improving the contrast in overcast and flat light days.
They are simple in their style but still look cool. But you will be impressed with the features they have for such cheap items. Comfort comes from their light weight and the rubber grippers on the nose and inside of the arms.
The lenses block 100% of UVA and UVB rays and have a hydrophobic coating to repel rain and sweat.
Strong, but light frame
Integrated nose piece
Larger lenses provide more coverage and block peripheral light
Rubber grippers on rounded arms keep these babies glued to your head
State of the art UV absorbency give 100% UVA and UVB protection
Ultra scratch-resistant polycarbonate lens. Highly impact resistant
The Hydrophobic lens coating on all the lenses helps repels sweat and water
Clear lens is ideal for night and extreme low light conditions while still offering 100% UV protection
Grey lens is ideal for bright sunny conditions
Yellow lens provides a great multi-purpose tint that enhances shadows on overcast or flat light
Comes with soft padded case
Great value for money
Look great
Easy to change lenses
May not be high end enough for all riders
Excellent value for money glasses that you won't be too protective over.