Best Mountain Bike Goggles
There are three types of riders when it comes to eyewear. Goggle wearers, those that wear glasses and those that blink a lot. Personally, I like to ride wearing goggles. This is because I prefer the coverage it gives me for in the French alps where I live. However, when I lived in the UK, glasses were my preferred option. This is because there was more pedalling involved and googles get steamed up in cold weather when your face gets sweaty. But in this post, I am going to go through a few things that you should consider when buying the best mountain bike goggles. I will also give you my recommendations.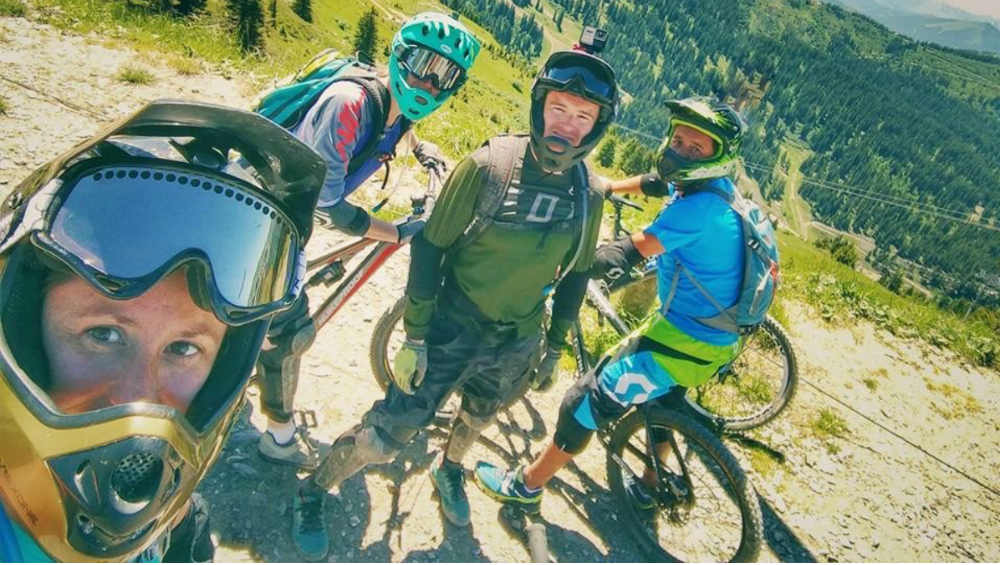 There is a massive difference between cheap and expensive mountain bike goggles. The more you spend, the better clarity and quality you get. However, mountain bike googles get used and abused, so you need to weigh up hoe much you are willing to spend.
Obviously, the best made ones will last longer, but you need to look at things that will prevent you from needing to buy a whole new pair when they get banged up. Check that the lens and strap can be replaced. Also doe the lens offer you the level of clarity that you would expect? 
Your mountain bike goggles should not restrict your peripheral view. So you need to make sure that they are large enough to allow you to see all the features on the trails and low hanging branches. Thick frames tend to encroach in to your eye line, which can affect your visibility.
If your goggles don't fit your face properly, you will have gaps around the frame. This will mean that when you are bombing it, you will get pressurised air coming in, which can make your eyes water. 
Most helmets and goggles are compatible these days, but is is worth checking that they interact properly for comfort.
If you need to wear glasses, you need to make sure that your goggles will fit over them. There are some goggles that are specifically designed to do this.
Best Mountain Bike Goggles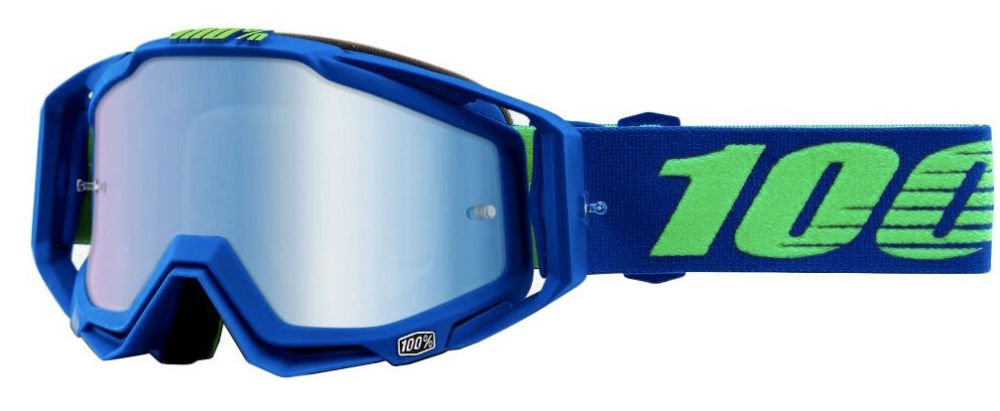 The 100% Racecraft goggles are for those riders that like something a bit bright and bold. There are a few different colour schemes to choose from, to go with your riding outfit too. The build quality is good and the adjustable 'outrigger' strap distributes pressure nice and evenly around your helmet. However, if you have a wide face, you may feel that the lower part digs in a little bit. Also the frame is quite bulky and encroaches in to your vision a bit. These mountain bike goggles are lightweight and well priced though, so depending on your personal preference, you may get on well with them.
Comes with Air intakes
45mm wide, silicon coated strap
9 pin lens retention system
Anti-fog lens treatment
Lexan lens construction
Triple layer of moisture managing face foam
Mirrored lens
Removable nose guard
Includes outriggers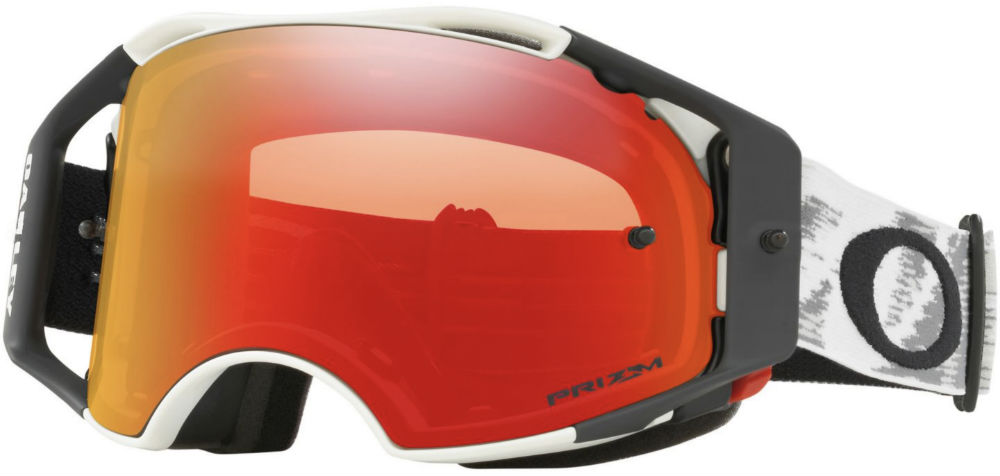 The Oakley Airbrake goggles are the leader of the pack, which is reflected in their price. Their build quality is superb, with a solid feel to all the components. These goggles are super comfortable and fit well enough for you to forget about them. This is really important when you are concentrating on a particularly techy section of trail. The lens is the stand out best part of these goggles though. The clarity is unrivalled and the frame gives you an excellent field of vision. The lens is interchangeable, so you can swap it out when it gets damaged or if you are riding in changing light conditions.
The only downside of the Oakley Airbrake goggles, is the price. But, you are getting what you pay for. They would be a great choice if you do other sports, like skiing or snowboarding too. Therefore, you can justify the price a bit more if you get to use them all year round.
Material: O Matter™ Polycarbonate combined with flexible Urethane (frame), Plutonite™ (lenses)
Prizm™ MX lens technology
High impact Plutonite lens with F3 anti-fog coating
"SwitchLock™" lens technology for fast and easy lens changing
Outrigger System for balanced fit
Fox Racing Air Space Goggle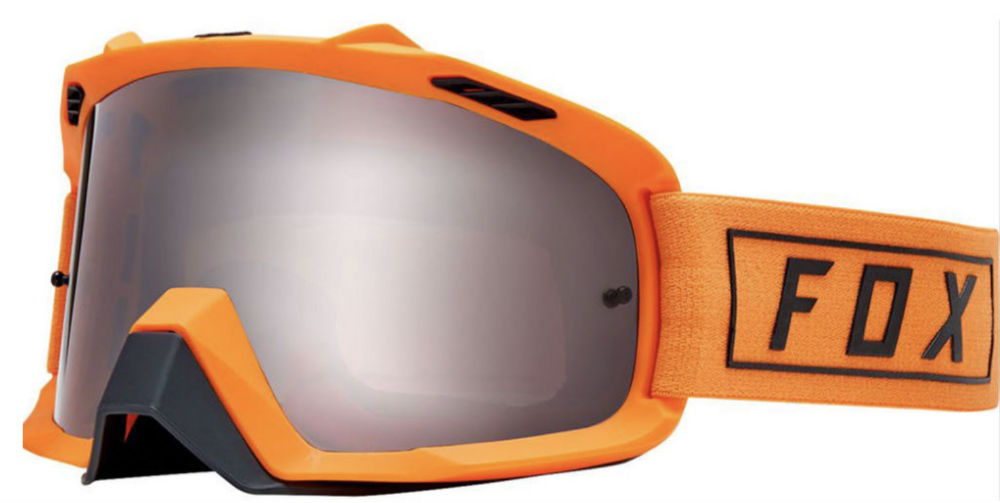 The Fox Racing Air Space goggles  have gone through many improvements over the years and are a popular choice with mountain bikers. They now have a much better field of view snd improved comfort. These goggles are compatible with tear-offs for extra muddy days (but please don't litter the trails) and the strap has silicone grips on the onside to ensure they stay secured around your helmet.
I like how comfortable these are with great peripheral vision and clarity from the lens. They are very well ventilated, so fogging up is reduced. The lens is also pretty though, which is good as you won't feel reluctant to wipe them with your glove mid trail. 
These are the sensible choice if you don't want to break the bank when buying a quality pair of mountain bike goggles.
Best-in-class view port for unparalleled peripheral vision via enlarged outer frame and improved frame angle
Variable Lens System (VLS) design allows transfer of standard and injection moulded lens in the same frame
Outrigger design creates a secure fit to keep dust and debris out of the viewport
Triple-layer face foam with fleece liner provides superior sweat absorption
Lexan Lens offers excellent UV protection
8-Pin lens retention system keeps lens securely attached to the frame
45mm non-slip silicone strap improves grip on helmet
3-post tear-off system ready
Microfibre goggle bag included
Which of these mountain bike goggles take your fancy? Please leave your thoughts and questions in the comments section below.