How to buy a Hardtail Mountain Bike
Hardtail mountain bikes are more capable than you might think. Cross country racers, such as Emily Batty can ride their hardtail on pretty much any terrain. There are a few advantages of buying a hardtail mountain bike, so in this post I am going to discuss what is so great about them and give you some tips on how to buy a hardtail mountain bike.
Advantages of a Hardtail Mountain Bike
Weight saving – A hardtail mountain bike is significantly lighter than a full suspension bike. This makes it much easier to climb and you will use less energy.
Responsive – The fact that the back end isn't bobbing up and down as you pedal, more power goes to the wheel. This makes pedalling more efficient. There is a huge difference is how responsive a hardtail is over a full suspension bike. This becomes apparent when you pedal out of a corner or on a climb.
Playful – A hardtail bike is more snappy and responsive. It will respond instantly to your input and bunny hops and manuals are much easier to perform.
Good for Technique – A hardtail is great for learning the basics of mountain biking that can be transferred to full suspension bikes.
Less to go wrong – With less moving parts, there is less to wear out and break. This means that repair bills will be less frequent and cheaper.
Less expensive – Hardtail mountain bikes are much cheaper that=n their full suspension counterparts. There is less engineering and development needed and less complicated parts.
Disadvantages of buying a Hardtail Mountain Bike
Less impact absorption – As a hardtail only has front suspension, there is nothing to absorb the shock from the rear wheel before it gets to you.
More tiring – As the shock  is not absorbed, your body takes a lot more impact. This will make you fatigue a lot more quickly when riding technical terrain.
Less control -When you ride over bumps, rocks and roots, this makes it more difficult to control the bike. The bike won't be able to maintain traction as well as a full suspension bike. Therefore, if you ride a lot of technical terrain, you may want to go for a full suspension mountain bike.
If you are still not sure about if you need to buy a hardtail or full suspension mountain bike, click here for more info.
How to Buy a Hardtail Mountain Bike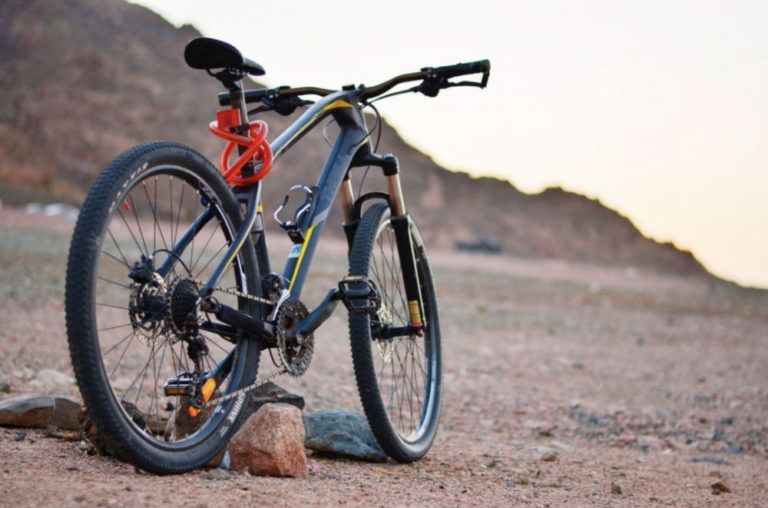 You have probably decided by now that a hardtail mountain bike is for you. But, there are a few things you should know that will help you choose the right one.
As a first bike, you really need to go for a hardtail, for all the reasons above. If you are buying a brand new hardtail mountain bike, you need to decide on your budget. The prices of mountain bikes may scare you off or push you to buy a cheap on, but lower priced bikes have poorer build quality and components. This bikes will give you no end of trouble, if you are riding it regularly and on anything more than a canal path.
If you are more experienced at mountain biking, buying a hardtail mountain bike is a great idea. Some say riding a hardtail is mountain biking in its purest form. Many riders buy a hardtail mountain bike to improve their skills. You need to concentrate on your body position and technique more. This is because you don't have rear suspension to compensate for any mistakes you make. Riding a hardtail mountain bike requires you to choose your line with more care, adjust your body position and technique to ride it properly. You may also want to buy a hardtail mountain bike to build up fitness for when you are riding your full suspension bike. This is quite common for winter riding, as hardtails are much simpler bikes. This means the dirt doesn't get in to the extra moving parts wearing them out.
It can be difficult to know how much you'll need to spend in order to get a hardtail mountain bike with features you want. Here is a rough guide to give you a basic idea as to what you should expect spec wise for the money you're paying.
Under £500
If you are spending this kind of money, you should be looking for a lightweight aluminium frame bike that is fitted with either rim brakes or mechanical discs. Try and get as high a quality groupset as you can for your money. For this price, you will get basic wheels, non-tubeless tyres and a basic front fork with coil springs.
(Have outlined all the components further down this page)
£500-£1000
Within this price range you're ideally looking for a bike with an aluminium frame, hydraulic disc brakes and tubeless ready tyres. You will find options with air sprung forks and clutches on the rear derailleur. These are a good, characteristics as is the bike will be lighter and more efficient to pedal.
£1000 +
Now we are talking! The higher specification hardtails will fall into this price range. You will find bikes with carbon fibre or high end aluminium frames. Other components will likely to include, air sprung forks with lockout, top level groupsets, tubeless ready tyres, upgraded wheels and tyres and dropper posts. If you can buy a hardtail mountain bike at this price, you will have an incredible bike.
Different Types of Hardtail Mountain Bikes

All types of bikes have different subcategories, each designed for a specific purpose. They all have geometry and components suitable for a particular type of riding.
Trail Hardtail Mountain Bikes
Trail hardtail mountain bikes are the ones that are great all rounders. Their geometry usually gives them slack head tubes, shorter stems and wider bars. They also have a wider gear range and suspension fork travel between 100-150mm. The amount of suspension they have allows them to cope with technical descents without compromising climbing ability. Trail hardtail mountain bikes are ideal if you aren't quite sure what discipline of mountain biking you are going to pursue. They will pretty much take you anywhere and everywhere you want to go.
Cross Country (XC) Hardtail Mountain Bikes
Cross country is where mountain biking originated from. It is all about riding single-track, varied terrain and long-distance routes. Therefore an XC bike is has certain characteristics. Light weight, high gear range, narrow tyres, narrow handlebars, 75-100mm front suspension and a steep head tube angle. These characteristics are to make your riding position comfortable for long rides and to make riding efficient.
Rigid hardtail mountain bikes have no suspension at all. This makes them lighter. This makes them ideal for light off-road riding such as canal paths, or smooth terrain where you don't really need suspension. Fat bikes have wide and highe volume tyres originally designed for sand and snow. These larger tyres give the rider a lot more grip on loose terrain. The tyres are also really squishy and stack up a lot of bumps. This makes them an alternative to front suspension in certain situations. However, I know a mountain bike guide who uses one to take his clients around the downhill trails in Avoriaz.
All mountain bike frames are made out of different materials, depending on their discipline and price point. Here is a breakdown of the materials you will come across when buying a hardtail mountain bike.
Aluminium -This is the most common material used  in bike frames. This is because it is lightweight, durable and offers far better power transfer and stiffness to weight ratios than steel frames. More expensive aluminium frames can use varying the thickness of tubes. This reduces the weight without compromising the strength of the frame.
Steel – Steel is durable, strong absorbs shock which enhances rider comfort. However, it is not very common these days as it is heavy in comparison to aluminium and carbon.
Carbon: When it comes to hardtail mountain bikes, carbon is quite rare except on higher end bikes. Carbon fibre is light, strong and gives the best stiffness-weight ratios. It is also great for rider comfort due to its vibration dampening.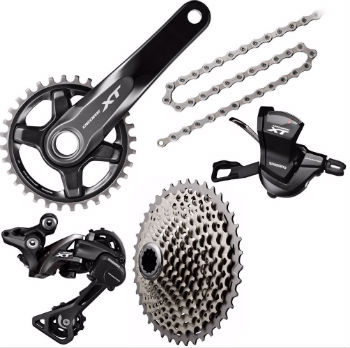 Wheels – Originally all MTB wheels were 26". This smaller size is great for tight turns, but not so good for rolling over larger obstacles or XC racing. The more modern wheel size is 29″. These 29" wheels, allow you to roll over obstacles better and go faster. The downside, is that they steering is not quite as precise and has a less playful feeling. However, there is an additional size that slots neatly in between. 27.5(650b) wheels offer a halfway house option for the best of both worlds. They give you precise steering with reasonable contact levels and rolling ability on the ground. 
Tyres – Hardtail mountain bikes are more prone to punctures than a full-suspension bikes. This is because the rear tyres take up all the punishment from the rear. Tubeless tyres are brilliant and worth investing in, as they reduce the likelihood of punctures dramatically. innovation that uses sealant to prevent punctures. It's very important that you have the correct tyre for the terrain that you tend to ride. Slicker tyres will give less rolling resistance, making it easier to pedal. These are ideal for smooth trails and dry weather, whereas tyres with more profile will be more suitable for rugged terrain and wet or slippy conditions.
Groupset – The groupset is what transfers your pedalling power to the back wheel. I comprises of the crank, chain ring, chain, cassette, derailleurs and shifters. Spending more money gives you  drivetrain components that are more efficient and lightweight. There are a number of component manufacturers, but Shimano and SRAM feature most prominently.
Lower end groupsets tend to contain triple cranks with lots of gears but they are not very efficient when it comes to shifting. Groupsets at the lower end of the market, are usually constructed from alloy and using cheaper components. You will find that they are fine for recreational riding but not suited to more technical rides.
Look for:
Mid-range groupsets often feature the same technology as higher end designs but use heavier materials when they are manufactured. These level of groupset is the most common and usually has in triple or double cranksets, offering similar gear ranges to low end groupsets but with more efficient shifting. These groupsets are normally made from slightly higher end alloy or low-end carbon. Perfectly adequate for most off-road rides, the improved chain angle and overall finish of these groupsets will keep you powering along
Look for:
Shimano – Alivio , Deore and SLX
SRAM- X7, X9, NX and GX
Top of the range group sets usually comprise of carbon or titanium components, using advanced technologies such as Synchro shift to give you smooth and efficient gear changing. Another characteristic of high end groupsets is a derailleur clutch to stop chain slip. They are designed to get you riding to the highest levels of your performance. It is quite common now for bikes to have a single front chain ring. This allows for shorter chain stays, a simpler design reducing the amount of things that can break. Sram's eagle groupset was one of my favourite innovations. This makes pedalling up hill so much easier. I am very glad that I have it on my bike.
Look for:
Shimano – XT, XTR, XTR Di2
SRAM – XO1, XO1 DH, XX1, Eagle
Brakes –  You can still find rim brakes on the lowest end hardtails. These are the old style brakes that press pads on to the wheel to slow it down. If you are even semi serious about going offload on a bike, you need disc brakes. They give you great stopping power, which is what you need when riding down hills and for safety. There are two types of disc brake:
Mechanical: – these are cheaper of the two options. Mechanical disc brakes are resistant to water and require far less maintenance than rim brakes. These brakes will be found on most entry level hardtail bikes over the £400 price point.
Hydraulic: – Hydraulic brakes are light and strong whilst being incredibly reliable. They also provide far better modulation than rim brakes which gives you much more control.
As you can see there is quite a lot to consider when buying a hardtail mountain bike. But, at the end of the day it comes down to budget and the terrain you are riding. Obviously, you get what you pay for, but a less expensive bike is better than no bike at all.