IXS Trigger Helmet: What you need to know
The iXS Trigger helmet is designed to compete with the Fox Proframe, the Bell Super DH and the Endura MT500 full face helmets.
The idea behind this helmet is to provide the breathability and ventilation you get with an open face helmet along with the protection of a full face helmet. iXS claim that it is the lightest full face helmet on the market right now at around 660g for the medium/large size.
The iXS Trigger FF is fully downhill rated, therefore you will be able to wear it for racing. This is thanks to the internal X-FrameTM in moulded construction.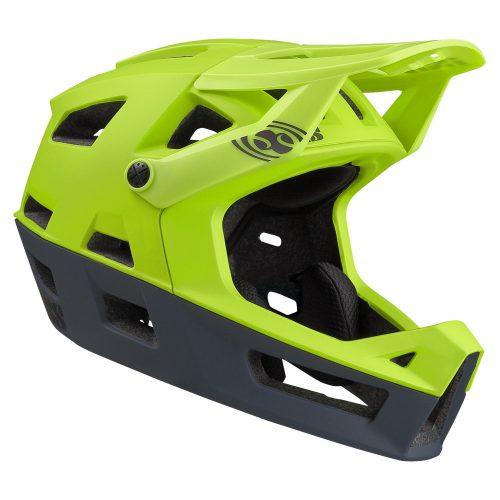 New patented in-mould technology
External & internal ventilation channels
Goggle compatible adjustable visor
Precision interlocking
ErgoFit UltraTM system for horizontal and vertical adjustment
Fidlock magnetic closure
EN1078, CPSC, ASTM, KC
+/- 595g (SM 54-58cm), +/- 660g (ML 58-62cm)
Trails are getting more technical, so full face helmets are becoming more necessary. The problem is that downhill full face helmets get very hot and sweaty when you wear them all day, especially when you are climbing. This is why manufacturers are creating lightweight, well ventilated helmets like the iXS Trigger FF, that you can wear all day that give you lots of protection. The idea is to give you a similar experience to wearing a trail helmet, but with the extra protection.
Some mountain bike racing series will not let you race without a downhill rated full face helmet. The iXS Trigger FF has the required standards (EN1078, CPSC,ASTM,KC) to allow you to enter these races. This gives you peace of mind that it is well made and going to protect your noggin.
Protection comes from the internal moulded X-frame. This means that the chin bar is fully integrated in to the main part of the helmet and is not a separate piece.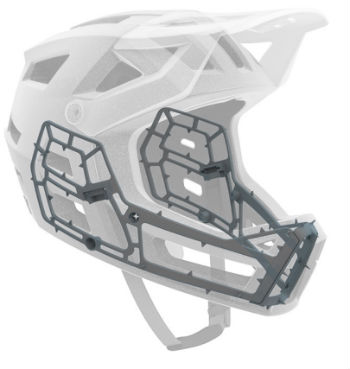 The X-frame has allowed iXS to put some extra ventilation in to the chin bar to keep you cool. In fact it has twenty two ventilation ports throughout the helmet. Five intakes and seventeen exhaust vents. iXS call this a vortex system and it is intended to force cool air around your head to prevent overheating and sweaty helmet syndrome.
Inside, it has a harness that allows you to get the fit perfect for your head. The system is adjustable vertically and horizontally to allow you to fine tune the fit for your head. Additionally, it comes with two sets of internal pads of different sizes. This is so you can get it as comfortable as possible.
One of the things I like about this helmet is that the visor isn't fixed. The fact you can move it up and down means that you have a place to put your goggles the you don't want them over your eyes. It also has a rubber strip on the back for your goggle strap to sit on to make sure it doesn't slip.
A huge bonus of the iXS Trigger FF is the fastening system. The fastener is magnetic and really easy to use even with gloves on. So there is no faffing around with threading straps or fumbling for clips.
There are a few full face helmets on sale right now that are designed to be worn all day. They are lightweight and offer great protection, but all do it in slightly different ways.
Endura MT500 Full Face Helmet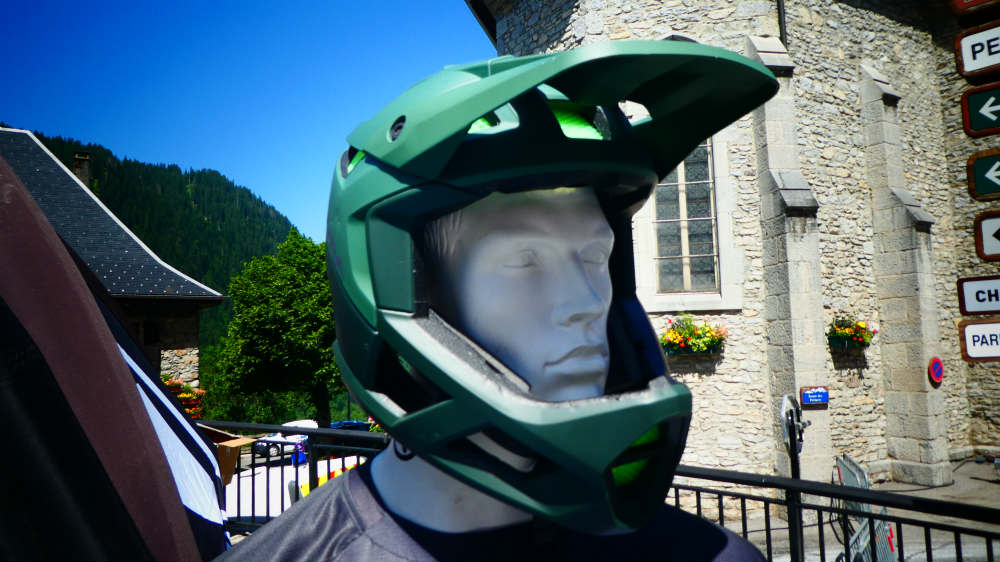 This one ticks all the same boxes and looks really cool too. A fantastic enduro full face helmet that is worth checking out.
What do you think of the iXS Trigger FF?
For me, it is a close choice between this and the Endura MT500. The advantage the iXS has over the Endura, is the adjustable visor, allowing you to out your goggles under the peak.