Michelin MTB Tyres: What you need to know
Michelin MTB Tyres: What you need to know
Michelin are famous for rating posh restaurants and tyres for pretty much anything that goes fast on wheels. But, they have not been so popular in the mountain bike world. But, it seems that they are making a bit of a push in to the market. New Michelin MTB tyres have been developed, with help from Vincent Ledieu. This guy is an accomplished engineer and an awesome rider. He has put his skills and knowhow in to developing the Michelin MTB tyres range. Here is a breakdown of each Michelin MTB tyre to help you choose which ones for your bike.
Michelin Cross-country MTB Tyres
There are a lot of different tyres Michelin class as XC tyres. Here are my picks of the bunch. The ones below span the XC tyre range to make sure that there is something for everyone. The ones I have left out, are either similar to the tyres below or just very hard to get hold of.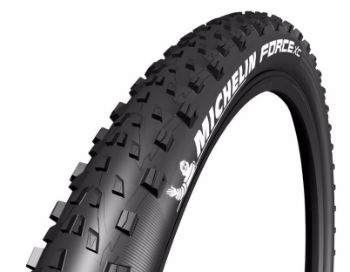 The Michelin Force XC MTB tyre has an aggressive tread pattern. This is to make sure it does a good job on tough trails and in  inclement weather. It is designed for riding in mixed conditions on a soft surface. It is fast rolling and grips well in corners. When it breaks traction, it is said to be easy to predict and has a stable feel. You will like its climbing ability and grip under braking. There are two versions, the Competition and the Performance. The Competition version has been developed on the UCI XC World Championship  race circuit, making it a very tough tyre. The Performance version is less aggressive and is more suited to everyday cross-country and trail riding, however,  it is more than capable for riders entering XC events.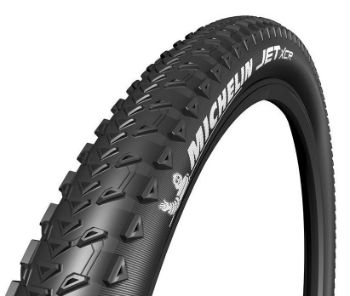 The Michelin Jet XCR is designed to be a fast rolling XC MTB tyre. It is also designed for dry hard terrain. Michelin tyres tend to use different compounds of rubber for the side walls and the middle of the tyre. But, this one is made from just one compound. That being said, it would offer more protection than a Schwalbe Racing Ralph tyre, but not quite as much grip. It is a good tyre for hard trails with sharp rocks and not much loose dirt.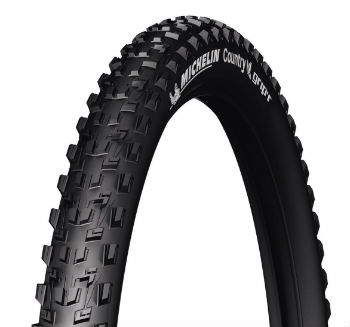 This Michelin MTB tyre is for riders that ride hard, dry terrain. It is designed to have a great balance between performance and grip. It is a more heavy duty tyre in comparison to the Jet above.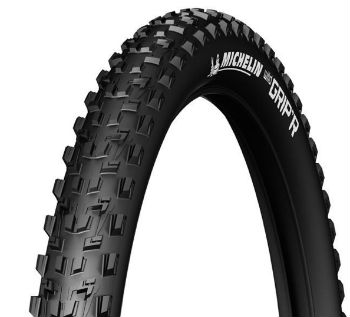 The Michelin Wild Grip'r's tread pattern is designed to give a good balance between performance and grip, while providing good mud removal. It is supposed to be used for multiple types of terrain, but have had mixed reviews. Some say that the grip is fantastic and others say that the side nobbles flex too much in corners. This maybe down to the rider's ability or style.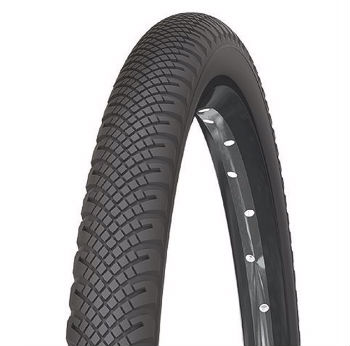 The Michelin Country rock tyres are not exactly mountain bike tyres. They are designed to be used on hard packed trails and pavement. For this type of riding, they have a great amount of grip, but I wouldn't use them for anything more technical. They offer very low rolling resistance, so they are nice and fast. One use for these tyres, is to use them for commuting or training on your mountain bike.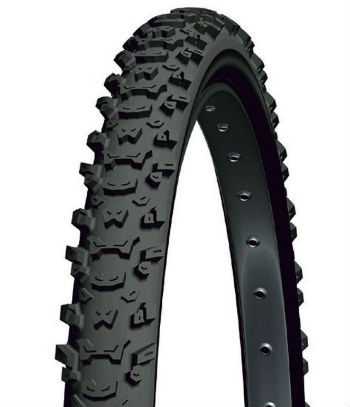 For the money, the Michelin Country mud MTB tyres are a very good versatile option. These are for use all year round, offer great grip in the mud and durability. If you ride a mixture of trails and tarmac, you will find these hard to beat for the price.
Michelin Wild Mud Advanced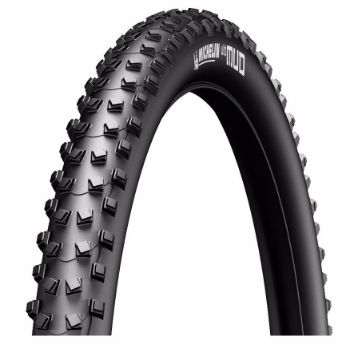 The Michelin Wild Mud Advanced offer maximum grip. This is due to the tall knobs that dig into the mud and the Gum-X rubber compound. They are also excellent at self cleaning, as the knobs are twisted, preventing the mud from clogging them up. Some people have mentioned that it is a very tight fit on the wheel, especially the 29″ version. This isn't a problem when riding, but you may want to go tubeless so you don't have to take it off too often.
Michelin Enduro MTB Tyres
Michelin have a range of enduro MTB tyres available. Enduro MTB Tyres need to be light and fast rolling, as are used for riding long distances. This type of tyre has to be tough, as enduro riding can be very punishing. They need to be good for all conditions, therefore you will have to compromise on something.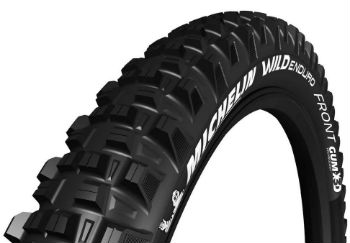 Unsurprisingly, the Michelin Wild Enduro MTB tyres are designed to cope with a variety of conditions. They are also ideal to take the punishment that comes with this type of riding. There is a  different version for front and rear, with two different compounds available for the front.
The Michelin Wild Enduro MTB tires are an excellent option for aggressive riders that like to charge. They excel on trails with a softer surface, but good everywhere. There are faster rolling tyres on the market, but they are very grippy, tough and give you lots of cornering support. This tyre is standard on the Nukeproof Mega.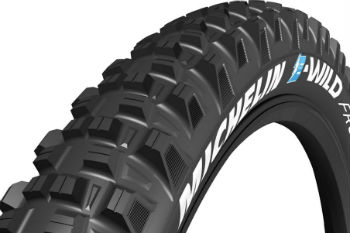 The Michelin E-Wild MTB Tyres are for electric mountain bikes. They are essential beefed up version of the Wild Enduro, to cope with the extra weight. These too have front and rear specific versions and use the E-Gum X compound. This is to help get the  power to the ground via the rear wheel, while at the same time enhancing tread-block life.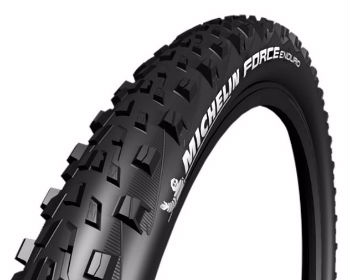 The Michelin Force Enduro tyres are meant for riding on dry, hard terrain. Its tread pattern is designed for both speed and braking ability. They are made specifically for the rear wheel and there is no version for the front. It goes well with a Wild Enduro on the front. These tyres are not particularly light, but they do give you lots of grip in dry conditions. There are some good reports about the smooth feel these tyres have when you lean the bike over in to the corners.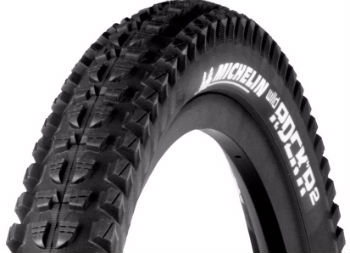 The Michelin Rock'R2 is available in two different compounds to suit more or less challenging rides. It is designed to give maximum grip on rocky and hard terrain. If you take on fast descents and hard corners, on rocky trails, this is the tyre for you.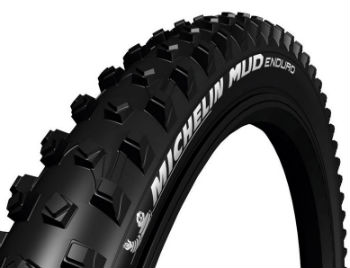 The Michelin Mud Enduro MTB tyre is for the muddiest of conditions. The tread pattern allows mud to clear away from the tyre while the large knobs cut in to the mud. Extra grip comes from the Magi-X rubber, which is used in the Enduro World Series. These tyres are for technical muddy enduro trails.
Michelin All Mountain MTB Tyres
There is one type of all mountain MTB tyre Michelin offer. The Force AM. This is different to the Force XC, in the fact that they are slightly more heavy duty. This version is made for dry and hard conditions. It has good grip on loose and hard packed surfaces. This is good for instilling confidence in the rider. They have a low rolling resistance, so they are not too much of a drag when you are climbing.
Have you tried Michelin MTB Tyres?
There are a lot of tyres to choose from, covering all kinds of terrain and conditions. No matter which tyres you buy, there will be a compromise along the way. You just have to choose the tyre that has the best balance for the type of riding you do and the terrain.
I would love to know what your experiences are with these tyres. I have Wild Enduros on my Nukeproof Mega and I think they are great.