Maxxis Mountain Bike Tyres: Which ones are best for you
You only have to look around at the bikes in any bike park to see that Maxxis are one of the most popular mountain bike tyre brands. However, I see lots of questions on social media about which ones to buy. Here are the most talked about Maxxis tyres and what each of them are good for.
Aggressor
The Maxxis Aggressor tyre is popular with riders that ride on dry dusty hard packed. It is also common to find it on the back wheel. The design of the Aggressor allows it to isolate vibration and chatter at high speed. The tread is dense, which makes it reasonably resistant to impacts and cuts. It is grippy on blown out trails and loose rocks. But, it is surprisingly good at climbing, even when it is slippy. The centre tread blocks look quite small, however they provide great stopping power when on the brakes, unless it is particularly muddy.
=>Click here to see how to choose the best mountain bike tyres for you<=
The grip in the corners is a quite neutral and easy to predict level of traction. Therefore, it shouldn't just let go unexpectedly.
It comes in 2.3″ and 2.5″ widths. The 2.3″ is fantastic in dry conditions, but the 2.5″ is a lot more capable in the wet. It also holds on to off camber trails and loose dirt.
The Aggressor works well on the back wheel if you ride rough and rocky terrain or trail centres. If you ride tricky technical, slow speed terrain (especially in the wet), this probably isn't the tyre for you.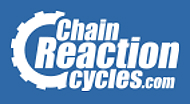 Click here to buy Maxxis Aggressor Tyres from Chainreaction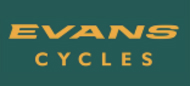 Click here to buy Maxxis Aggressor Tyres from Evans Cycles
Ardent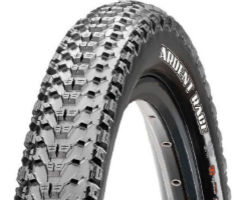 The Maxxis Ardent is a cross-country tyre that has a reputation to be a good all-rounder. Cross country riders love it for its low rolling resistance and large volume. It is used a lot, when the rider is taking on long distances where float is required over traction. Like many of the Maxxis tyres, it inspires confidence with its grip (for a cross-country tyre). If you are riding particularly rough terrain, you may want to opt for the EXO version, at least on the rear wheel. This has a tough casing that makes it more durable.
However, the grip on climbs with a loose surface isn't as good as you would expect. The rear wheel tends to slip on gravel Therefore you may want to run lower pressures or a minion on the back, if this is typical of the terrain you are riding.
All in all, the large volume allows you to run lower pressures, and the large knobs give you plenty of grip. It is particularly grippy on hard packed and smooth surfaces. However, it may seem a bit heavy for some applications and it may feel a bit loose in the corners for some people.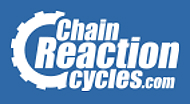 Click here to buy Maxxis Ardent Tyres from Chainreaction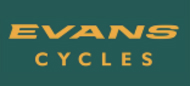 Click here to buy Maxxis Ardent Tyres from Evans Cycles
=>Click here to see how mountain bike tyre inserts can help you<=
High Roller II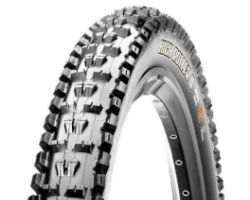 The Maxxis High Roller is my choice of tyre, as it suits the riding around Morzine perfectly. The second generation version of the High Roller is more versatile and a bit tougher to make it more versatile. It is better in the wet and loose dirt than a minion and good on both front and back wheels. However, opt for the 3C version for the front. 3C stands tyres have a mix of 3 compounds, where the base layer is a very firm, stiff rubber. But, the two top layers are progressively softer. This makes the tyre that more grippy and less likely to squirm around or drag as much as a traditional tyre. This is especially noticeable on roots and rocks.
The EXO version is great for aggressive riding on rough terrain, as it is more durable. The version with the double down casing is ideal for very rocky terrain or enduro racing. It is about 200g heavier, but offers great feel and comfort.
It is the perfect balance between compliance and stability, as the outer knobs on the tread and the compound really grip in the corners. The Maxxis High Roller is good for most types of trail, and could be used all year round.
The tread does wear reasonably quickly, but they perform so well, you don't mind taking the hit replacing them.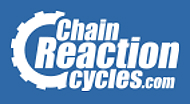 Click here to buy Maxxis High Roller II Tyres from Chainreaction
 

Click here to buy Maxxis High Roller II Tyres from Evans Cycles
Minion DHR and DHF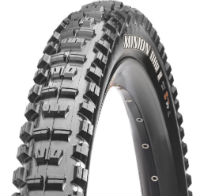 The Minion is a downhill tyre meaning it is designed to take on tough terrain and give you as much puncture resistance as possible. It comes in 26″ 27.5 29″ and has plus size options, duel compounds, 3C compounds and downhill casings.
DHR stands for Down Hill Rear, which is a good indication of where Maxxis say you should put it.
You can probably guess that DHF means Downhill Front. Therefore, the Maxxis Minion DHF's tread pattern is designed to give you extra grip under braking and in the corners. The rear tyre is designed to stay as clean as possible, so you can accelerate and brake efficiently.
The Maxxis Minion feels very composed and gives you confidence when riding. The centre tread gives excellent grip when braking. This is excellent for when it starts to get steep and you need that extra control. Excellent cornering ability comes from the knobs on the Minion's outer tread.
The Minions are slower rolling than the Maxxis Aggressor, so you need to decide if you want grip or less rolling resistance when you ride. Personally, I would take grip every time.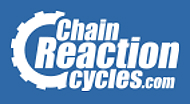 Click here to buy Maxxis Minion tyres from Chainreaction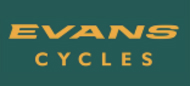 Click here to buy Maxxis Minion tyres from Evans Cycles
Which Maxxis Tyres did you choose?
Obviously this isn't the full range of Maxxis mountain bike tyres. These are the ones that I see the most questions about. Which ones are your favourite and why? Let me know in the comments section below.