Mountain Bike Tyre Inserts: 5 of the best
There are a few companies manufacturing mountain bike tyre inserts. But, what are they and what do you need to know about them? Well, here is the low down, and 3 of the best ones you can buy right now.
These days mountain bikes are being manufactured to be able to cope with riding more gnarly terrain. When riding over rocky and rooty sections, it is easy for you to get pinch flats. This is more likely when you are riding with lower tyre pressures to get more grip. Therefore, the idea of using mountain bike tyre inserts, is to cushion those hard impacts, preventing pinch flats and to protect your wheel.
The issue with tyres, is that riders want a reasonably supple tyre, that is light, fast rolling and be able to roll over rocks without getting a puncture. However, it is very difficult to marry these desired characteristics together without compromise. One way is to go tubeless. If you are unaware of the benefits of riding tubeless, click here. However, you will come across people that say tubeless is a messy waste of time. Don't listen to them. They are wrong….unless they are just riding relatively tame trails. I live in the French alps and ride some interesting trails. I haven't had a puncture in three years, and that includes trips to Finale Ligure and La Thuile riding the EWS tracks.

Manufacturers of Mountain Bike Tyre Inserts
There are a few manufacturers of mountain bike tyre inserts, but these are the main ones, and what you should know about their systems.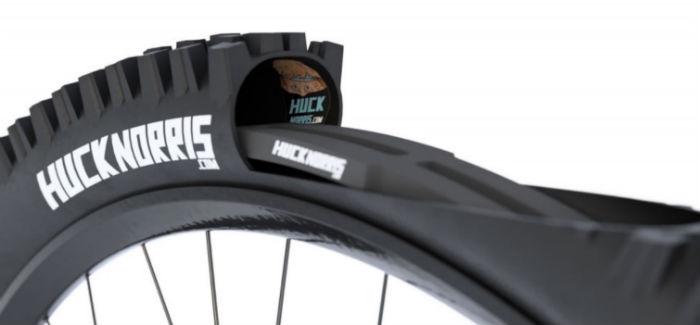 These brilliantly named mountain bike tyre inserts protect your wheels and tyres in a very simple way. They are strips of foam specially developed for mountain biking. It works by dispersing the force from impacts received from rocks and jumps.
Installing: Putting the Huck Norris mountain bike tyre inserts on your bike, is a lot easier than most of the offerings from other manufacturers. All you need to do is push it in to the tyre after linking the two ends with a little Velcro strap. Once in the tyre, add your sealant, seat the tyre and pump it up.
How it feels: The Huck Norris feels pretty much like a standard tyre and only adds 80g to each wheel.
Features:
High density lightweight foam to absorbs impact forces on wheels,
Fits all wheels from 24 to 29 inches) format: All You Need To Do Is Cut to the correct length
Fits wheels from 21 to 26 mm width: from 2.1″ to 2.5″ wide tyres
The container is a handy front mud-guard
The Huck Norris is a very easy and simple system to install. It is also very light and cheap. You don't get the damped feeling of some other mountain bike tyre inserts available. Some people think that this feeling is one of the main reasons you use inserts. Having said that, it is the most user friendly on this page, and your bikes handling will not be altered. However, you will have added protection from punctures and for your wheels.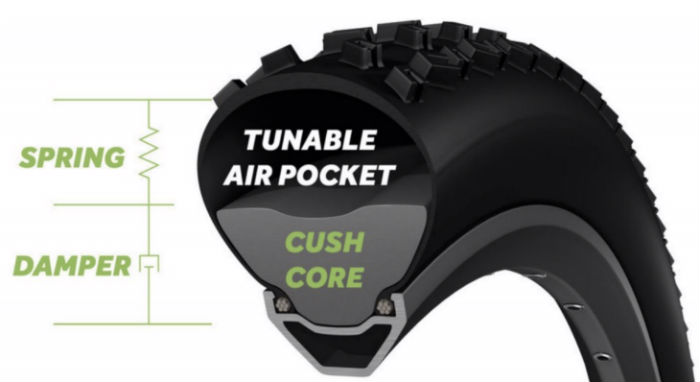 CushCore is a different type of mountain bike tyre insert. It works by dividing the tyre, with the air underneath the tread, while the CushCore foam is against the rim. The idea is that these two sections work together as a spring and a damper.
Installing: Installing Cushcore isn't the easiest thing to do. As with all mountain bike tyre inserts, you need tubeless ready wheels and tyres. The other thing you will need is strong thumbs, especially if you have DH tyres or ones with tight beading. The knack is to roll the beading in to the wheel and use soapy water as a lubricant. Have a look at the video below.
How it feels: The CushCore mountain bike tyre insert feels like an addition to your suspension. It is marketed as an "inner tyre suspension system". Therefore, depending on your personal preference, you may want to adjust your suspension to suit the extra rebound it gives. It also offers great sidewall support, allowing you to run even lower tyre pressures.
Features:
Increased shock absorbtion
Increased lateral stability for harder cornering
Reduced rolling resistance
Puncture prevention
Wheel protection
Ability to run flat in an emergency/race
Possible to run lighter tyres and wheels
The CushCore system is a high performing and refined system. You may find it tricky to install, but once on, your wheels will have excellent protection with added vibration damping. This damping improves the overall feel of the bike, while the side wall support improves grip in the corners.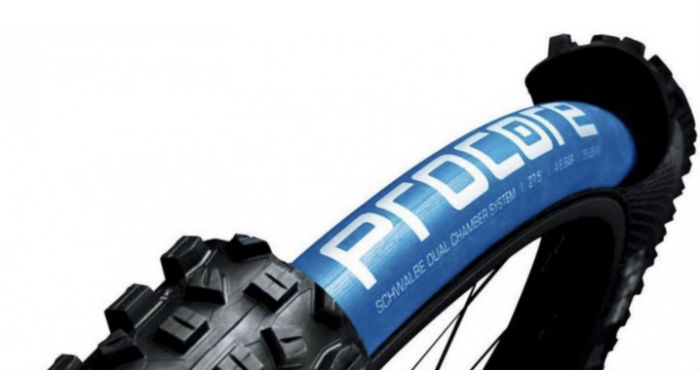 The Schwalbe Pro Core mountain bike tyre inserts work by inserting a high pressure, small volume tyre inside your regular mountain bike tyre. It is designed to hold the bead of your tyre on to the rim, to add stability to the tyre and prevent pinch flats.
Installing: Some people have found in stalling these mountain bike tyre inserts difficult, but some have found it quite simple. You need a wheel that is at least 23.5mm wide. It needs to be a wider rim to fit the system inside. In short, you put the Pro Core system on to the rim, then one half of the tyre, then the other half. You then pump up the Pro Core with a special valve that also lets you pump up the outer tyre. This system pushes the bead of the tyre in to the rim very firmly, at about 70psi.
How it feels:
Due to the very low pressures you are able to run with these mountain bike tyre inserts, you do get a phenomenal amount of grip. You also get the sidewall stability, that helps with corner grip. This system reduces how much the tyre rolls at these low pressures, as it supports the tyres so well. It is a bit heavier than the other systems, as it adds around 200g to each wheel. However, you may be able to get away with a lighter tyre.
Features:
Possible to run super low tyre pressures
Dual air chamber tuning
200g
Super durable
A fantastic system, however I believe this to be way over priced. If money is no object and you are a hard charger, go for it. The Pro Core system does impact on the bike's behavior on drops though, as It makes the rebound a bit more "pingy". If you choose this system, it may take a bit of experimenting to get your tyre pressures to your liking. This is because, just a small change can make a big difference. Therefore, what feels good at the top of the trail, may not feel so good when the terrain changes. You need to be aware that it is not compatible with carbon rims.
Nukeproof Horizon Advance Rim Defence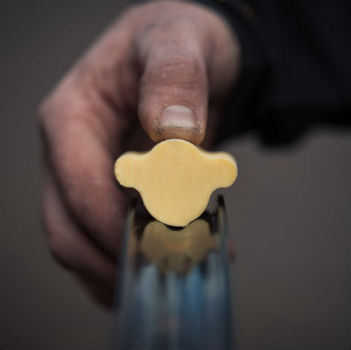 A.R.D uses closed cell foam technology. This makes it a super  lightweight tyre insert giving you a lot of protection. A.R.D will enable you to run lower pressures without getting flats and in turn assist you to increase your grip out on the trails.
Installing: This is one of the easier mountain bike tyre inserts to install. As you can see from the video below, it is just like installing an inner tube. Very easy.
How it feels:
You barely notice that they are there. This is because they are very light and the foam compresses enough to cushion the landings. You may want to play with tyre pressures to suit your personal preference though.
Features:
Easy to fit and remove tyre
Offers Pinch flat protection
Offers Rim protection
Will not absorb sealant
Weight: Approx 130g per insert
These super light weight mountain bike tyre inserts do the job with minimal fuss. They are also very cheap in comparison tom the others on this page.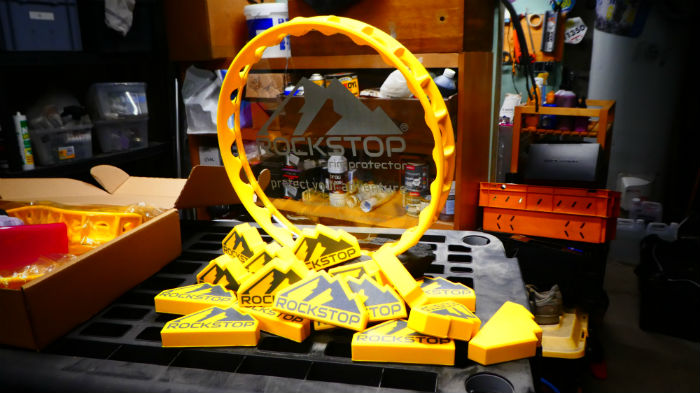 The Rockstop is made from a tough polyurethane blown Elastomer. This is a tough material that is very high in shock absorbing properties, used for F1 and aerospace applications.
Installing:  This is really easy to install. It just slots in to your wheel and only takes a couple of minutes.
How it feels: Personally, I don't really feel any difference when riding.
Features:
High shock absorbing rubberised polymer
Weighs appx 250g per wheel
Colour yellow
Manufactured in the UK
It doesn't work. I got a slice in my tyre after riding along a trail known as "puncture ally". When I took the tyre off, the Rock Stop had eight slices in it and had come apart at the join. Rock Stop have changed the design to stop it coming apart, but this doesn't mean that the material is strong enough to absorb the impacts. My friend destroyed his wheel with a Rock Stop inserted. This had ten slices in it it when he inspected it.
Our experiences with the Rock Stop were disappointing and at £65 each, a waste of money. 
Things to consider when fitting mountain bike tyre inserts
Depending on your preference, you may need to adjust your suspension to suit the increased rebound.
These systems add bit of extra weight. This is not a problem for downhill riders, but cross-country whippets may want to look in to the lower weight systems.
You may be tempted to run a lightweight tyre. This will obviously save weight while protecting the wheel. However, it doesn't mean your tyre won't get cuts, slashes or other punctures.
Don't use them as an excuse to hit everything as hard as you can. Yes, they will help protect your wheels, but everything has a limit.
Are Tyre Inserts for you?
If you are regularly riding over rocks and you get a lot of pinch flats, mountain bike tyre inserts are definitely worth considering. If this is you, you could just try it on the back wheel. This will help when you case those jumps or smash it in to that unexpected pointy rock.
I would say that they are probably a bit too heavy for serious XC riders. Trail bike riders may like inserts if they are getting lots of punctures, or ripping their tyres off their rims. Racers (especially downhill racers), will find mountain bike tyre inserts great investments. This is because you may be able to finish the track with a puncture without damaging your wheel.
What are your thoughts of mountain bike tyre inserts? Let me know what your experiences are in the comments section below.