The Best Mountain Bike Lights for Night Riding: Choosing the best ones
Whether you are using your bike to commute, or you like to give yourself a challenge by riding the trails at night, you will need the best mountain bike lights for you.
Here is my guide on what to look for before you buy the best mountain bike lights for night riding.
Things to consider when buying the best mountain bike lights
You are going to need a light with a battery that will last for your longest night ride, plus a bit more for emergencies. You need to consider that the battery won't last as long in cold conditions too. Therefore, if you are likely to be pushing your luck, get one with a battery life indicator. If you monitor this, you can manage the power by turning down the brightness when it is less needed. You will want to save the battery for the descent or to make any trail side repairs.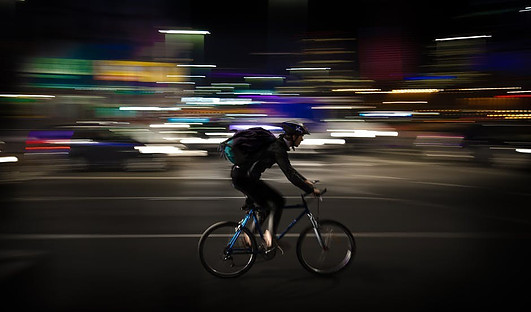 The power of mountain bike lights is measured in lumen. The more lumen you have, the brighter the light and the more owls you can annoy.
You may be tempted to buy the brightest light you can. This is a good thing, however, there is more to the best mountain bike lights than just power.
In many cases, you may be able to get away with a commuting light when night riding. However, its ability to guide you through the darkness will only stretch so far. When the trail starts to get technical, you are going to find this out quite quickly.
The best mountain bike lights are adjustable in their brightness. This is so you can turn down the power on the climbs to save the battery, then turn it back up again for the descents. Therefore, battery life is very important, especially if you ride mixed cross-country trails.
You can actually have too much power too. When riding in fog or rain, the glare that bounces back will mean you can actually have less visibility. This goes for the rider behind you too. If their lights are super bright, your shadow will block your visibility of the trail.
Realistically though, you will adapt your riding to what you have, and this will depend on your budget and riding style. But, if you follow the information on this page, you will be able to find something that suits you.
Having a nice big bright beam is not very useful, if it is pointing the wrong way. If you are doing a lot of straight riding, or have the light mounted on your helmet, you may want a narrow spot beam. If your rides are technical and slow, a wider beam will be better for you. You can buy lights that can do both, but they are more expensive.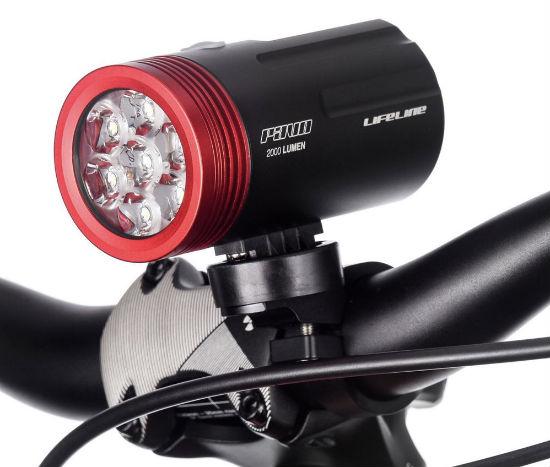 This is probably the first thing you should look in to really. Does it fit on your bike or helmet? If you are attaching it to your handlebars, you need to make sure it will fit securely without wobbling or pointing in the wrong direction. This may be a problem if your bars are curvy or have a thin profile.
If you are considering putting the light on your helmet, you need to make sure it is placed properly. If it isn't, it could put strain on your neck or pull your helmet over your eyes.
The best mountain bike lights are compatible for mounting on your helmet or handlebars. Both options have their advantages and disadvantages.
Mounting your lights on the bars means it is easy for you to see and use the controls. However, the beam of light is fixed to where your bars are pointing. This casts jumps and drops etc in to shade. This means you can't always see the obstacle properly.
Helmet mounted mountain bike lights are great, as the light shines at whatever you are looking at. But, features you encounter on the trail can seem flatter than they are, and depth perception is reduced somewhat. The other disadvantage is, is that low tree branches can knock your light. One thing worth noting about a helmet mounted light, is that you cannot see the battery life indicator. This could cause a problem if the battery goes flat just as you have entered a rock garden in the pitch black woods.
The ideal solution is to have both handlebar and helmet mounted lights for night riding. Doing this gives you the advantage of having a backup light if one of them fails or the battery runs out.
The controls of mountain bike lights are also something to consider. This is because some lights can be controlled remotely, and as I said earlier, some have the functionality of adjustable brightness.
You need to make sure that the mountain bike lights you choose are going to survive the weather conditions and potential crashes they are likely to encounter. Therefore, reliability is seriously important, so stick to brands that you know of. This is because they will be more established and will have had plenty of time to develop their products.
Integrated Battery or Separate
There are lots of manufacturers now that produce mountain bike lights that are an all-in-one unit, meaning the battery is integrated in to the light. This gives you a nice neat package, however, it means they are not always helmet compatible.
If you take these things in to consideration, you will have no problem finding the correct mountain bike lights for you. If you are riding at night, you really need to wear bright clothes too. Not just so cars can see you, but you will be easier to spot when you are upside down in a bush.
Best Mountain Bike Lights
Having said all that, I have done all the hard work for you. Here are some of the best mountain bike lights you can buy right now.
Cateye Volt 1700 Front Light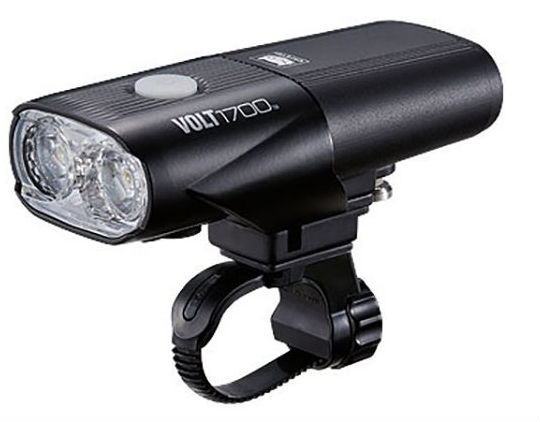 Nice and bright
useful settings
Easy to use
The Cateye Volt 1700 is a very bright front bike light in a compact package. It has enough light to illuminate the trail ahead on the darkest of nights. With its multiple settings and good battery life, it is a practical option.
USB rechargeable
Up to 1700 lumens light output
Uses two chip LED lights
Large mode button
Battery light indicator
Comes with Flextight mounting bracket 22-32mm
Weighs 270g
This bike light has five modes, two flashing ones and two steady ones. These offer enough flexibility to appeal to most riders. You can choose the brightness of the light to suit you:
High – 1700 lumens

Medium – 500 lumens
Low – 200 lumens
The hyper constant mode uses a combination of 200 lumen and 1700 lumen flashes and you can also choose a 200 lumen flash mode. When you switch the light off, it will remember the last setting you had it on and will return to it when you switch it back on again. This is useful for when you have chosen your favourite mode, as it saves time.
The high level gives you a a bright and rich illumination in front of you. This is ideal for night trail riding and dark country lanes. It is strong enough to encourage drivers to dip their beam as long as you have it positioned properly.
The medium is suitable for rural riding and can still be seen by other road users. You will find that even though it isn't as bright in this mode, you will have the advantage of a wide spread of light on narrower lanes.
The low setting is for urban riding, but this is probably overkill for standard well lit roads, but you might like that. However, to attract the most attention when riding in traffic, you will want to use the hyper constant mode. This will work well for keeping you safe on commutes on misty mornings.
For off road riding, the Cateye Volt 1700 is ideal for less technical trails, but if you are going to do anything more serious, you may want to team it up with a helmet mounted light too.
The Cateye Volt 1700 is a very economical bike light. You should have no problem getting the claimed two hour battery life on the high setting. However, the Li battery is removable, so you can carry a spare if you think you are going to need extra between charges.
The CNC machined aluminium casing is of high quality. It has a heatsink to help with keeping the L.E.Ds from over heating. The casing protects the light from the elements very well. This even goes for the charge port, which is deep and is filled with secure plug which is easily prised before you charge.
Charging is via a micro-USB cable and it takes five hours from being completely flat. This is very similar to its competitors. There is an indicator to let you know when it is half way and fully charged.
The Cateye Volt 1700 is mounted via the Flextight bracket. This mounts on to your handlebars and is tightened with a thumbwheel. You won't have to worry about it fitting different thicknesses of handlebars and it is very secure.
A very useful light for trail riding, thanks to its brightness. This should light up the rocks and roots on the trail with no problem. It may be a bit of overkill if you are solely going to buy it for road use though.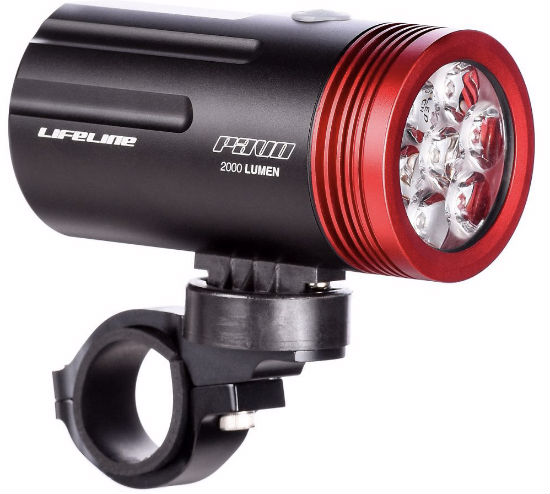 Very bright
Easy to mount
Great battery life
Not much adjustment for positioning the light
The LifeLine Pavo 2000L is an extremely powerful bike light. With 2000 lumens, it is designed for riders the want to ride at any time of the year and don't want a little thing like darkness to spoil their fun.
Material: CNC 6061 Alloy (body)
5 Beam Modes:

Full Beam (2,000 Lumens): 1 hour 50mins
Medium (1,500 Lumens): 3 hours 50 mins
Low (500 Lumens): 6 hours 30 mins
Power Saving (250 Lumens): 12+ hours
Flashing: 16+ hours

Precision optical lens with wide beam pattern
Handlebar mount with twist-lock interface
Li-ion battery
Automatic temperature control
Low battery indicator
Smart Charger
Perfect for mixed commutes and winter training rides
Weight: 159g (197g including aluminium handlebar mount)
The LifeLine Pavo 2000L bike light has four static beam modes and one flashing mode. its fantastic brightness will make sure that you will see everything on the trail ahead of you, so you won't get any nasty surprises in the dark.
The modes range in brightness from 250 lumens for the power saver mode to 2000 lumens for the full beam. As with the Cateye Volt 1700, it stays in the mode that you left it in the last time you used it. The brightest mode gives you an amazing amount of visibility, both for you and other road users. It would probably upset a few drivers, so you may want to be careful how you angle it.
The extra brightness that the Pavo 2000L gives you means that you have a brilliant range, but it also gives you great colour definition. This allows you to spot changes in the terrain on the trail ahead more clearly.
The light is very securely mounted on your handlebars with a clamp. You need an Allen key to fit it, so this means that if you want to adjust the position, you can't just do it by hand. You may struggle to find the optimum place to fit it on your bars, as you only get one shim included. Therefore, if you have thin bars, you may need to find something to pack it out.
The build quality of the Lifeline Pavo 2000L is very good. It has a quality feel to it and is tough. Additionally, the battery life is good enough for most rides and it takes six hours to charge from flat.
The LifeLine Pavo 2000L is an excellent light providing more than enough illumination for trail riding. The only downside is that if may take a bit of faffing about to get it positioned perfectly for your rides and you need a tool to alter its position.
Light and Motion Imjin 800 Onyx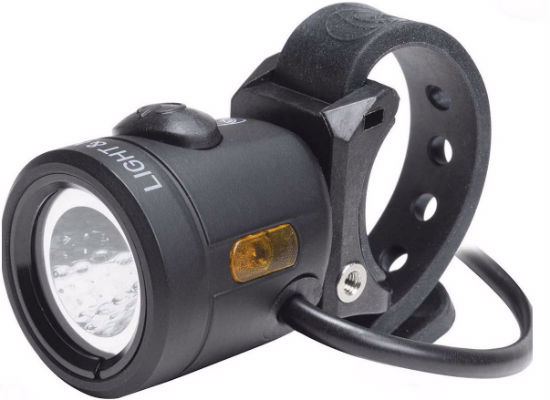 Bright and clean beam
Multiple mounting options
Can't see battery life indicator when helmet mounted
The Light and Motion Imjin 800 Onyx bike light  has a long battery life and is a nice compact option for night riding. 
800 Lumen output certified to the FL-1 Standard
Engineered with the best CREE LED and enhanced firmware.
GoPro Mount Interface for an ultra low-profile helmet mounting solution
You can mount the Imjin 800 on your handlebars and thanks to its light weight, it is perfectly suitable to wear in your helmet. It does have an external battery pack, but when it is strapped to the back of your helmet, balances it out nicely. However,the cable is long enough to put it in your backpack.
The mounting system is just like the one you gt with a GoPro, so you have plenty of options and adjustment to suit your needs. It also comes with a 120V charging unit that will fully charge it from empty in three hours.
The 800 lumen L.E.D throws out an impressive beam of light and is efficient. The Imjin 800 uses a CREE L.E.D which gives you a nice consistent beam and clean beam that allows you to see the trail ahead clearly.
if you mount this light on your helmet, you won't be able to see the battery life indicator. If you think you are going to be out for a longer ride, you may want to put it on a lower setting to extend the battery life. This is so you don't have a nasty surprise when it runs flat in a techy section in the dark. However, even at full brightness you get two hours of use. The medium setting is a good balance between brightness and battery life.
For attracting attention to yourself while on the road, you can use the pulse mode. This is supposed to give you sixteen hours of battery life. This isn't really suitable for trail riding, but could be used in an emergency to get you home safely.
The Light and Motion Imjin 800 Onyx is a good mountain bike light and is worth considering. This is especially the case if you like to have the versatility of choosing different mounting options.