Best Hardtail Mountain Bikes 2020
Best Hardtail Mountain Bikes 2020
In this post I round up the best hardtail mountain bikes 2020 has to offer. I have found the best hardtail mountain bikes to suit different budgets. Therefore, you will surely find the right hardtail mountain bike for you.
In the past I have said that the minimum your should spend on a hardtail is £500 to £600. This is to ensure that it has components that are not going to fall off after a couple of months of riding. However, now (depending on where you ride and how you ride), you can get great bikes for considerably less money.
You will notice that I haven't chosen bikes much more expensive than £1,000 for this list. This is because, at this price point you start to see the advantages of having a full suspension bike and you will probably want to buy one of those instead.
Why Choose A Hardtail Over A Full Suspension Mountain Bike?
Before I go in to my recommended 2020 hardtail mountain bikes, I am going to talk about the advantages of having a hardtail over a full suspension mountain bike.
Hardtail mountain bikes are much simpler machines than full suspension mountain bikes. This brings their cost down considerably. Therefore, they are ideal for people that are not sure how much they are going to get out on their bikes, as they don't need to spend a stratospheric amount of money on a bike that will be sitting in the garage. In addition to this, there lower cost makes mountain biking more accessible to more people. You don't necessarily need to spend thousands on posh full suspension mountain bikes to have fun.
Another advantage of the simplicity of a hardtail, is that there is less to go wrong with them. The lack of rear suspension means that there are less moving parts to wear out.
Winter conditions take their toll on mountain bike components. So some riders put their full suspension bikes away for the winter and bring out their hardtails. This saves them getting the tools out so often or spending money on replacing expensive components.
Full suspension mountain bikes bounce up and down while pedalling, (unless you can lock out the suspension), wasting your energy. A hardtail doesn't have this bounce, so more of your effort goes in to the back wheel. The difference is pretty surprising, especially when you get off a full suspension mountain bike and jump on to a hardtail. You will instantly notice how quickly it accelerates from a standstill. During a long ride or a steep climb you will notice that you won't be using as much energy, this will be thanks to the bike's lighter weight.
Great For Building Skills
As a hardtail is less forgiving than a full suspension mountain bike, you have to learn how to ride it properly. As a beginner, if you start with a full suspension mountain bike, you will develop bad habits that are difficult to get out of. A hardtail mountain bike is ideal for learning the basic skills of mountain biking. These skills are all transferable when you upgrade to higher end bikes too. 
Best Hardtail Mountain Bike under £350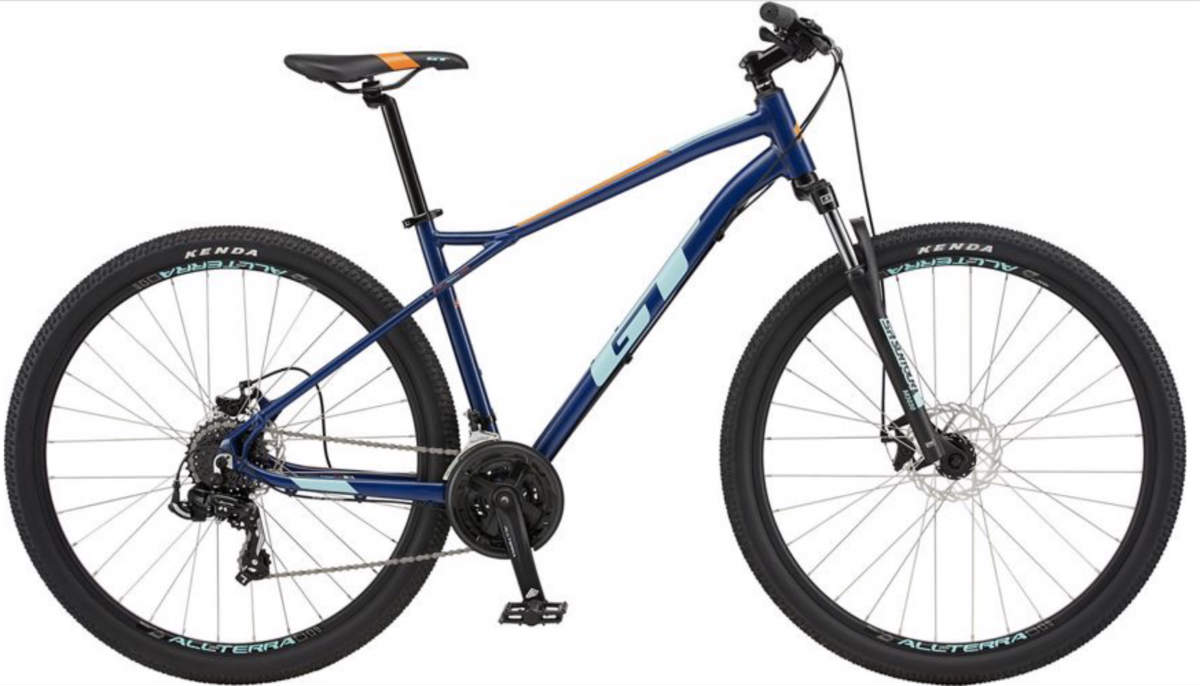 Below £350 you need to be realistic about what you are riding. At this price you can't expect anything too fancy, but you can have a lot of fun. This is important, as this is where most people start their love affair with mountain biking. If your first bike is horrible, you are not likely to continue. Therefore, you need something like the GT Aggressor.
This is an entry level hardtail mountain bike that is designed to be a versatile bike for riders to get the most out of it. You can have a lot of fun on the trails with an Aggressor, but it is also suitable for commuting and general riding around.
The GT Aggressor comes in three different versions:
The Comp and the Expert are a little more expensive, but have better components that are more durable. But, as durability goes, this is a solid bike that will give you a great intro to mountain biking in 2020.
When it comes to ordering your new GT Aggressor, you can specify the wheel size you would prefer. You get a choice of 27.5″ and 29″ wheels. If you are not sure what to choose, there are characteristics each have that determine how your bike handles:
27.5″ – Easier to change direction and feels more nimble.
29″ – Rolls over bumps easier and gives a smoother, faster ride. However,  they make it less easy to turn, especially in tight corners. Usually taller riders choose 29″ wheels.
Frame: All new 6061 T6 Aluminium, triple triangle with floating seat stays, forged drop-outs with disc brake mounts, zero stack 1 1/8″ head tube, 27.5/29″ wheels
Fork: SR Suntour M3030, 75mm, coil
Stem: 6061 Alloy, 31.8mm clamp, 8°, 90mm
Handlebar: GT All Terra Alloy riser, 25mm rise, 8° sweep, 6° rise
Front Derailleur: Shimano Tourney, 31.8mm clamp
Rear Derailleur: Shimano Tourney
Shifters: Shimano EZ Fire EF41
Brakes: Cable actuated mechanical disc, 160/160mm rotors
Crankset: All Terra, 42/34/24T
Cassette: Sunrace, 14-34T
Chain: KMC Z51, 7 speed
Tyre: WTB Ranger Comp, 27.5/29×2.25″, DNA compound
Rims: WTB SX19, 32h
Front Hub: Sealed Alloy disc, QR
Rear Hub: Sealed Alloy disc, QR
Saddle: GT MTB
Seatpost: Alloy Micro Adjust 27.2x300mm
The GT Aggressor is a nice bike for the price. It will suit those that want a bike that want to be able to commute, ride light off-road trails and have fun on. As long as you don't ride anything too crazy, the GT Aggressor is a good value, entry level hardtail bike.
Best Hardtail Mountain Bike around £600/$600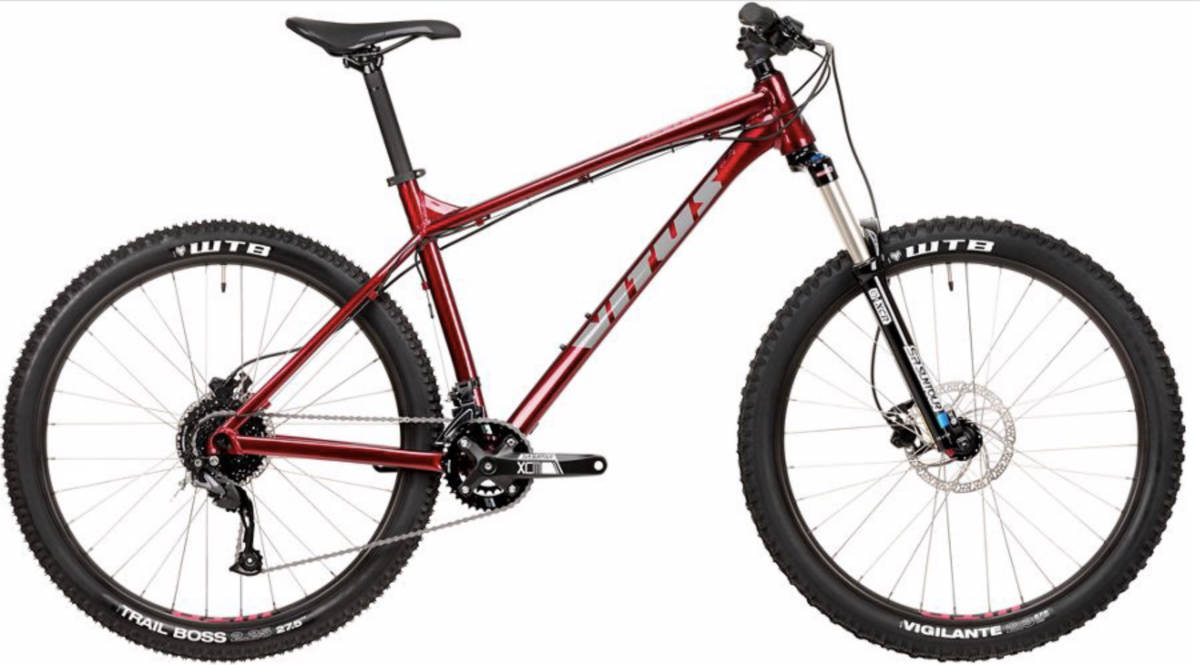 The Vitus Nucleus has won multiple awards, notably the MBR hardtail of the year four years in a row. Its modern geometry, component list capability makes it feasible completion for hardtail bikes that are twice the price.
The geometry is low, slack and long, which is in keeping with the modern trend. If you are not sure why this is good, I will explain. Low bikes have a lower centre of gravity, which helps you out when it comes to cornering. When a bike is slack, it means the head angle ( the angle of the fork relative to the bike) is not as steep. This kicks the front wheel slightly more in front of you, making the bike stable on steeper descents. Long bikes are also more stable. Therefore the Vitus Nucleus is very capable.
The suspension on the Nucleus is much better than what you would find on the GT Aggressor above. It has 120mm of travel as opposed to 75mm. This will soak up the bumps a lot better, especially as it is a better quality fork too. This fork is easy to adjust too. It allows you to fine tune the damping and air pressure to change how it handles to suit you and the terrain you are riding. Firm everything up for when you are pedalling efficiency and soften it for bumpy descents and jumps.
Frame: Brand New 6061-T6 Alloy construction with longer, slacker and lower build and modern geometry
Forks: Suntour SF14-XCR32 Air 27.5", 120mm
Rear Shock: N/A
Brakes: Tektro HD-M290 disc brakes, 160/160 rotors
Drivetrain: Shimano Altus
Shifter: Shimano Altus
Rear Derailleur: Shimano RD- M2000 Altus, SGS 9-Speed
Cassette: Shimano CS-HG200-9, 11-32T
Chainset: Suntour CW15-XCM, 175mm, 36x22T
Chain: KMC Z9
Rims: WTB ST i29
Front Hub: KT, 32H, 100x9mm
Rear Hub: KT, 32H, 135x10mm
Tyres: Front: WTB Vigilante Comp, 27.5×2.3" with High Grip Compound; Rear: WTB TrailBoss COMP, 27.5×2.25"
Saddle: Vitus
Seatpost: Vitus
Stem: Vitus 50mm
Bars: Nukeproof Neutron 31.8mm, 25mm rise
Headset: FSA
Top Cap: Vitus
Tubeless Ready: Yes, with tubeless rim tape fitted and valves included
The Vitus Nucleus is for riders that want something that is more of a mountain bike than a commuter (although you can use it for everything). It is more expensive than the GT Aggressor, but probably better value for money, as it will last longer in terms of riding fun, as you may grow out of the GT much quicker as you progress as a rider. If you can afford to go spend a little more, it would be worth choosing the Nucleus.
Best Hardtail Mountain Bike under £750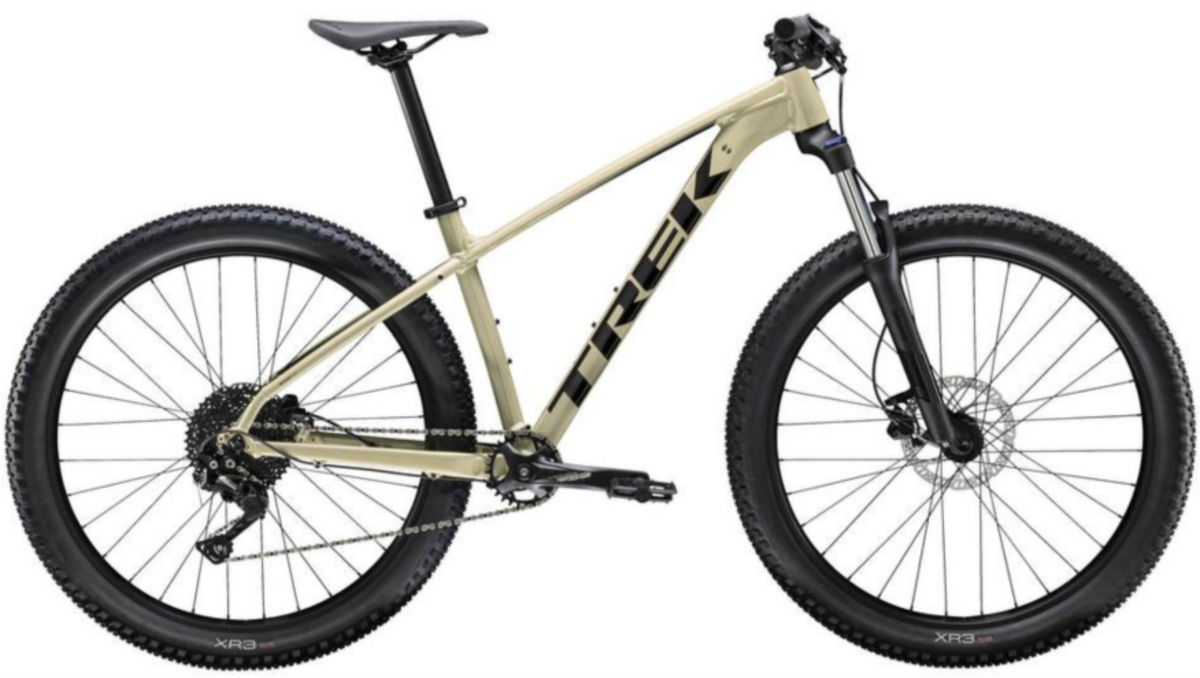 The under £750 category is a difficult one to place a bike in. This is because of the Vitus Nucleus above. It is a case of weighing up the cost versus the quality of the bike and its components. Do you spend a little more, or do you go with a great value for money bike? At the end of the day, it all depends on your bank account and how much you are going to ride. But, with lots of research, I have found a great option if you are willing to spend a bit more.
The Trek Roscoe 6 is designed to be a fun and easy bike to ride. Its big fat plus sized tyres soften up the ride and offer a big contact patch for excellent grip (although you may want to upgrade these for better rubber). You will find that the Trek Roscoe feels super comfortable to ride, especially when riding downhill sections of trail, thanks to its short stem and wide handlebars.
As with all these bikes so far, the Roscoe has a 1X drivetrain. This means that it only has 1 gear on the front. This is a good thing, as there is less to go wrong and you have less chance of the chain popping off while riding bumpy terrain. It has 11 gears, so you should have enough pedalling power for most situations you would put a bike like this in to.
| | |
| --- | --- |
| Frame | Alpha Gold Aluminum, tapered head tube, internal derailleur & dropper post routing, rack & kickstand mount, Boost141, 5mm QR |
| Fork | SR Suntour XCM 32, coil spring, preload, lockout, 47mm offset, Boost110, 15mm thru axle, 120mm travel |
| Rear Derailleur | Shimano Deore M6000, mid cage, 42T max cog |
| Shifters | Shimano Deore M6000, 10 speed |
| Chain set | FSA Alpha Drive, 28T steel ring, Boost |
| Bottom Bracket | Shimano 7420ST, 73mm, threaded cartridge, 124.5mm spindle |
| Cassette | SunRace, 11-42, 10 speed |
| Chain | KMC X10, 10 speed |
| Pedals | VP-536 nylon platform |
| Brakeset | Tektro HD-M276 hydraulic disc, short reach lever |
| Handlebar | Bontrager alloy, 31.8mm, 15mm rise |
| Stem | Bontrager alloy, 31.8mm, Blendr compatible, 7 degree |
| Headset | Semi-integrated, cartridge, 1-1/8″ top, 1.5″ bottom |
| Grips | Bontrager XR Trail Comp, nylon lock-on |
| Rims | Alex MD35, Tubeless Ready, 32-hole, 35mm width, presta valve |
| Front Hub | Formula DC-511, 6-bolt, Boost110, 15mm thru axle |
| Rear Hub | Formula DC-2241, alloy, 6-bolt, Shimano 8/9/10 freehub, Boost141, 5mm QR |
| Tyres | Kenda Havok, wire bead, 30 tpi, 27.5X2.80″ |
| Saddle | Bontrager Arvada, steel rails |
| Seatpost | Bontrager alloy, 31.6mm, 12mm offset |
| Weight | M – 15.16 kg / 33.42 lbs (with tubes) |
The Trek Roscoe is for someone that doesn't mind spending a bit more money on their bike. However, you will want to upgrade the tyres for much better versions. This will make it feel more planted. To be honest, I would save my money and buy a Vitus Nucleus, or I would save up for a Vitus Sentier.
Best Hardtail Mountain Bike under £1,000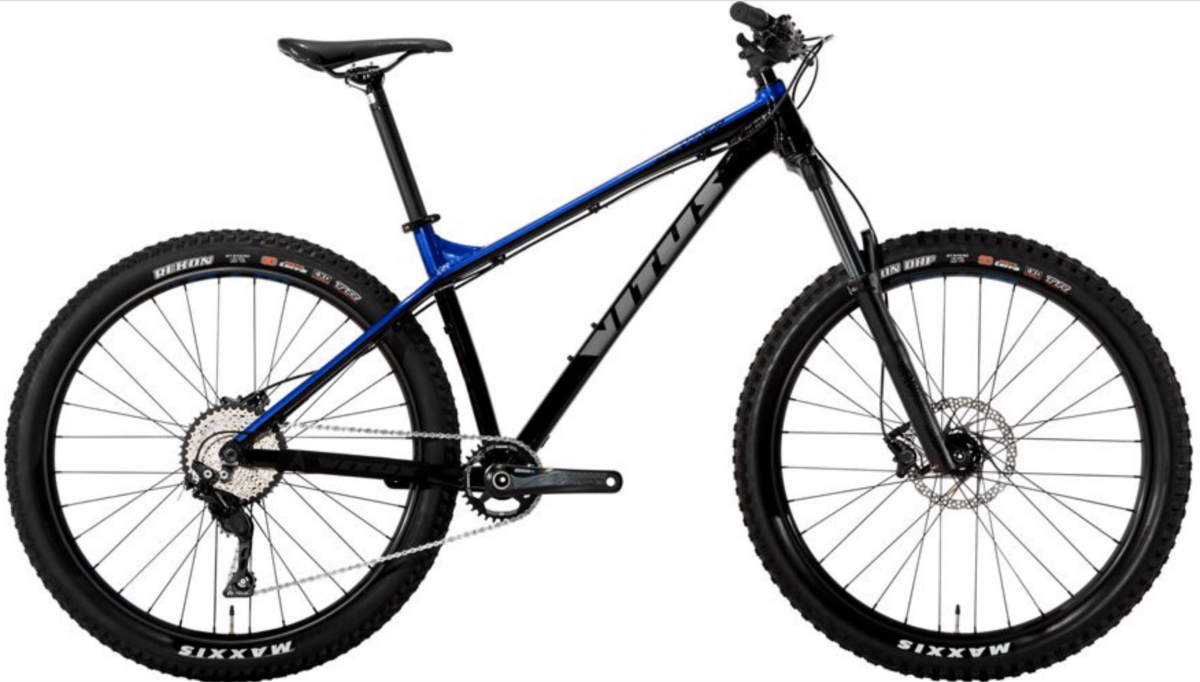 The Vitus Sentier is similar to the Nucleus in terms of its modern geometry. It is an aggressive hardtail that you will have huge amounts of fun on. It will also last you a long time, as it is not a bike that you will grow out of quickly as you progress.
It has a great component list for a bike of this price. They are god quality components from well known and established brands. Even the tyres are great. Maxxis Minions are tough and grippy that are good for lots of different riding conditions. To make this a better bike, you can upgrade to a dropper seat post and upgrade the brake discs to ones that can be used with organic or sintered pads. Brake disks are not expensive, so if you find yourself changing your pads too often, it may be worth considering upgrading. However, organic pads give you more stopping power, but ware out quickly.
Frame: Brand New 6061-T6 Alloy construction with longer, slacker and lower build and modern geometry
Brakes: Shimano MT-400 disc brakes, 180/160 rotors
Drivetrain: Shimano Deore 1×10
Shifter: Shimano Deore M6000
Forks: 140mm RockShox Recon RL fork
Rear Derailleur: Shimano Deore M6000
Cassette: Shimano HG-500 10-Spd, 11-42T
Chainset: Suntour Zeron 170mm 32T
Chain: KMC X10 EPT
Rims: WTB ST i29
Front Hub: KT 32H, 110x15mm "Boost"
Rear Hub: KT 32H, 148x12mm "Boost"
Tyres: Maxxis Minion DHF, 3C Maxx Terra 27.5×2.6"
Saddle: Nukeproof Neutron
Seatpost: Vitus
Stem: Vitus 45mm
Bars: Nukeproof Neutron 31.8mm, 25mm rise
Headset: FSA
Top Cap: Vitus
Tubeless Ready: Yes, with tubeless rim tape fitted and valves included
The Vitus Sentier is a very capable hardtail mountain bike. It is light weight, fun and you will feel naturally at home on it straight away. If you want to ride singeltrack and trail centres with confidence, while have great fun without spending thousands, this is the bike for you.
It is pretty good value for money in terms of its capability and how much fun you will have on it. You will probably want to upgrade the brake pads and brake discs to ensure that you don't need to keep replacing the pads all the time. The only other thing that would improve this bike, is to install a dropper seat post. These small changes will give the Vitus Sentier longevity with its ownership.
The Best Hardtail Mountain Bikes 2020 has to offer?
As you can see, you can get pretty capable mountain bikes for under £1000 these days. The Vitus Sentier is my favourite in this list. There are also higher specced versions, but the one featured here will satisfy your trail shredding needs.
What do you think? Please let me know what you think about these bikes. Should I include something else? Please leave your questions and thoughts in the comments section below.