Best mountain Bike Multi Tool
Best mountain Bike Multi Tool: What to look for
It is a very good idea to carry a multi tool with you on your rides. Even though bikes are pretty well made these days, they experience lots of vibration, which eventually shakes things loose, crashes that can break or bend components. Additionally, riders tend to forget to maintain their bikes, causing things to go wrong out on the trail. Multi tools don't take up much space and can make the difference between continuing an amazing day of riding and a slow push home. In this post, I am going to give you some top tips on what to look for in the best mountain bike multi tool for you. I have also put together a list of the best ones and why you should consider them.
Things You Need In a Multitool
There are various different types of mountain bike multi tool you can buy. They range from simple folding Allen key sets, to very clever ones with lots of functionality to get you back on your bike after a mechanical issue. So you need to decide how much functionality you want form your multi tool. Do you keep it simple and choose a multi tool that can just tighten loose bolts or do you chose a versatile one that will get you and your friends out of most bike failures? In my opinion, there are a few features that the best mountain bike multi tool should have as a minimum.
All mountain bikes have hexagonal bolts, therefore you need to be able to loosen and tighten these in many situations. In most cases bikes require 4, 5 and 6mm Allen keys. However, before you buy a multi tool, give your bike a once over to make sure it doesn't have a couple of obscure sizes. Also, check if your brake pads are held in with a small hex screw. If you need to change your pads on the trail you will need to remove it.
These are for the star shaped screws usually found around your bike, especially on your brakes. If you have to adjust your brake levers or even tighten up you rotors, you will be thankful for a good set of Torx drivers.
Look for both flat headed and cross-headed screwdrivers. This is so you can cover all bases.
Things That Are Great To Have In a Multi tool
The more versatile mountain bike multi tools have more functionality. If you are looking to cover all the bases, look at multi tools with the following features.
Most people ride with quick links in their chains these days, but a chain tool is a really good idea to have on you bike. This makes it much easier to remove the chain if your derailleur or mech hanger gets trashed.
Some multi tools have tyre levers attached to them somehow. Even if you are riding with tubeless tyres, you may find yourself in a situation where you need to take your tyre off. Usually, this will be a split in the side wall or a slice that your tyre sealant can't plug.
If you case a landing or hit a rock hard enough to ding your wheel, you may need to put it right to keep you riding. Make sure your spoke tool matches the spokes on your wheel.
The Best mountain Bike Multi Tools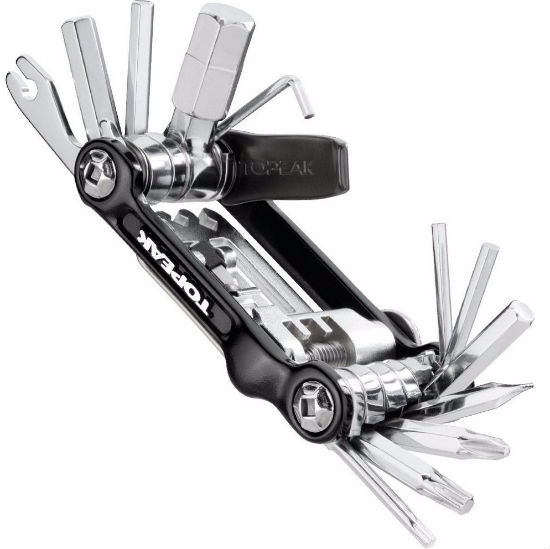 The Topeak Mini 20 Pro Multi Tool is small but it packs in lots of features to keep you riding. It measures just 75x42x15mm and weighs 152g. This stylish looking tool ticks a lot of boxes with a great selection of Allen keys, cross head and flat head screwdrivers, tort wrench, a chain tool, spoke tool (Mavic and Shimano) and even a bottle opener for that post ride beer.
The build quality is pretty evident when you pick it up. This is because the tools fold neatly in to the main body of the item and don't flop around. This means you don't need to stretch rubber bands around it to stop the tools snagging the stuff in your backpack. Although it does come with a neoprene pouch, but this isn't necessary and just slows down the process of getting back on your bike.
The most important thing about a multi tool, is its usability. Some multi tools are quite awkward to use and are not suitable for certain jobs. But, the Topeak Mini 20 Pro has none of these problems. It is very easy to use, which is very satisfying when you are trying to fix your bike in the rain trailside.
Material: Tools, Bottle Opener: Steel; Tyre Lever: Alloy; Body: Aluminium; Chain Tool: CrMo; Bag: Neoprene
Allen Keys: 2, 2L, 2.5, 3 (2 each), 4, 5, 6, 8, 10m
Torx wrench: T25
Spoke Wrenches: 15g/14g/Mavic M7/Shimano compatible
Chain Pin Tool: Phillips & flathead screwdrivers
Bottle opener with spoke holder
Dimensions: 7.6×4.2×1.8cm
Weight: 150g
The Topeak Mini 20 Pro is a great multi tool and is one of the best you can buy. It packs a lot in to a small package and is reasonably priced too.
Topeak Alien II Multi Tool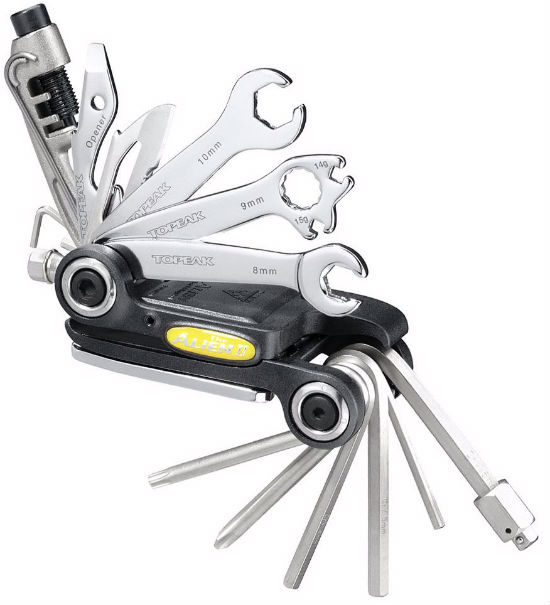 The Topeak Alien II Multi Tool has been around for years, but it is still relevant to modern day mountain and road biking. It is quite a bit heavier than the Mini Pro tool above, but it does have more functionality. This makes it one of the best mountain bike multi tools you can buy, with 26 different tools.
This is a great option if you are riding a long way from civilisation and need to be prepared. This is because it has all the standard tools you would expect and need, but it also allows you to replace broken spokes, remove your pedals, fix your chain and it even has a knife and the obligatory bottle opener.
The Topeak Alien II Multi Tool splits in to two pieces. This is so you can use the tyre levers or use the Allen keys at the same time as the box wrench.
Material: Body: Engineering grade plastic; Bag: HD Nylon; Tools: Chrome Vanadium Steel; Chain Tool: Cast CrMo Steel; Knife, Bottle Opener: Stainless Steel
Dimensions: (L x W x H) 8.6 x 4.3 x 4.1cm
Spoke Wrenches: 15g/14g
Tire Levers: Two Integrated In Body
Tools: 26 total
Torx Wrench: T25
Screw Drivers: Phillips & Flat Head
Pedal Wrench: Mini (For Field Repairs)
Allen Wrenches: 2-L/2.5/3/4/5/6/8/10mm
Box Wrenches: 8/9/10mm 2 each
Chain Hook: Steel Wire
Chain Tool: Single Speed to 12-Speed (not compatible with Campagnolo Hollowpin Chains)
Compartments: For Two Chain Pins
Weight: 270g
The Topeak Alien II Multi Tool is very versatile and is akin to carrying a workshop in your pocket. 
Crank Brothers Multi Mini Tool 19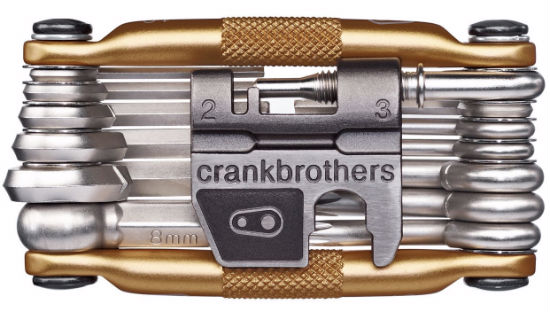 The Crank Brothers Multi Mini Tool 19 is another one that has been around for years, but it has had some updates during this time.   It is designed to fit in your had nicely and to be easy to use. It has a great selection of tools that will keep you riding in the event of a mechanical issue. I actually have this tool myself and I cannot fault it. It has Allen keys, a spoke tool, flat bladed and cross head screwdrivers, spanners, a chain tools and Torx drivers. It comes with a smooth metal "flask" to stop it snagging on stuff in your bag or to make it more comfortable if you keep it in your pocket.
All the tools fit neatly between the side plates and don't flop around. They are easily prised out too, which is important when your fingers are cold. Crank Brothers have really thought about ease of use and ergonomics. It fits in your hand nicely and gives you enough leverage and control while working on your bike.
It is also very durable. I have had mine for a number of years now, and there isn't even a scratch on it. It feels and works as well as it did when I first bought it.
Length: 3.5″/89mm
Frame: 6061-T6 aluminum
Tools: 6051 high tensile steel
Chain tool: 8/9/10 speed compatible
Spoke wrench: #1, 2, 3, 4
Hex wrenches: #2, 2.5, 3, 4, 5, 6, 8
Screwdrivers: 2-phillips, 1-flat
Open wrench: 8mm, 10mm
Torx: t-25/t-10
Carrying case: stainless and polymer
Weight: 175g w/o tool flask
The design of the Crank Brothers Multi Mini Tool 19 has stood the test of time. It is one of those things of "if it ain't broke, don't fix it". I really like mine and have not issues with it. Just remember that it doesn't have built in tyre levers, so you will need to carry some separate ones.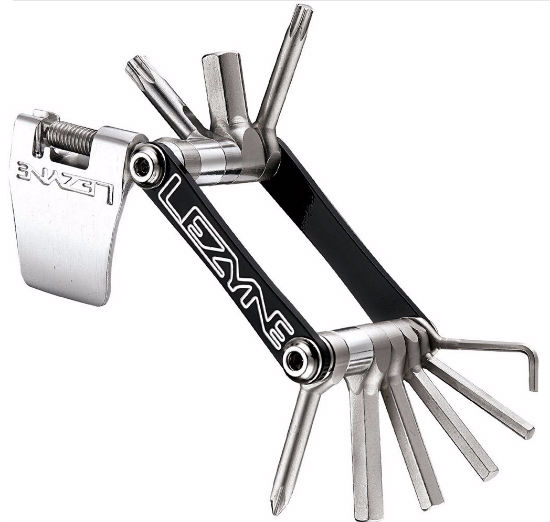 The Lezyne V10 Multi Tool is a nice compact, well made tool to carry with you on your rides. It is one of the smallest ones you can buy, with its sleek design and light weight. It is ideal to slip in to your pocket without it being obtrusive.
it its very well made and includes the essential tools to would expect from a multi tool. It has the necessary T25 and T30 Torx driver, a good range of Allen keys and a chain tool. They all fold in between the the CNC machined side plates neatly, eliminating any snagging potential.
Due to its small size, there is not a great deal of leverage, even though it fits in your hand nicely. In one respect this is good, as you are unlikely to over tighten bolts. However, if you need to get a particularly tight bolt out, you may struggle.
Aluminium side plates
Chrome vanadium bits
Tools – Phillips head screwdriver, T25 and T30 Torx drivers, 2, 3, 4, 5, 6, and 8mm Allen wrenches and an Aluminium chain tool.
Classy faux-leather case
Ultra-strong center-pivot bit construction
Weighs: 102 grams
This is a really nice multi tool. It is ideal for those that want a minimalist, light weight and compact tool. However, the small size doesn't;t give you much leverage. It is a good price, but, similar to the much more versatile tools on this list.
Which Is The Best Mountain Bike Multi Tool For You?
The best mountain bike multi tool for me is the Crank Brothers Multi Mini Tool 19. However, I could be tempted to go for the Topeak Alien II Multi Tool.
Which one are you going to choose. Pleas Let me know your thoughts and questions in the comments section below.