What To Take Mountain Biking
From changes in the weather, to mechanical problems, mountain bike rides can be eventful. So it is best to be prepared. In this post I am going to go through a load of things that will get you out of a pickle or just make life a bit easier. This is what to take mountain biking.
I always ride with a backpack. Some people hate doing this and they either go for a bum bag or risk it and only carry what they put in their pockets. One of the reasons I always ride with a backpack, is so I can carry various camera equipment. But I also like to be prepared, so I don't get stuck or have to rely on the people around me for tools and spares.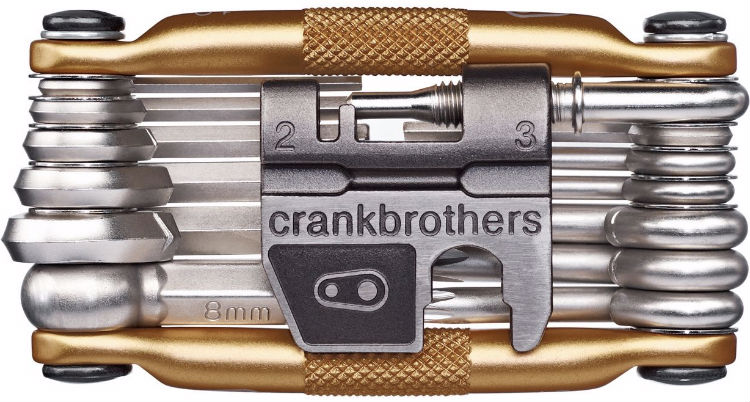 In my backpack I always carry a multitool. This is essential and has allowed me to carry on riding or at least get me to the nearest bike shop or home for repairs. 
My Multitool of choice is the Crank Brothers Multi Mini Tool 19. It is very versatile, well designed and doesn't take up much room. It has a chain tool, Allen keys, a spoke tool, flat bladed and cross head screwdrivers, spanners and Torx drivers. I cannot fault this multi tool and it is well worth the investment. Check out my post on the best mountain bike multi tools.
My bike is set up for tubeless tyres, but I still carry a spare inner tube. This is because, no matter how good your tubeless sealant is, it won't seal large slices in the tyre side wall. As I ride in the French alps and can be a long way from civilisation, I would rather carry a tube and get home safely.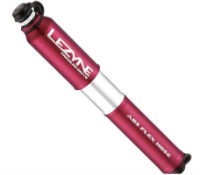 In the event of a puncture, you will need to pump your tyre back up. I like to carry a mini pump, as it does the job and doesn't take up much room in my backpack. Small pumps take a bit more effort to inflate your tyres, but not as much as pushing your bike home.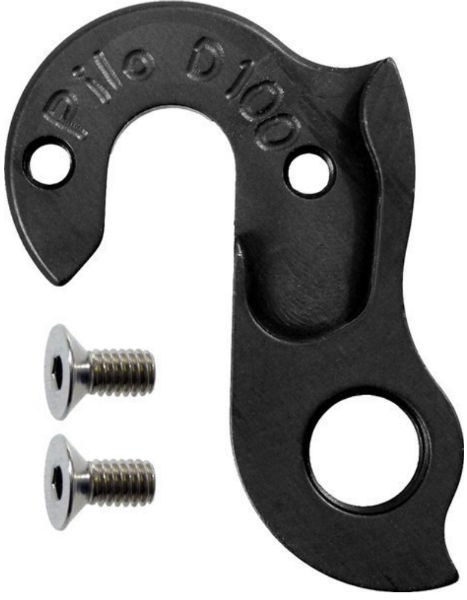 The mech hanger is what your derailleur is attached to. It is a sacrificial component that will snap to save your expensive derailleur. If your mech hanger snaps, you can't pedal your bike. So, it is a good idea to have a spare with you. I found this out when riding in Switzerland and had to get back to my home in France over the mountains without pedalling!
Often bike shops won't have spare mech hangers for all bikes. Some are only available online, so I advise you to buy one to carry with you.
The weather conditions can change or just not be quite as warm as you thought it would be. So, it is a good idea to take an extra layer on your rides. You may decide to take a lightweight waterproof jacket or an extra long sleeve t-shirt. This will mean you are more comfortable on your ride, on the drive home or even during your post ride beer.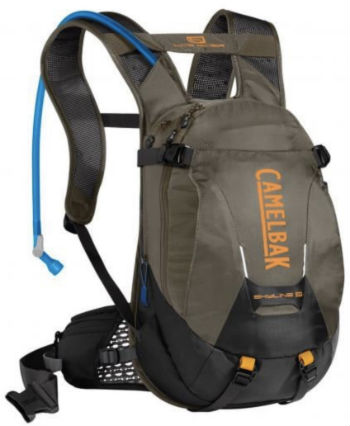 Dehydrating or crashing from not having enough energy really makes your ride a misery. Make sure you take plenty of water. You may want to choose a hydration pack over a full on backpack. 
Snacks are also a very good idea. a mid ride snack will put you on to lunch staving off the hanger.
If you tend to drive to the trails, you can make life easier with a few easy preparations.

A track pump is a quicker way of inflating your tyres than a mini pump. They are super useful if you have a slow puncture and need to change a tube during a stop off at the car.
As you get more experienced with mountain bikes, you will get more confident in doing your own repairs. You can keep a box of tools in your car that will allow you to do repairs that you can't do trail side.
You can keep extra layers in the car. It is a good idea to take extra, especially if you are driving a long way to where you are riding. Having a spare mountain bike jacket you can throw on if the weather is worse than expected when you arrive will make a difference to your day.
It is always a good idea to have a change of clothes for the drive home handy too.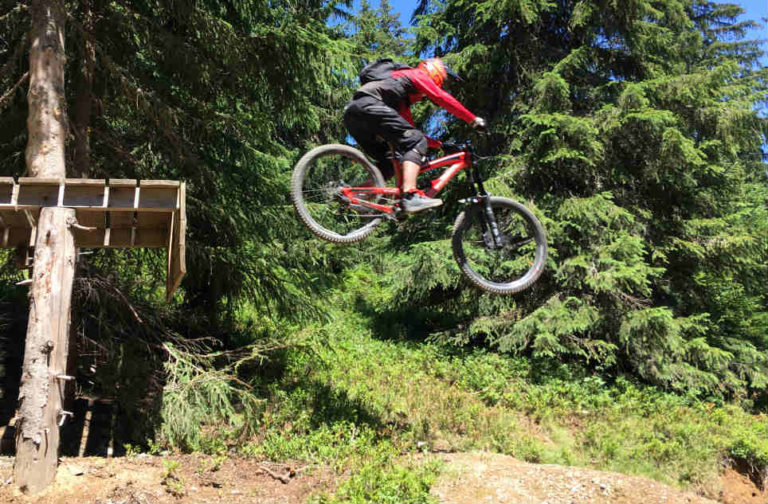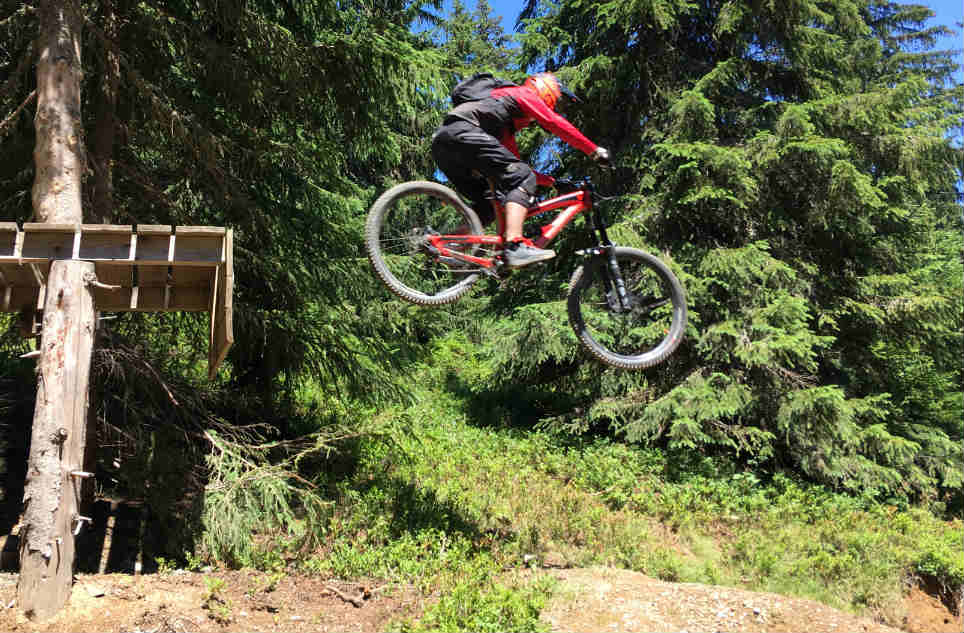 A Proper Mountain Bike Jersey
It is tempting just to throw on an old cotton t-shirt for mountain biking. But a proper mountain bike jersey will make you much more comfortable. This is because it is made from technical fabric that wicks moisture away from your body. Mountain bike jerseys are also made to stretch and move with your body. This makes sure that your movement is not restricted.
Proper Mountain Bike Shorts
Proper mountain bike shorts will also keep you comfortable. They are designed to be durable and comfortable. If you ride in wet conditions a lot, I recommend that you buy some waterproof shorts, to make sure you are much more comfortable.
Check out my guide to buying mountain bike shorts
Some riders like to wear mountain bike pants, especially in the winter. These offer more protection and will keep your legs warm on cold days.
Mountain Bike Shoes Or Flat Shoes
When I first started riding, I just used some flat skate shoes to ride in. These were fine, but when I first wore some proper flat mountain bike shoes, everything got a lot better.
Flat mountain bike shoes offer loads of grip and shock absorption on the pedals. I wouldn't say that they are essential, but if you want to get the most out of your riding, I really recommend that you buy some. My choice of mountain bike shoes are the Five Ten Freeriders. There are a few different types, but I tell you the difference in my guide to choosing Five Ten Freeriders. 
Some mountain bikers prefer to clip in to their pedals. This gives you the benefit of security when your feet are attached to the bike. They also make your pedalling more efficient, as you can pull up and push the pedals at the same time. There are a few versions of the Five Ten Freerider for clipping in too.
You would be pretty stupid to not wear a helmet mountain biking. Some people think that they don't make a difference in a crash  or they encourage people to take extra risks. But, I know people that have had their lives saved by their helmets. The type of helmet you should buy depends on the type of riding you do. You can get half shell, lightweight full face, full face downhill, enduro and convertible helmets.
I always where knee pads when I am mountain biking. There have been a few times when I have been sliding along a gravel trail on my knees being very thankful for putting my knee pads on that morning. There are quite a lot of choices to make when buying knee pads to suit your personal preference. Buying the right pair can make a difference to your day on the bike and those moments when you and your bike part ways.
When elbow pads do their job, they are great. They do give you impact protection most of the time, but I think the main benefit of elbow pads, is that they give you a confidence boost. They make you feel a bit less vulnerable, which means you will ride a little better and maybe take on trails and features your wouldn't normally do.
People have different reasons for wearing mountain bike body armour. Some riders need it because they are hitting big alpine descents, they may just want all the protection possible or they have a previous injury that they want to protect.
There are different levels of body armour, from protective compression vests to full on hard shell protection. 
That Is What To Take mountain Biking
That is a lot of stuff. What you decide to take is up to you, but it is always good to be prepared. Obviously all this stuff costs money, so you will gradually buy it over time to spread out the costs. I think you should prioritise proper mountain bike clothing and the tools that will keep you riding and safe when out on the trails.
Have I missed anything out? Please leave me your thoughts and questions in the comments section below.