The 6 Best Mountain Bike Knee Pads: Keep the gravel out of your knees
There have been times when my mountain bike knee pads have been the best thing I have ever bought. Those times are when I have been sliding down a gravel trail on my knees. It has happened a few times and, if I hadn't been wearing my knee pads there would have been a serious injury or two. But I have just got back up, found my bike and carried on riding.
And carrying on riding is what we all want to do, so mountain bike knee pads are pretty common these days. There are lots of different types you can buy now too and they have come a long way in their designs. Mountain bike knee pads used to be really uncomfortable, hot and they chafed all the skin off your legs. These days, with all the different types of mountain bike knee pads, you would be very unlucky to not find a pair that you like. However, with this huge choice, it is difficult to decide which ones to buy.
Why Wear Mountain Bike Knee Pads?
As I said before, there have been times when I have been sliding along a gravel trail on my knees. There doesn't tend to be much natural protection from this kind of thing. You never know when you are going to crash, and it can happen in the silliest of places, so mountain bike knee pads are completely necessary.
With the advancements in their designs, mountain bike knee pads are lighter, more comfortable, breathable, give more protection and look good. So, there is no reason to not wear them. On the very few occasions I have not worn mine, I have felt quite vulnerable. This means I don't ride as fast and my enjoyment isn't as high as it should be. 
Types of Mountain Bike Knee Pads
Knee pads all do the same job, but there are some differences. The most basic design of knee pad is a tube of fabric with some padding on the front. They are articulated to reduce any restriction of movement. Some mountain bike knee pads are extended at the top, which gives you more coverage between the top of the pad and the bottom of your mountain bike shorts.
Different knee pads have different ways of staying secure. Often they will have straps or be tight fitting to stop them slipping down and becoming ankle warmers. But you will find ones with velcro straps that allow you to put them on and take them off without having to take your shoes off. This is worth paying attention to, as the wrong kind of fastening can scratch your skin and prove very uncomfortable.
How Much Protection Do I Need?
When choosing mountain bike knee pads, the amount of protection is the most important consideration. If you opt for pads with lots of coverage and lots of padding, you will get pads that are quite bulky and quite hot. This will have an effect on your comfort and ability to pedal. So you need to determine what is most important to you. This is usually down to the type of mountain biking you are doing.
Light Weight Mountain Bike Knee Pads – These are slim fitting and offer minimum protection, but they do have an emphasis on light weight. With the best ones, you will easily forget that you are wearing them and are good for pedalling all day. You will be protected from scrapes, but won't be great for big falls.
Trail – Trail knee pads are designed for all day riding, but provide a lot more protection. Most won't protect anything other than you knees, but they will be effective in most situations.
Heavy Duty – Heavy duty pads are for aggressive enduro and downhill riding. These will be much more bulky and have extra padding giving you maximum coverage. They protect you when you fall, but they also stop you wacking your shins with your pedals. The thing to look out for with these, (other than protection) is how they attach to your legs. Some are more comfortable than others, due to how they fasten.
Mountain Bike Knee Pad Materials
Typically, mountain bike knee pads are made from a foam inner and a tough outer, which will be made from neoprene or something similar. They will also have a protective pad over the vulnerable parts of your knee. This could be made from foam or plastic. One of the materials you should be aware of when it comes to the protective pad, is D30. This stuff is flexible, but when it gets an impact it stiffens up and disperses the shock. Many manufacturers use D30, but some will have their own versions with different names. You will also find knee pads with Kevlar on the outside of the fabric. This makes it more durable and long lasting.
Pay attention to the size guide. it is important to measure below the knee and above the thigh to make sure that they will fit properly
It is tempting to go for the coolest looking ones, but you really need to make protection and comfort your priority
Think about how heavy the material might get when wet if you ride somewhere that gets a lot of bad weather. This will have a big impact on your comfort.
Race Face Ambush Evo+ Knee pads
As I have said before on this site Race Face make some great products. These knee pads are well-thought-out. They are aimed at the enduro rider, that likes to take on a bit of downhill too.
Protection comes from D30 foam, this is the clever stuff that is soft to the touch until it has an impact. This is when it hardens up and disperses the shock. They are made for comfort too, with the part in contact with your skin, being made from perforated neoprene. This means you get good ventilation and moisture wicking properties.
They are easier to get on than some mountain bike knee pads, as they open up at the back. This means you don't need to take off your shoes to put them on or take them off.
These pads are very good and are most riders will get on with them. They look a bit bulky, but they are very comfortable. The only thing is, the sizing is smaller than you would expect. But don't let that put you off, I recommend buying a size larger than you normally would.
As with the fantastic elbow pad version, the IXS carve Evo+ mountain bike knee pads don't disappoint. They are ergonomically designed to fit around your knee comfortably. You can adjust the fit accordingly with the loop lock closing straps. The Aeromesh technology means that they are well ventilated, breathable and moisture wicking.
Protection comes from IXS's Xmatter protection foam. This takes on high impacts with ease, by absorbing the shock from when you hit the ground. What I really like about these, is the extra protection they give on the side and below the knees.
A great looking pair of knee pads that you can wear all day. They are comfortable and offer great protection for cross country and enduro rides.
For something a bit more lightweight, you might want to check out the POC VDP Air knee pads. These offer good protection without leaving you feeling restricted. They are very flexible and light, meaning you will soon forget that you are wearing them.
The VDP in their name, is POC's version of the D30 foam. So it hardens up on impact, but is very flexible to ensure a great fit. They are held in place with a velcro strap around the top and silicone strips on the inside to prevent slippage too.
Super comfortable and light mountain bike knee pads. They will protect your knees in most situations. Although the IXS Carves do have the extra protection to the side and below the knee.
G-Form make some really technical protection for lots of sports. They use the same technology for all of them, and it works extremely well for mountain biking. The Elite is aimed more towards cross-country riders, who like to go out all day on their bikes.
These mountain bike knee pads fit using a compression fabric. They slide on to your knee and stay there like a second skin. This means that they articulate with all of your movements. To help them stay in place, there are soft silicone grippers at the top and bottom of the pads. These work really well to stop them spinning around your leg when you fall.
The sizing of these, is a bit small. So if you go down the G-Form route, I would possibly go up a size to what you are used to.
The protection is very clever, and is provided by RPT pads that follow the contours of your knee. These pads are super shock absorbent and will look after you on a cross-country ride.
Great mountain bike knee pads for long distance riding. They have great protection and comfort too. Just make sure you get the sizing right.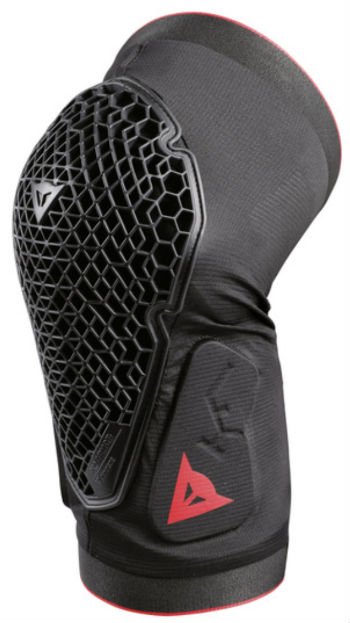 For the amount of protection the Dainese Trail Skins 2 have, it is amazing how light they are. Their clever construction and design, gives you the most ventilation for any mountain bike knee pad on the market. The latticework structure is pliable making it very comfortable, but it hardens up on impact to absorb the shock.
The Dainese Trail Skins 2 are definitely a contender for the best lightweight knee pads in relation to their high level of protection. They are lightweight and flexible, making them very comfortable. You need to make sure that you get the sizing right, but if you do, you will have an exceptional pair of knee pads suitable for trail and cross country riding.
Race Face Flank Leg Guard
If you like the sound of the Race Face Ambush, but want extra protection, you should check these out. The Flank leg guards have the same knee construction, but with added padding to protect you from those spiky pedals. They are essentially aimed at downhillers, but to be honest, they can be used by anyone that values their lower limbs.
These have all the plus points that the Ambush has, such as being able to take them off and put them on without taking your shoes off.
A great pair of mountain bike knee pads, with extra protection where you need
Fox Racing Launch D30 Knee Guard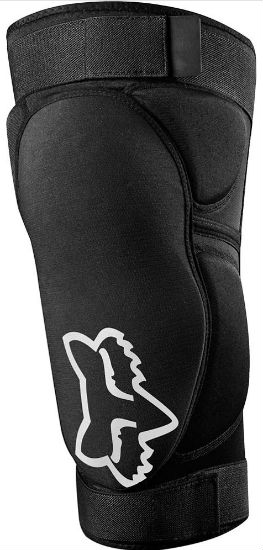 The Fox Racing Launch D30 Knee Guard is a lightweight option that has excellent protection thanks to the D30 pads. The D30 is soft and pliable when you are just riding, but hardens up on impact to dissipate the shock. The foam pads sit on pre-recurved neoprene sleeve to make sure you get day long comfort. They are easy to slip on and stay inlace with hook and loop closures.
If you want more coverage you can go for the Fox Racing Launch D30 Knee and Shin Guards. These extend below you knees and offer more protection. These are great if you have a habit of smashing your pedals in to your shins regularly.
Which mountain bike knee pads do you like?
These are all great at keeping the gravel out of your knees during a ride. But the Race Face Flank are a bargain, if you can get to them before the sale ends. Which ones do you prefer?