What Mountain Bike Shorts To Buy?
You may be tempted to slip in to some old board shorts or cargo shorts for your mountain bike rides. When I first started, that is exactly what I did, but I soon learned that it was much better to wear proper mountain bike shorts. There are quite a few to choose from, so in this post I am going to help you decide what mountain bike shorts to buy. It isn't complicated, but this information will hep you get some really good ones. I will also give you some recommendations.
What To Look For In Mountain Bike Shorts
Mountain bike shorts, just like all mountain bike clothing are made for the job in hand. They are made to ensure that your movement isn't restricted and you are as comfortable as possible. This is helped with the fabric used. Some mountain bike shorts are made from stretchy materials or they have strategically placed stretchy panels.

Mountain bike shorts are also made to be durable. This provides you with a little bit of protection when you crash, but it also makes them last longer. You will find that poor quality shorts will wear out on the seat quite quickly, from contact with the saddle.

If you ride in wet weather a lot, you may want to look into waterproof shorts. This makes a huge difference to your comfort, as your bum stays warm and dry.
Some mountain bike shorts have a DWR coating. DWR is a water repellent treatment that is applied to the fabric when it is made. You will need to renew it from time to time, as it can lose its effectiveness after repeated washing and wear against the saddle.
It is always good to be able to wear mountain bike shorts without the need for a belt. Belts can get in the way and can be really bad in a crash. So buying mountain bike shorts with decent adjustability is a good idea.
Look for mountain bike shorts with Velcro tags on the waist. These allow you to get perfect the fit. You can get the adjustable straps either inside or outside of the shorts. Make sure that Velcro straps are covered properly, as it can be scratchy on your skin if they are on the inside. If the Velcro straps are on the outside, they can catch on jerseys. Some shorts have big buckle straps which offer lots of adjustability and comfort.
The best way to stop the waist popping open accidentally is to buy shorts that have a press-stud fixing. Go for shorts with more than one studs and/or a small strip of Velcro to ensure security. Belt loops are a good idea if there are no waist adjusters.
Hip pockets are not exactly essential but are good for quick access to small change an energy bar or your phone. I prefer it when pockets have zips, so I don't have to worry about losing anything.

Cargo pockets might sound like a good idea for carrying extra stuff, but personally, I don't really use them. This is because they put all your stuff in the worst place for an accident. But the biggest issue with cargo pockets is that their contents bang against your thighs when pedalling, which is super annoying.
The length of your mountain bike shorts should be a consideration when buying. Longer shorts give you more protection against brambles and scrapes. Also, they fit over your mountain bike knee pads better.
What Mountain Bike Shorts To Buy? - My Recommendations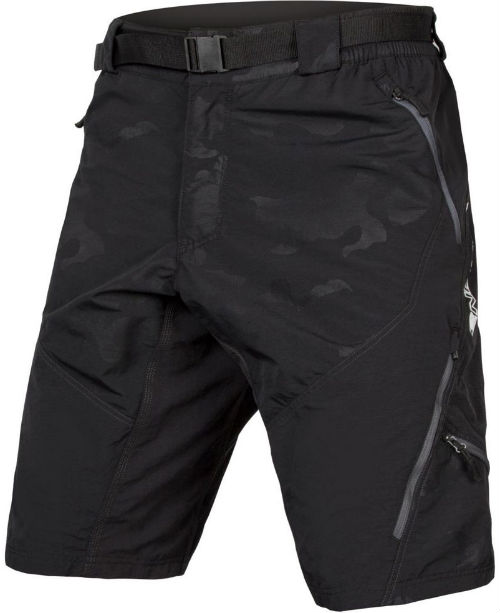 The Endura Hummvee II shorts are brilliant and they are a big seller for good reason. As with all Endura products, they are very good value for money. These are comfortable enough to wear all day. They are ideal as your first pair of mountain bike shorts, as they don't break the bank and have really useful features. The main feature being the removable padded liner, which keeps your bum as comfortable as possible.
I have chosen the black camo colour scheme for the picture, but there are a few subtle colour choices available. They look cool without being all shouty about it.
Material: 100% Nylon
Durable nylon mini-ripstop fabric with DWR finish
Includes Clickfast™ detachable liner with 200-series pad
Zipped thigh vents with mesh inserts
Zipped hand pockets, cargo pockets and large rear map pockets
Durable, seamless seat panel
Rear elasticated waistband and adjustable belt
Nukeproof Blackline Shorts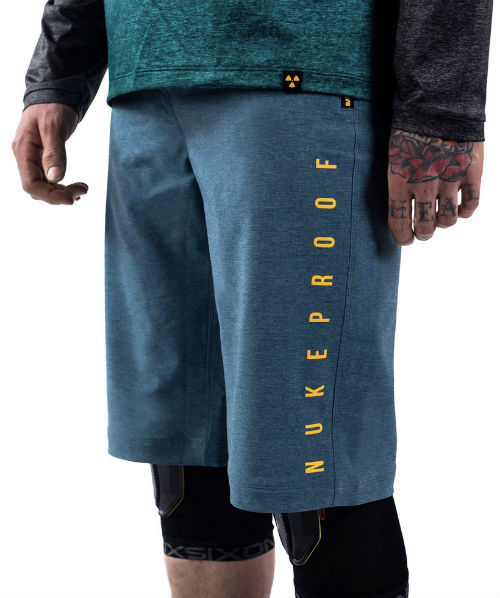 The Nukeproof Blackline range is one of my favourite collections of mountain bike clothing. Nukeproof stuff is very well made. The Blackline shorts are very versatile, as they are suitable for most weather conditions. Due to the DWR coating, as it just makes water and mud run off them (to a point).
Triple stitching, double popper buttons and chunky zips, result in a tough pair of shorts. Therefore, they will last you a long time.
The internal velcro tabs and silicone grip will keep them firmly in place. There is some thought gone in to the comfort of these men's mountain bike shorts too. The mesh lining around the waist will wick away moisture, keeping you nice and comfy. Unfortunately, the only negative, is that the rear pocket is a bit too small. So it isn't very useful.
There are versions of these shorts for both men and women. Both look great and should last you a long time.
Materials : 88% polyester, 12% elastane
Stretch fabric with DWR water repellent treatment
Velcro adjustment tabs on the inside of the waist and silicone grip on the inside of the waist keep the shorts from slipping
Mesh-lined waist to combine comfort and evacuation of perspiration
Zippers YKK
2 zipped front pockets and 1 zipped back pocket
Snap buttons on the fly for a secure fit and belt loops
Loop with a clip and a strap inside the pocket
Solid triple-stitched hems on the inside of the leg for added strength
Rubber printed graphics
Borders with the Nukeproof brand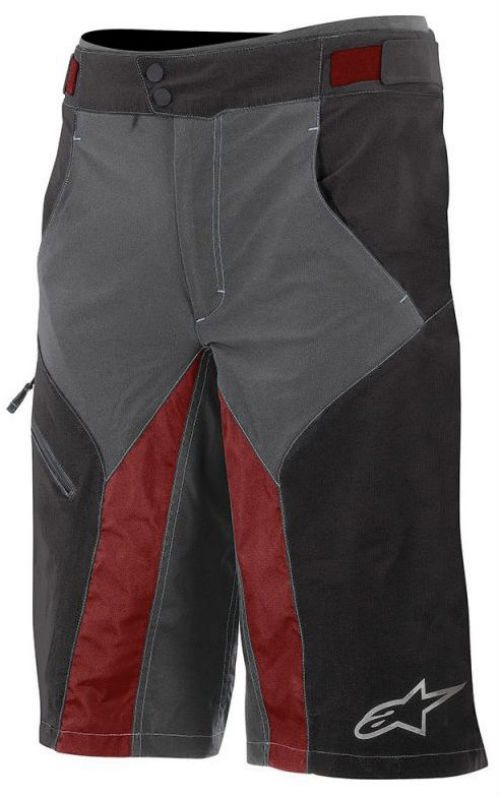 The Alpinestars Outrider are very technical shorts to ensure great comfort in all kinds of weather. The waterproof laminated rip-stop and taped seams give you fantastic weather proofing. The fabric stretches in four ways to ensure that you are as comfortable as possible and your movement isn't restricted.
In true Alpinestars fashion, they are very well made and will last you a long time, thanks to their durability.
One thing when buying these shorts to consider, is that they are sized a little big. So if you are in between sizes, go for the smaller one.
Material: 90% Polyester, 7% Spandex, 3% Polyamide
Technical, multi-panel, multi-material construction
Breathable four-way stretch fabric in front
Waterproof laminated rip-stop on the back and crotch areas, seam taped to offer excellent all round weather-proofing
Rear yoke stretch panel is laminated for waterproofing
Waterproof membrane pocket on thigh features waterproof zip with easy-use pull-tabs
Velcro® adjustable waistband with double front snap fastening and zip
Waistband features soft textile for comfort
Seamless construction on the seat area to prevent material irritation
Deep flat-cut side pockets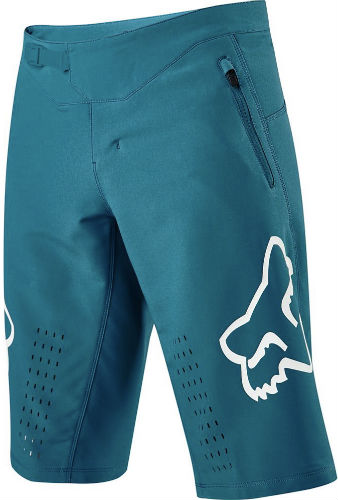 The Fox Racing Defend shorts are made with the TruMotion all-way stretch fabric. This stuff allows excellent mobility and maximum freedom of movement. You will notice the flexibility and comfort when climbing and the mobility when descending. These shorts are very breathable which is enhanced by the body-mapped perforated areas on the front. The DWR coating helps to shed water and trail dirt and debris. 
The hand pockets are zipped and large enough to provide useful storage. The ratchet fastening system gives you a secure fit and the ability to make quick on the fly adjustments to make sure you are as comfortable as possible.
The Fox Racing Defend shorts come in lots of different colours so you can pair them up with your favourite jersey or even to match your bike. 
Material: Polyester 94% ELastane 6%
Ratchet closure provides a secure fit & quick on-the-fly adjustments
Secure zip hand pockets
TruMotion all-way stretch fabric for increased mobility
Body-mapping laser perforated areas on front & back keep you cool
Durable Water Resistant finish sheds moisture, dirt, & debris
Inseam: 14.5″" size large
Endura MT500 Burner Ratchet Shorts II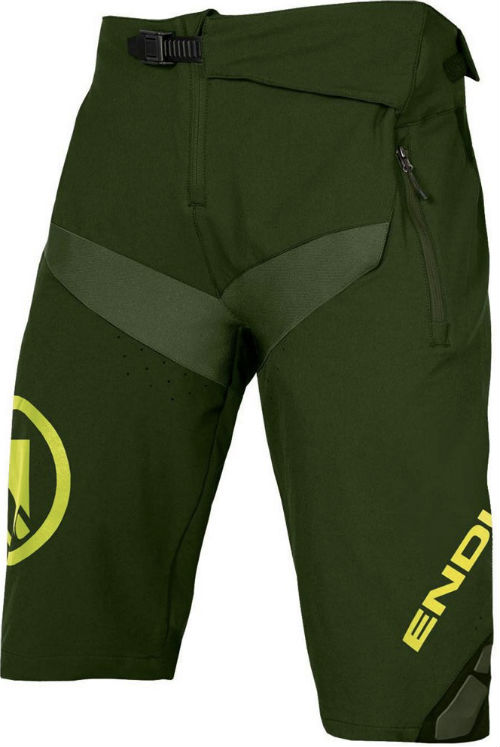 The Endura MT500 shorts have been developed with the Athertons, so you know that they are going to be good. These shorts are ideal for trail, enduro and downhill riding.
Their design gives them stretch in four directions at the same time through the crotch and rear panels. These shorts are built to be durable, especially around the seat, they also have 3D moulded protection over the knee to keep you protected in a crash. The zipped fly, Velcro waist adjusters and a ratchet offer unrivalled adjustability and security. The zipped hand pockets top off the list of extensive features these shorts have.
In addition, the MT500 shorts are compatible with the Clickfast liner, to ensure all-day comfort for long rides.
Material: 90% Polyamide (Nylon). 8% Elastane (Spandex), 2% Neoprene
4-way stretch fabric with durable seat panel
High stretch crotch and rear panels
Zipped fly with ratchet waist adjuster and Velcro waist adjusters
Zipped hand pockets
Contemporary slim fit
Clickfast liner compatible
3D moulded outer knee protection
Developed with the Athertons