Schwalbe MTB Tyres For 2020
Schwalbe MTB Tyres For 2020
Even if you have never used them, as a mountain biker you will probably be aware of Schwalbe Mountain bike tyres. They have a huge range of tyres to choose from for all types of bikes, riding and terrain. Therefore, the German brand will have something that suits your needs. In this post I am going to go through the Schwalbe MTB tyre range for 2020. There are some new editions as well as some old favourites available. You should also look out for some special tan wall versions of your preferred rubber to add a bit of extra style to your ride.
Before I go through the highlights of the 2020 range, there are a few techy things that are worth knowing.
Schwalbe produce tyres with a number of different casings. But the main ones you should be interested in are:
Downhill
Super Gravity
Apex
Snakeskin TLE.
These casings are found on Schwalbe's flagship "Evolution Line" range. Trail and Enduro bikes, will mainly be shod with Super Gravity or Snakeskin cased tyres.
There are more lightweight casings in the Schwalbe range, but the SnakeSKin TLE casing is probably the lowest you want to go if you are riding trail or enduro bikes, in terms of durability.
The name SnakeSkin refers to the extra layer of protection on the side wall. This is to reduce the likelihood of cuts. SnakeSkin TLE tyres do a reasonably good job of staying inflated without tubeless sealant. But, if you ride trails that are demanding on your tyres, I would look at alternatives. This is because the casing is far too thin to take the punishment. This is more prevalent for heavier riders, but lighter riders will enjoy the low rolling resistance.
The Apex casing is only available in 2.6″ and 2.8″ widths. These are pretty tough, thanks to the extra reinforcement in the sidewall. This reinforcement protects against punctures and improves the lateral stability needed when cornering.
Pinch flats will typically come from the tread, rather than the sidewall of an Apex tyre. This means a decent tyre sealant, such as Tyre Yogurt will seal up holes.
Apex casings are more durable than TLE, but unfortunately they are only available for wide tyres, which will not suit all riders and bikes. 
Schwalbe have updated their Super Gravity casing to be more robust. It is very good at preventing pinch flats and has great cornering stability, even with low tyre pressures. These characteristics come from the combination of a SnakeSkin layer and the reinforcing insert used in the Apex casing, along with a four-ply casing.
All these features mean that the super gravity tyres are not particularly lightweight, but they are ideal for enduro riders, especially if you are over 80kg.
The Schwalbe downhill tyres are non-foldable. They are super tough, thanks to their six-ply casing and offer superior puncture protection. It is worth noting that they are not the easiest to fit, due to the stiff wire beading. Therefore, I would go tubeless, to make life easier if and when you do get a puncture. If you want even more protection, you may want to check out the Maxxis downhill tyre range. 
Before you buy a set of Schwalbe MTB tyres, you need to be know about the different versions of the Addix rubber compounds. There are three different types of Addix compound, the hardest and fastest-rolling, is the Addix Speed. This should only be used for cross country rides. Trail and Enduro riders should choose between Speedgrip, Soft and Ultra Soft. The different types are identified by the different coloured stripe in the tread.
You can spot the Speedgrip compound by the blue stripe. The big advantage over this compound has over the softer ones, is that is is hard wearing and faster rolling. They are good value for money, as they are reasonably priced and last a long time. However, if you fit one on your front wheel, you need to have some good skills, as they are not particularly grippy
You can use this on pretty much any bike, as tis compound is pretty universal. You get a good balance between grip and rolling resistance, so it is good for both front and back on an enduro bike. The Addix Soft would make a nice grippy front tyre for a trail bike. This is a good option for riders that want a tyre that will work well all year round, in different conditions. You can identify them by the orange stripe.
The purple-striped Addix Ultra Soft is Schwalbe's softest rubber compound and is primarily used for their downhill tyres and some Super Gravity tyres. If you are riding an enduro bike, it is ideally suited as a front tyre. Its grip in the wet is excellent, but the rolling resistance is pretty high. If you stick an Addix Ultra Soft on your back wheel, your legs will get tired quickly. The soft compound gives you fantastic grip, but it will wear quickly.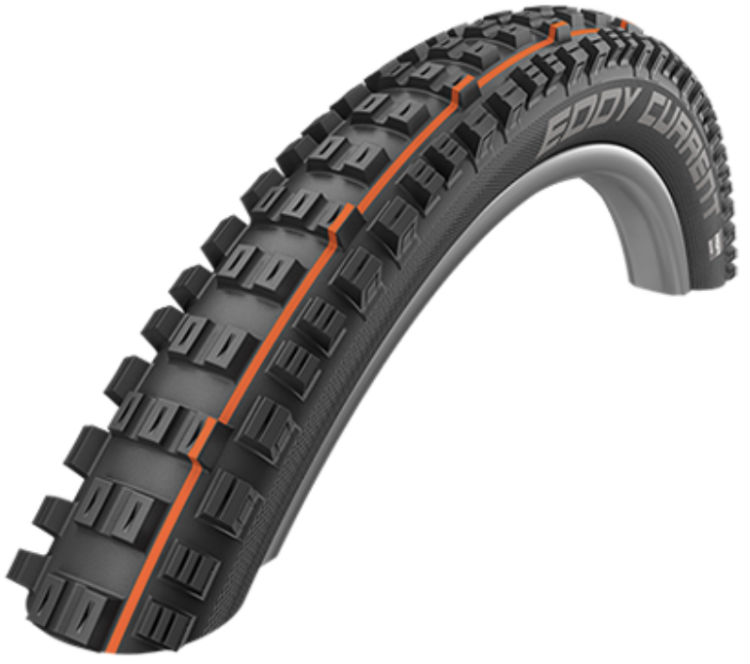 The Schwalbe Eddy Current is an E-Bike specific mountain bike tyre. It is designed for All Mountain and Enduro riding. The features incorporated in to this tyre gives the best performance, even uphill. It can cope with the hard acceleration you get from modern electric mountain bikes. Electric mountain bikes are becoming more capable and riders are taking them on more technical terrain. Therefore Schwalbe have made the Eddy Current with and big widths, specially adapted tread design for front and rear wheel and larger knobs. the knobs are up to 20% larger than other Enduro/All Mountain profiles.
The tread pattern is an aggressive  and open design, with concise V-Grooves along the centre and side blocks. This gives precise cornering characteristics and great transmission of power to the ground.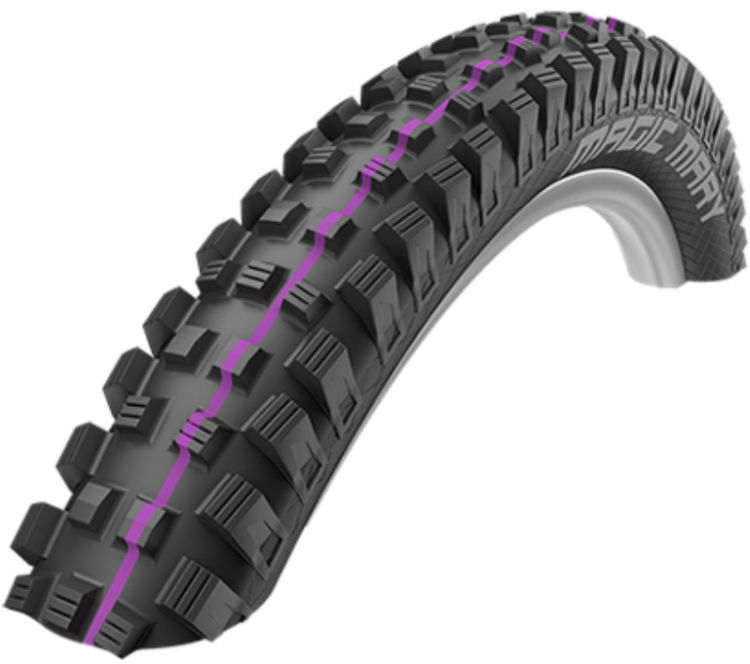 The Schwalbe Magic Mary is very popular with downhill riders. This is because it has a very aggressive tread pattern with large knobs on the outside of the tread pattern, which cut in to the mud while cornering. The wide spacing of the knobs means that mud is cleared from the tyre and gives good grip on both rocky and hard packed trails. The construction has been improved over time, as the knobs used to get ripped off easily, but they are now more durable.
The Magic Mary is a great tyre for downhillers, but it makes a great front tyre for trail riders too, due to the grip it gives.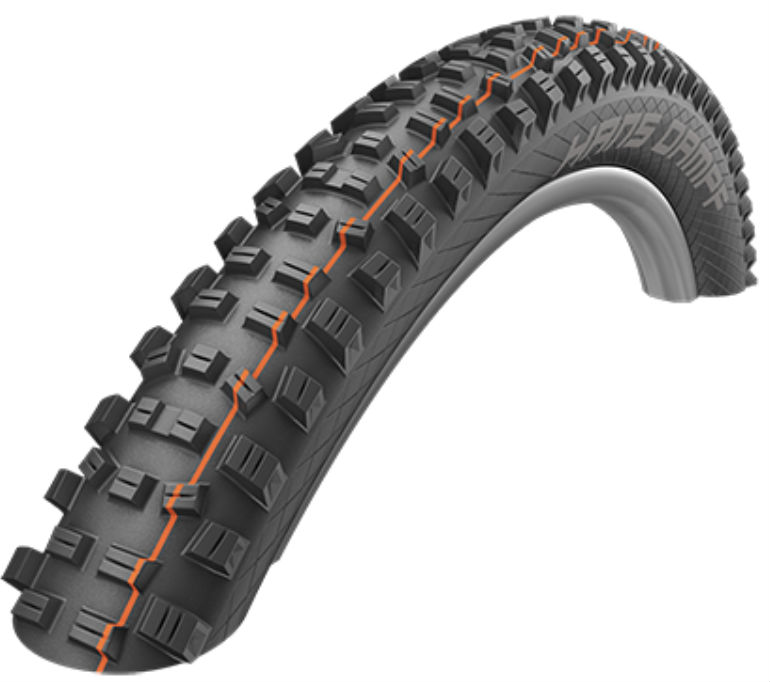 The Schwalbe Hans Dampf is an all-round tyre. The tread pattern balances rolling resistance and grip when you are climbing. For trail bikes, the Hans Dampf works well on both a front and rear wheels. The knobs create a rounded profile for predictable  cornering. You will find that it doesn't track as well as the Magic Mary, but this makes it easy to skid around corners in a controlled way. The outer knobs provide great grip in berms and tight corners. This is why it is used by riders that spend a lot of time in bike parks.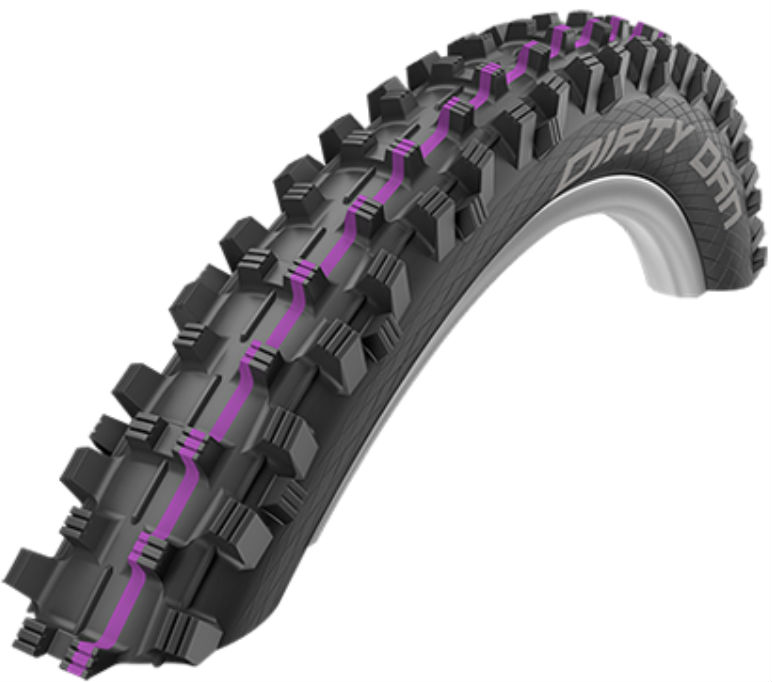 The aggressive and widely-spaced knobs on this mud tyre cut into soft ground and easily shed mud that would normally clog up your wheels. But this tyre gives you lots of grip and control on wet Rooty sections too. But, if the terrain you ride has a lot of rocks or hard ground, you will need to be careful. This is because the tall knobs deform quite a lot, making handling a bit unpredictable. These tyres have quite a high rolling resistance, therefore, you should only put it on the front wheel to save your legs.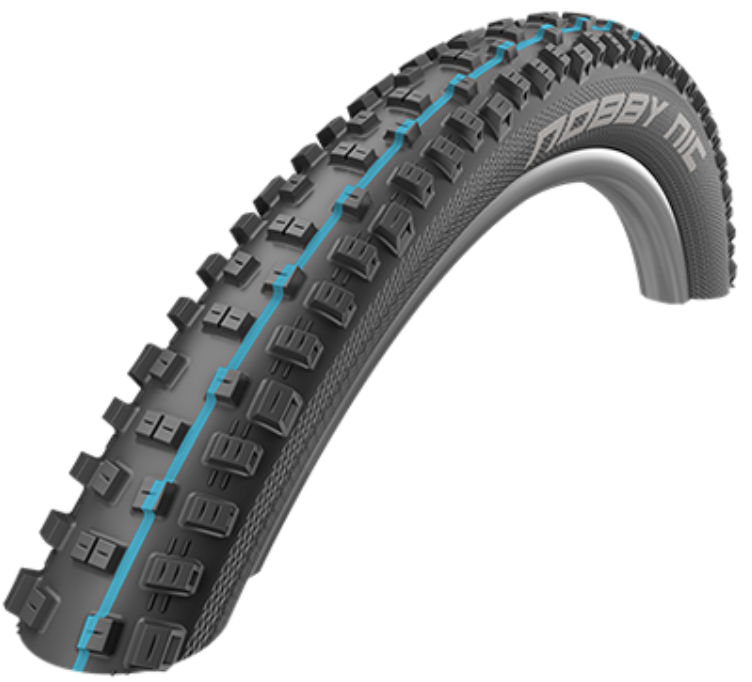 The Schwalbe Nobby Nic isn't the best option for smashing downhill trails. It starts to feel less capable when charging steeper descents. But ti isn't designed for this type of terrain, which becomes apparent when you see that there are no Super Gravity or Downhill casing options. The size of the outer knobs are similar to the Hans Dampf, but the rolling resistance is even lower, thanks to a more closely spaced centre tread. If you weigh less than 80 kg and have a smooth riding style, this makes a good rear tyre for a trail bike. But take note that the Nobby Nic is only available with the SnakeSkin casing and Addix Speedgrip compound, apart from the 2.6″ Apex version.
I had a bike that came with Schwalbe Nobby Nics on it. I ride in the French alps on very varied terrain, but these tyres were not man enough for the job. These will be fine for most trail riders, but technical alpine terrain is just too much for them.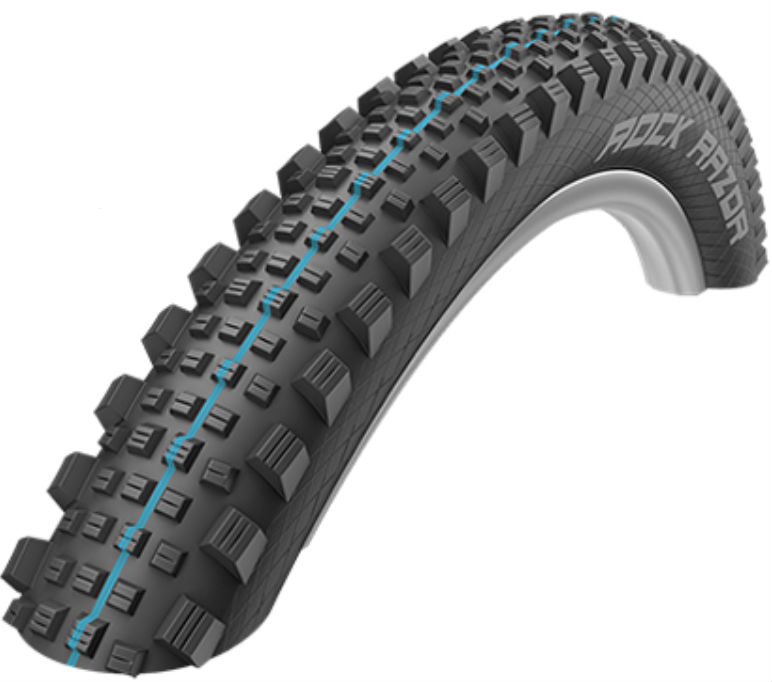 The Rock Razor is for your Rear wheel only! The small knobs give this tyre a very low rolling resistance, allowing super fast climbing. The minimalist centre tread gives you loads of grip on hard ground, thanks to the large contact area. The outer knobs are slightly smaller and flatter than the ones on the Magic Mary, but still provide good cornering grip. Their smaller size means they make cornering predictable, as they don't distort as much under pressure. But this tread pattern will have you struggling in muddy conditions, therefore you should really only use these if you live in a dry climate or have no problem with changing your tyres all the time. You need to be aware that if you ride a 29er, you can only get this tyre with the less tough Snakeskin casing.
Schwalbe MTB Tyres For 2020
There are many more Schwalbe MTB Tyres to choose from, but these are the main ones you should consider. What is your choice of tyre and why? Please let me know in the comments section below.