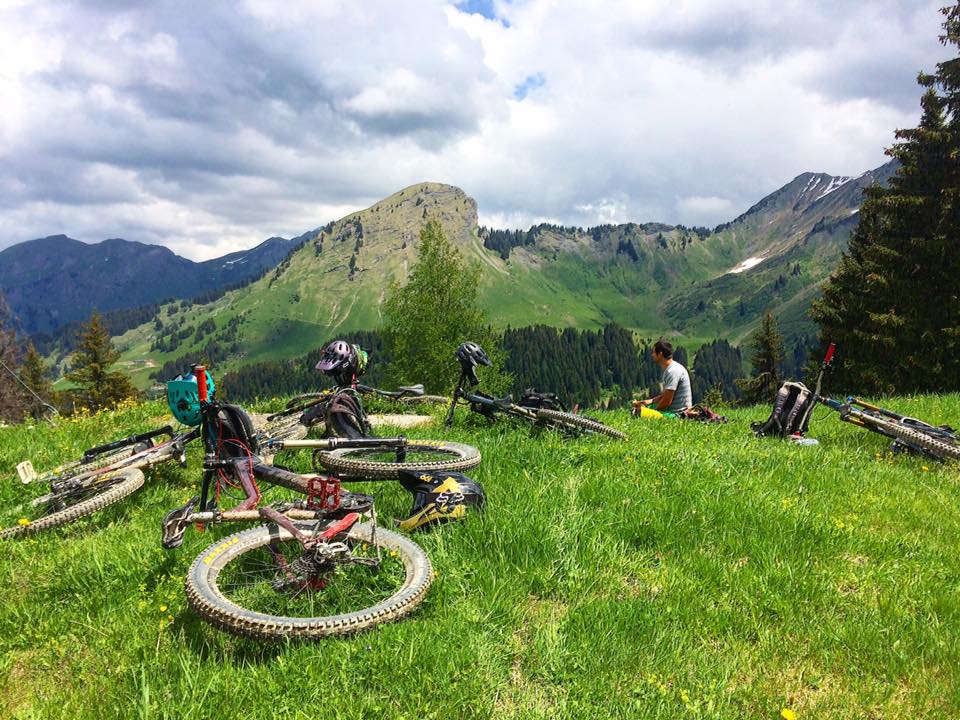 Wearing the correct clothing for any sport or activity can make a huge difference to your enjoyment and performance. Those of you new to mountain biking will probably just throw on a pair of baggy shorts and hit the trails (I know I did). But proper men's mountain bike shorts are designed for the job in hand, taking in to consideration a rider's needs. If you are unsure what to look for check out my guide to buying mountain bike shorts.
Best for: DH and Enduro
Pockets: Welded zip stash pocket
Features: Silicone grip waist band, stretchy mesh movement/venting zones
Materials: 93% polyester and 7% elastine
Waist Adjustment: Ratchet waist adjustment system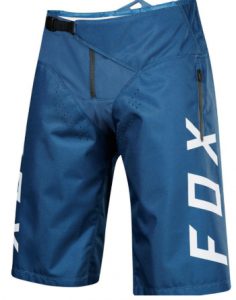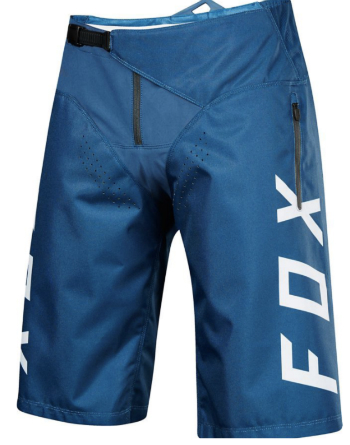 I really like these rugged men's mountain bike shorts from Fox. This is because of the careful placing of stretchy panels and Fox's RAP (Ride Attack Position). Therefore, they are made with movement in mind. This means when you are gunning it, there is no restriction caused by your shorts. They aren't going to move much either, due to the silicone waist band and the ratchet adjustment. The 600D construction will keep your shorts intact, during those moments when you go one way and your bike goes another. It is very strong and won't rip when you are bouncing down the trail on your bum.
These shorts have cleverly placed vents to keep you cool. Therefore, if you are concerned that all this ruggedness means you may feel a bit uncomfortable, you needn't worry.
So these shorts are for the rider who wants something that will last, but without compromising their movement. These are currently priced between from £59 available here, and you could also get the Fox Demo Jersey to match.
Race Face make some great products and these shorts are no exception. Their fit is long and loose, so you get good coverage, while still being able move unrestricted. What I like about these is the clever 'slip panel' on the inside leg. As a result, they slip over your knee pads easier. Comfort is also helped by the seamless crotch, to prevent chafing. Like the Fox Demo, they also have a silicone waist band to stop them slipping down. But this shouldn't be an issue with the external waist band adjustment. These shorts are well ventilated, due to laser cut perforations in the from and the rear.
The Race Face Indy Shorts are available from Chainreaction from £64.95.
They are also available from Wiggle with a few more colour choices from £57.
Best for: DH and Enduro
Pockets: Two front zipped pockets, one zipped back pocket and an inside pocket with a lanyard clip loop
Features: Stretchy fabric, mesh lined waist band
Materials:88% polyester, 12% elastine
Waist Adjustment:Internal velcro tabs with silicone grip.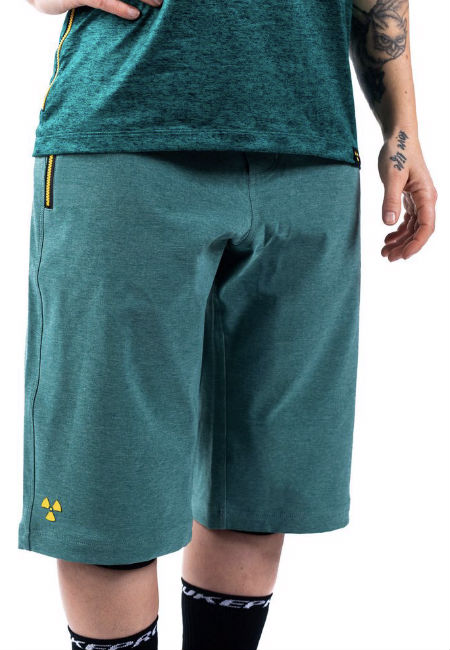 The Nukeproof Blackline range is one of my favourite collections of mountain bike clothing at the moment. The reason being is that it is so well made. The Blackline shorts are very versatile, as they are suitable for most weather conditions. Due to the DWR coating, as it just makes water and mud run off them (to a point).
Triple stitching, double popper buttons and chunky zips, result in a tough pair of shorts. Therefore, they will last you a long time.
The internal velcro tabs and silicone grip will keep them firmly in place. There is some thought gone in to the comfort of these men's mountain bike shorts too. The mesh lining around the waist will wick away moisture, keeping you nice and comfy. Unfortunately, the only negative, is that the rear pocket is a bit too small. So it isn't very useful.
Best for: DH and Enduro
Pockets: Zipped hand pockets, cargo pockets and rear map pockets
Features: Durable and seamless seat panel
Materials:100% Nylon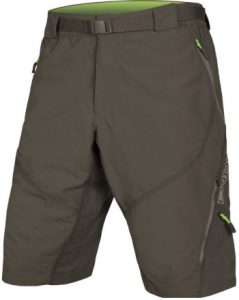 The Endura Hummvee II shorts are brilliant, hence they sell out very quickly, and for good reason. They are very good value for money, and are comfortable enough for you to wear on the trails or on the way to the pub. Therefore, they are ideal as your first pair of mountain bike shorts, as they don't break the bank and have really useful features. The main feature being the removable padded liner, which keeps your bum as comfortable as possible.
I have chosen the camo colour scheme for the picture, but there are a few subtle colour choices available. They look cool without being all shouty about it.
Best for: DH and Enduro
Pockets: Two small zipped pockets
Features: Stretchy, optional inner shorts, great ventilation and reflective details
Materials:100% PES
Waist Adjustment:Velcro adjustments and integrated elastic straps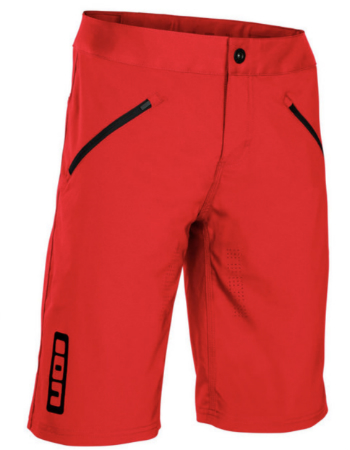 The ION Traze shorts are super light weight and stretchy. These are super comfortable, especially on a hot day. They are good value for money and ION is a really good brand. You do need to be aware that they are quite tight fitting though. The amount of stretch you get doesn't really make this a problem though, unless you have really big legs. I like these shorts, but I think the Endura Hummvee II is a better buy in this price range.
Which pair of these men's mountain bike shorts will you choose?
Here you have a selection high end, mid-range and entry level men's mountain bike shorts to choose from. Please tell me what you think. Would you like to see any other shorts added to this list?