What Mountain Bike Jersey?
When you first start out mountain biking, it is easy to put on an old cotton t-shirt for riding in. I don't blame people that do this, because proper mountain bike jerseys can be quite pricey for something that you are going to get covered in mud. However, I reckoned that you buy a couple of mountain bike jerseys, as they have a load of benefits that make your rides much mire enjoyable. In this post, I am going to help you choose what mountain bike jersey to buy.
Why Wear A Mountain Bike Jersey?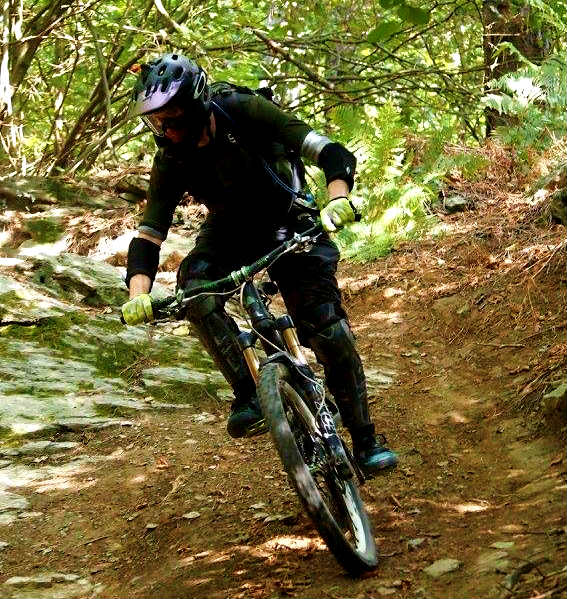 As with most sport-specific clothing, mountain bike jerseys are made from modern, technical synthetic fabrics. These are designed to keep you dry by wicking moisture away from your body. The moisture is pulled to the outer surface of the jersey, where it evaporates.
These technical fabrics are also breathable. This means that water vapour can escape through the fabric and evaporate. This is much better than a cotton t-shirt, which would let it condense on your skin. When this happens, it cools down and makes you cold, especially when you are riding in cold weather.
Personally, I really like to wear mountain bike jerseys that look and feel like cotton, but are actually made from technical fabrics. They are really comfortable and dry really quickly when you have worked up a sweat.
Mountain bike jerseys are made with an ergonomic shape to sit on your body properly while in the riding position. Enduro and trail mountain bike jerseys are tighter-fitting, while jerseys made for downhill riding will have a looser cut to suit the slightly different riding position. This looser fit also allows you to wear body armour under it. Some mountain bike jerseys are also have reinforced sleeves for durability and a tiny bit of protection.
Things To Look For In Mountain Bike Jerseys
• Breathability –  The more breathable a jersey is, the better it is at getting rid of perspiration.
• Microporous membrane –  This is a waterproof layer that is found on some mountain bike jerseys that has tiny holes. These holes allow moisture vapour from your sweat out but they stop rain getting in.
• Stretchiness – Some mountain bike jerseys have strategically placed stretchy panels on them. They are placed where you need them so your movement isn't restricted.
• Ventilation – Some mountain bike jerseys have vents or perforations placed under the armpits, on the front or back of them. This helps with airflow keeping you cool.
• Wicking – A mountain bike jersey's ability to transfer sweat away from your body is very important for comfort and stops you getting cold.
Mountain bike jerseys with long sleeves are generally worn by trail riders when it isn't too warm and are often worn as one of a few layers.
It is important to look for mountain bike jerseys made from breathable fabrics with good wicking properties. If you wear mountain bike elbow pads, you should make sure that the sleeves are not too tight, so you can get them over the pads. Long sleeve mountain bike jerseys are good for a little protection  from thorns and bushes etc, and some will have reinforced sleeves and forearms.
Downhill and Freeride mountain bike jerseys usually have long-sleeves They are more loose-fitting to allow body armour to be worn underneath.
Mountain bike jerseys with short sleeves generally have a more tighter fit. This is to stop them flapping around when you are riding hard.
They are also generally more lightweight than long sleeved jerseys. However, you still need to consider their breathability, wicking properties and how much ventilation they have.
Recommendations For What Mountain Bike Jersey To Buy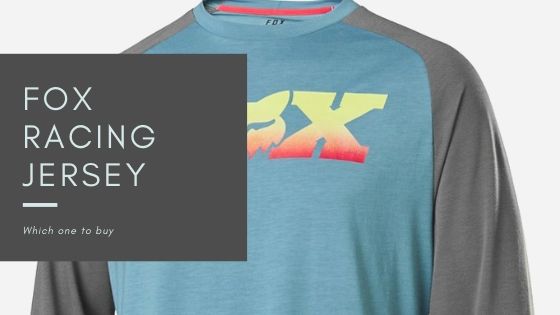 Fox Racing make some great mountain bike jerseys. They have three main lines of clothing in their range:
Defend – The Defend line is made to perform in the most demanding conditions. The jerseys are made from the with Cordura fabric and they have reinforced taped seams. The idea behind this construction means that you get fantastic durability and comfort.
Flexair – If you want a mountain bike jersey that has minimal weight, but performs really well, you need to check out the Fox Racing  Flexair. The fabric used in the Flexair line is super. light and breathable. It has an athletic fit and four-way stretch construction. This means it keeps you cool and dry on even the longest, hottest days out on the bike.
Ranger – The Fox Racing Ranger jersey is designed to be versatile enough to perform on all types of mountain bike rides. It has a natural feel and subtle technical features to make it a great balance for all types of mountain biking.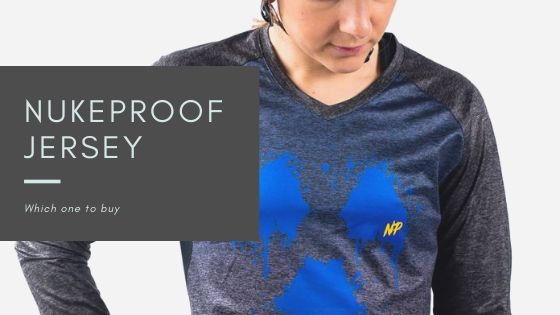 I am a big fan of Nukeproof. I believe that everything they make is fantastic. This is the same for their mountain bike jerseys. They are a good alternative to Fox with their more subtle styling. There are three main types of mountain bike jersey in the range:
Nirvana – The Nirvana sits at the top of the Nukeproof's range of mountain bike jerseys. Described as the "ultimate trail riding jersey" it is lightweight, breathable and is a premium product. If you want a high end mountain bike jersey, you defiantly should check out the Nukeproof Nirvana.
Blackline – The Blackline mountain bike jersey has been as well thought out as the rest of Nukeproof's products. It features a longer back for extra coverage, great ventilation and a four-way stretch fabric. All this gives you excellent comfort while on the bike. This jersey will appeal to you if you are co-friendly. This is because parts of it are made from S.Cafe fabric. This is cleverly uses used coffee grounds and is antibacterial, to stop you smelling.
Outland – The Nukeproof Outland mountain bike jersey has a more casual fit and you get a choice of long and short sleeves. Just because it is a bit more casual, it doesn't mean that it isn't technical. It is made with Dri-Release fabric, which looks and feels like cotton, but it wicks moisture away efficiently. It is super comfortable and looks great on or off the bike.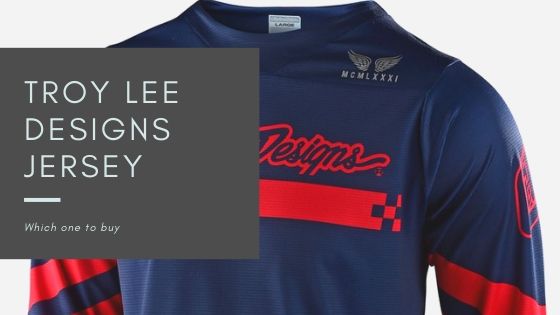 Troy Lee Design have used the things learned from their work in motocross in their mountain bike products. In the past Troy Lee Designs mountain bike jerseys have been a bit too bright and bold for me. But, now they have some really nice styles that are more subtle and grown up. They offer a range of different cuts and styles, all using techy fabrics the perform well.
Skyline – The Skyline has quite a casual fit to it, while still being technical. This makes it a proper mountain bike jersey. One of these features is the Troy Lee Designs Ride Fit, which makes it the ideal jersey for everyday mountain biking.
Ruckus – The Rukus jersey is a 3/4 length sleeve jersey designed for riding in warmer weather. It keeps you cool with the TLD Dura Mesh fabric. This makes it ideal for when you are riding hard on hot days.
Mischief – The Mischief is a women's specific mountain bike jersey. It is a high performance, lightweight jersey, designed to keep you looking good and feeling cool when working hard on the bike.
Sprint – The Sprint is a long sleeved mountain bike jersey, ideal for Enduro and downhill mountain biking. It has the slimmer 'Race' fit, so it doesn't flap around when you are gunning it.
Flowline – The Flowline range has a more subtle style, meaning that they look great on or off the bike. They also have a casual look about them, while having loads of  technical features. This makes them perfect for all types of riding.
What Mountain Bike Jersey Will You Buy?
This is by no means an exhaustive list, but these are my favourite ones you can buy online right now. You can't go wrong with any of these mountain bike jerseys, but whichever one you choose is down to your riding style and personal preference. Let me know what you go for in the comments section below.