If you are a regular visitor to MTB-Threads, you will know that I am a big fan of Nukeproof products. No matter what you buy from Nukeproof, you will see that their quality is fantastic and is well made. This is the same story when you buy a Nukeproof jersey. In this post, I ma going to go through the range, to help you choose the best Nukeproof jersey for you.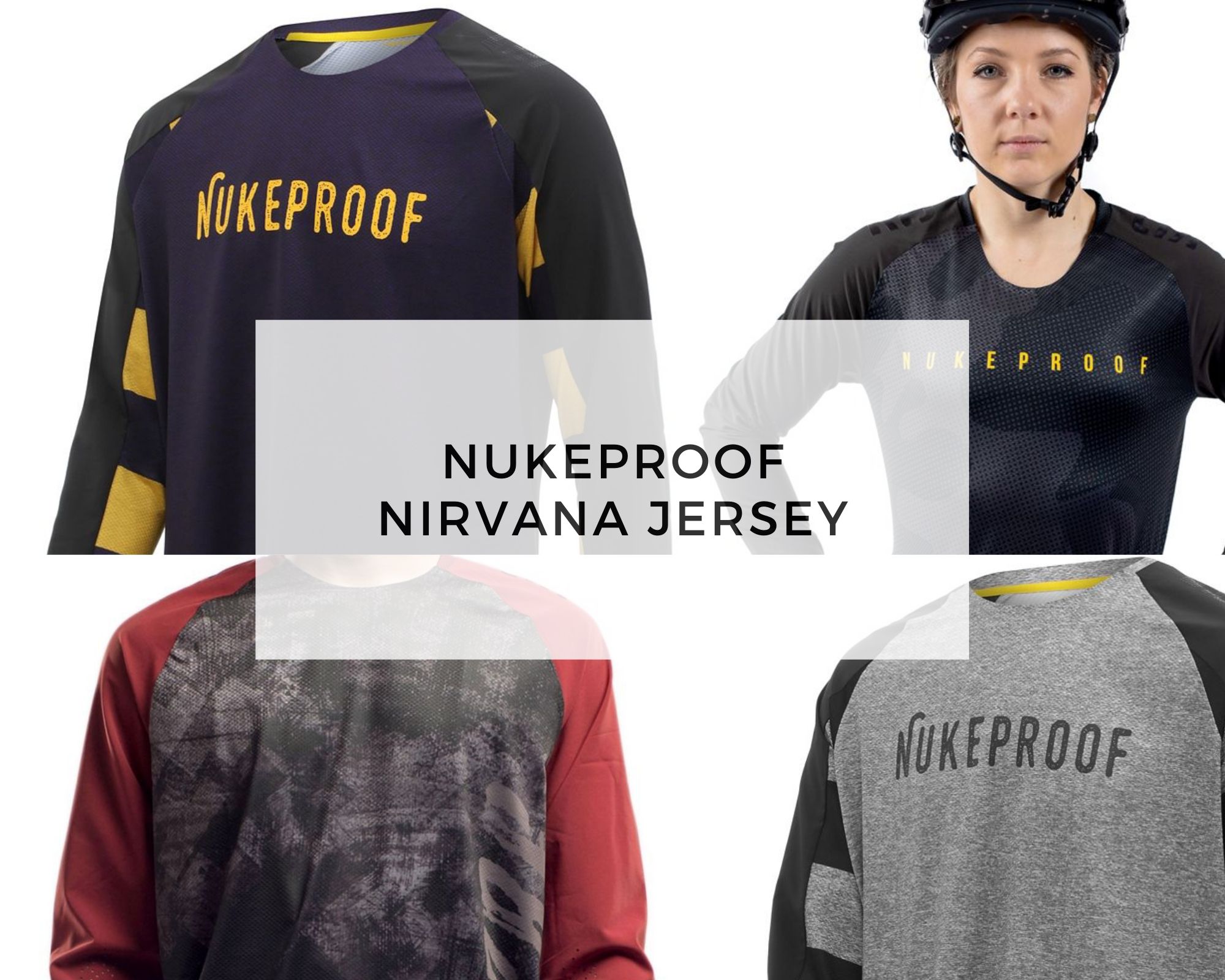 The Nirvana is Nukeproof's range topping jersey. They describe it as the "ultimate trail riding jersey" and it certainly has everything you need when shralping through the woods, from breathable material, long sleeves and light weight.
The styling of the Nirvana is bang up to date and it has a whole host of features to make sure it can compete with the best mountain bike clothing brands. It isn't particularly cheap, so you you would expect it to be quite special.
The Nukeproof Nirvana jersey is made of Cordura fabric. This has a durable, but also lightweight feel with a bit of stretchiness. When you slip it on it feels airy, thanks to the softness of the material and the baggy fit. This makes it super comfortable to wear. This is the type of jersey that you would be happy to wear on hot days. You would want to couple it with a a base layer or wear is under a jacket on colder days.
The fit has quite a spacious feel to it compared to other brands. This is not a tight fitting jersey, so if you like a skinny-fit, you may want to go for a smaller size. 
The Nukeproof Nirvana jersey has a lot of great features integrated in to it. You get seam welded collar, cuffs and hem. This means that they are attached by heat rather than sewn up to. This stops them irritating your skin to improve comfort.
The rear panel of the jersey is made from a breathable, moisture wicking mesh material to keep you cool. This is especially good if you ride with a backpack, as you can get pretty sweaty. The material the jersey is made from is also anti-bacterial to reduce the need for social distancing when you stop for your mid-ride sandwich or post ride beer.
At the front, the material is slightly tougher. This is so you don't get too cold with the rushing wind on fast descents.
The sleeves on the Nukeproof Nirvana Jersey are made from a tougher and thicker fabric than the rest of the jersey. This is so they don't get snagged on bushes and trees as you whiz past them. In addition to this the outside of the sleeves have rip-stop patches to reduces the likelihood of rips when you crash. The sleeves also have holes on the inside-elbow to provide you with some ventilation. The shoulders have non-slip details to give your backpack or hydration pack something to grip on to.
The Nukeproof Nirvana is an impressive jersey with loads of technical features. It looks great and has a premium quality feel to it.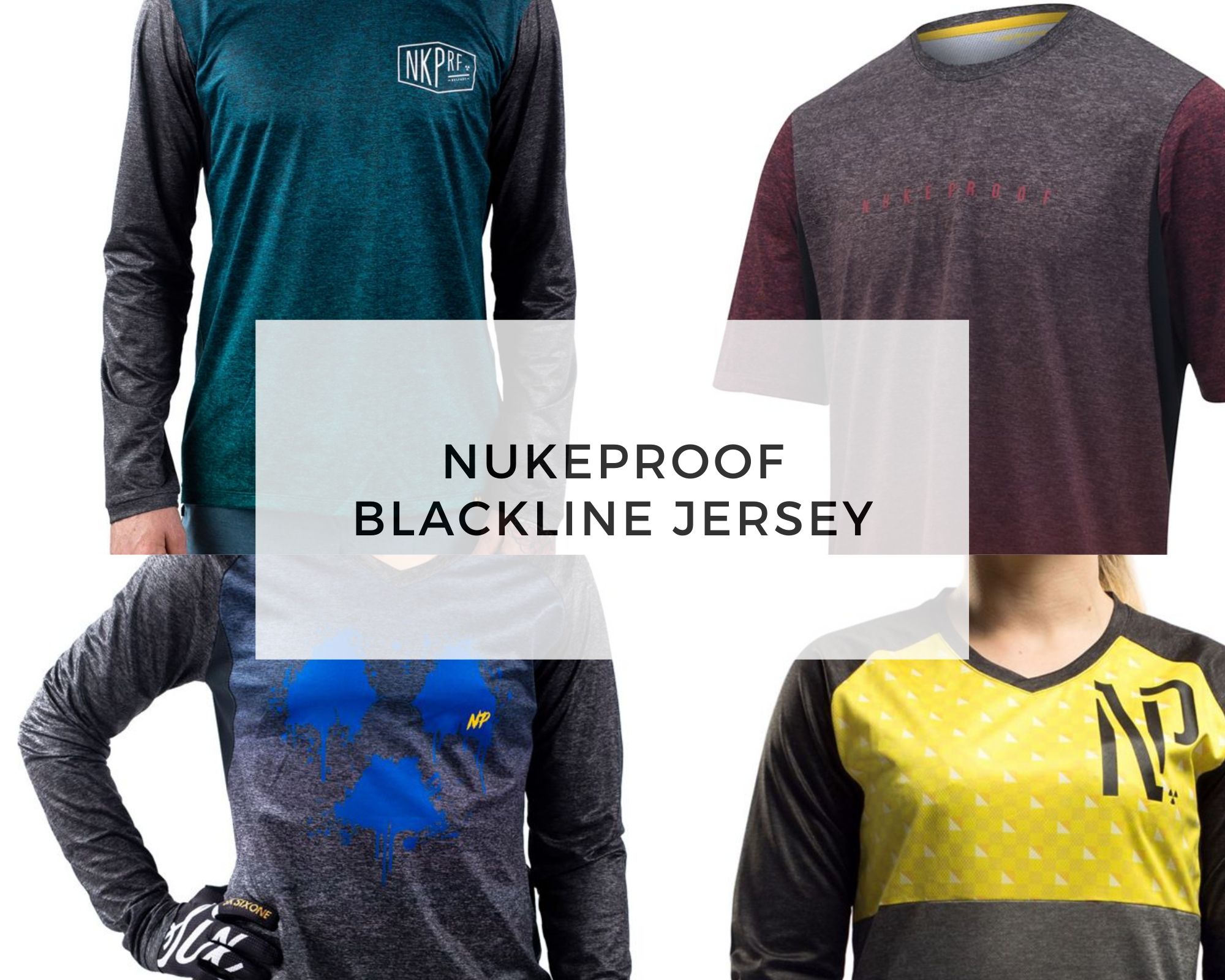 The Nukeproof Blackline jersey has a functional cut. By this, I mean that it has a longer back to give you a bit of extra coverage. The back is ventilated too, along with the underarm panels. The four-way stretch fabric works well to keep you comfortable and cool. The front and sleeves are made from the eco-friendly S.Cafe fabric. This is cleverly made using used coffee grounds. Don't worry, you won't end up smelling like a Starbucks bin, as the anti-bacterial coating keeps Smells at bay.
The back of the jersey has useful zip pocket. This is big enough for your phone or your keys. A nice little touch, is that the pocket has a discreet headphone port, so you can easily listen to some tunes on the trails.
The Nukeproof Blackline is a quality mountain bike jersey, that looks great with subtle styling. You won't be disappointed with one of these in your wardrobe.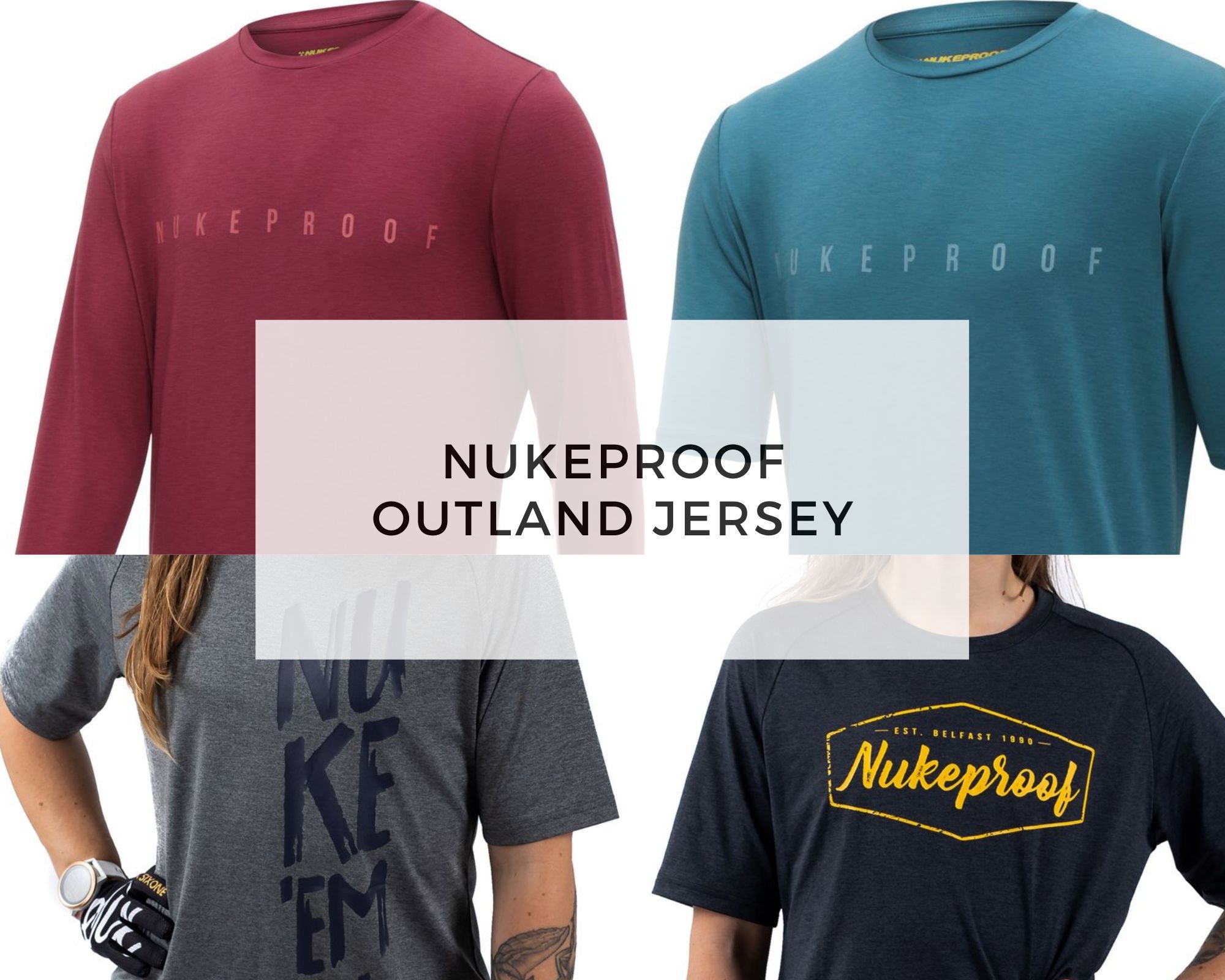 The Nukeproof Outland jersey is available with long and short sleeves. It has a more casual cut and style, but it still has great performance. The style is typically subtle in keeping with the rest of the Nukeproof range. The technical fabric wicks moisture away quickly and is very comfortable against your skin.
The Outland jerseys use Dri-Release technology. This is built into each thread and gives the fabric hydrophobic and hydrophilic properties, which pulls moisture from your skin quickly. Even though the Dri-Release fabric is technical, it feels and looks like cotton. In addition to this, it is naturally odour resistant to keep you fresher for longer. The screen printed graphics look cool too, so you will look and feel good on the trails.
Which Nukeproof Jersey Will You Buy?
All of the Nukeproof jerseys are great, but which one you choose will be down to your personal preference and riding style. Which one will you go for? If you have any questions or thoughts, let me know in the comments section below.