A Fox Racing jersey is a staple item of clothing for many mountain bikers. In this post I am going to go through the range of jerseys to help you decide which one to buy.
The Fox Racing Defend collection is made to perform in the most demanding conditions. The jerseys are equipped with Cordura© fabric and reinforced taped seams. All this adds up to fantastic durability and comfort.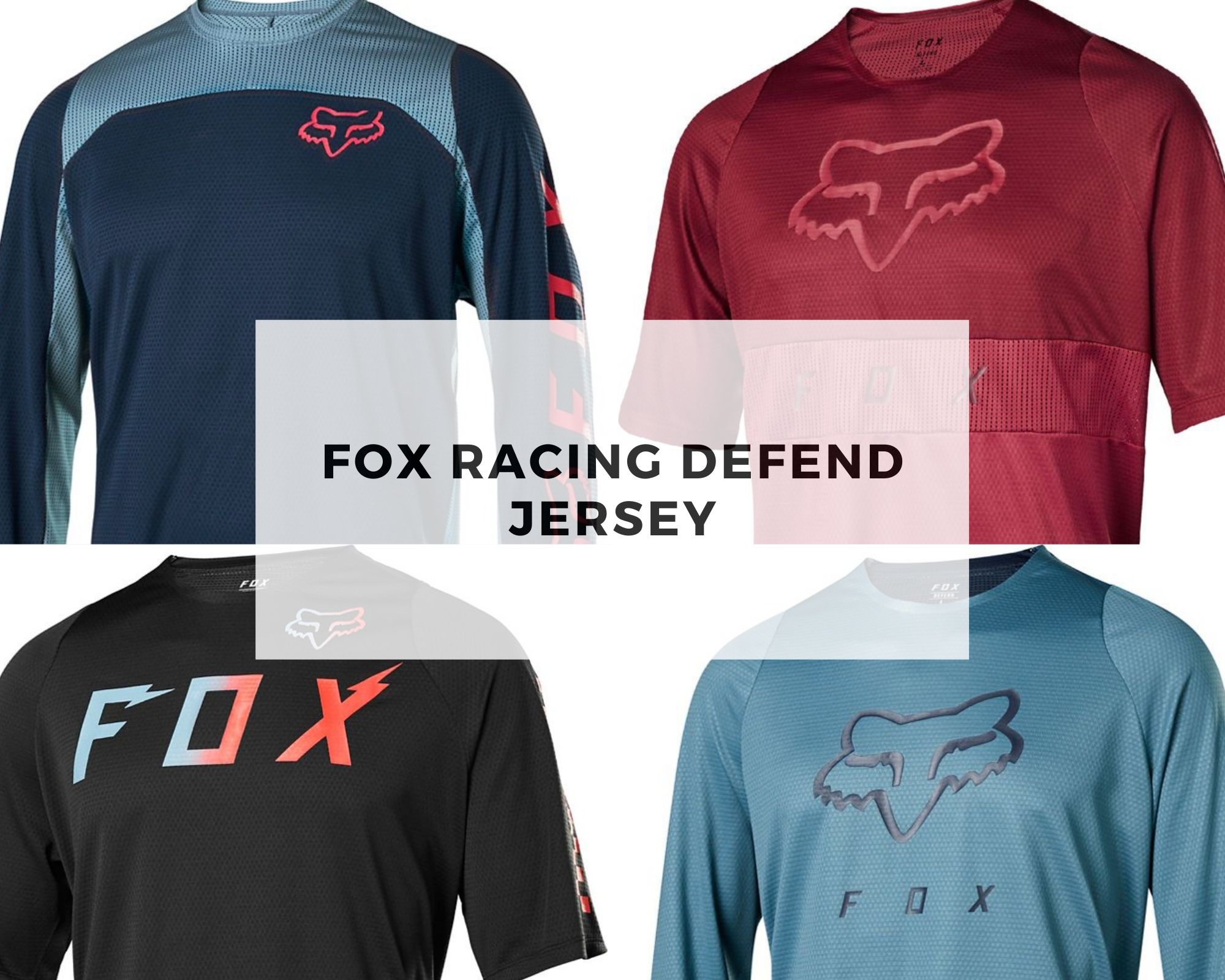 The Defend jersey is made from an airy and lightweight fabric. The construction of the Defend jersey see the main panels having a tighter weave, while the entire back panel has a number of perforations for increased breathability. This is great for riders that wear a backpack. You will also find the same perforated fabric along the front panel and on the lower part of the arms of the long sleeve version.
The Fox Defend jersey doesn't seem to be very feature rich, thanks to the lack of pockets and the fairly basic construction. But when you take a closer look at the jerseys in the Defend range, you will notice that Fox have used very good attention to detail. For example, comfort is increase around the neck area with an elastic strip. Also the fold on the front of the collar is glued rather than sewn. This gives you a clean look and a soft surface. In addition to this, the graphics are thermo-bonded so they will last a long time.
The fit of the Defend jersey is not too tight, but not too baggy. You will notice that the perforated panels are not quite as stretchy as the regular ones. This gives the long sleeved versions a slightly tighter  fit around the forearms. There is enough room for thinner mountain bike elbow pads under the long sleeve versions.
The defend jersey is very comfortable to wear, and is very breathable. Your first impression will probably have you thinking that the fabric isn't particularly robust. However, when compared it to the Fox Ranger or Flexair jersey, you will realise that it will be way more rugged than either of them.
The "TruDri" fabric the Defend is made from doesn't feel clingy like some technical fabrics. It is also super fast drying, both on the trail and after washing. Don't out this stuff in the tumble drier, if you want it to last.
Mesh panels for targeted cooling
TruDri fabrics move sweat away from the body to keep you dry
Strategically placed abrasion-resistant zones
Length (HPS): 32″ size large, men's
Women's versions available
100% polyester
Fox Racing Flexair Jersey
If maximum performance with minimal weight is what you look for in a mountain bike jersey, you need to check out the Fox Racing  Flexair. This range uses the lightest and most breathable fabrics. The athletic fit and four-way stretch construction, is designed to keep you cool and dry on even the longest, hottest rides.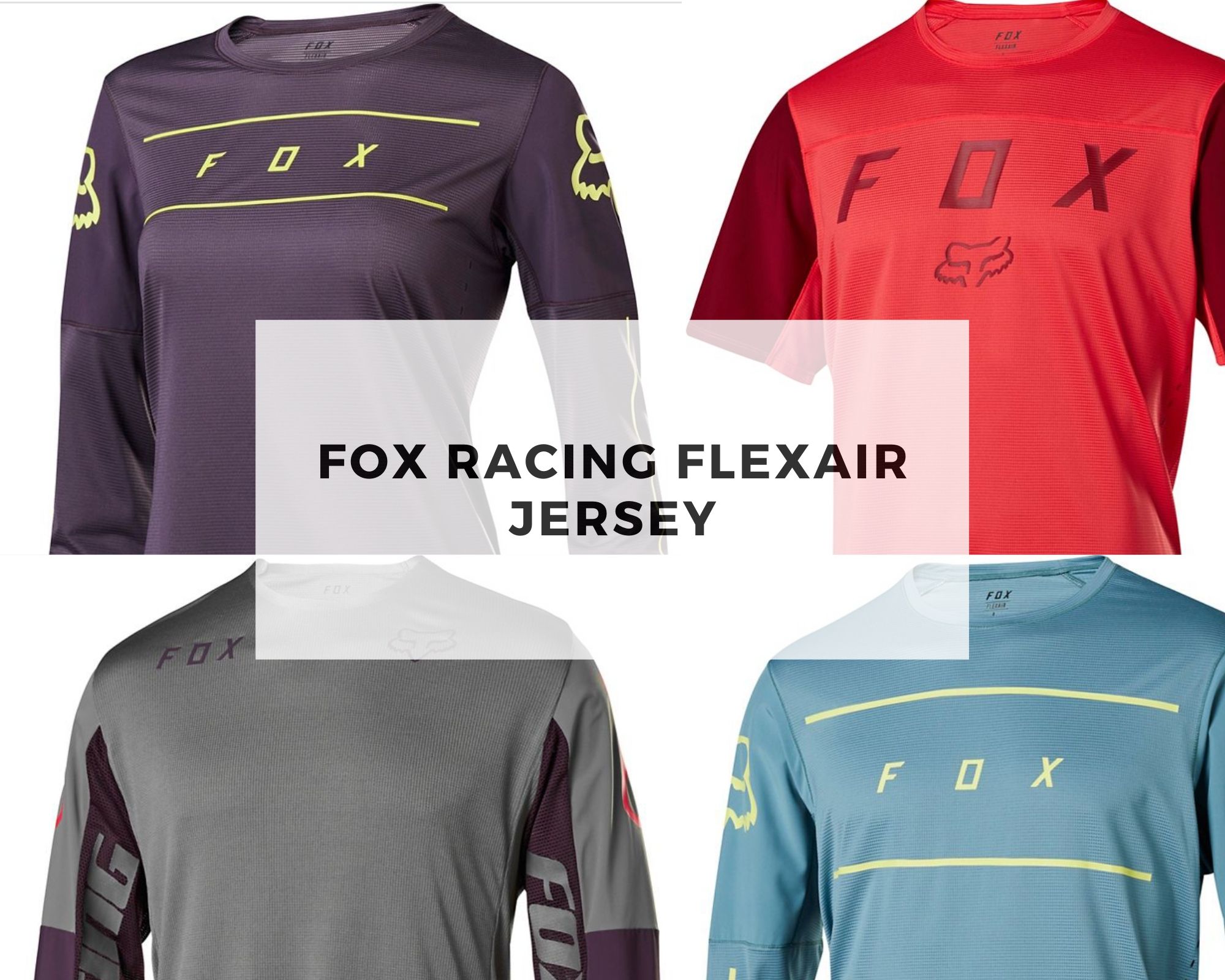 The Fox Racing Flex Air jersey is ridiculously lightweight. But it still manages to cope with the punishing nature of mountain biking. Fox claim that the Flexair jersey is 25% lighter than a regular jersey. It has a soft feel to it and is extremely comfortable against your skin.
The Flexair jersey is made from the TruDri material, which is fantastic at wicking moisture away from your body out and through the fabric.
This jersey has a premium feel to it once you slip it on. It also feels airy and light. You would be forgiven for thinking that it wouldn't stand up to a decent crash and have you riding home shirtless. However, you don't need to worry, as it is designed to withstand those moments when you brush up against a tree or take a tumble.

The fit of the Flexair range of jerseys is tailored with an athletic cut. While its fitting is close, its stretchiness doesn't restrict your movement. This stretch also means that it will go on over your mountain bike body armour. When on the bike, the Flexair jersey is very comfortable and doesn't restrict your movement in any way. In fact, you will virtually forget that you are wearing it.
You will be impressed by the moisture wicking credentials of the Flexair jersey, this is also helped with its vented mesh section. This runs all along the inside of the cuff, to the armpit and down to the waist.
Materials: Polyester 94% Elastane 6%
TruDri fabrics move sweat away for the body to keep you dry
Abrasion-resistant shoulder panels fight back against trail growth
Laser perforated side vents for targeted cooling
Length (HPS): 31″" size large
The Fox Racing Ranger jersey is designed to perform everywhere. The Ranger line is Fox's most versatile collection. It has a natural feel and subtle technical features to make it a great balance for all types of mountain biking.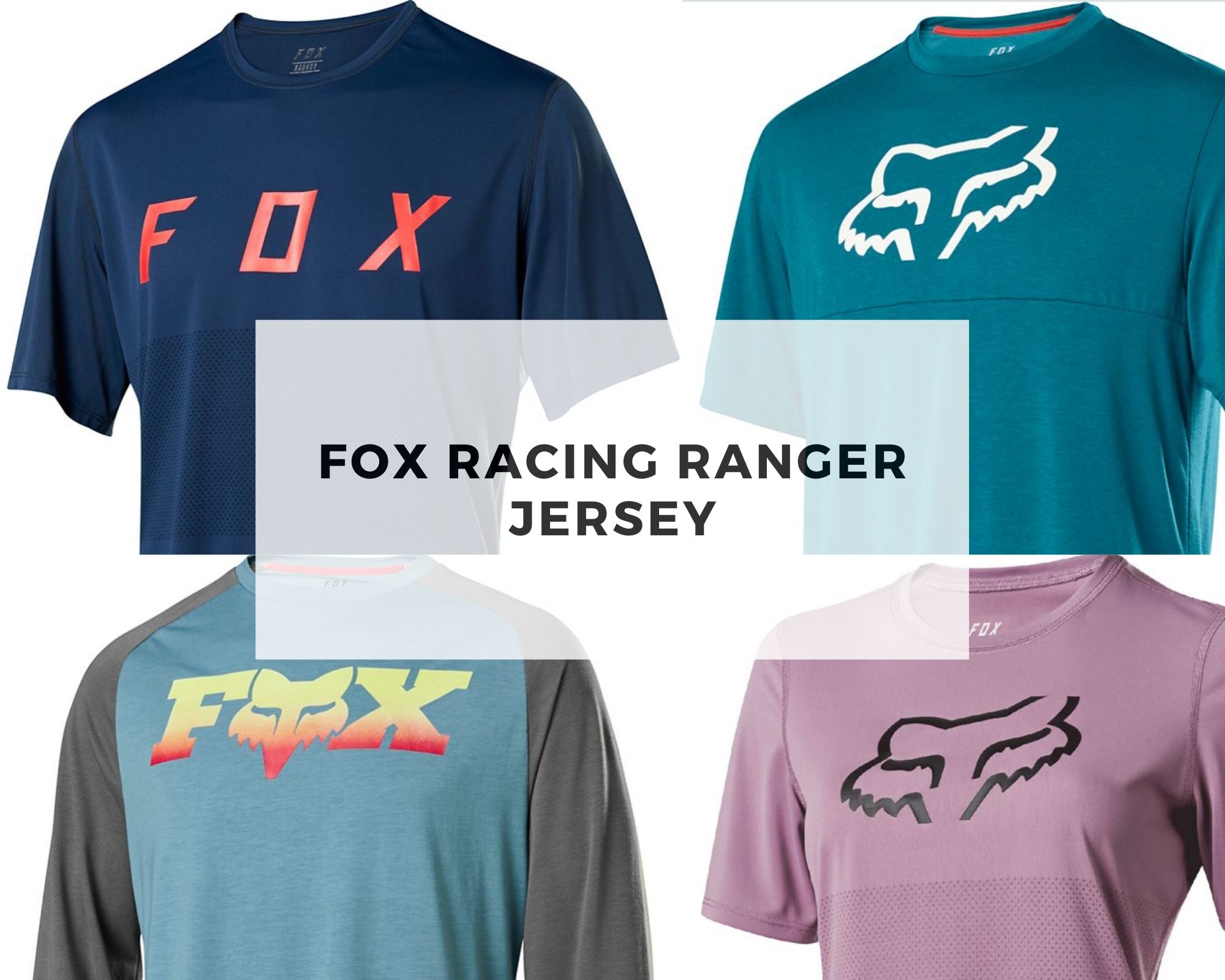 The Fox Ranger line is designed to look a bit more casual than the other jerseys in the Fox range. However, it is still made to perform well while riding.
This jersey is very good value for money, as it is designed to be worn anywhere. Fox have managed to maintain a lot of the  performance and aesthetic qualities available on their more expensive jerseys at a lower price.  This makes the Ranger one of Fox's best selling lines.
There are a few different versions of this jersey, but I really like the ones with Dri-release fabric. This looks and feels like cotton, but is still technical.
Materials: Body: drirelease® 85% polyester / 15% cotton Panels: drirelease® 84% polyester / 14% cotton
TruDri fabrics move sweat away from the body to keep you dry
DriRelease® yarns wick moisture, dries quickly, and neutralizes odors
Length (HPS): 31″ size large
Which Fox Racing Jersey Will You Buy?
The Fox Racing Jersey range is great and there are some really nice designs out there. Whichever one you decide to buy depends on your style of riding and personal preference. Let me know which one you buy in the comments section below.
You might want to check out the Fox MTB shorts to complete the outfit too.