Mountain Bike Elbow Pads: The 5 best pairs you can buy
Not everyone wears mountain bike elbow pads, but personally, I feel quite vulnerable without them. We all know what it is like to bang your elbow on a door frame, but banging it while travelling at 35mph into some rocks is a bit more serious. A good pair of mountain bike elbow pads can give you confidence as well as protection.
In this post, I am going to go through all the things you need to look out for and give you my recommendations for the best mountain bike elbow pads you can buy right now.
It is important to get the right fit for your mountain bike elbow pads. If they are too tight, they are really uncomfortable and after a while can restrict the circulation to your hands. Poor circulation makes it difficult to brake, and your hands get cold quickly.

They need to be tight enough to ensure that they are secure around your elbows. It is super annoying when they start to slip down to your wrists on a bumpy trail and they become useless in a crash.
The way mountain bike elbow pads fasten varies between the models. Some stay in place thanks to their snug fit and elasticated materials. Some are held in place with velcro straps. I find these to be the best types, as you can easily adjust them to get the perfect fit. In addition to the straps, some mountain bike elbow pads have abrasive but soft silicone or neoprene strips inside them. This is to give them extra security from slipping down. You should make sure that your new elbow pads have these.
You can get heavy-duty hard plastic mountain bike elbow pads, but I really like the ones with clever technical foam. This stuff feels soft, but it hardens up on impact. They are really comfortable and allow you to move freely. Look for mountain bike elbow pads with D30 foam or the manufacturer's own equivalent.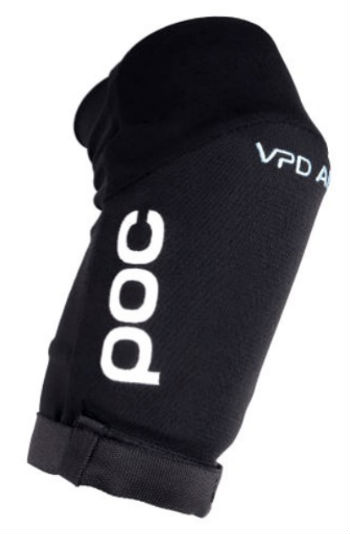 These are the ones that I currently use. I bought these after my cheap ones failed me, and left a very grazed elbow with a big lump on it. The POC VPD mountain bike elbow pads are comfortable and flexible enough for the required freedom of movement. They are ideally suited to be worn directly on your skin, rather than on top of your jersey. This is because the insides have non-slip neoprene panels. There is also a velcro strap to keep them in place. They have slipped down on occasion, but only on really bumpy downhill trails (I do have really skinny arms though). I have had a few offs with them and they have served me well.
They have been impact tested by yours truly. They are comfortable, light and durable and I recommend them.
*UPDATE – I have had the POC VPD elbow pads for about four years now and they have lasted well, considering how much I wear them (three to four times per week). They are starting to get a bit loose now and they do slide down to my wrists on particularly bumpy trails. They are fine for the less bumpy trails though.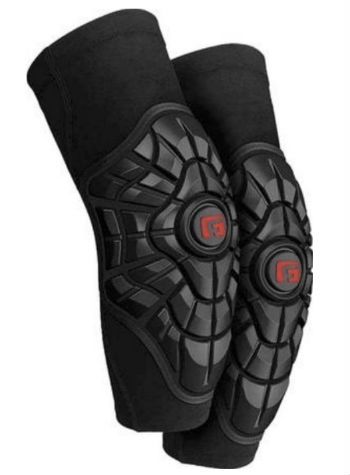 We are going a bit techy with this one. G-Form makes all sorts of protection for many sports, and they use the same technology all round. This is a modular pad attached to a tight-fitting moisture-wicking sleeve. G-Form uses Reactive Protective Technology (RPT). On impact, its molecules redistribute to harden up and to disperse the shock, before going back to normal.
The fit of these mountain bike elbow pads is pretty impressive. It is almost like a second skin, with the way it articulates with your arm. It has really good coverage too, as it provides protection above and below the elbow. You will always get a bit sweaty in any elbow pad, and this is no different. But it does have a mesh panel to keep you ventilated as much as possible.
The G-Form Elite are pricey, but they offer a lot of protection and comfort. If you don't mind paying the extra, I recommend that you give them a try.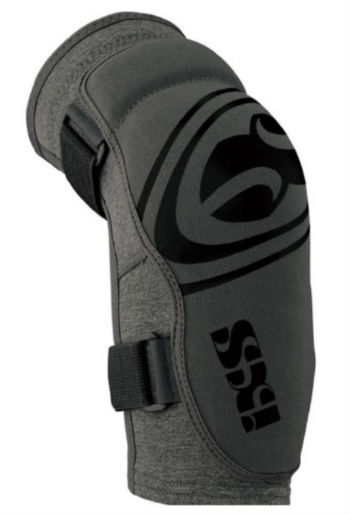 My wife, Carolyn has these, and she really likes them. The IXS Carve Evo + are light, comfortable and secure. The aeromesh technology makes them breathable while wicking away moisture. These mountain bike elbow pads are ergonomically formed and have adjustable straps to ensure that they don't move when the trail gets bumpy. For extra security, they have soft silicone strips inside to reduce the likelihood of them slipping.
Great lightweight and comfortable mountain bike elbow pads, with great protection. Tried and tested by Carolyn on a number of occasions. They look pretty good too.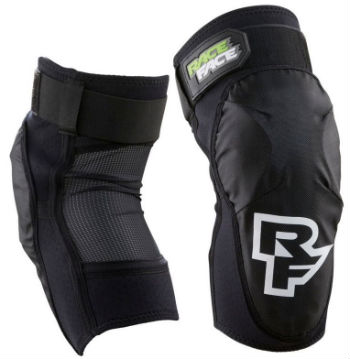 The Race Face Ambush keeps you safe with D30 foam which is soft to the touch until it gets a whack. Then it goes hard and disperses the shock of the impact. The material in contact with your skin is perforated neoprene, allowing good ventilation. These are very comfortable and are very durable. However, make sure you get the sizing right as they are slightly smaller than you would expect. My one gripe with these is that the rough side of the velcro strap will be in contact with your jersey. This means it will rub and snag, but you can always check out my selection of jerseys for men here and women here.
The Race Face Ambush mountain bike elbow pads are a big seller for a reason. They are comfortable and secure, as long as you get the size right. The velcro may snag your jersey though.
Fox Racing Launch D30 Elbow Guard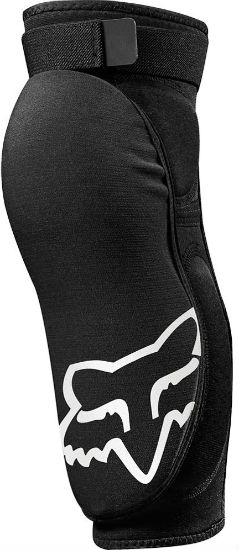 The Fox Racing D30 Elbow Guard is constructed with a flexible pre-curved neoprene sleeve. As the name suggests, protection comes from D30 pads. These mountain bike elbow pads offer good coverage and comfort when riding. They have an easy to slip on ergonomic fit with hook and loop closures. This makes them super easy to get on and off.
If you are looking for something with lots of coverage, these are the elbow pads for you. They are quite long, making them ideal for downhill riding. They are quite warm though, so if you ride in hot weather, you may want to look elsewhere.
The fastening system means they are very secure without having to do them up really tight. These are also very light considering the amount of protection they give you. You can pair them up with the Fox Racing Launch mountain bike knee pads to get the full set. 
These mountain bike elbow pads will save your skin
Well, the bit on your elbow anyway. When you hit the deck and your pads land first, you will be glad that you were wearing them. Let me know what you think. Have I missed anything or is there something else you would like to know about mountain bike elbow pads? Leave your comments and questions below.