A good mountain bike jersey is worth the investment. They are designed for a specific job, taking in to account the way you move on you bike, where you need ventilation, protection and what materials are best. All these elements give you the unrestricted range of motion and comfort you need when you are out on a ride. I have found a great selection of mountain bike jerseys men can buy. I hope you find something you like.
What to Look for
To start off you need to know what you are looking for. There are a few things to consider:
The type of rider you are – Are you and enduro, downhill, XC rider?
Where you ride – If you ride in Scotland during winter, you don't want a jersey that is made for riding in Sierra Nevada in the Summer
The style – You want to look cool right?
Click on the link below for more details on what to look for.
Mountain bike Jersey – What to Buy
Long Sleeve
Long sleeve jerseys obviously keep you warmer in cold weather, but they also offer a bit of protection. This comes in handy when you come off your bike or get a bit too close to a spiky hedge.
Ion Scrub
Originally a surf brand, Ion now make some really nice mountain bike jerseys men and women love. They have a cool understated style and great quality products. The torso area of the Ion Scrub is made from their DriRelease mesh, allowing ventilation while looking like cotton t-shirt material. DriRelease is pretty clever stuff that dries four times quicker than cotton. The sleeves and the back of the jersey are made from a breathable material that is also sanitized to keep you fresh for longer. An added feature of this jersey is the integrated goggle wipe and lift pass pocket.
The Ion Scrub is available on Amazon between £56
There is a short sleeve version from £44.47
Nukeproof Blackline
Nukeproof have released their Blackline clothing range for 2018, and it is looking great. Their Blackline long sleeve jersey has a loose fit to give the rider unrestricted movement. The back and arm pits are fully made of mesh for excellent ventilation when you are charging hard. Somehow Nukeproof have been able to make it from recycled coffee, so it is very Eco. But it also has the natural ability wick away sweat and dry quicker than cotton. It also protects you from UV and is antibacterial, to keep your sweaty smells at bay.
There is also a small zipped pocket on the back to stash you keys or a snack.
The Nukeproof Blackline Long Sleeve Jersey is available from Chainreaction for £45
The short sleeve version is available from Wiggle.co.uk for £39.99
Fox Attack Pro
From Fox you have lots of options, but a great one to consider is the Attack Pro Long Sleeve Jersey. This is made from a blend of Polartech Cordura, making it very durable. It is pretty clever stuff too, as it lowers you body temperature when you need it to and wicks away sweat. The sleeves are reinforced to protect you from contact with bushes etc. Comfort is aided by the fabric being able to stretch four ways, and the fit is tailored for your natural riding position. All in all it is a great jersey that will last a long time and perform well.
You can buy the Fox Attack Pro Long Sleeve Jersey at Evans Cycles from £38.99
Fox Racing Indicator
The new Fox range has finally been released for 2018,  and one of the staple jerseys from Fox is the Indicator. It wears like a long sleeve t-shirt, but has the moisture wicking capability of technical fabrics. Therefore, it dries really quickly in order to keep you comfortable. The other great thing about the Fox indicator jersey, is that it is pretty durable. This means, that when you are riding through the foliage, your arms will be relatively  protected. It looks really nice too, and there are lots of different colour ways to choose from.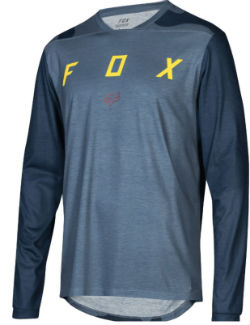 Buy the Fox Racing Indicator jersey from Chainreaction from £50
Short Sleeve
If you like to ride with you arms out or don't want sleeves interfering with you elbow pads, a short sleeve jersey is what you need.
Troy Lee Designs Skyline
The Troy Lee Designs Skyline is a nice simple short sleeve jersey. It has a clean look and is ideal for those hot summer days. The whole back of this jersey is mesh, making it lightweight and airy. This jersey has a really nice fit, it is loose without being baggy. It has a zipped pocket on the back, ideal for a lift pass or a phone (just about anyway). The verdict for this one is, that if you are looking for a lightweight short sleeve jersey, you can't go wrong with this one.
The Troy Lee Designs Skyline is usually £50, but currently you can buy it for just £22 from Chainreaction.
Fox Ranger SS Bars
As you probably know, Fox are pretty big in mountain biking and they have some great products. The Ranger has a timeless design that won't date at all. Above all, it is a premium product without the premium price. It is made with Fox's TruDri technology. Which is how they add the moisture wicking and quick drying properties in to this particular jersey. It has the soft feel of a normal t-shirt too, so you can wear it in the pub on those no ride days. I have a couple of these in various styles, and I really like how comfortable they are, especially on warm days in the saddle.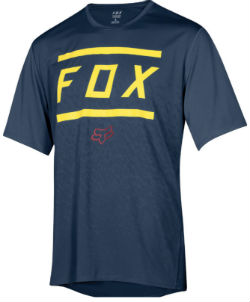 The Fox Ranger SS is available for just from £39 at Chainreaction
dhb Trail
The dhb Trail jersey is another one that has a timeless design and will last many seasons of riding. It is seriously good value for money too. Cooling is provided by its technical fabric and underarm vents, while its anti odor treatment stops you getting smelly. It also has reflective logos and details to help with you visibility in low light conditions.
This is a great value jersey that will last and look good for few seasons to come.
3/4 Length Sleeves
Some people prefer to wear jerseys with 3/4 length sleeves. This may be because they like having their arms covered, but don't like the way long sleeves interfere with their elbow pads, or that they just find them more comfortable. Ultimately, you have a bit more fabric to protect you from overgrown bushes etc, while having a bit more ventilation. I have found some great examples of 3/4 length sleeve mountain bike jerseys men should take a look at.
Fox Indicator 3/4 Asym
Back to Fox for the first one, and their Indicator 3/4 Asym. This is another one that feels like a t-shirt, but with the techy properties of the TruDri fabric. The durable polyester will give you that bit of extra protection when smashing through the overgrown foliage. Extra length at the back helps keep the mud out too. It also looks pretty good, as do most Fox products.

The Fox Indicator 3/4 Asym is available from £28 at Wiggle
Troy Lee Designs Ruckus
This tough cookie is aimed at downhill and Enduro riders. It is hard wearing, but it is also very comfortable due to its fit and materials. This jersey is on the more baggy side to allow room for armour if you are feeling a bit sendy. But the 3/4 sleeves slip over your elbow pads if you are not going full on "Robocop" mode. There is a pocket on the back, big enough for you to carry a multi-tool, phone or a couple of snacks.
The Troy Lee Designs Ruckus 3/4 length jersey is available from £27.50 at Wiggle
There is an alternative style available here for £40
Race Face Ambush<>/h4>
This jersey looks great and it is really functional. The sleeve length gives you a bit more protection than short sleeves, but doesn't restrict your movement. The fabric is soft but tough and it has a built in mesh panel in the back for extra ventilation. Comfort is enhanced with its soft neck and the cool touch moisture wicking technology. It also has an SPF rating of 50. This is ideal for those sunny days shredding the trails. It comes in two colour schemes slate (shown) or black.
What do you think of the best mountain bike jerseys men can buy currently?
These are just some of the great mountain bike jerseys men can buy right now. I will be updating this page and creating similar ones to keep you in the loop. Let me know what you think in the comments below.