Winter Mountain Bike Clothing: The Definitive Guide
So it is cold, wet and miserable outside, but that isn't going to stop you doing your favorite pastime is it? Of course not, you are a mountain biker! Skidding around in the mud is all part of the fun, especially when it makes you a better rider. Also, there is something really satisfying seeing all that mud and grit get washed down the drain in the shower (or is that just me?). All you need is the correct bike set up and some decent winter mountain bike clothing.
Water Proof Jacket – A cheap waterproof jacket from a camping shop is all well and good. You don't mind it getting muddy or damaged. However, if you ride in one of these, you will get pretty sweaty very quickly. A proper waterproof mountain bike jacket will be breathable and provide proper wind protection. They will also cover your bum and have a hood that will work with your helmet (or it will be detachable) to add extra comfort.
Mountain Bike Jersey – A cotton t-shirt will suck up sweat and keep it next to your skin. At the very least this is going to make miserable on your ride. But if you are cold and wet out in the wilderness when something goes wrong, you could find yourself in a whole world of problems. Proper winter mountain bike jerseys are made from sweat wicking materials and designed specifically for riding. Have a look at this blog to help you choose the correct jersey for you.
Base Layer – Your winter mountain bike clothing ensemble must have breathable and sweat wicking properties This is especially true for base layers. You wear them close to the skin, and they will help keep you warm or cool depending on thickness. Most base layers are made from polyester, but paying the extra for merino wool is well worth the investment.

Shorts – Waterproof mountain bike shorts are great, as they don't soak up the rain and keep your bum dry. Some shorts are made with breathable material with a waterproof panel on the back. These are OK for less soggy days and will be a bit more comfortable. I wear a pair of padded liner shorts under my baggy shorts. These help prevent a sore bum and don't chafe like regular underwear does.
Long Trousers – For when shorts just aren't enough, you can buy some great long riding trousers. Some are lightweight with strategic use of panels and materials to keep you comfortable. Good pairs are stretchy in the right places and have zipped pockets to make sure you don't lose your phone.
Shoes – I wouldn't say waterproof shoes are essential, but if you don't mind investing in improving the comfort of your tootsies, go ahead! They will make a big difference to your feet on those seriously wet and cold days. Some riders who ride clipped in prefer to swap to flat pedals in the winter. Doing this allows them to put a quick foot down when the action gets a bit sideways.
Waterproof Socks – A friend of mine swears by these. Waterproof socks have a lining that stops water penetrating. Water can still get in over the top of some socks, but splashes and spray won't bother them, keeping your toes nice and warm. Have a look at MTB specific waterproof socks from Sealskinz here.
Gloves – These are just things that go on your hands right? Yes, but you still need to think about what you are buying. If your gloves are too thick with too much padding on the palms, you will find it more difficult to hold on to the bars and not have as much feeling. Your hands don't really move around much, so windproof gloves are essential to stop your hands going cold quickly.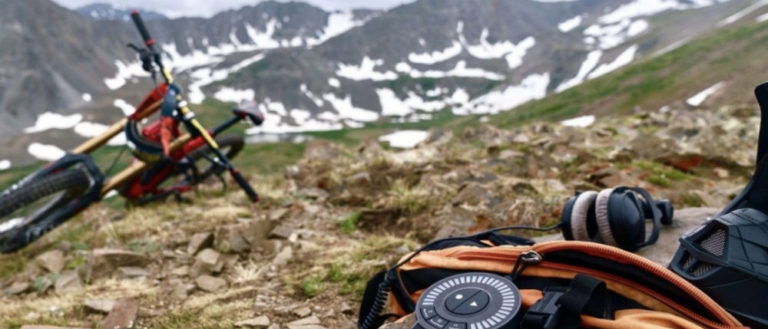 Sunglasses – These stop wind and mud going in your eyes. Find some proper mountain bike sunglasses that wrap around your face. Or you could use the old trick of riding through a puddle with one eye closed. This way you will only have mud in one eye, then you swap eyes.
Backpack – Unless you are on a short ride, a back pack is a really good idea. Spare tubes and parts for your bike, snacks and tools can all go in there. Some back packs have a space for a hydration pack, which is very useful on a long ride. The more pricey ones also have added extra features such as integrated back protection and GoPro mounts.
Now you know what winter mountain bike clothing you need to stay comfortable
All these things will make a winter's day on your bike more enjoyable. All it takes is a bit of consideration of what winter mountain bike clothing you wear for a ride. So now you have no excuse to smash those trails whatever the weather.  Leave your comments below to add to this list!