Best Winter Mountain Bike Gloves: And buyer's guide
Best Winter Mountain Bike Gloves
Mountain bike gloves are a great idea, as they serve a few different purposes. They help with your grip on the handlebars, protect your hands from getting blisters, keep your fingers toasty and protect you when you fall off your bike. There is an argument for not wearing mountain bike gloves, but personally I feel vulnerable without them. But when you are riding in cold weather, mountain bike gloves are essential. In this post I am going to give you all the tips for buying the best winter mountain bike gloves and give you some great options.
Winter Mountain Bike Gloves
Below is a little guide to mountain bike gloves in general. But what about specific winter mountain bike gloves?
In my book a just like winter mountain bike shoes and clothing, a good pair of winter mountain bike gloves can make the difference between an amazing day on the bike and a miserable one. However, as this article has a worldwide reach, so your idea of winter mountain bike gloves may be different from someone else's. I am guessing that the majority of readers, won't be riding fat bikes in the arctic circle, so I am basing my recommendations on:
Warmth
Windproofness
Protection against water
To make sure you have total control of your bike through the handlebars, you need to have good grip. Many mountain bike gloves use a leathery material on the palms and on the grip side of the fingers. This is to give you the grip you need, help you change gear and brake, even when wet. This stuff also wicks away sweat from your palms. You should also look out for rubberised patterns on the fingers and palms for additional grip.
Mountain bike gloves are designed to give you a certain level of abrasion protection. This is super important for when you crash on gravelly trails. This protection is also important for when you brush up against low hanging branches etc. Some gloves have reinforced sections on them to protect your knuckles in the event of a crash. You can also get gloves with D30 foam protection. This stuff is soft, but when it receives an impact it goes hard dispersing the shock. You will find this stuff in elbow and knee pads too.
Mountain bike gloves come with varying amounts of insualtion. From light weight summer gloves to super warm ones with loads of insulation for riding in arctic conditions.
For winter, obviously look for mountain bike gloves with good insulation, but they also need to allow you to have good dexterity and allow you to feel the handlebar grips. If you choose gloves that are too thick, it can be difficult to change gear and brake. They also isolate you from some of the feedback you get through he handlebars. However, if you choose gloves that are too thin, you won't feel the benefit of warm fingers, but the material can bunch up. This causes them to rub your fingers and palms, causing blisters.
Mountain bike gloves have different levels of padding on the palms. You need to be aware of how much padding your gloves have. This is because you may be tempted to go for gloves with lots of padding (such as gel padding), which is not always a good idea. This extra padding can cause discomfort and blisters, a bit like when you choose a saddle that is too soft.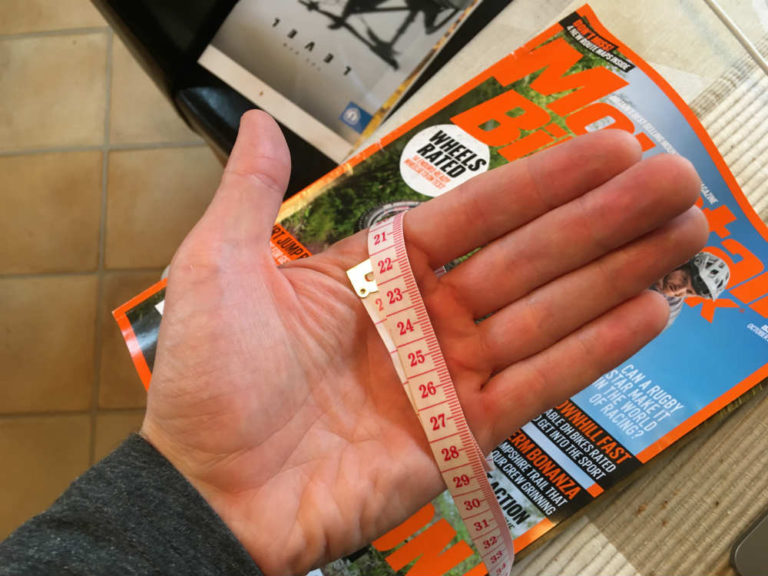 It is very important to get the size of your mountain bike gloves right. If you wear gloves that are too big for you, the material will bunch up and cause blisters. So how do you know what size to go for?
Standard glove sizing is based around the measurement of the circumference around the palm of your dominant hand. Most mountain bike glove manufacturers size their gloves as s, m, l or xl. So you should check out the sizing guides to make sure you choose the right size. I like to go for a glove that feels a little tight. This is because a glove the fits like a second skin will be comfortable and won't cause blisters. Also, it is likely to stretch a bit over time.
Mountain bike gloves come with different ways of fastening themselves around your wrists. For example, some have velcro straps while others simply use elastic to fit snuggly around your wrists. Well-fitted gloves should not move around just by using the elastic. But some riders may prefer the extra security velcro straps give them, especially when it comes to riding in cold weather. Some gloves use a drawstring to secure themselves to your wrists. These are also good for keeping cold air out.
Just like everything in the mountain bike world, mountain bike gloves can come with a range of features. This may include a goggle/nose wipe on the thumb, some also have touch screen usability so you can use your phone. these are not particularly reliable, but they are worth a try.
Best Winter Mountain Bike Gloves
dhb Windproof Cycling Gloves
The dhb windproof cycling gloves are designed for rinding when it is particularly cold outside. These have a nice fleecy lining inside, to keep your hands toasty. The padded suede palms give you plenty of grip, as do the silicone grippers on your braking fingers.
The back of the hands are totally windproof, which is ideal for when you are taking on fast descents on a cold day. The fleece lining traps warm air giving you a warm and cosy feeling. Another bonus of these gloves, is that you can use your smartphone whilst wearing them, so you can stay cosy all the time.
Windproof cycling gloves for cooler weather
Padded PU suede palm for comfort
Fleece lined windproof fabric on the back of hands and fingers
Silicone gripper on index and middle finger for shifting and brake lever control
Touch screen compatible finger tips
Stretch neoprene cuff gives a low bulk and comfortable fit around the wrist
'Pull-on' panel at the inside cuff for ease of entry when wearing gloves
Microfiber fabric on thumb as nose wipe or to wipe away perspiration
Ventilation holes on palm
Castelli Lightness Gloves
The Castelli Lightness Gloves are perfect for early spring and autumn riding. The backs are made from a stretchy breathable polyester material called thermoflex. The insides have a fleece like material, that feels nice on your skin. The fingers have a little bit of insulation, but not so much that it affects your dexterity.
There is a synthetic leather material on the palm with a rubberised print for excellent grip. The cuffs are extended just above the wrists, this means that the wind is kept out.
These gloves are well made, lightweight and comfortable. They are no fuss kind gloves that do their job very well and well worth your investment for when it starts to get chilly.
The pros' favorite glove for cooler conditions
Warm, stretchy thermoflex fabric back panel
Palm in clarino® for great feel and durability
Grip print on palm
Pull tab
Stretch cuff closure
Temperature Range: +10° – +18°C
47g (Pair)
Windproofness ● ● ○ ○ ○
Waterproofness ● ● ○ ○ ○
Insulation ● ● ○ ○ ○
Breathability ● ● ● ● ○
Endura MT500 Waterproof Gloves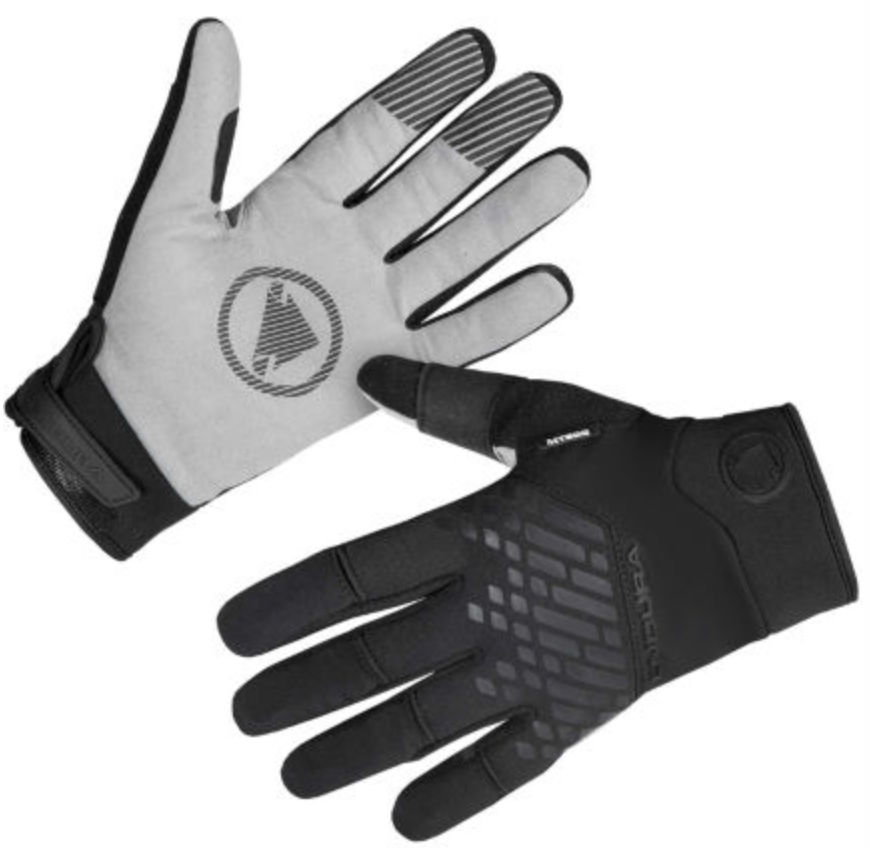 The Endura MT500 II waterproof gloves have a great build quality and are perfect for winter riding. The waterproofing works very well and will keep you riding for longer.
These gloves are super comfortable, thanks to the four way stretchy material and breathable mesh on the back of the hands. They have a reinforced panel on the back of them too, to give your knuckles some protection.
The palm has leather with silicone print to give you plenty of grip on your handlebars. There is some padding, but it doesn't compromise dexterity, so you have all the control you need.
When it comes to the fastening system, you get a snug fit that does a great job of holding the gloves in place and keeping the wind out.
Material: 40% Nylon, 30% PU, 20% Elastane, 10% Polyester
4-way stretch, breathable mesh back with knuckle protector panel
Durable synthetic leather palm with critical padding
Additional knuckle and finger moulded protection
Silicone print palm and fingertips
Terry sweat wipe on thumb
E-swipe touchscreen compatible finger and thumb
Sure-fit wrist cuffs with Velcro® adjusters
Which Winter Mountain Bike Gloves Do You Like?
Do any of these take your fancy? If so let me know which ones, if not, let me know what you have chosen and why in the comments section below.