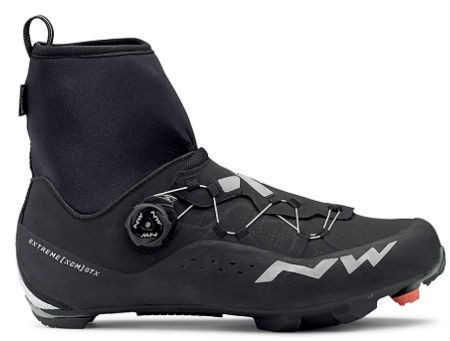 If you have signed up to the MTB-Threads newsletter, you may have downloaded your free ebook. This book tells you all about mountain biking in winter. How to set your bike up and how to choose the correct clothing. However, it dosen't tell you about choosing the right winter mountain biking shoes.
If you are tough enough to ride in the winter, your gear needs to be up to the job. A good pair of winter mountain biking shoes should be tough, water resistant and they should keep your feet safe and warm.
What to look for in Winter Mountain Biking Shoes
The materials winter mountain bike shoes are made of, make sure that they are tough enough to cope with the punishment they get from riding.
Winter mountain bike shoes should provide plenty of grip. I don't mean just for when you have your feet on the pedals. You will be thankful for proper grip when you are pushing your bike up (or down) the trail. This is especially important if you are a cross-country racer, as there are times when you need to jump off and run with your bike. There are even winter mountain bike shoes with removable studs to give you extra grip in the mud.
You will find that winter mountain bike shoes are quite different to normal mountain bike or road shoes, due to the nature of the conditions we ride in. Therefore, expect to find winter mountain bike shoes with rugged designs and tough materials. Tough synthetic mountain bike shoes will still be in one piece once you get to the bottom of the trail, and hopefully your feet will be too.
There are quite a lot of winter mountain bike shoes on the market with high collars. They are usually insulated too, to keep your toes reasonably warm.
You will notice that there are a number of different ways to fasten winter mountain bike shoes. There are also additional features such as sprat guards and waterproof coatings. A good feature to look out for is "easy to clean uppers", this is pretty useful when you have just finished a particularly dirty ride.
Below is the MTB-Threads list of the best clipless winter mountain bike shoes. However, if you prefer to ride flats, check out the link below. It isn't all about Five Ten Freeriders!
=>Click Here to see the best flat pedal mountain bike shoes<=
Shimano MW7 GoreTex SPD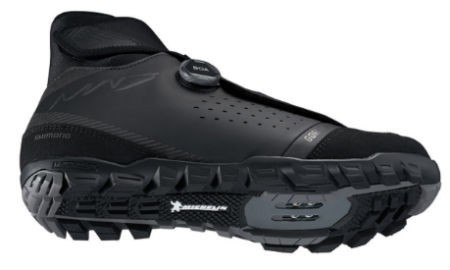 Click here to buy yours from Chainreaction
These feature rich winter mountain bike shoes are rugged and very effective. The main features of these winter mountain bike shoes is that they have GoreTex to keep your feet nice and dry. They are also very well insulated with a fleece material used on the insole. This means they are super comfortable and very warm.
You will like the boa fasteners on these. They allow you to finely adjust the fit by just turning the dial. As with all winter mountain biking shoe, I would recommend going up half a size, as they tend to be quite snug.
The design is modern and stylish, that will stand the test of time. The close-fitting high collar means that you shouldn't get bits of dirt in the top of your shoe. If you plan on riding at night, these winter mountain bike shoes have reflective details all around them, to help with your visibility.
These shoes are very grippy on and off the bike, thanks to the duel density Michelin rubber soles.
Shimano XM9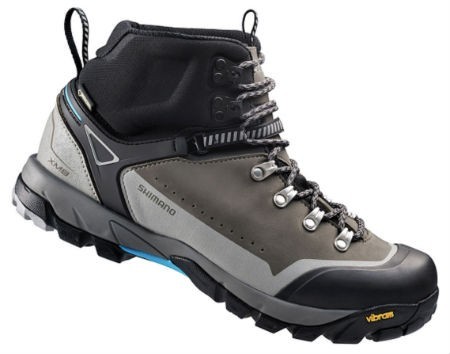 Click here to buy yours from Chainreaction
For something slightly cheaper you may want to look in to the XM9. These winter mountain biking shoes have a very different look to them. They have a hiking boot style look, and you can actually use them for hiking too. They are GoreTex boots, therefore they are breathable and waterproof. The outsole material is an Italian rubber known at VIbram. This stuff is very durable and used in high end climbing boots.
You may find them a little heavy, but they are made to last and for the toughest trails.
Northwave Extreme XCM 2 GTX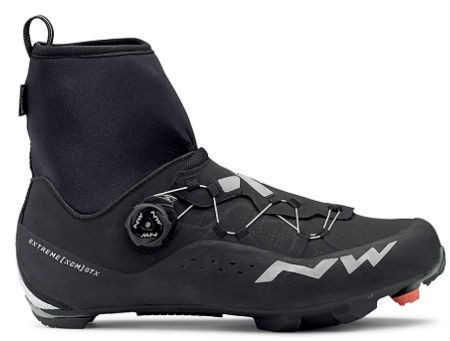 These winter mountain biking shoes are for when it gets seriously cold. Packed with innovative features, the GTX feature water-repelling tech, a combination of Gore-Tex Koala and Gore-Tex Rattler fabrics, and BioMap Aero Overlap construction for an improved aero profile.
The sole is made from a triple-density Speedlight 3D carbon and has a carbon insert in the pedal contact area. This means these winter mountain biking shoes are super stiff giving you similar power transfer as some road racing shoes.
Specialized Defroster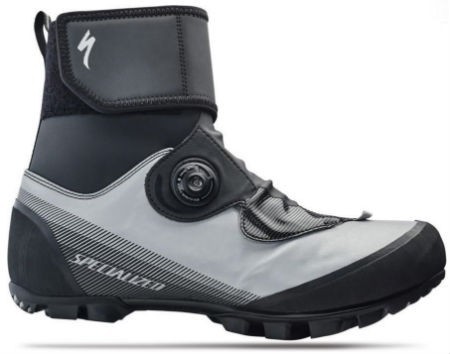 Click her to buy yours from Tredz
The Specialized Defroster boots are very warm and comfortable. Their high collar gives you lots of protection from puddles, but you may find them a bit stiff to start off with. They do free up a bit and get more comfortable once you get pedaling.
The stiff soles make for very efficient pedaling, but not particularly easy to walk in. If you spend a lot of time walking around, these are not the boots for you, as they are not that grippy. The Boa system is a great way to adjust the fit while on the move. They are also very easy to clean, thanks to the smooth outer material.
The Defroster was very comfortable and warm, however, with the Boa performing as well as ever for easy tightening, loosening and adjustment on the move. The slick outer also proved easy to hose off and clean after rides.
Which Winter Mountain Biiking shoes will you go for?
These are all very good winter mountain biking shoes. But the Shimano XM9 are the most versatile boots on this list. If you can justify the extra money the Northwave Extreme XCM 2 GTX would be my choice.
Don't forget to sign up to the newsletter for your free ebook.