Mountain Bike Shoes For Men
Mountain Bike Shoes For Men
Many new mountain bikers will start off with a pair of skate shoes or some old trainers. But as you become a more experienced rider, you will notice the benefits of a good pair of mountain bike shoes. In this post, I am going to give you some of the best examples of mountain bike shoes for men, along with telling you how to choose the best ones for you.
When you are mountain biking, you have three points of contact with your bike, your hands on the grips, your bum on the saddle and your feet on the pedals. When you stand up, you are only touching the bike with your hands and feet. When you think about it like this, you will realise how important your choice of footwear is and that it is worth carefully considering what you wear on your feet.
Things that determine what mountain biking shoes you choose are:
Riding style
What type of pedals you like
The terrain you ride
So, keep reading to see how to choose your next pair of mountain bike shoes.
Clipless pedals work by attaching your shoe with a cleat that is screwed into the sole of your shoe. The cleat locks to the pedal but is easy to disengage with a twist of your ankle. If you fancy the idea of being attached to your pedals, you will need a cycling-specific shoe with space for the cleat to attach.
Clipless pedals are used for most types of riding and have different designs to suit each discipline. You will instantly notice that clipless mountain bike shoes are very stiff. Stiff shoes help with transferring your power to the pedals and makes pedalling more efficient. But, stiff shoes make it a little awkward when walking around, especially in a super stiff cross-country shoe.
Pedalling efficiency is also improved by being able to push and pull on the pedals with the opposite feet.
The soles on the different types of clipless mountain bike shoes differ quite a lot. Clipless DH shoes look very similar to flat pedal shoes, but they have the recess for a cleat. They tend to have minimal tread on them too. Cross country and trail mountain bike shoes will have a more pronounced tread pattern, but often, the compound of the tread material is firm and plasticky, meaning that they won't give you the best grip for walking around. However, many brands are improving the rubber compounds used on clipless mountain bike shoes, so make sure you go for grippy soles if you expect to be walking around a lot.
To fasten clipless shoes, you will have the choice of anything from laces to straps to Boa dials. You will find that most entry-level mountain bike shoes will fasten using two or three velcro straps, while higher-end shoes will have ratchet straps, buckle or Boa dials.
With flat pedals, you don't need special shoes to ride. But mountain bike specific flat pedal shoes will work much better than a pair of skate shoes.
Flat pedal mountain bike shoes have flat soles to give you the largest contact area with your pedals. In addition to this, the rubber soles are much more grippy than the ones found on skate shoes.
The stiffness of flat pedal shoes differs between brands, but a flat pedal shoe will be slightly stiffer than skate shoes. Flat pedal mountain bike shoes also incorporate different levels of padding and support, suitable for different disciplines of riding. Downhill specific shoes may be overkill for most types of riding so make sure you choose suitable shoes for what you want to do.
Typically flat pedal mountain bike shoes look like chunky skate shoes and tie-up with standard laces. However, some models feature velcro straps or even Boa systems. Here is a top tip. If your shoes have laces, make sure that you tuck the ends out of the way, so they do not get caught around your pedals or drivetrain. Five Tens tend to have ridiculously long laces.
Weather can be a determining factor for which mountain bike shoes you buy. If you ride in cold conditions, a typical cross country clipless shoe is not going to be the right choice, as you will have very cold toes. The reason for this is that cross country shoes (and most trail shoes) have lots of ventilation to keep your feet cool in the summer. Also, the cleat on a clipless shoe acts as a heat sink. This draws warmth away from your foot and into your pedal. Flat pedal shoes usually have less ventilation, and the solid rubber sole insulates your feet. I mostly ride in warm weather where I live, and I have no problems with my Five Ten Freeriders.
You can buy winter-specific mountain bike shoes. Manufacturers make them for both clipless and flat pedals. These types of mountain bike shoes can be pricy, but if you spend a lot of time riding in cold weather, your feet will thank you for buying them.
Recommended Flat Pedal Mountain Bike Shoes For Men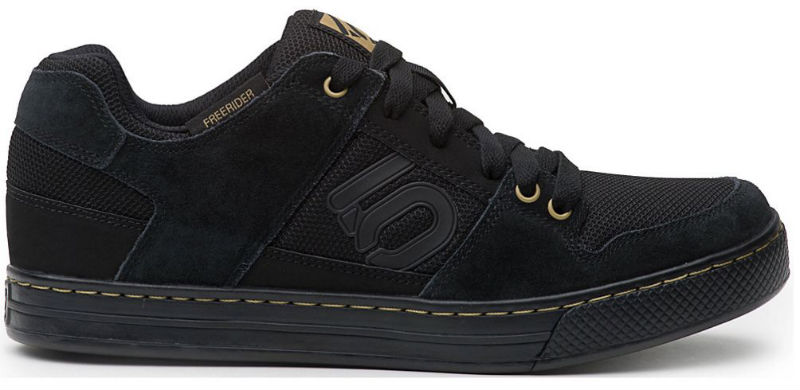 I mentioned that I ride with a pair of Five Ten Freeriders earlier. The reason for this, is that they are probably the most comfortable things I have ever put on my feet and they are very grippy on my Nukeproof Horizon pedals. The Five Ten Freeriders are primarily a trail shoe, but I wear them for enduro and downhill riding in the French Alps.
The sole on the Freerider, is made from the S1 Stealth Rubber. In conduction with its tread pattern, this stuff works very well with the pins on your pedals to make sure your feet stay firmly in place without having to be clipped in.
My current choice of Five Ten Freerider, is the bow standard version. However, if you tend to ride in wet weather often, this may not be the best choice for you. When they get wet, they take ages to dry out. Therefore, you may want to try the DLX version, which is more suited to damp and muddy days on the bike.
If you want a more versatile shoe, or one with different looks, you may want to look at the Pro model. These are quick drying, while still retaining the super grippy S1 rubber sole.
Stealth® S1 rubber outsole for unbeatable grip
One-piece molded cup sole for added durability
Classic Dotty™ tread for superior pedal traction
Lace closure
Textile lining 
Medium-flex midsole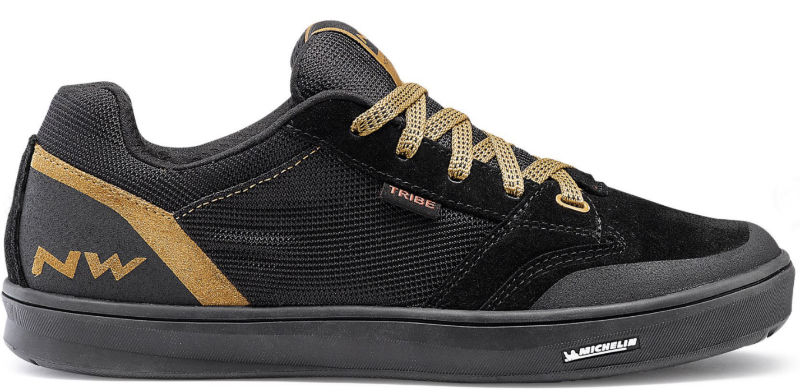 The Northwave Tribe is a bike-specific shoe and is a good alternative to the Five Ten Freerider. Its Michelin rubber sole gives you great grip, even when wet, thanks to its 'Gecko' compound, which is also has a long lifespan. The Gecko sole works in a similar way to Five Ten's Stealth rubber, by having a tread pattern that interfaces with your pedal pins for security.

The sole is stiff, which helps with power transfer and comfort when on the pedals. But, much like the Five Ten Freerider, the sole isn't too stiff, so you will be comfortable walking around in them, either on the trail or in the streets.

The sole and the upper are welded together, to help with their longevity. The upper is breathable but has rubber prints to help protect your toes from rocks pinging up off the trail.
A pie feature that the Tribe has over the Freerider is the elasticated lace holder. This keeps your laces tidily out of the way, meaning they won't get caught in your drivetrain.

When it comes to comfort, the Northwave Tribe shoes feel like any regular sports shoes. The only thing that hints towards them as mountain bike shoes is their extra weight. But, you could easily wear them on a day to day basis.
Lightweight suede and mesh upper
Reinforced toe cap
Abrasion-resistant rubber print at toe and heel
Michelin Gravity outsole featuring Gecko+ compound
Non-stretch laces
Elasticated lace holder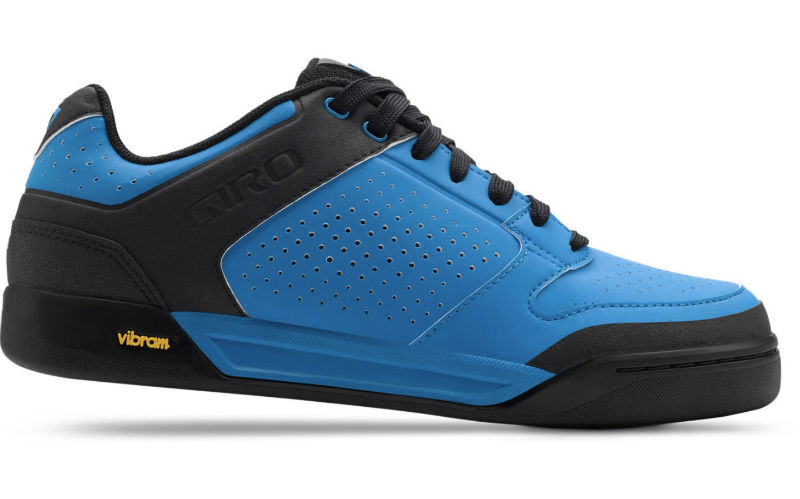 The Giro Riddance is a lightweight mountain bike shoe with a Vibram sole. Although the sole is grippy, you won't find it quite as good as the Stealth Rubber found on the Five Ten Freerider, thanks to the less aggressive tread pattern. But, you will find these shoes adequately in terms of their traction on and off the bike. However, if you ride particularly bumpy terrain, you might want to look at other options.

Like the Northwave Tribe, you can safely tuck the ends of the laces into the built-in lace keeper, which is a nice touch and won't give you any unwanted surprises.
Depending on the colour you choose, this is another shoe that you would be able to go to the pub in after a ride without looking a bit odd.

The Giro Riddance is a comfortable shoe, with good arch support. You will notice that the upper is quite stiff, which gives you a feeling of security and good power transfer on the pedals. This makes it a great shoe for mountain bikers that ride a lot of flat and rolling terrain, but you probably wouldn't want to use them as your day to day walking around shoe.
Water-resistant, breathable microfiber upper
Laced closure with lace keeper
Tubular laces are durable and hold a knot
Rubber toe and heel reinforcements
Rockprint reinforcement for enhanced durability
Vibram Megagrip ISR rubber outsole, engineered for grip
EVA midsole optimized for vibration damping
Moulded DH EVA footbed with arch support
430 grams (size 43)
Recommended Clipless Mountain Bike Shoes For Men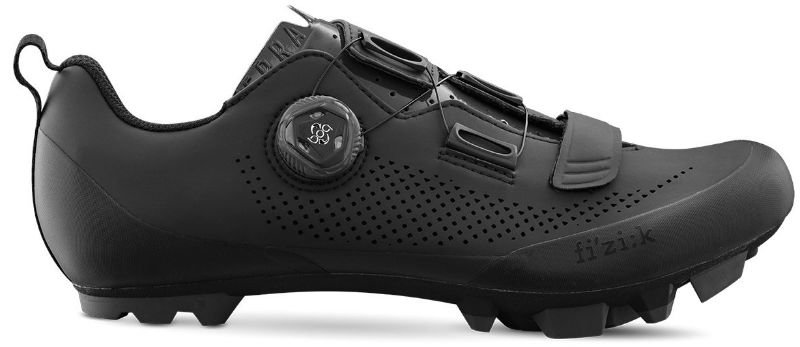 The Fizik's X5 Terra is a stylish and sleek clipless mountain bike shoe. It has a stiff sole, for great power transfer, but still remains comfortable on long rides.
You would be forgiven for mistaking these mountain bike shoes for road shoes, as they do share some similarities to Fizik's road shoes. These shoes are best suited to cross country, cyclocross and gravel riders.
Many customers of the Fizik X5 Terra say that they are quite narrow. However, you will be able to dial in a perfect fit using the Boa and velcro strap fastening system and they soon ease off after a couple of rides.
The sole is composite carbon fibre, which brilliantly balances stiffness and comfort. The tread pattern is aggressive and digs into the mud for excellent grip when off the bike. 
Your toes and heels are protected with toughened material, while the microtex upper is easy token clean.
Tin a nutshell, the Fizik X5 Terra shoes look good and perform well considering their price. However, if you have wide feet, you will probably want to look for an alternative.
Sizing Note: Fit as per size guide
Upper: Laser Perforated Microtex
Outsole: Injected Carbon/TPU co-injected studs
Closure system: Single L6 Dial B and Single Strap
Insole: fi'zi:k Cycling Insole
Weight: 282g (size 42.5)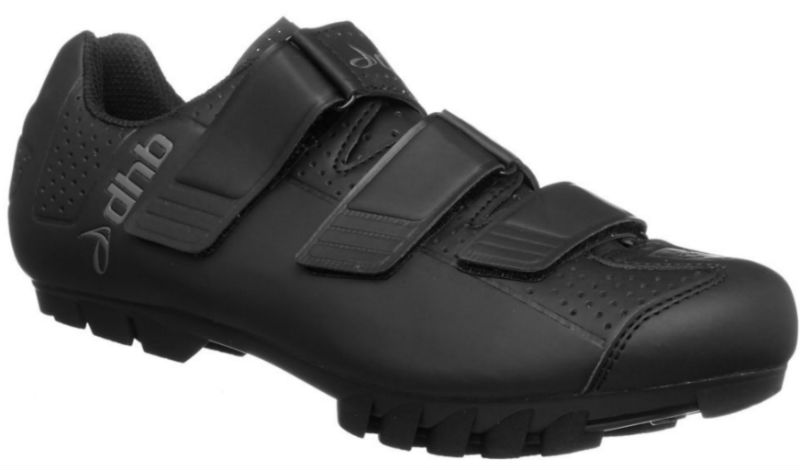 The dhb Troika is designed to be wider than your usual mountain bike shoe. The idea behind this is so you can wear thicker socks, but these would also suit the mountain biker with wide feet. If you have standard sized feet, you will instantly notice how much extra room they give you and probably wouldn't be suitable, unless you buy a pair a size down from what you would usually buy.

When riding, these shoes feel robust and are breathable, thanks to the perforated upper. But, the holes still keep your feet dry from splashing through puddles. While the stiffness of the soles gives you plenty of pedal power.

The dhb Troika is a decent pair of mountain bike shoes at a good price. But, I recommend them to riders who tend to find themselves half a size bigger than the standard sizes, or who need a little extra room in the toe box.
Lightweight synthetic upper
Semi-perforated upper for breathability
SPD Cleat mounting system
Ergonomic offset strap system
Provision for toe spikes
Nylon Sole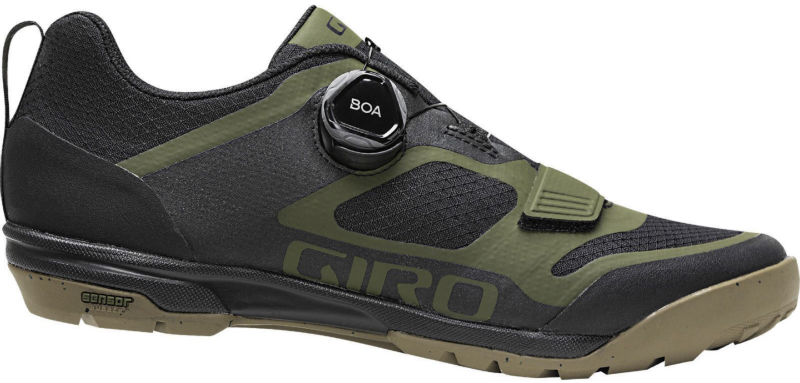 The Giro Ventana features the inboard offset cleat position used on the Giro Chamber DH shoe, which gives you a wide stance on the pedals. It also has a brand new welded upper and extra protection for your toes, while the well balanced sole stiffness is ideal for riding hard.

Its offset cleat position is either going to win you over or put you off straight away. The idea behind this design is to mimic a flat pedal stance, which leans more towards downhill riding than trail riding.

The sole features a low profile rubber tread with extended protection on the toe. It also has a big recess for the cleat, making it easier to clip in. You will instantly notice, due to its stiffness, that this shoe is for people that want the best in power transfer to the pedals. This stiffness is well balanced between getting the power down and feedback from the bike.

You will be able to get the fit perfectly dialled in with just a twist of the knob on the Boa lacing system. Another advantage of this system is that it evenly distributes pressure around your foot, ensuring that there are no pressure or pinch points.

These shoes are not weatherproof, but they dry quickly, breathe easily and are not too heavy. Their fit is excellent, while the Boa system is fast and secure. You will like that the upper is durable and well protected and the balanced sole. However, the inboard cleat position is likely to be the big decider for most riders.
One-piece Synchwire™ upper design with PU bonded mesh
Rubber reinforced heel and toe sections
Boa® L6 dial featuring 1mm adjustment and macro release, with steel lace and soft lace guides
Velcro® forefoot strap
Injected EVA cushioning midsole
Sensor™ rubber compound engineered for durability and grip
Stainless steel hardware
Moulded EVA footbed with medium arch support
417 grams (size 42)
2-bolt cleat compatible
Mountain Bike Shoes For Men
Which mountain bike shoes are you going to go for? Also, if you have any questions, please let me know in the comments section below.