Nukeproof Horizon Pedals: Review
Nukeproof Horizon Pedals: Review
The Nukeproof Horizon pedals are what I have put on my Nukeproof Mega Al Pro 275. The conch shape, grippy pins, good sized platform and great looks, they are the best pedals I have ever had. They are very comfortable and secure, giving you plenty of confidence when riding.
The design of the Nukeproof Horizon pedals is to hit the sweet spot between strength, fatigue resistance while being lightweight.
Enduro champion Sam Hill has had a lot of input in to the development of the horizon pedals. During this development process, Nukeproof have come up with a pedal that has a large platform, adjustable pins and a shape that deflects impacts from rocks and roots.
The body of the pedal is very strong and has adjustable pins so you can set them at the perfect length for you. They have a concave shape that make them the most comfortable pedals I have ever used. This is important, as your feet don't get tired as quickly as they would with less comfortable pedals. I like the fact that there are no bumps to cause pressure points or to compromise contact with your shoes. I wear Five Ten Freeriders with these pedals and the combination has never made me feel that I don't have enough grip or control.
There are a few different versions of the Nukeproof Horizon Pedals. Here are the details you need to know.
Nukeproof Horizon Pro Sam Hill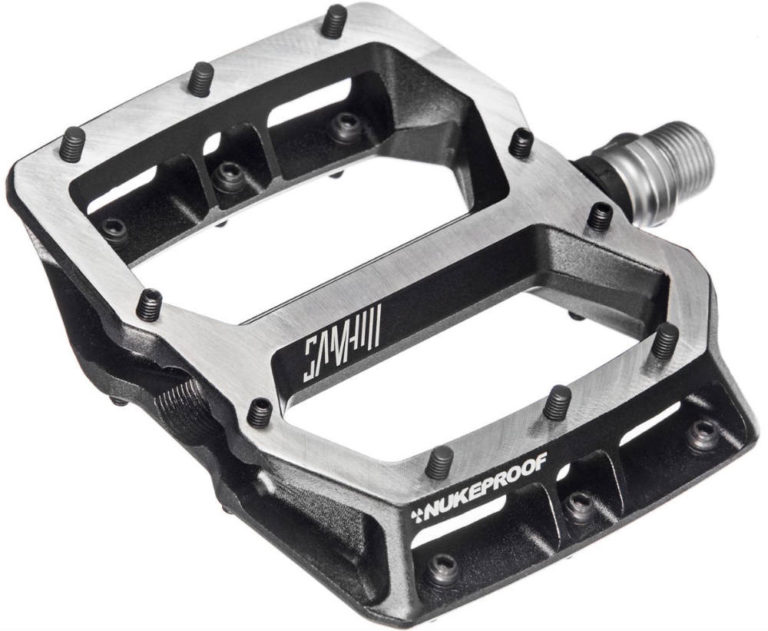 These are the ones that I ride with and I can 100% recommend them. The riding I do is in Morzine in the French alps. I mostly ride enduro and downhill trails. Some of these are pretty long and technical, which is exactly what they are designed for. But if you ride single track or any other type of trail, these will be superb for that also. My previous bike had some down hill pedals on it. They had a larger platform, but didn't feel as grippy as these ones.
Material: Forged 6061-T6 Alloy body with CNC finishing
Axle: 9/16" Cro-Mo
2x high-quality DU bushings & 4x sealed Z989 cartridge bearings (pair)
Adjustable pin heights
Weight: 430g
Nukeproof Horizon Pro Ti Sam Hill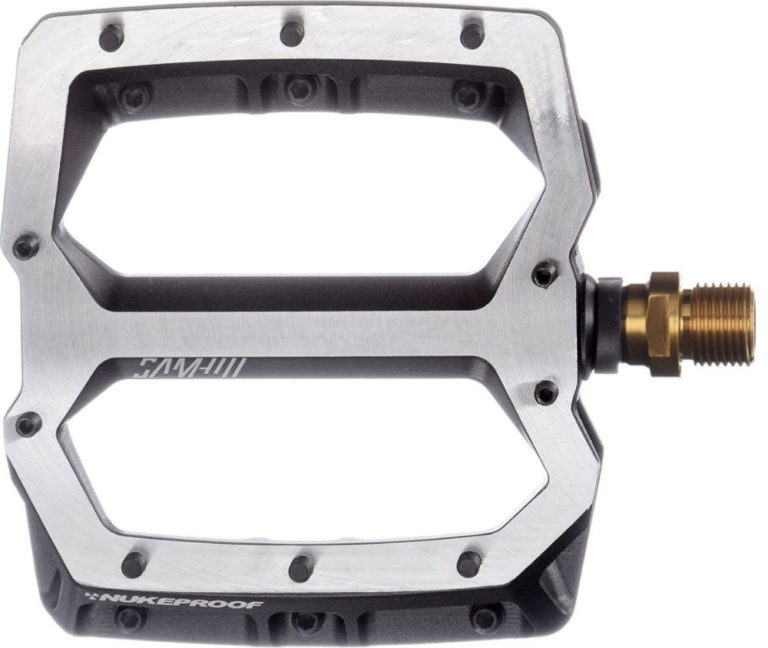 This is the luxury version of the set I have. The difference is that they are lighter, thanks to their titanium axle. They are considerably more expensive than the ones I have. But if you have the extra cash burning a hole in your pocket, you may as well go for these ones.
2 x high quality DU bushings & 4 x sealed cartridge bearings (Per Pair)
Forged 6061-T6 alloy body with CNC finishing
Titanium axle
Adjustable pin heights
Weight: 362g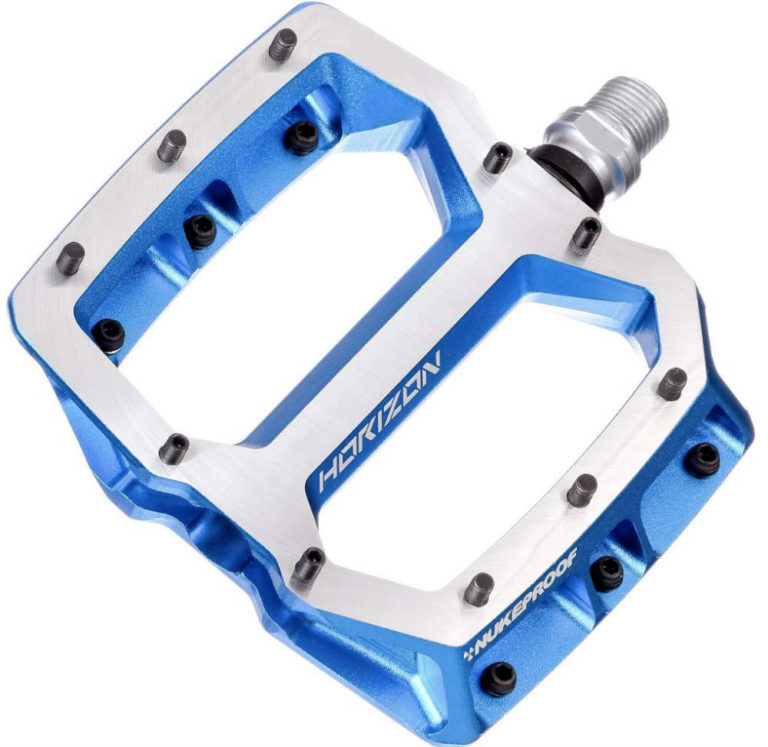 The Pros are slightly cheaper than the ones I have, because they don't have Sam Hill's name on them. Other than that, they are the same pedal. However, you get a choice of six colours, so you can match them to your bike.
Material: Forged 6061-T6 Alloy body with CNC finishing
Axle: 9/16" Cro-Mo
2 x high quality DU bushings & 4 x sealed Z989 cartridge bearings (Per Pair)
Adjustable pin heights
Full range of spare parts available
Weight: 430g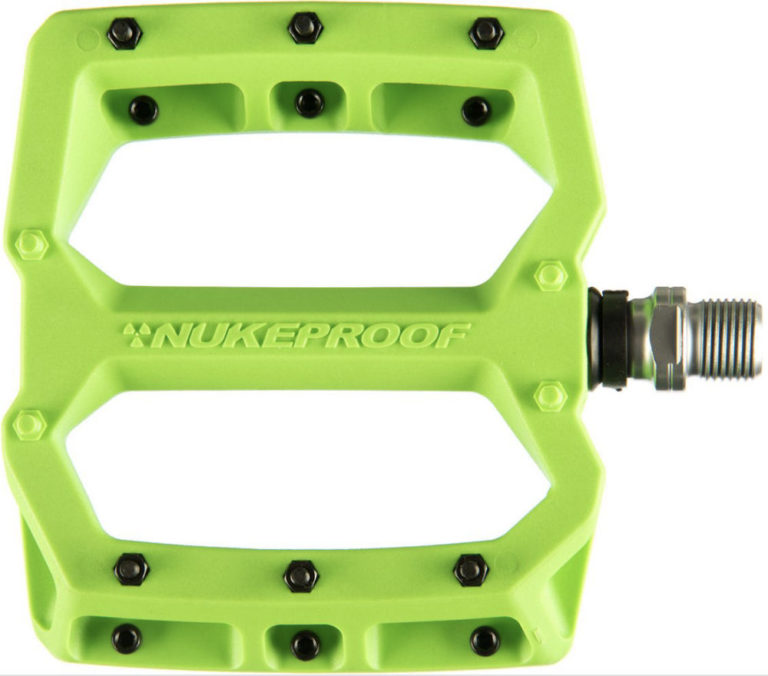 The Comp is the nylon-reinforced composite version of the Horizon pedal. They are for those that don't want to fork out lots of cash or need something a less serious. They are quality pedals that have the same design as the other versions. They also come in four different colours, so hopefully you will be able to find a match for your frame.
2 x high quality DU bushings & 4 x sealed cartridge bearings (Per Pair)
Nylon-Reinforced composite
CroMo axle
Weight: 318g
Are You Going To Buy Some Nukeproof Horizon Pedals?
You really can't go wrong with these. As I said earlier, they are my favourite and the best ones I have ridden with. My wife also has them on her Mega as do all the guys that work in my local bike shop. Please let me know your thoughts and questions in the comments section below.