What Is An Enduro mountain Bike?
What Is An Enduro mountain Bike?
Mountain biking has a lot of different variables. These include, the rider's ability and the terrain they ride. Some people may like to trail centres, some may like to pedal long distances on fire roads, but others may love blasting down mountains in ski resorts. There is a different bike for each discipline of mountain biking. In this post, I am going to answer the question of what is an enduro mountain bike?
What Is Enduro Mountain Biking?
Enduro is actually a type of racing. But, the term is also used to describe a type of clothing, trail, bike or equipment. Enduro is used as a term to explain a particular that would be used for a particular type of riding.
Enduro mountain bike racing is basically getting to the top of a mountain as quickly as possible, then racing back down. They usually have three to six stages. Riders are mostly timed not he downhill sections. These vary in steepness and how technical and long they are, depending on the location of the race. Riders have to ride between each stage in untimed "transfer stages". These are mainly up hill slogs before the timed race down he mountain.
To be an enduro racer, you need a mixture of skills, such as physical fitness, endurance and technical skills to tackle the rough terrain on the descent.
Enduro racing is one of the most accessible ways of competing for an amateur mountain biker. Here are a few reasons why enduro is great for amateurs:
When you are racing, you are only competing against the clock. You don't have to worry too much about other racers, as everyone sets off at timed intervals. Therefore, you don't have the panic of getting in a big pack of riders like you would in a cross country race.
Everyone rides the same track. This means that you can compare your times with everyone else's, giving you a good idea of what level you are at.
It is super fun! The atmosphere at an enduro event is really friendly. It is common for people wait for their friends after the timed stages and ride on to the next one together. Enduro events are basically trail rides, but with some more motivation to go faster.
What Is An Enduro mountain Bike?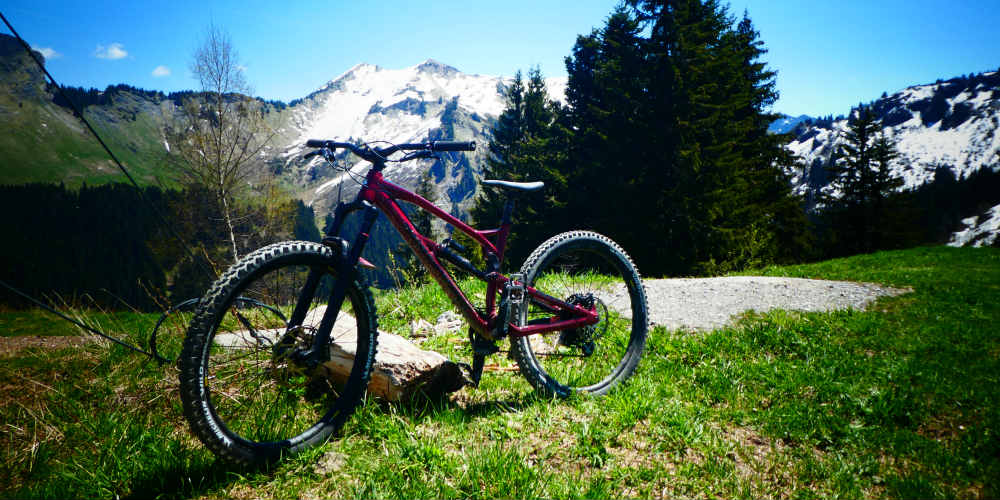 An enduro bike, at a glance resembles most of the full suspension bikes you see on the trails. In terms of specifications, enduro bikes fall between trail and downhill bikes.
Enduro mountain bikes lots of suspension travel. This allows riders to go faster over very rough terrain. During a race, it is common for a rider to have never ridden the course before. Therefore, this extra travel gives them an extra margin for error when they don't pick the smoothest line. This makes it much safer and prevents many of those over the bars moments. Expect 160mm to 180mm of travel on an enduro mountain bike.
Enduro bikes tend to come with either 27.5″ or 29″ wheels. The amount of travel usually varies between the two wheel sizes. Normally 27.5″ wheeled bikes have more travel than 29ers. This is because 29ers roll over bumps easier and are faster in a straight line.
An enduro bike has a slack head tube angle. This pushes the front wheel forwards, increasing the wheel base. The benefit of a sick head tube angle, is that the bike is more stable on descents, which gives you more confidence to ride faster. However, slack head angles make life more difficult when climbing and mean that you need to put more weight on the bars when cornering.
When you compare an enduro bike to a trail bike, enduro bikes have a higher bottom bracket. This is because the terrain enduro bikes are used in is generally rougher and there needs to be more clearance.
We are seeing more bikes with adjustable geometry now. These have flip chips to lower and raise the bottom bracket height. This is so the rider can choose the optimum geometry for them. The lower setting is usually used for smoother trails and railing corners, while the high setting is used on rough terrain where you are likely to be doing jumps and drops.
The wheel base of a bike is the measurement between the axles. Longer bikes are more stable, this is why downhill bikes are very long. However, enduro bikes are getting longer too, and are getting pretty close to downhillers.
The components you get  on mountain bikes are made for the bike's intended use. Enduro mountain bikes use much tougher components than trail bikes, as they are intended to be put in more punishing environments. Comparing an enduro bike to a trail bike, you will see the following differences:
Reinforced tyres
Wider handlebars
More powerful brakes
Grippier tyres
Wider and stronger wheels
More suspension travel
Burly suspension components
Do I Need An Enduro Mountain Bike To Race?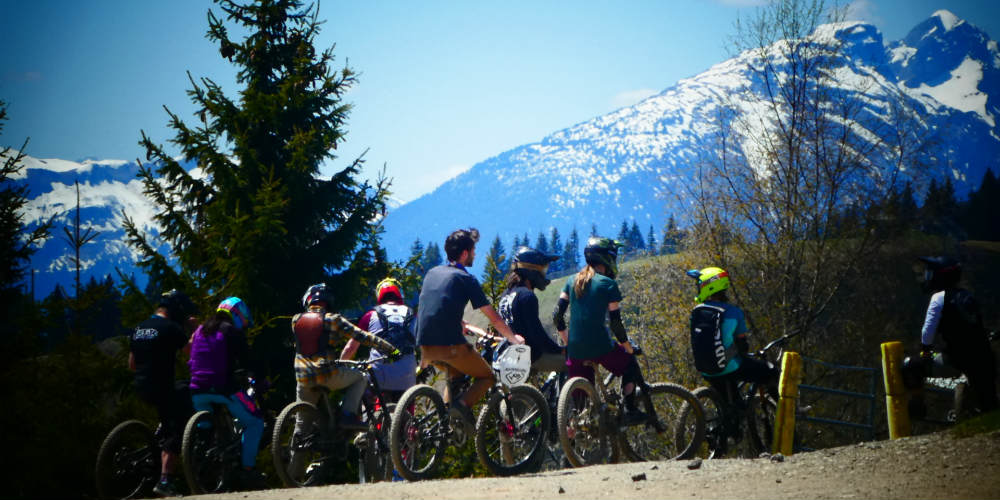 If you were taking on big alpine terrain or riding in Finale Ligure, absolutely. But, if you are entering a local fun race and you don't have an enduro bike, you should be OK with what you have. But there are a few things you need to consider:
Your bike needs to be one that is good to ride up and down hills all day.
If all you have is a hardtail, you will feel the benefit of efficient and fast peddling. But, the technical descents will be tiring.
A full suspension bike is the best option for enduro racing. If you are intending to race local races with less technical terrain, you should look at trail bikes with travel between 100mm and 150mm.
For more technical terrain, you may want a bike with 150mm to 170mm of travel.
You really need to consider what brakes you have on your bike. If you are doing a lot of steep descents, your bike should have large brake rotors to ensure that you have enough braking power.
The surface you will be riding on and the weather conditions will determine what kind of tyres your have on your bike. Tougher tyres will reduce the likelihood of getting punctures. If you go tubeless, you reduce the danger even more.
Enduro races consist of steep descents and lots of pedalling. Therefore, you should have a wide range of gears, to cope with the variety of terrain. I recommend putting a chain guide on your bike too. This will stop your chain bouncing off on those really bumpy downhill sections.
Another recommendation, is a dropper seat post. This is because during an enduro race, the trail will have lots of up and downhill sections. By being able to drop your saddle out of the way easily, you will be able to change your riding position for the descents. Then when it comes to pedalling, you can easily raise it back up again.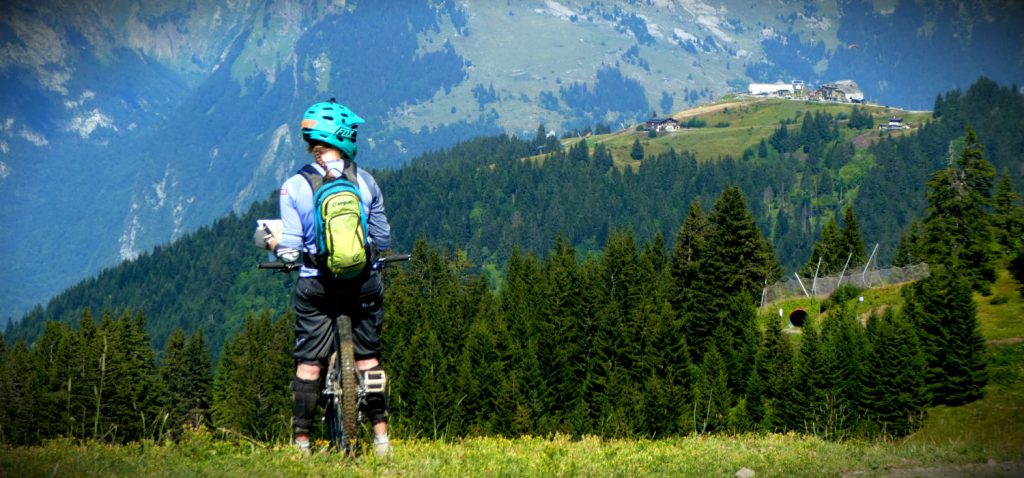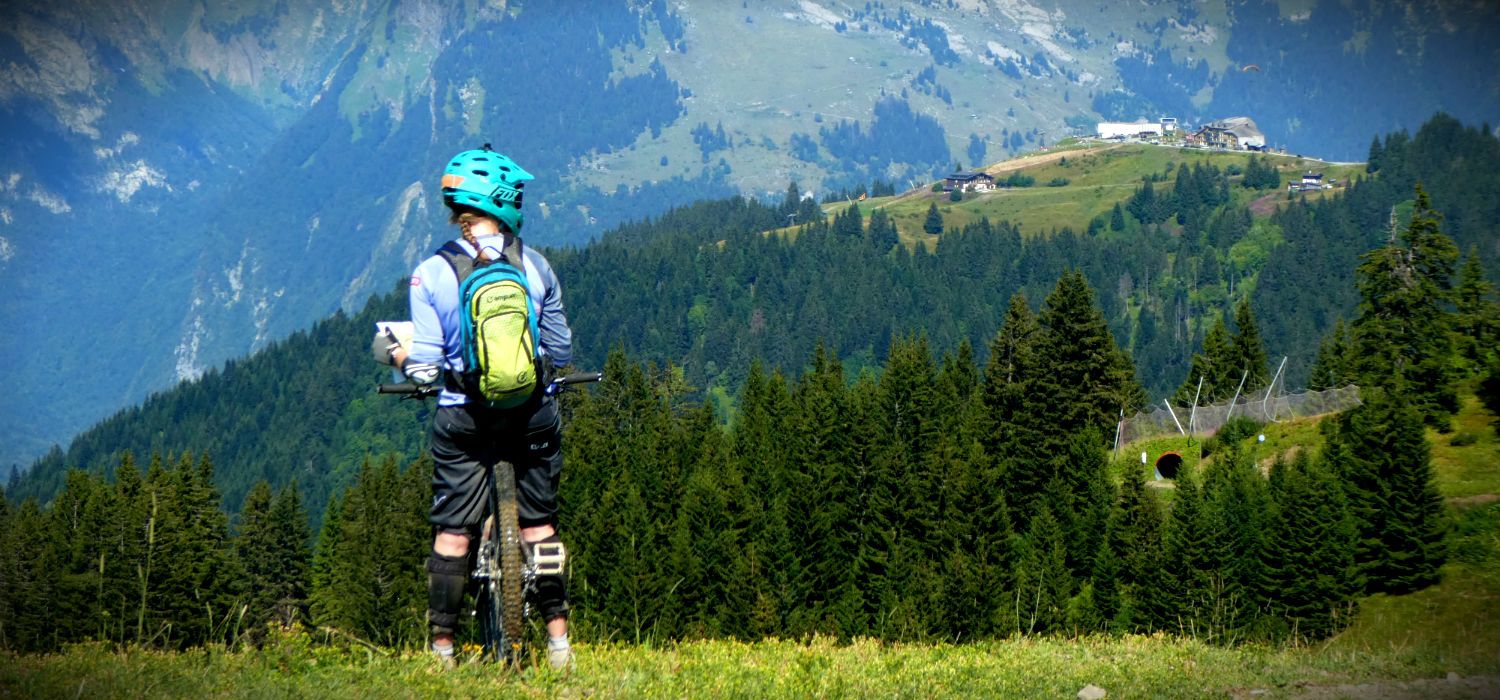 Obviously the weather will make a big difference to what you wear during a race day. There are loads of options for mountain bike clothing even for cold weather. There are a few things that you need to consider for enduro racing:
Some events require you to wear a downhill rated full face helmet. But no matter what, you will be required to wear some sort of helmet at all times. A good option, is a convertible helmet that allows you to remove the chin bar for hot and sweaty climbs.
I recommend that you carry a backpack. This is so you have all the essentials with you, such as water, snacks, multitools and inner tubes.
Knee and elbow pads are a wise idea. These will protect you if you have a crash and will give you more confidence to ride faster.
Eyewear is essential. Keep mud and grit out of your eyes with glasses or goggles. Goggles will give you more protection, but makes sure you take them off for peddling up hill. This is because they will fog up on a cold day.
What Is An Enduro mountain Bike?: Answered!
Now you know what an enduro mountain bike is used for and some essential information for your first enduro event. Please leave your thoughts and questions in the comments section below.