Enduro mountain bike helmets are used by riders who want a bit more protection than regular bike helmets. This is understandable, as enduro riders usually ride more technical terrain. Enduro mountain bike helmets have more coverage than regular bike helmets and they have more clever safety features to keep your head intact.
There is a huge amount of enduro mountain bike helmets on the market, here is my pick for the best ones you can buy today.
Giro Montaro MIPS Enduro Mountain Bike Helmet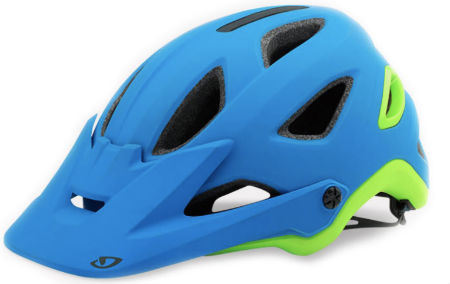 This is a very popular enduro mountain bike helmet. It won the Design and Innovation award, which boosted its popularity. Even though it won this award, it doesn't have a radically obscure aesthetic design. Meaning it is stylish and doesn't divide people's opinion.
But, the look of a helmet is not the most important thing. It needs to fit correctly and protect the rider, which the Giro Montaro should do for most riders. This is because it has a clean and simple four point system for security and its shape should fit most people's heads properly.
The visor on this enduro mountain bike helmet is adjustable enough to fit goggles under it. It is actually a really good helmet to buy if you wear goggles, as it has strap grippers on the back of it, keeping them in place. The foam pads inside the helmet are very comfortable. They are also antimicrobial, to keep it fresher for longer and soak up your sweat very well.
The Giro Montaro's Roc Loc fitting system is a great feature that boosts ventilation, while ensuring a good fit.
If you like to ride with a GoPro, Insta360 or a light on your helmet, you can use the integrated breakaway camera mount.
It is not a cheap enduro helmet, but this post is about the best ones on the market, and this is it!
Full-wrap in-mould polycarbonate shell with EPS liner
P.O.V plus visor adjustment
Anti-microbial padding
Camera/light mount
Full goggle integration with strap grippers
Roc Loc air fit system
16 vents with internal channeling
A great enduro mountain bike helmet with innovative technology. It has stylish subtle looks and great protection. Worth the extra money.
Troy Lee Designs A1 MIPS Drone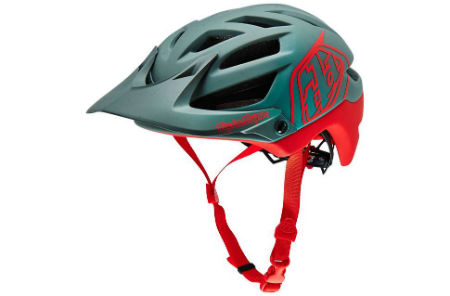 The Troy Lee Designs A1 MIPS Drone, is a very popular enduro mountain bike helmet. It is quite a heavy helmet, but it fits very well and has such a high level of comfort, you won't be too bothered. However, if you ride in hot climates regularly, you may want to look elsewhere. This, is because it is not as ventilated as other helmets on the market. However, the internal pads are easy to remove and wash when they get a bit stinky.
The simple 3 point system, the adjuster and the three settings for height, will ensure that you can get the perfect fit. The A1 has a large visor, which helps with keeping the sun and rain out of your eyes, when riding aggressively. The size of the visor also allows great compatibility with goggles.
Reinforced polycarbonate shell in-moulded with the EPS liner
MIPS brain protection system
8 pressurised intake passages
8 rear vacuum vortex outlets
Triple position adjustable retention system
Single piece removable and washable comfort liner
Full-spectrum adjustable Moto-inspired visor with anodised aluminium hardware
Race inspired stylin
Despite its weight and lack of ventilation, the Troy Lee Designs A1 MIPS Drone, is a comfortable enduro mountain bike helmet. It has a great aesthetic design too and comes in a range of colours.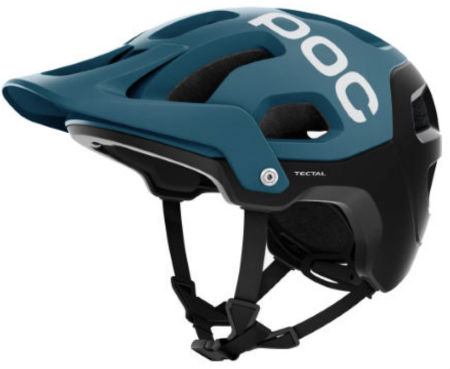 OK this one is a bit pricey, but if you want something well ventilated, this is the one for you. The POC Tectal has deep air channels, allowing air to flow over your head keeping you cool. It also fits extremely well, thanks to the adjustable straps on its four point system. The rear dial has three setting to ensure that the helmet doesn't move around on your head. However, the first thing you notice, is how good it looks. It has a clean style and a shiny finish, that looks simply excellent.
The visor is very stable, but best adjusted when you are not wearing it. It stays in place even when riding the most bumpy terrain. This helmet is also great if you like wearing goggles, as the visor accommodates them and there is a clip to stop the strap slipping on the back.
The "SPIN" element of the POC Tectal Race, is POC's in house version of MIPS. The pads inside allow the helmet to move around relative to your head during an impact. This reduces the transfer of energy to your brain. There are cheaper non-SPIN versions, but I would always prefer to spend the extra money on protecting my head.
Trail dedicated mountain bike helmet designed to provide more coverage at temples and back of head.
Fully wrapped unibody shell construction to improve helmet strength.
Features POC's patent pending rotational impact protection system, SPIN (Shearing Pad INside).
Highly ventilated using POC's unique ventilation design.
Aramid bridge technology integrated with liner for enhanced structural integrity.
High performance PC shell covering more of the liner to improve safety and protection against sharp objects.
Simple and easy adjustment system for a perfect fit with precision straps molded into liner for extra comfort.
Goggle clip and adjustable visor.
Recco reflector.
The POC Tectal Race SPIN is an expensive enduro mountain bike helmet. However, if your head feels comfortable in it, you are going to love it. It looks great and is very stylish too.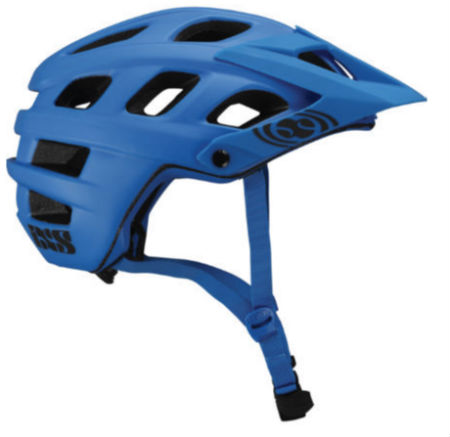 The IXS Trail RS EVO enduro mountain bike helmet is extremely easy to get the correct size. It will feel comfortable for the majority of people straight away. However, the fit can be tweaked with the adjustable 4 point system and retention band. The quality of the manufacturing makes it one of the best enduro mountain bike helmets. It also looks really nice and grabs your attention (in a good way), making it very appealing. The visor isn't that adjustable, but it doesn't matter that much, as it is quite short, although it does its job well.
In-mould technology
External and internal ventilation channels with 22 openings
Adjustable visor with quick release system
Adjusting dial with precision interlocking
Ergo-Fit Ultra™ system for horizontal and vertical adjustment
Double-In-mould: 360° In-mould shell
Adjustable jaws/straps
A comfortable and well-designed enduro mountain bike helmet. It is also well priced and is a cheaper alternative to the other helmets on this list.
Which one will you go for?
All these helmets have the necessary certification standards, but differ in the way they look and perform in regard to shape and ventilation. Helmets choice is all down to personal preference and how they fit your head. Paying more will get you a better product, but it may not fit properly, due to the shape of your head.
Let me know your thoughts and questions in the comments section below. Also, don't forget to sign up for the MTB-Threads newsletter!