The 100% Trajecta is a mountain bike helmet designed to have the lightness and ventilation of an enudro helmet. But it has the added security of a full face downhill helmet.
The 100% Trajecta has the Smart Shock elastomer technology. This protects your head from direct impacts, but it also gives you protection from oblique impacts, that cause rotation concussion injuries.
If you are familiar with other helmets of this type, a this price point, you may notice that it is heavier than its competitors. It is heavier than the Fox Proframe and the Endura MT500.
However, this may have something to do with the thickness of the EPS foam liner. It is one of, if not the thickest you will find on an enduro helmet. This thickness is to give you extra impact protection.
The 100% Trajecta helmet is fully ASTM 1952-15 certified for downhill mountain biking. As this is a requirement for many enduro races these days.
What sets this helmet apart from the lighter weight Endura MT500 full face, is that it has the Smart Shock suspended rotational system. This is a bit like MIPS and protects you against rotational concussion. This could be worth carrying the extra weight for.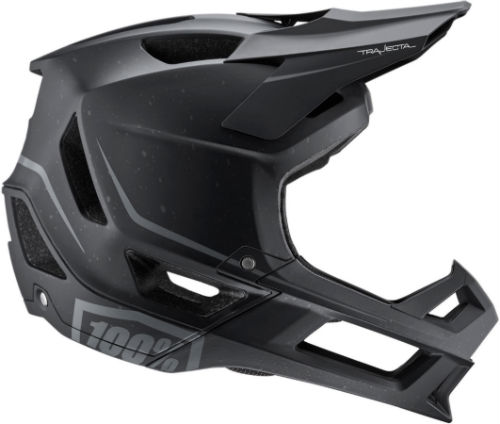 Everyone's head is different, but the 100% Trajecta is a snug fit. But you can adjust the fit by changing the internal liner to suit your head size. You really need to get this right, as there isn't a dial on the back to fine tune the fit. I recommend trying one on before you buy.
The fastener on the chin strap, is one that uses  two D-rings. You will find this type on Moto and downhill helmets, rather than the magnetic ones on other modern helmets. If you have never used one like this before, it can take a bit of getting used to. But, after a while it becomes pretty easy to use.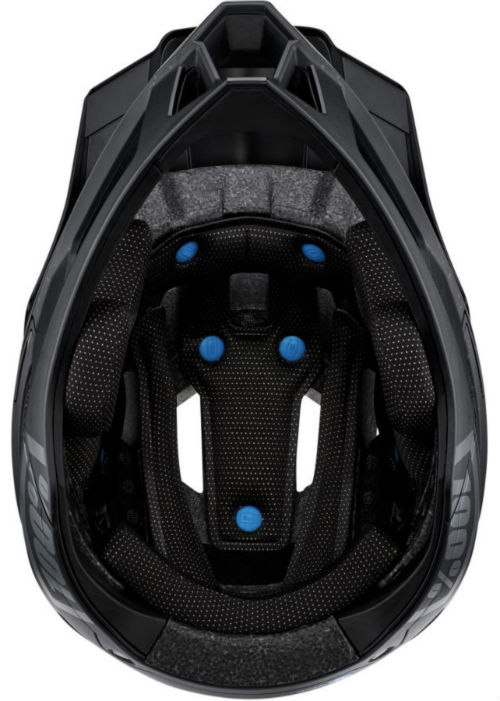 The visor is adjustable, and can be set in three positions. This is handy for when you want somewhere to put your goggles hen you are working hard on a climb.
If you come off your bike and hit your head, 100% have a crash replacement policy.  This gives you a 30% discount on a replacement.
The 100% Trajecta is well ventilated. It has 24 vents in total, with 7 at the chin bar and 5 above the forehead. These are positioned to allow cool air in. At the back there are 4 holes on the top and 6 at the back, to allow warm air to escape. You will still probably feel that the large area cheek pads will get a bit sweaty though.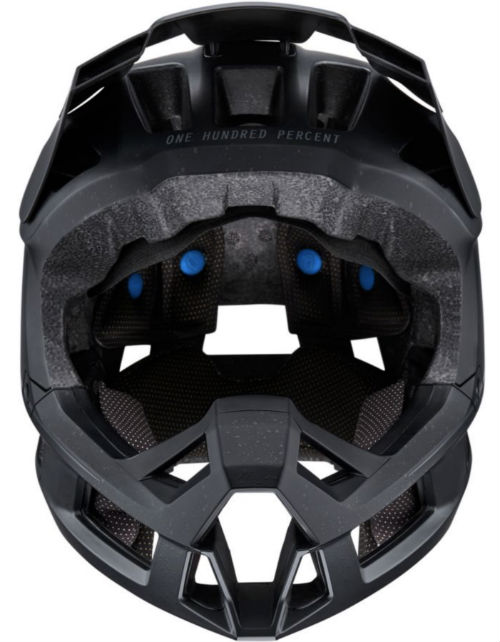 The 100% Trajeca, is a great helmet for inspiring confidence on bike park days. If you were to be using it for day-long pedals, you may want to look elsewhere, as it is a bit heavy.
This is a high quality helmet, but you really need to get the fit right. Even if you follow the sizing guide, I recommend that you try one on, just to make sure, as you may find it a bit too snug.