Kids Balance Bikes: Get them off to a good start
Kids balance bikes are two-wheeled bikes with pedals. They are designed to teach toddlers from 18 months how to balance on two wheels. After a short period with a balance bike children will be able to ride, jump and coast without help. The idea of kids balance bikes, is to not need tricycles or stabilisers, therefore, children can quickly progress to proper pedal bikes.
Kids balance bikes move like regular bikes and don't get stuck on uneven terrain, rocks and curbs. Children benefit from this and have lots of fun gliding along.
Why not buy a tricycle or stabilisers?
Kids balance bikes are safer than tricycles and bikes with stabilisers. Three wheels are more difficult to maneuver and can get stuck or tipped on uneven surfaces. Balance bikes focus kid's attention on balancing rather than pedaling. This helps build up their core stability and prepares them for coping with an unexpected loss of balance.
Kids balance bikes are more efficient than bikes with three wheels. This means that your little shredder will be able to travel further before they get tired and you have to push or carry them.
When to start kids on balance bikes
There are lots of different sizes of kids balance bikes. However, it is typical for kids to use balance bikes between 18 months and 5 years old. They will be able to start scooting around on a balance bike from day one on their own, and this is their main advantage over three wheels.
Kids will usually spend 2 to 3 years riding a balance bike before progressing to a proper pedal bike. The younger they are, the longer they will need to stay with it. However, the majority of toddlers will be able to move up to pedal bikes by 4 years old.
What size to buy?
It is vital that your child can put both feet on the ground, so they can scoot around while seated. This means you shouldn't buy them one that they will grow in to. However, a small amount of "room for growth" is OK, but the seat height should not be more than 5cm more than your child's inner leg measurement. They should also be able to sit comfortably, as indicated in the picture below.
The majority of kids balance bikes have 12″ wheels and need an inside leg measurement of 32cm. Therefore, it is imperative that you take your child's leg measurement before buying. If your child is too small for this, you can actually buy a pre-balance bike, until they are tall enough.
There are some manufacturers that make kids balance bikes with 14″ wheels and larger. These are for taller kids that are not ready to move on to a pedal bike yet.
Characteristics of Kids Balance Bikes
Materials
The materials used in kids balance bikes make a big difference to their weight. Heavy steel balance bikes can be very difficult for young kids to hold up, let alone scoot. Ideally kids balance bikes should be no more than 30% of their weight, unless they are particularly athletic. The weight of a bike should be the main priority after size, therefore you may need to sacrifice certain features to get the weight down to a usable level.
Metal: Metal kids balance bikes are usually made from aluminium. This means that they are lightweight, won't rust and are strong. You can buy cheaper steel framed kids balance bikes, but they are heavier and prone to rust.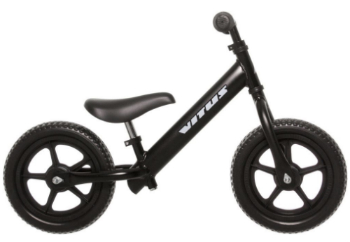 Click here to see the Vitus Nippy, the lightest aluminium balance bike on the market.
Wood: These look very trendy and are better for the environment, but are not as adjustable as their metal counterparts. Higher end wooden kids balance bikes are built well and last a long time, where cheaper ones fall apart quite quickly.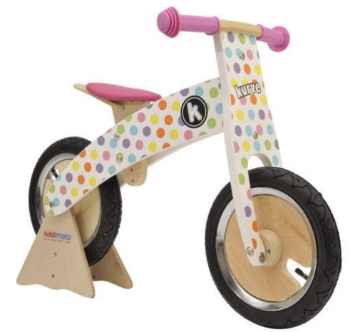 Click here to see the Kiddimoto Curve wooden balance bike
Composite: These are glass fibre, reinforced with nylon composite. They are lightweight, strong and don't have the problems with rusting or paint chips. These kids balance bikes will flex quite a lot when bigger kids use them, but when they are at that stage they will be moving on to a regular bike.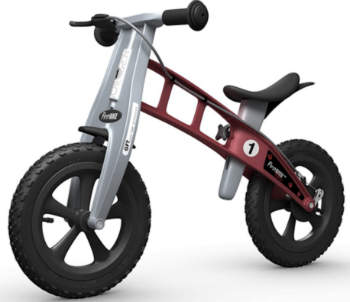 Click here to see the FirstBike composite balance bike
Why no pedals?
During their formative years, a balance bike teaches children to react quickly to unexpected changes in terrain. They don't really need foot pegs either, as they will naturally pick up their feet when they glide along. However, you will find some kids balance bikes with areas to rest their feet. If the balance bike has them, kids will feel that they need to use them, and spend too much time thinking about their feet than riding. If you choose a balance bike with footrests, make sure they are properly designed. Badly designed ones interfere with their scooting, where good ones are small and tucked beneath the seat out of the way. They should really be just big enough for your child to rest their heels on, not their whole foot.
No brakes?!
It is understandable that you may be concerned that some balance bikes don't have brakes But, the main way kids balance bikes are stopped, is with the feet. But, a buying one with brakes, is safer and it means their shoes won't wear out as quickly. Kids aged 3 to 5 should have enough coordination to use brake levers, and once they get used to them, they will learn to stop super quickly using both brakes and feet. This is a skill that is very important when they get on their first pedal bike. Smaller kids should have a balance bike without brakes to start off with, as the coordination isn't quite there and they will benefit more from using their feet.
There are a couple of different types of brakes on kids balance bikes. Higher end models will have "short reach" brake levers. These make it much easier for small hands to operate. Normal and lower end kids balance bikes will have standard reach, making them a bit more challenging to operate.
Turning Limiters
Turning limiters prevent the handlebars from spinning round. This makes kids balance bikes much safer, as accidental sharp turns that can cause an OTB (over the bars) moment. These also protect the brake cable from getting twisted. There is an argument for not having turning limiters too. Some say that it prevents kids learning proper turning techniques. But, whichever balance bike you go for, turning limiters should not be the defining reason for buying or not buying one.
Grips
As with adult bikes, grips are where you get feedback from the bike and tell it what to do, therefore they are very important. A big chunky grip with a knobbly bit on the end protects the hands, when falling off or riding in to things. You will find this on most kids balance bikes as an essential safety feature.
Bolts
The way kids balance bikes are held together is an important consideration. Bolts that stick out will get damaged, and the burrs will scratch your kid's legs while scooting around or falling. Unfortunately, exposed bolts are the most common, but you should try to find bikes with recessed, covered or rounded ones to reduce the likelihood of scratches.
Tyres
The tyres on kids balance bikes make a difference to how easy it rolls and to grip. There are five different types of tyre manufacturers use on kids balance bikes:
1. Air – Just like a regular bike, these tyres are the best all round options, as they have good grip and cushioning. You can buy tyres with different treads, but this isn't something you need to dwell on too much for kids balance bikes. However, as they get older and better at riding, more knobbly tyres may be a benefit. You can use tyre sealant in them too, this will prevent any punctures.
Click here for my guide on tubeless tyres, it is for adult mountain bikes, but the principle is the same.
2. Foam – Foam tyres will never go flat, as they are made from solid foam with no air in them. They are very light, but don't have much grip or cushioning. These will be OK for riding around flat paved surfaces, but when it gets bumpy, the rider is the one that takes all the impact.
3. Rubber – Solid rubber tyres are a small improvement from foam ones. They have more grip, but virtually no cushioning.
4. Plastic – Plastic tyres are not really tyres at all. They have no grip or cushioning, so they are cheap and terrible. Avoid these if you possibly can. They are only suitable for indoor use.
5. Fat tyres – For some reason, these are also referred to as "Big Apple" tyres. They are wide and give lots of grip and cushioning. They are more expensive than the other options, but are good for adventurous kids that want to do jumps and tricks.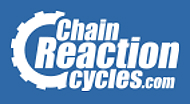 Click here to see discounted balance bikes at Chainreaction
Accessories
Now you know what to look for in kids balance bikes, you also need to accessorize! The first thing to do, is to buy a proper fitting helmet. Let's face it, they are going to fall off and going to need protection. You may also want to buy a high visibility vest, or similar that will fit over their clothing, if they are likely to be riding in low light conditions. Additionally, some flashing lights may be a good idea.
You can actually pimp kids balance bikes up too, with wheels, grips and other personalising additions.
What are your experiences with Kids Balance Bikes?
Let me know in the comments section below, what your experience with kids balance bikes is. Also, don't forget to sign up for the MTB-Threads newsletter!