Best Children's Bikes: Bikes that will progress children's riding
There is a saying, "Teach your child the love of bikes, that way they will never have enough money for drugs". Now is the time to get them riding. Depending on their age, you may want to get them a balance bike, in order to learn those first skills or their first mountain bike. This should be a child's first taste of freedom, not a mobile phone. So here are the best children's bikes available. These will make the ideal Christmas or Birthday present.
Choosing the best children's bikes
When buying the best children's bikes there are a few things you should consider. When you buy a bike for a kid, they will love it, but buying them the right one will keep them riding it after the initial excitement has gone. You really don't want it to rust away in the shed. Therefore, you will want to buy the best bike for you little shredder.
You can buy cheap bikes, but they won't last and will break, meaning they will be abandoned. A decent bike will last a long time and will be working long enough to hand down to younger brothers and sisters. It will also be worth a bit more if you want to sell it on once they are too small.
Characteristics of the best children's bikes
Fits properly – If the bike doesn't fit, it doesn't work. Not all bikes of the same size will fit your child. You may be tempted to buy a bike that your child will grow in to. Although understandable, it is a bad idea due to safety and bikes that are too big can be scary and uncomfortable. This can potentially put them off riding, and we don't want that! They should be able to put a foot down easily, while sitting on the saddle. If they are a complete learner, they need to be able to put both feet down. They should also be able to put two flat feet on the ground when standing over the top tube.
There are five different wheel sizes for children's bikes:
– Under 16″
– 16″
– 20″
– 24″
– 26″
These are relative to the child's age, but don't think you need to buy a bike of each wheel size as your child ages. But, as with adult bikes, larger wheels roll over bumps better than smaller wheels. Therefore, if a bike with a larger wheels fits your child, go with that one. But, don't be tempted to put them on a bike with larger wheels too early, as they may struggle to control it.
Not too heavy – A bike that is heavy will tire your little shredder out too quickly. You really want them to carry on riding as long as possible, and a heavy bike may put them off riding. Ideally, buy an aluminium bike or a steel bike with thin tubes
Good brakes that are easy to modulate – This is VERY important, as kid's hands get tired easily and can find it difficult to stop in an emergency. Hydraulic brakes work best, and don't need adjusting like cable operated brakes do. However, it takes kids a while to learn how to modulate their brakes. They use them like on and off switches at first, which can catch them out the first time they use powerful hydraulic brakes. A good test is to pull the lever with your little finger, this is roughly the equivalent to a child's grip strength.
Good Components – When you buy a cheap bike with suspension, you will quickly learn that the suspension is terrible. It will be heavy, you won't be able to tweak it to suit and it is usually useless. Therefore, depending on your budget and where you go riding, you may want to opt for a rigid bike. This is because you get a lot more for your money and they are great for developing skills. Your kid will have to learn line choice and all the other mountain bike skills without being able to cheat by letting the suspension do all the work.
The drive train on the best children's bikes is also very important. You may be thinking that gears on a kid's bike may be more trouble than it is worth. Derailleurs are easy to break and changing gear is just something else for them to think about. However, kids don't have that much power in their little legs and some extra gears will help them a lot. If you ride with uplifts or chairlifts, a single speed bike will be fine. But, if you are doing a lot of pedaling up hill a bike with gears will be best. This is something you need to consider before spending any money, as putting a derailleur on a bike is not an after market modification you can do.
Easy to fix – The best children's bikes shouldn't be difficult to fix. In fact if they have good components and are maintained properly, they should rarely go wrong.
Looks good enough to keep your kid's attention – Having a cool looking bike is on most people's lists, let alone a child's. The best children's bikes look good enough for your child to want to ride it. However, you should avoid bikes with lots of gimmicks or cartoon characters on them. These are not proper bikes, and just have these features to make children throw a tantrum in the toy shop when you refuse to buy it. They won't last long and the novelty will wear off quickly for them.
Tyre Choice – Knobbly tyres will look cool and will be grippy, but you need to be realistic about where you are riding and ask "are they necessary?". This is because they have more rolling resistance and make it harder work to pedal. You should consider semi-slick tyres for your kid's bike, as they will find it easier.
Riding Position – The riding position should be fairly upright, and the handle bars should be above the seat.
The Best Children's Bikes for Different Age Groups
I am assuming that your child has either gone through or skipped the balance bike stage. If not, I recommend that you start them on one. They are fantastic for teaching children the balance and control needed for riding a bike with pedals. It is actually bad practice to put them on a bike with stabilisers after they have mastered the balance bike. This is because it teaches them bad habits.
The Best Children's Bikes – Age four to Six
The Islabikes Cnoc is a great bike to progress on to from a balance bike. It is a "proper" bike scaled down perfectly for kiddies. Smaller kids may need the Cnoc 14 (14″ frame), and it has been well-thought-out. Kids find it difficult to apply the back brake, due to the extra cable friction. So, Islabikes have made the Cnoc 14 with a back pedal rear brake and a tiny lever to apply the front brake. It is very lightweight too, thanks to its aluminium tubing. The riding position and low rolling resistance tyres make it a great bike to learn on.
Taller or slightly older children may be suited to the Cnoc 16. It is still a single speed bike, but at this age, kids probably won't be taking on huge distances. The main difference between the 14 and the 16 (other than size) is that the 16 has a lever for the rear brakes, rather than a back pedal brake.
The Best Children's Bikes Age Six to Nine
At this age the distances and the terrain kids can ride increases and gets more technical. Therefore, it is time to start introducing gears. Obviously, if the terrain doesn't' call for it, you can still go for single speed bikes. If you go for a bike with gears, it is recommended that you get a derailleur guard. Kids tend to drop bikes and damage their derailleur.
You will notice that some children's bikes for this age group will have suspension. As I said before, you need to be careful when buying kid's bikes with suspension. They will be heavier and the manufacturer will use their design and manufacturing budget on the suspension. This means other components may not be as good. If you spend some decent money on a kid's bike with suspension, you find the suspension to be acceptable, but you will get a much better rigid bike for the same or less money.
Bikes for this age group will have 20″ wheels, and a good one is the Cube Kid 200. This bike has 7 gears and a lightweight aluminium frame, making it really easy to pedal. One of the things I like about this bike, is that it is really easy to maintain, and Cube have made it super easy to replace the derailleur when it gets damaged. The brakes are ideal for a young child to get used to too. This is because it has a power modulator on the front brake to prevent over enthusiastic braking, this is to reduce those "over the bar" moments.
The Cube Kid 200 is available from Chainreaction for £199
Features:
Frame: Aluminium Lite 6061
Fork: Rigid Hi-Ten fork
Headset: Cube A-Headset
Stem: Cube Aluminium Lite
Handlebar: Cube Aluminium Lite
Grips: Velo
Rear Derailleur: Shimano RD-TX31, 7-Speed
Shifters: Shimano SL-RS45, Revo Shift
Brake System: Alloy V-Brake with power modulator
Crankset: Prowheel, 36T, 127mm with chainguard and square taper BB
Rims: Aluminium
Front Hub: Cube Aluminium
Rear Hub: Cube Aluminium
Tyres: Impac Smartpac
Pedals: Cube
Saddle: Cube
Seatpost: Cube Aluminium Lite
Seat Clamp: Cube
Bell: Nuvo
Extras: Reflectors
Weight: 9.8kg
The Best Children's Bikes Age Eight to Twelve
This is where kid's bikes start to be a lot more like adult's bikes. You will find bikes from the larger bike brands for kids in this age group. These bikes will have 18 to 21 gears, 24″ wheels, lightweight aluminium frames and wheels and brakes made by known brands, such as Shimano. However, this is where you are going to start spending a lot of money. Therefore, you may want to go for another rigid bike, but this time with an 8 to 10 speed cassette and a single chainring. This option will be cheaper, require less maintenance and be easier to use. These bikes will usually come with off-road tyres, but you may want to swap them for semi-slicks to make pedaling easier.
A great example of one of these bikes is the Trek Roscoe 24. This is an ideal bike for this age group, as it is tough and durable. It is shaped perfectly for kids, and even has a sloping top tube to make it easy to get on and off.
The Trek Roscoe is available from Evans Cycles for £400
Features:
Frame: 24˝ Dialed frame size, Alpha Gold Aluminium
Fork: Dialed 24˝, alloy
Headset: VP 1-1/8˝, semi-Integrated
Stem: Bontrager alloy, 31.8 mm, 7-degree, w/computer and light mounts
Handlebars: Bontrager alloy, 31.8 mm, 15 mm rise
Grips: Dialed, Kraton
Rear Derailleur: Shimano Tourney TX80
Shifters: Shimano Altus M310, 8-speed
Brake System: Alloy V-Brake with power modulator
Rims: 24˝ 28-hole, alloy
Front Hub: Formula DC20 Alloy
Rear Hub: Formula D22 alloy, Boost141
Tyres: Chen-Shin, 24×2.8
Saddle: Dialed 24˝ size, padded
Seatpost: Bontrager, 2-bolt head, 27.2 mm, 8 mm offset
However, if you are looking in to something a bit more advanced and don't mind spending some money. You should have a look at the Norco Fluid FS 24. Yes it is expensive, but it is a proper mountain bike. So, if you have spawned a racer or a wonder child, that needs something that can cope with their style of riding, they need one of these.
It has all the high end components you will find on adult bikes, including proper RockShox suspension and hydraulic brakes. It even has Maxxis Minion tyres and a dropper seat post.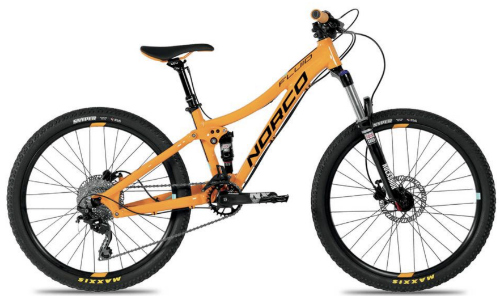 The Norco Fluid is available from Evans Cycles for £1,225
Features:
Frame: Fluid 24 100mm travel
Fork: Rockshox 30 Silver TK 26 100mm solo air / alloy steer tube
Rear Shock: Rockshox Monarch "R" HVI , light compression/rebound tune
Headset: FSA # 10 internal 50 OD / 44 ID
Stem: Short reach 35mm ext MTB stem
Handlebars: Norco 25mm rise 6061 DB alloy 680mm
Grips: Norco Gator grip
Rear Derailleur: Shimano Deore M6000 Shadow Plus SGS 10 speed
Shifters: Shimano Deore SLM-6000 10spd
Brakes: Tektro HD-M286 Hydraulic w/short reach lever, 160mm rotor
Rims: Alex MUS 30 24" rim with 23.5mm inner rim width
Front hub: Joytech Q/R D041DSE
Rear hub: Joy tech Q/R 10/11sp cass hub semi sealed
Tyres: Maxxis 24 Minion 24 x 2.4
Saddle: SDG Fly JR saddle
Seatpost: JD TransX YSP19 dropper post w/remote lever 80mm travel, 30.9mm
Best Kid's Bikes Age 12+
At this stage kids can jump on small adult bikes with 27.5″ wheels. If your kids are riding technical terrain, they will want the smallest frame they can get away with. This is because they will need plenty of distance from the top tube. However, most teenagers will find 14 or 15″ frames will fit them well. These bikes will have adult sized components, such as 170mm or 157mm cranks. You may want to change them or go for a bike with 150mm or 160mm cranks.
The other thing to consider at this level, is that these bike will be adult prices. For a decent aluminium hard tail, you need to be spending at least £400. Obviously, the more you spend, the better the bike. If you spend around £500, you should find a bike with an adjustable fork, 24 gears and the disc brakes (or at least provisions for upgrading to disc brakes). A with any bike, avoid buying a bike with full suspension, unless you are prepared to spend some serious money.
At this time in your kid's life, coolness is everything. Therefore, they will probably want a really good-looking bike too.
A great bike to start with, is the Specialized Pitch. This bike is lightweight and very easy to get up and down hills. The larger wheel size will take a bit of getting used to in the corners, but will be much easier to roll over rocks and roots. It is simple enough to maintain and look after, with reasonably good components.
The Specialized Pitch is available from Evans Cycles for £400
Features:
Frame: A1 Premium Aluminum, Sport Trail 27.5 Geometry, zero-stack head tube, internal cable routing, 135x9mm forged dropouts, chainstay-mounted disc brake, replaceable alloy derailleur hanger
Fork: SR Suntour XCT 27.5, coil spring, 80/100mm travel (size-specific)
Stem: Stout 3D-forged alloy, 31.8mm, 6-degree rise
Handlebars: Stout double-butted alloy, 18mm rise, 8-degree backsweep, 4-degree upsweep, 740mm width, 31.8mm
Grips: Specialized MTB Grip, lock-on
Rear Derailleur: Shimano TX800 8-speed
Front Derailleur: Shimano TX800, 34.9mm clamp, top-swing
Shifters: Shimano TX800, Ez-Fire Plus, 3×8
Brakes: Radius CX7, mechanical disc, resin pads, 160mm rotor
Rims: Stout Trail 27.5, alloy, disc only, double-wall, 25mm inner width, 32h
Front Hub: Shimano Centre Lock, disc, 100x9mm QR, 32h
Rear Hub: Shimano Centre Lock, disc, 135x9mm QR, 32h
Tyres: Ground Control Sport, Flak Jacket flat protection, wire bead, 27.5 x 2.3″
Saddle: Henge Sport, steel rails, 143mm
Seatpost: Alloy, 12mm offset, 2-bolt clamp, 30.9mm
If you want to spend some money, you should check out the Trek Remedy 8. This is a really nice full suspension bike, it is fun, fast and responsive. It comes with some great components too. Click here to read my in depth review.
Click here to buy your Trek Remedy 8 from Evans Cycles for £2,700
Now you know how to choose the The Best Children's Bikes
It may seem like that there is a lot to consider, but you just need to follow these simple rules:
Make sure it fits
No heavy bikes
Be weary of suspension
Gears are not always necessary
Semi slick tyre roll easier
Make sure the riding position is fairly upright
See if you can change the cranks for shorter ones if they are too long
You get what you pay for
Full suspension bike will be terrible, unless you are prepared to spend lots of money
Buy a helmet too
Is there anything I have missed?
I think I have covered everything, but you may know something I don't. So, please let me know in the comments section below. Also, don't forget to sign up for the MTB-Threads newsletter!