Unfortunately, this wonderful world does have its fair share of scum bags. They will take any opportunity to steal our bikes in order to make some quick money. We invest a lot of time and money in to our sport. We spend money on tools, clothing and lots of other things. So we need to be vigilant and keep our bikes safe. Luckily there are some great products we can buy. Here is my guide to buying the best mountain bike lock.
I will go through the various types available, give you the pros and cons of each and recommend the best ones.
The D-lock (sometimes called a U lock) is one of the types of bike lock that is used the most. It is a very effective deterrent. These are designed to take some serious punishment from attacks from hammers, saws and chisels. The shape of it reduces the leverage, as long as you get the right size.
When buying a D-lock, you need to make sure that it isn't too big. This is to ensure that the surrounding gap isn't too big. Big gaps mean that would-be thieves can fit crowbars etc in to them to prise them off.
Small D-locks will fit around your frame and wheel, while bigger ones can fit around the frame, wheel and a post or bike rack. They will also fit in your backpack more easily if you are using your bike for commuting or a planning on leaving your bike outside the pub.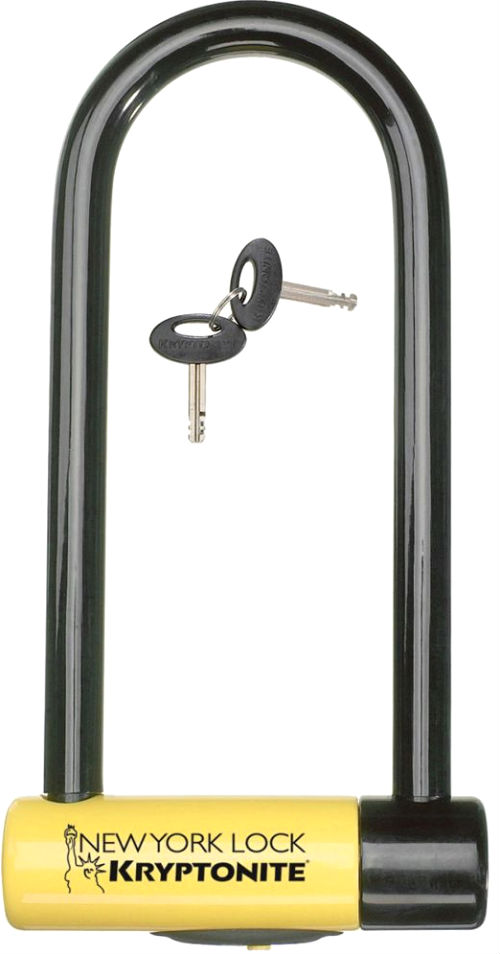 Kryptonite are the leader in bike security products. The M-18 is a brilliantly over the top D-lock. This is because it is very heavy duty and tough. If someone was to try to break this, it would take them a long time to succeed.
It is a bit heavy to ride around with, but the inconvenience of this coupled with losing your pride and joy is a small price to pay. If you are serious about bike security, you really do need to look in to this one.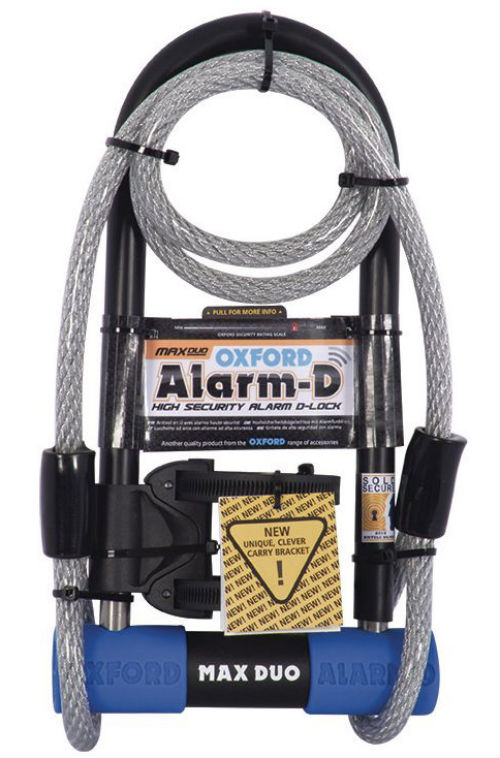 This one has the fantastic feature of a battery powered alarm. When tampered with, this lock screams at 120dB (similar to a fire engine or chainsaw) to alert passers by and deter thieves. Oxford have made the D-Max from high quality materials too, making it very difficult to break. Its lock is supposedly unpick-able, making it even more secure. I really like that this one has the additional cable. You can use this to attach your bike to an anchor or add security to your wheels.
If you want to keep your bike safe while annoying and embarrassing a would-be thief, this one is for you.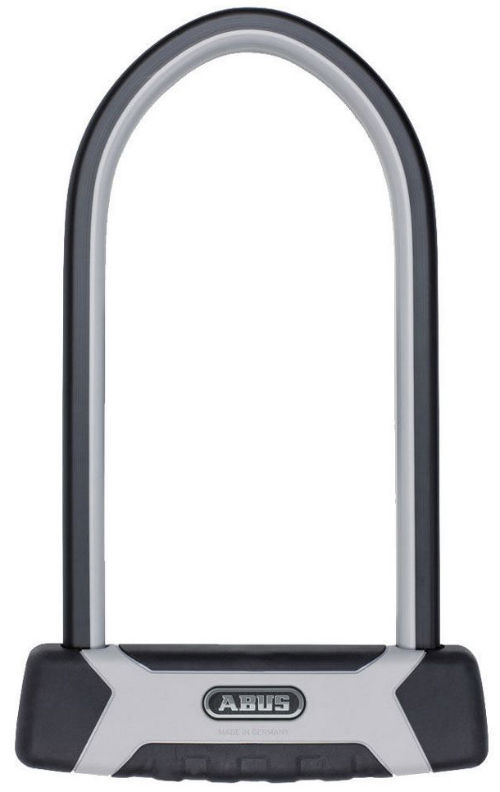 The Granit X-Plus is another really tough lock, but it is substantially lighter than the Kryptonite M-18. The duel sided locking mechanism prevents thieves taking advantages of typical weak points in locks. This means it cannot be warped or bent, like single sided versions. Some insurance companies like it when you use locks with a Sold Secure Gold rating, so if your thief is successful, this lock should help with your insurance claim.
A great piece of kit that will keep your bike as secure as it can be. It also looks the business, which helps as a visual deterrent to would-be thieves.
Cable locks are pretty versatile as they twist around the frame, wheel and what ever you are locking it to. Unfortunately, they are one of the less secure types of bike lock, as a decent pair of bolt cutters will chop through most of them. They usually have a small key or combination lock and are probably best as a visual deterrent.
These locks are not too heavy, so they would be good to put in your pack if you know you are going to be stopping somewhere while out on a ride. They are also pretty good to use along with a D-lock. You can use the D-lock to secure your bike to a lamp post, while using the cable lock on your wheels.
I wouldn't really trust one of these cable locks as the only way of keeping your bike safe. This is pretty obvious when you look at the price of them. If you have a bike that is worth hundreds or thousands, a cheap bike lock is not the way to go.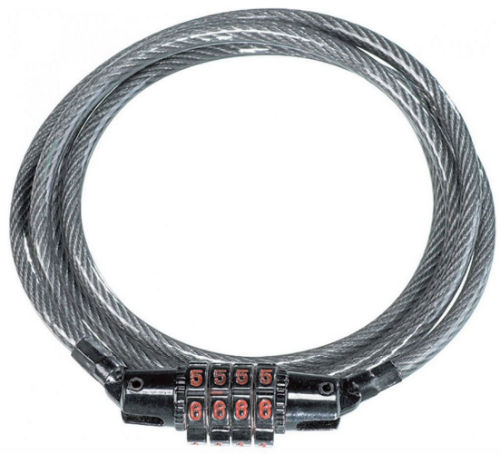 These are the cable lock's tough big brother. They are big chunky heavy-duty chains, locked with a padlock. They are built to resist, chisels and hacksaws. Chain locks are only as strong as their padlocks though, therefore you need to make sure the pad lock is just as strong as the chain. Most have a fabric coating on them to protect the paint on your bike, but you still need to be careful when putting them on and taking them off.
These are really heavy, so you wouldn't want to ride with one. But they are ideal for locking your bike to something in the garage.
Kryptonite New York Fahgettaboudit Chain and padlock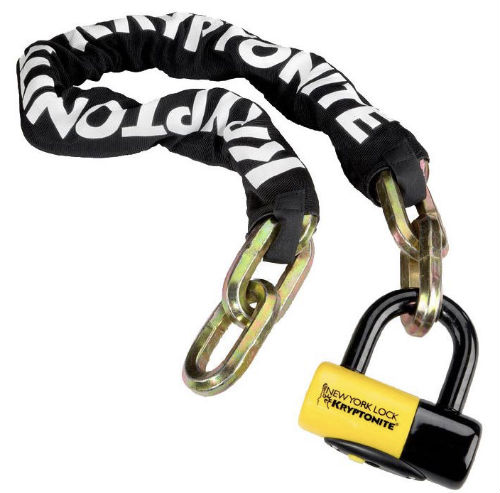 Apart from having a great name, this is an excellent chain lock. It is super tough and heavy, making it very difficult to get through. Its narrow links reduce any weak points and are very resistant to leverage attacks, as it is difficult to get a crowbar in between them. Resistance to cutting is provided by the triple heat treated manganese links. Therefore if a thief was going to attempt to break this, they would need some serious equipment.
The lock has a double layer of security thanks to its hardened steel sleeve and double deadlocking mechanism.
A big heavy beast of a chain, ideal for home use or in the boot of the car. It is a bit too much to take with you on a ride. It is also expensive….but so is your bike.
What is the point of having a bike lock, if you have nothing to lock it to? Unfortunately some of the a fore mentioned scum bags have a habit of breaking in to garages, in order to pinch your bike. But an anchor is one of the best ways as to make life difficult for thieves.
You can fix an anchor to your garage floor or wall. This provides a fantastic base to lock your bike to. To fit one of these, you will need to drill a hole in your garage floor or wall to bolt it down. There are various ways that manufacturers make it difficult or impossible to remove the bolt. If you decide to get one of these, make sure you haven't got any plans for remodelling your garage, as once it is mounted, it won't be coming out again.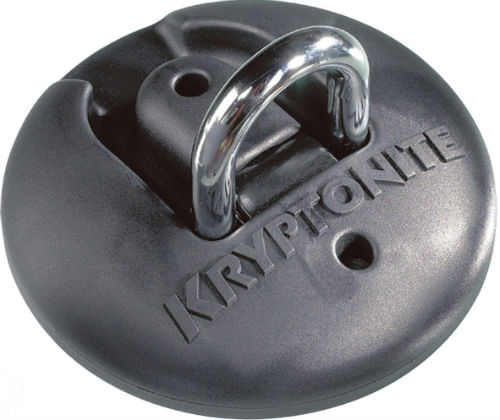 So we are back to our old friend Kryptonite. This one is attached to your wall or floor by anchor bolts that expand in to the concrete. You can make sure that the holes are the correct size with the supplied masonry drill bits, but it can be a bit tricky to install. I would suggest that you take your time while you install it and get it right first time!
Which of these is the best mountain bike lock for you?
These are the best mountain bike locks available. None of them will 100% stop your bike getting stolen, but they will help. They will also act as a visual deterrent to an opportunist bike thief.
Pleas leave your thoughts and questions in the comments section below.