Mountain Bike Tools: What every rider should have
The simple fact is that bikes break. It is no wonder really, with the amount of punishment they take. Rocks, breaking bumps, trees, dirt and general wear and tear all shake and bash your bike. Therefore, it is inevitable that something will fail during a ride at some point. To make sure you get home, or to save on repair shop bills, you will need a good selection of mountain bike tools.
Here are the mountain bike tools that I believe riders should have to look after their pride and joy.
When you are out on the trail, you don't really want to carry a massive tool kit to make sure you can get home. Therefore, a multi tool is one of the essential mountain bike tools. They are light enough to carry around with you all day and good ones are versatile enough to fix most technical difficulties.
Most trail multi tools are based around an allen key set, but with the addition of other tools, like a Swiss army knife. Ideally you need a minimum of 16 items for it to be useful. One of the main items you need is a chain tool. I have used mine on multiple occasions. A broken mech, a snapped chain and a broken free hub are just a few of the situations that my chain tool has got me home (even if it had to be chain less). Have a look at the multi tools below, these are the ones that I recommend.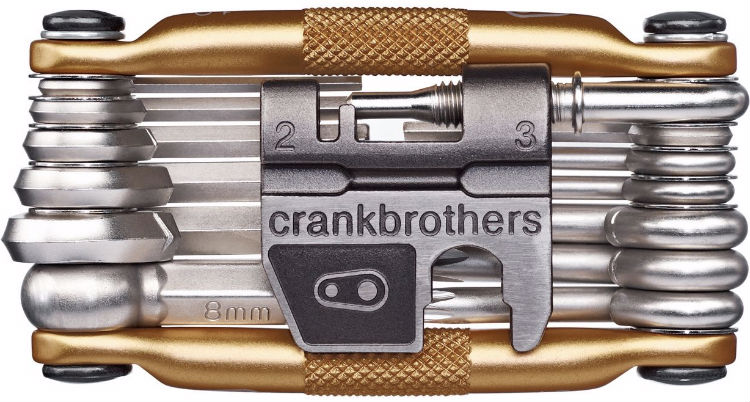 This is the one that I use. It has got me and my friends out of many frustrating situations while out on the trails. You will find that your will be able to carry out most trailside repairs with this versatile and well made tool. It comes in an metal cover that stops it snagging on stuff in your bag. The cover is nice and smooth too, so it shouldn't stab you if you fall on it.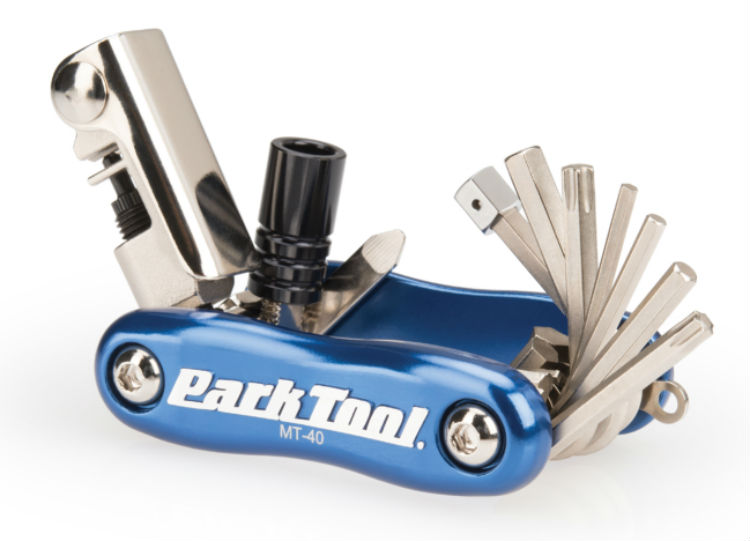 Parktool make some excellent mountain bike tools. They are a bit more expensive than other brands, but you get a good quality product from them. Th MT-40 is great for those who like to use Co2 canisters to inflate your tyres. This is because it has the adaptor to allow you to attach it to the valve.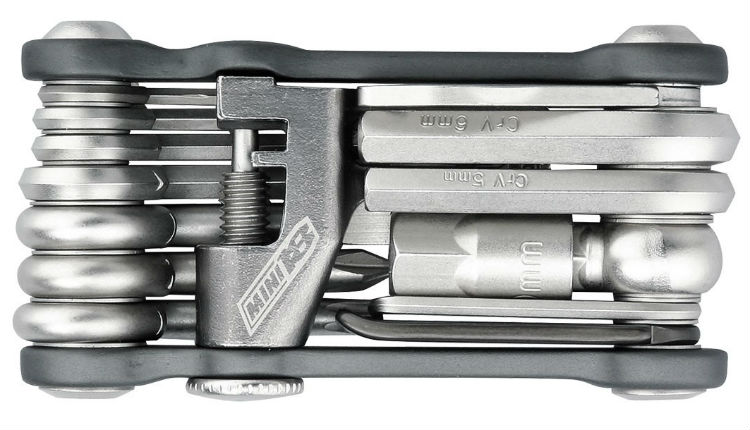 This is probably the best tool out of the three. If I hadn't already got the Crankbrothers one, I would buy this. It is very well made and has lots of tools to get you out of a pickle. The only thing is, the tyre levers aren't great. They are a bit stubby and may be a bit too brutal for carbon rims.
Punctures happen, even if you ride tubeless tyres. I ride with tubeless tyres and I always carry a spare inner tube in my pack. This is because, if I get a big enough split in the side wall of the tyre, no sealant will keep the air in.
A good set of tyre levers should be in your collection of mountain bike tools. They are super cheap and they take up no room at all in your bag. However, you do need to get some decent ones. A snapped tyre leaver is really annoying and can rip your new inner tube. This will make you swear a lot.
I really like the Parktool TL 1C tyre levers. They lift the tyre away from the rim, so you don't pinch the tube. They come in a set of three, to make sure you can prise the tyre off in all the right places. Parktool's mountain bike tools have good build quality in my experience, and these tyre levers are no different. They are strong, which is very important, because they are made from glass injected nylon.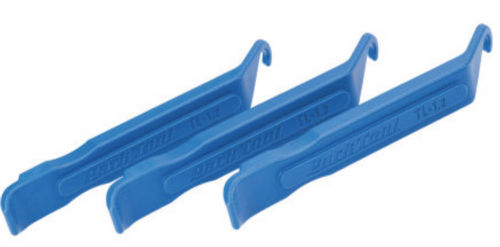 You will also need to put some air in that tyre. Therefore, you will need a good pump. It needs to be small and light enough to carry around in your pack all day.
Lezyne Pressure Drive Mini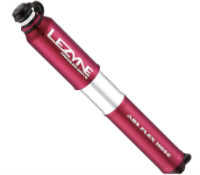 The Lezyne Pressure Drive Mini pump is a light weight pump that can deliver up to 120psi. It has an oversized piston that helps you to inflate your tyre quickly. The structure is CNC machined aluminium, which is why it is do light. It looks pretty good too and comes in a variety of colours.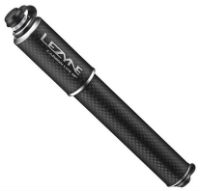 If you want to go even lighter, or just have a thing for carbon fibre have a look at the Lezyne Carbon drive lite. This pump is made of MCT carbon fibre composite, while the barrel and handle are made from MCT reinforced carbon fibre. All the other important bits are CNC machined aluminium. It is an extremely well made piece of equipment and if you are trying to shave of some weight from your pack, and don't mind paying the extra, go for this one.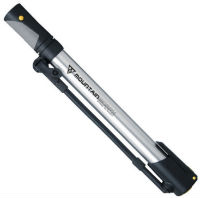 The Topeak Mountain Morph pump is like taking your home pump out on the trail with you. It may be bulky in comparison to the other pumps, but this one will pump up your tyres much quicker. It comes with a clip, to attach it to your frame too. This pump is very well made and feels like a quality product.
A nice big 'ol pump will make life a lot easier when changing tyres at home. In fact, if you are running tubeless tyres, a good track pump is one of the most essential mountain bike tools. This is because you need to get that air in to the tyre quickly and to a high pressure.

This pump is as well made as the other Lezyne products on this page. It is very sturdy and should last you a long time. The build quality is not just superficial, it ensures the best possible performance from a pump. It has a big pressure gauge mounted on it, so you can easily check that you have the correct pressure.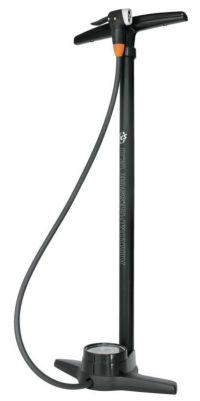 For something quite a bit cheaper, you may want to look in to the SKS Airkompressor 12. It is not as tough and sturdy as the Lezyne, but it does have a long stroke, to help you inflate your tyre quickly. At this price is is not a bad piece of equipment, but it is not without its faults. The main thing is that the pressure gauge isn't exactly accurate. The base is also a bit flimsy, meaning it doesn't stay upright on its own as well as it could. All in all, it is not perfect but, good for the price.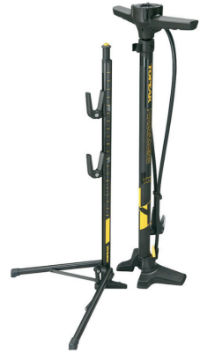 The Joe Blow range of pumps is excellent, and has features you would expect on something a lot more expensive. It is heavy duty and has really good inflating power. This pumps are high quality and will last a long time.
Some mountain bikers get a bit obsessed with tyre pressures. This is all part of adjusting the setup and handling of your bike. Therefore, a digital pressure gauge can come in useful. The Topeak D2 Smart head pressure gauge is a very accurate way of checking your tyre pressures. You can also check the pressure in your forks and rear shocks too with this gauge. So for tweaking your set up, the D2 is a very good tool for getting it spot on.
There are a few other things you can put in your pack, that will possibly help you get home.
Cable ties – These can come in pretty useful. Whether it is to temporarily fix a broken saddle, brake lever, pedal or free hub, they will help you get you down the trail.
Leatherman- These tools are really good, as they can be used for a few different tasks to keep you rolling. With one of these, you may be to pull out a broken spoke or straighten a bent mech.
Mech hanger -The mech hanger is a sort of sacrificial part of your bike. It will break in order to save your rear mech from damage. This means you will need another one in your pack, or you are going to have to get home without being able to pedal. You will need to find out which one fits your bike before buying.
Spare inner tube – As I said before, I ride tubeless and take a spare inner tube with me. You never know when you might need it.
I have learned over the years not to ignore a new creak or noise coming from my bike. This is because a new noise can lead to a really inconvenient failure on the trail. So it is a good idea to do a bit of home maintenance. But you will need the necessary tools to do so.
A good mountain bike tool kit is a good thing to have. But, which one you buy depends on how much work you are willing to do on your bike. Most people will have a basic kit to do minor maintenance, and leave the tricky stuff to the bike shop.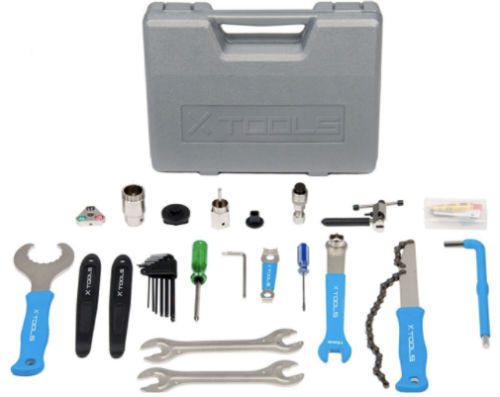 The X-Tools bike kit allows you to do most minor repairs at home. It has a good selection of well made tools in a solid plastic case. It is not the most comprehensive of kits, but that means that it is portable. You can chuck it in the car when you go to the trail centre and carry out any repairs needed to keep you going all day.
X-Tools Pro 39 Piece Tool Kit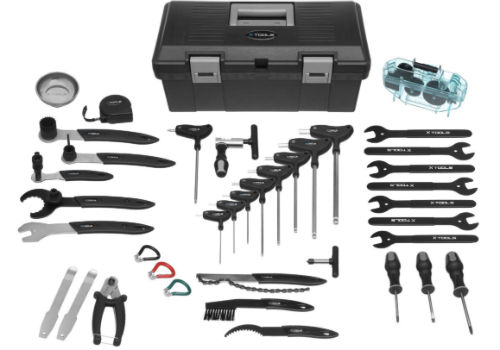 For the more adventurous bike mechanic, you may want to look in to the X-Tools Pro 39 piece tool kit. This is put together for those who want to do everything from minor repairs to full bike services. It really has a lot of tools to keep you from having to visit the bike shop. It could really do with a torque wrench included, but for this money, it is a good value kit.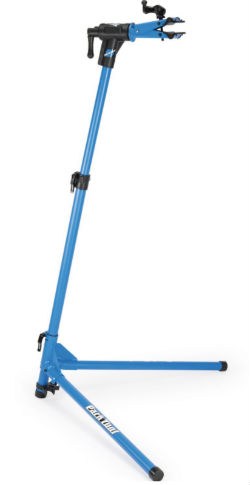 A bike stand makes life a lot easier to do many tasks. These include, indexing gears, working on brakes, bottom brackets and derailleurs. When choosing a bike stand, make sure you have all the adjustment possible. By this I mean, height and clamp rotation. A bike stand should also be pretty sturdy, as you really don't want it falling over while you are working on your bike.
What do you think of these mountain bike tools?
OK, I know there are a lot of mountain bike tools on this page. I'm not suggesting for one minute that you need to buy all this stuff. What I do recommend though, is getting the stuff that is going to get you off the trails safely as a minimum. Not only will it stop you getting stranded, but it will keep you riding and that is what we all want to be doing.
You may also want to keep your bike clean. This is highly recommended as dirt really doesn't mix well with moving metal parts. Have a look at my review on the Kärcher OC3 Cordless Pressure washer, it is not exactly in the mountain bike tools category, but it will keep your bike in good condition.
Do you think I have missed anything, or are there any other mountain bike tools you would like to see on this list? I am interested to know, if so please leave your comments below.