Not everyone is fortunate enough to live close to the good mountain bike trails or cycling routes. Therefore, it is necessary to take transport your bikes with the car. If you can't fit them in the car, you will need a bike rack. Thule bike racks are what comes to most people's minds when it comes to transporting your bike. Thule make some excellent bike racks of different types. From roof, tow bar and rear-mounted bike racks, there will be an option for you. In this post, I am going to give you an overview of my picks of Thule bike racks, to help you decide which one is best for you.
Different Types Of Bike Rack
You can have roof-mounted bike racks with either a fork mounting or a frame-holder that holds the bike's downtube. For security, the bikes are locked to the carrier, and the carrier can also be locked to the bars. With roof-mounted bike racks, you need to make sure that you are aware of where you are driving. For example, watch out for overhead barriers and low branches, and don't even think about entering multi-storey car parks, or your garage. Depending on the rack, it is possible to fit at 4 bikes on the roof. Alternatively, if you use a roof box, it is possible to fit 2 or 3 bikes together. Most of the roof-mounted bike racks will only fit standard 32mm X 22mm roof bars or slotted oval-shaped aluminium aerobars.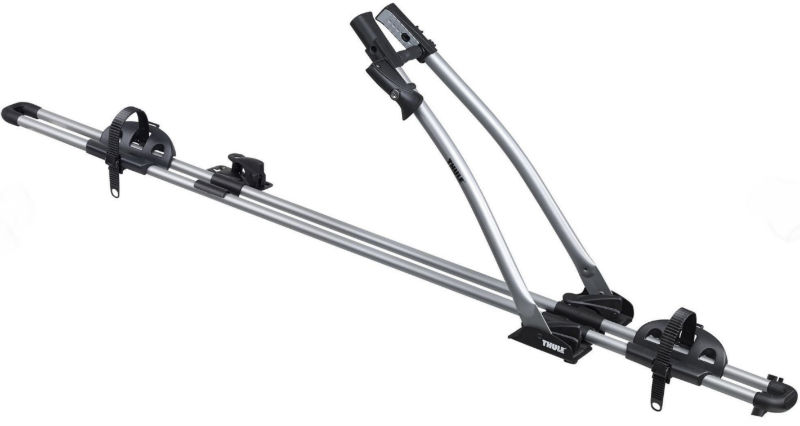 The Thule FreeRide 532 requires  you to have a roof bar with a standard 20mm T-track, or standard square bars. One of the bonus features of the Thule FreeRide 532, is that unlike more expensive models, it will fit more roof bars without the need for an adapter. Also, if you have Thlue's WingBar, SideBar, square bar or AeroBar, the FreeRide is compatible with them, meaning you don't have to buy anything else to fit the rack to your car.
However, you need to check that your car is compatible. This is because some cars, like BMWs, have a non-standard T-track and require a 24mm T-track adapter.
Frame holder with quick locks, fits most frame sizes up to 80mm in diameter
Adjusting and securing is done comfortably and quickly at roof height
Quick release straps, adjustable for different wheel sizes, hold the wheels securely in place
Multiple 532s can be fitted to one car so long as space allows
Lockable, the rack can be easily secured to the car and the bike to the rack (locks included)
Easy mounting, no loose parts
Maximum of one bike per carrier
Frame clamp folds flat when not in use
Load Capacity: 17 kg
Dimensions: 149x21x8.4cm
Fits Round Frame Dimensions: 22-70mm
Fits Maximum Oval Frame Dimensions: 65x80mm
Thru-axle Compatible: Yes
Carbon Frame Compatible: Yes
T-track Compatible: Yes, fits T-track Thule aero bars using included adapter
Fits Roof Racks with 20x20mm T-tracks: Yes
Fits Roof Racks with 24x30mm T-tracks: Yes
Fits Thule WingBar Evo: Yes
Fits Thule WingBar: Yes
Fits Thule ProBar: Yes
Fits Thule SquareBar: Yes
Fits Thule SlideBar: Yes
One Key System Compatible: Yes
Out of the box, most of the bike rack is fully assembled. But here are some additional parts you need to add to it. Fitting the bike rack to your car may seem a bit daunting at first, but once you know what you are doing, it only takes about five minutes, to get it on.

The main thing that you will need to do is to make sure that the clamping mechanism is set up for your bikes. This is because the clamping arms have two holes. Which one you use depends on your frame size. If you are transporting bikes of different sizes for your family, you may have to change this from time to time. This isn't particularly difficult though.

When it comes to attaching the FreeRide 523 on to your roof bars, you may find it a bit fiddly to start off with, but it becomes obvious when you have done it once. It is a fairly lightweight bike rack, so it is totally possible for one person to mount it on your roof.

When you mount multiple bike racks on to your roof bars. Make sure that you alternate the direction. This is so there is enough space for the handlebars, but make sure that the closing mechanisms are within reach.
It is quick and easy to mount your bikes into the FreeRide 523. It is a bit tricky to balance the bike int he rack to start off with, but once it is inside the lever, it becomes easy.
You clamp the frame close to the chainring. with a lever (be careful if you have a carbon frame). Then you adjust a 'tray' to be positioned in the centre of the wheel and put the strap around the wheel. This bike rack is suitable for bikes ranging from 29ers to kids' bikes, so it is pretty versatile.
Final Thoughts On The Thule FreeRide 523
Thule are famous for building quality products, and the FreeRide 523 is no exception. It is a very well priced item and gives you great value for money. It is a great improvement over previous models and is easy to use.
Tow bar mounted bike racks fit any standard 50mm tow ball, including detachable tow balls. These types of racks can hold up to 4 bikes on most vehicles. This includes 4 x 4s with rear mounted spare wheels.
There are two types of tow ball – 'bolt on' and 'swan neck'. When you are buying a towbar mounted bike rack, make sure that it is made to fit to the type you have. This is because, not all racks fit to both types.
Cheaper racks are 'hang on' racks, this means that you simply hang the bike from its crossbar. However, you will probably need to buy a lighting board. You can buy artificial cross bars for ladies' bikes and Y frame bikes.
'Wheel support racks' store your bikes on a platforms under the wheels, with supports that keep the bikes apart. Wheel support racks always come with a lighting and number plate unit.
Some wheel support racks tilt, even with the bikes mounted. This allows you to open the boot of the car, which is very useful to get stuff out when stopping off on your journey.
Most wheel support racks are quick and easy to fit. They are also very easy to load your bikes on to them. It is worth noting that sometimes, you may need to turn handlebars through 90 degrees.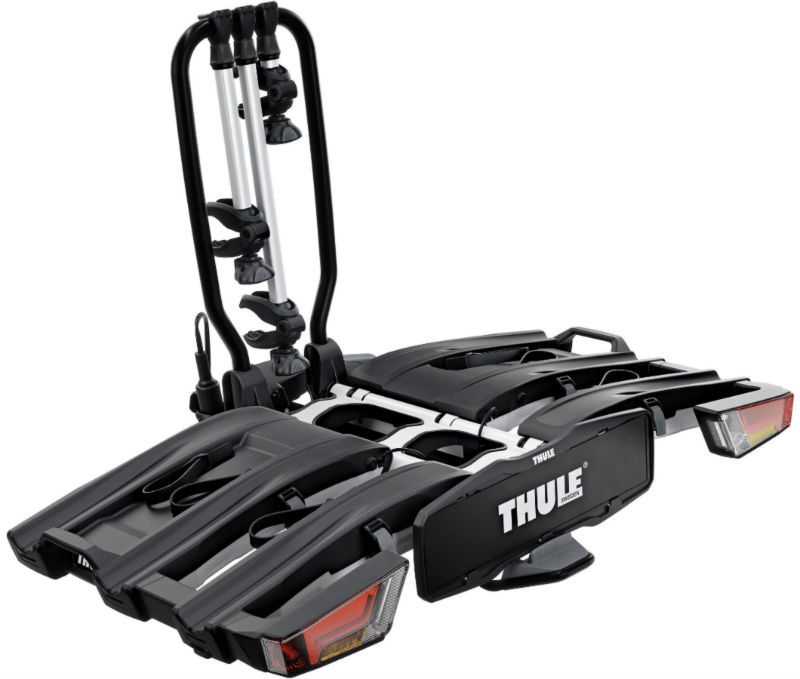 The Thule EasyFold comes in two different versions. The 933 holds two bikes and the 934, which holds three bikes.

The Thule Easyfold is a tow bar mounted bike rack that comes fully assembled and doesn't require any tools to put it together. As long as you have a tower, it will fit any car, pick-up or van.

The Thule EasyFold bike rack sits a good distance away from your vehicle, which should keep your car safe from scratches and scuffs on your bodywork.

To load, simply lift the bikes on to the rack, secure them with the individual frame clamps and fit the pump buckles to the wheels. The rack also features two locks, which secure the carrier to the tow bar and the bikes to the rack. As the name implies, the Easyfold is fully foldable, which means it will pack away easily into your shed or garage, without taking up too much room.
Fully foldable for convenient mounting, handling & storage
 
Easy trunk access even with bikes mounted, thanks to smart foot pedal tilt
 
High load capacity enabling transport of e-bikes & heavy mountain bikes
 
Easy mounting of bikes through detachable bike arms with lockable Thule AcuTight torque limiter knobs
 
Large distance between wheel holders enabling transport of sturdy bikes with large wheelbases
 
Lock your bikes to the bike rack & your bike rack to the towbar (locks included)
 
Pre-assembled, no tools required
To fit the EasyFold you must have a car, van or pick-up with a tow bar that can carry more than 60kg. You also need a 13-pin power connector, to power the rear lights, along with a spare registration plate. You can't use this bike rack if you have an externally mounted spare wheel on the back of your car.

Fitting the Easyfold carrier is not difficult at all. You just lower it onto the tow ball and then adjust a dial on the rack until it fits the mounting. Then you close the tightening handle and lock it to the tow bar with a key that's included with the rack. The 13-pin socket is easy to set-up – you simply plug it in – and this relays the vehicle's braking and indicators to the lights that are attached to the bike rack.
To load your bikes on to the rack, you simply lift the bikes on to it, secure them with the individual frame clamps and fit the pump buckles to the wheels. As a bonus, the rack also locks itself to the tow bar and the bikes to the rack. You may want to get an additional lock to make life more awkward for would be thieves.
Final Thoughts On The Thule FreeRide 523
Thule are famous for building quality products, and the FreeRide 523 is no exception. It is a very well priced item and gives you great value for money. It is a great improvement over previous models and is easy to use.
You can buy bike racks that can be mounted on the rear door of your vehicle. The cheaper models are referred to as 'strap on' carriers can hold up to 3 bikes. however, you need to consider that they offer no protection against theft. It is a good idea to buy a good cable lock and pass it through the bike frames and your car's towing eye. 
Most 'Y frame' and ladies' bikes will need an artificial cross-bar, as the bikes should be held on their balance point. Unbalanced bikes will tend to twist the carrier, which isn't safe.
All rear door mounting cycle carriers are car specific. Therefore, you need to check that the one you are about to buy is suitable for your car. You also need to make sure how many bikes it will take and whether a lighting board is required, etc.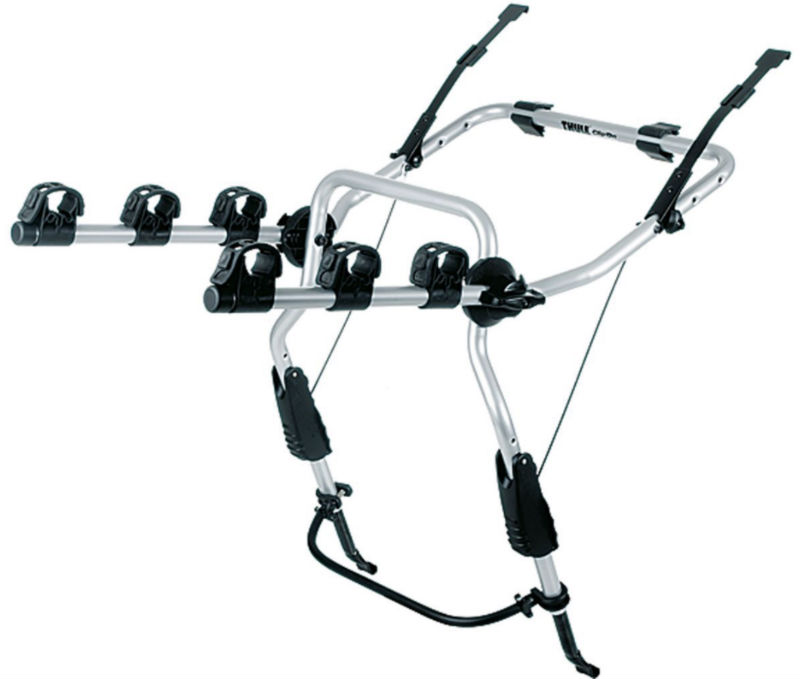 The Thule ClipOn and ClipOn High carriers use steel straps, these are much more secure and safer than the fabric straps you find on cheaper models. The ClipOn High is a 3 bike hang on rack (requiring the use of an extra number plate board) cluster.
As with all Thule products, the Clipon is a very well made piece of kit. It sits solidly on the back of your car, without moving hen you drive over bumps.
You can fit all types of bikes, but you will probably need to take the  rear wheel off small kids bikes and put it in the car.
Carries a maximum of 3 bikes
Easy to mount to the rear door with a unique snap-on system
All parts in contact with the car and bikes are coated with rubber for extra protection
Adjustable quick release straps hold the wheels securely in place
Quickly folds up for ease of storage
Sturdy strap for fixation of bikes included
Snap on mounting system
Fits all frame dimension
Fits all wheel dimensions
Rubber coated frame holder
Locks bike to carrier with accessory 538
Boot access with carrier and bike mounted
Load capacity: 45kg
Fitting the Thule ClipOn bike rack, is super simple. All you need to do is hook it over the top of your rear door and clamp it to the back of your car, using the handle. It can be a bit of a fiddle to get the bars the perfect length to fit your car the first time you mount it though. This may require the assistance of a second person to help you fine tune the fit.
Your bikes are secured with rubberised straps around your frame. These straps are extremely secure, and you don't feel nervous about losing your bikes en route. You just need to remember to alternate the position of your bikes, to prevent the handlebars from getting in each other's way.
Final Thoughts On The Thule Clipon
Some people, may find the Thule ClipOn a bit of a faff to initially build and fit to their car. But once you have gone through this process, it is plain sailing. It fits securely on to your car and bikes are held safely. However, you will want to buy a cable lock for security.
Which Thule Bike Rack Will You Buy?
Thule bike racks are excellent quality. This explains why they are a bit more expensive than their rivals. But, as with anything, you get what you pay for. If you have any thoughts or questions, please leave them in the comments section below.