Ideas for you Mountain Bike Camper Van
I live in Morzine in the French alps and every summer, mountain bikers from all over the place make their pilgrimage to this mountain bike heaven. Lots of people fly their bikes over and stay in the many chalets and apartments. But, lots of people drive over in their mountain bike camper vans. There are some great mountain bike camper vans, from posh VWs to homemade conversions of removal vans and ice cream vans. The ingenuity of the owners making use of every bit of space possible. They have got to live in this small space while storing their bikes securely at the same time. Whether they stay for a week or for the whole summer. you have to admire their dedication.
Here, I have put together some of the best ways people have modified their mountain bike camper van for ultimate use of space and storage.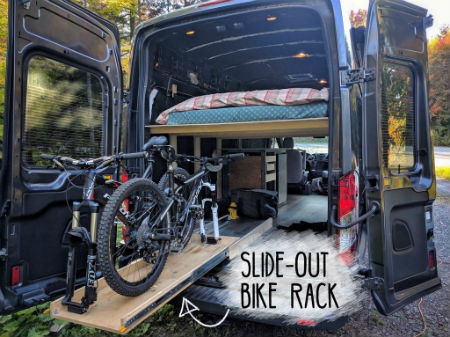 I found this on www.indestructables.com. They explain how to make this slide out bike rack. This seems to be a very popular way of storing your bikes in a mountain bike camper van. It gives you space for a small living area and a suspended bed.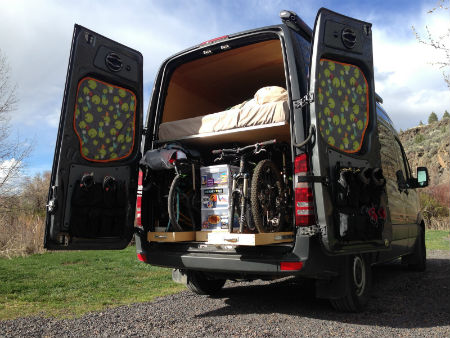 This Mercedes Sprinter from www.traipsingabout.com has two sliding bike racks. The extra size of this mountain bike camper van allows for more bikes. I also like the storage pockets on the rear doors for your pads etc.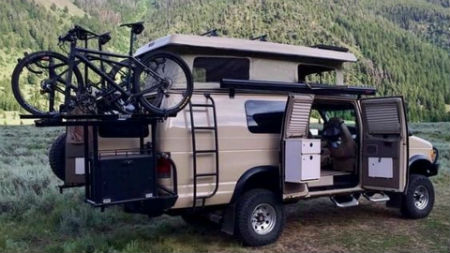 This isn't really a mountain bike camper van as such, but it will certainly do the job. I found this beast on www.totalwomenscycling.com and looks like the perfect vehicle to have during a zombie apocalypse.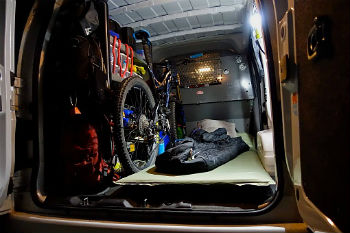 Sleep close to the one you love. Just because you have a small van, it doesn't mean you can't have a weekend away with your bike. This is a Nissan NV200, but could easily be a VW Caddy, Ford Transit Connect or any van of this size. The good thing is that you can keep something like this in the garage for security.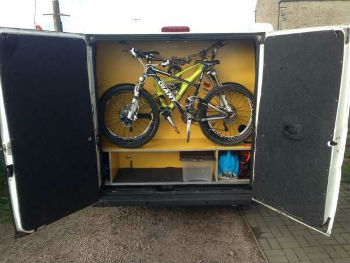 This can be done with pretty much any mountain bike camper van. It is a great way to maximise the living space. The bikes will be secure and not visible from the windows. Loosening the handlebars will let you turn them to be parallel to the frame, allowing two bikes to top and tail. Just remember to to tighten them back up again before your ride!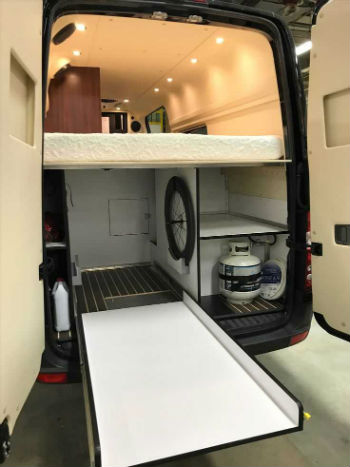 This mountain bike camper van from www.pilatesbungen.xyz is nice and plush. Great idea putting in the memory foam mattress and spotlights. However, I'm not sure how clean this one will be after a wet weekend in Wales.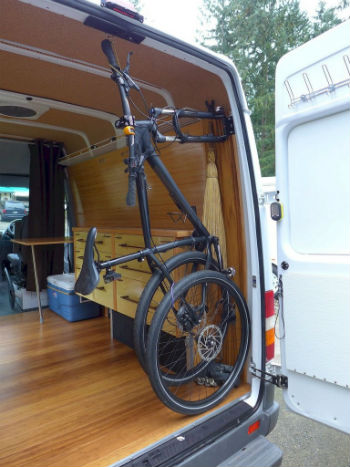 Maybe this mountain bike camper van from www.tradingteam.info isn't for the hard core riders that finish their days covered ion mud. But, this is a nice neat way of transporting your bike that you use to go to the pub and back.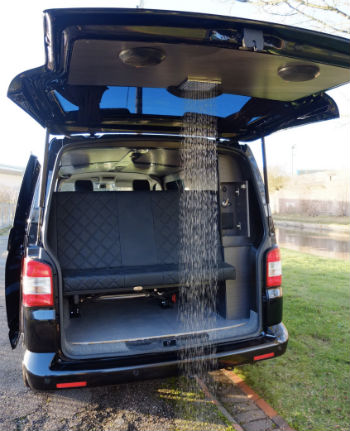 If you have a mountain bike camper van with single overhead rear door, you may want to install a shower. This one I found on Flickr is for surfers, but would also be ideal for mountain bikers. You may want to make some kind of shower curtain though.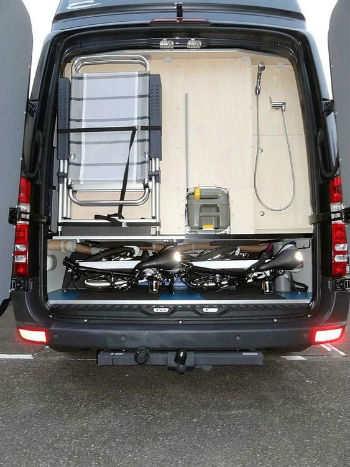 This one from Pinterest has a great way of getting your bikes out of the way while giving you a nice shower. Just be careful of those pipes when you load your bike in, it could get messy.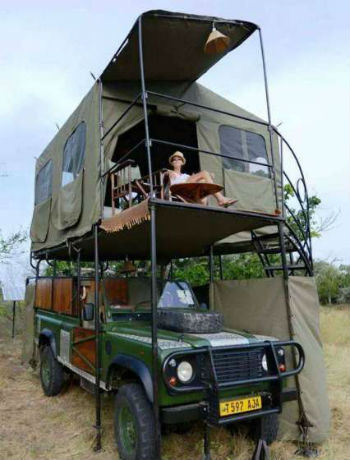 I'm not sure if your bike would be too secure in this one, but it looks fun!