Best Mountain Bike Shorts Of 2020
Best Mountain Bike Shorts Of 2020
Proper mountain bike shorts not only look great, but they keep you comfortable and performing your best. In this post, I am going to give you my picks for the Best Mountain Bike Shorts Of 2020. I will also give you some things to look out for when buying mountain bike shorts.
Things To Look For In Mountain Bike Shorts
Just like all mountain bike clothing mountain bike shorts specifically made for the purpose. They don't restrict your movement while keeping you as comfortable as possible. This is due to the material they are made from. Some mountain bike shorts use stretchy materials or they have strategically placed stretchy panels to give optimum performance.
Durable materials you find on the best. mountain bike shorts give you a little bit of protection when you crash, but it also makes them last longer. Less quality shorts will wear out on the seat area quite quickly, from contact with the saddle.
If you ride in wet weather a lot, you may want to consider buying waterproof shorts. These make a huge difference in how comfortable you are when riding on wet days, by keeping your bum warm and dry.
Some mountain bike shorts have a DWR coating. This is a water-repelling treatment that is applied to the fabric when it is made. You will need to renew it from time to time, as it can lose its effectiveness after repeated washing and wear against the saddle.
Buying mountain bike shorts with decent adjustability is a good idea. This is because you may be able to ride with wearing a belt. Belts can get in the way and can be bad in a crash.
The most common way mountain bike shorts are made adjustable is with velcro straps on the waist. These straps allow you to get perfect the fit. It is worth noting that these adjustable velcro straps are placed, either inside or outside of the shorts. For internal straps, make sure that they are covered properly, as they can be scratchy on your skin. This is also the case for external straps, as they can catch on your jersey. Some shorts have big buckle straps which offer lots of adjustability and comfort.
Good waist adjustment will make your shorts last longer too, as you will get fitter and lose weight the more you ride.
Press-stud fastening is the best method for securing your shorts. The more studs you have, the more secure your shorts will be. Try to buy some with at least two, with an additional strap.
Top tip – For extra ventilation on a hot day….fly low.
You should take in to consideration the length of the shorts. Longer shorts give you more protection against bushes and scrapes when you crash. Also, they fit over your mountain bike knee pads better.
If you carry a backpack, pockets are not that essential, especially hip pockets. However, these are useful for quick access to small change a snack or your phone. I prefer it when pockets have zips, so I don't have to worry about losing anything.
Cargo pockets might sound like a good idea for extra storage space. But personally, I don't really use them as all your stuff in the worst place for an accident and the contents flap about when you are peddling.
Some mountain bike shorts have ventilation built into them. This is usually in the form of laser cut perforations or mesh panels strategically placed. These make a huge difference when riding on hot days.
Best Mountain Bike Shorts Of 2020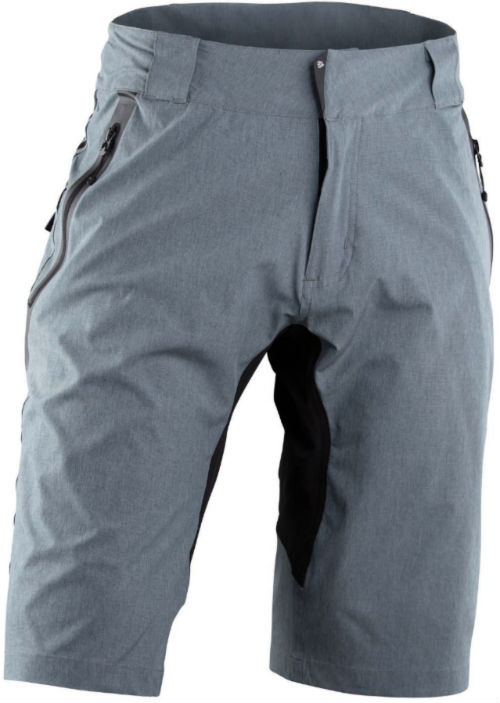 The Race Face Stage shorts are designed to be suitable for all conditions. They are light enough for riding all day but are durable enough for smashing the bike park.

These shorts are made from lightweight and breathable polyester. The seat panel is made from durable nylon to make sure it doesn't wear out from rubbing on the saddle while riding. Race Face have made the seat panel seamless, this means that you don't get any discomfort from chafing.

The moisture-wicking properties of the Stage shorts, mean that you won't get as sweaty as you normally would and they dry out very quickly.

The back panel is raised slightly, to give you a bit. more coverage and keeping the wind out. These shorts come with internal waist adjusters, to keep them secure and comfortable when you are riding hard. The length of the Stage shorts works well with knee pads and don't do that annoying thing of getting caught up in them, while still providing enough coverage.

There are two good sized zipped hand pockets and two zipped rear pockets. These are big enough to carry your phone and anything you want quick access to.

To fasten the Stage shorts, you have two press studs and an additional velcro strap to make sure they stay where they should.

You won't find any clever venting holes on the Race Face Stage shorts. But they are pretty lightweight and the breathability of the material makes them the Race Face go-to for an all-round pair of shorts.
Materials:  Main: 92% Polyester, 8% Elastane
Comfortable + durable polyester shorts with durable nylon chassis
Internal waist adjustment with belt loops for best fit
4 zippered pockets for secure storage
Raised back panel for additional coverage
Seamless crotch gusset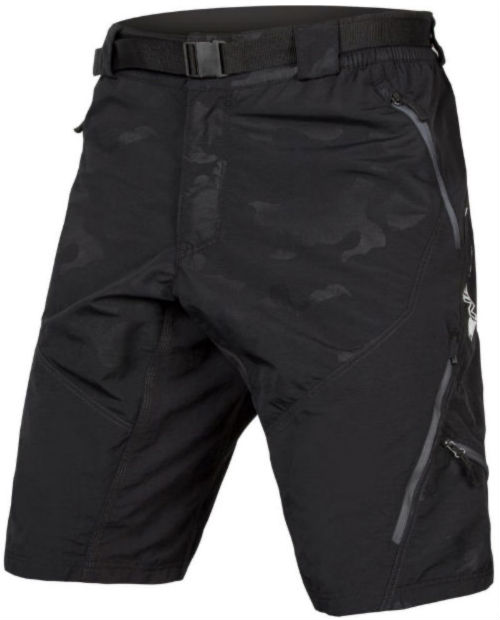 I am a big fan of the Endura Hummvee II shorts for a few reasons. The first reason is that they are very comfortable, but they offer fantastic value for money too. This isn't just because they are priced well compared to shorts from other brands, but because they last so long. I have been riding with my Endura Hummvee II mountain bike shorts for a few years now, and they show no sign of wearing out.
The 2020 version of the Endura Hummvee II shorts have an outer fabric made of mini-ripstop nylon. This also has a DWR coating to keep your bum dry. As an extra bonus feature, you get a Clickfast™ detachable liner with a 200-series pad to keep you comfortable on the saddle.
The durable seamless seat panel will make them last for years and the elasticated rear waistband and the adjustable belt will make sure that they fit properly and comfortably.  
Pockets are big enough for valuables, essentials, lift pass  and a map. For ventilation, you are treated to zipped thigh vents with mesh inserts to allow good air-flow.
There are a few different versions of the Hummvee II shorts. Depending on which ones you buy you can have different lengths and colours. But there are also a few different options for women to choose from. This makes the Endura Hummvee II one of the best selling mountain bike shorts on the market.
Material: 100% Nylon
Durable nylon mini-ripstop fabric with DWR finish
Includes Clickfast™ detachable liner with 200-series pad
Zipped thigh vents with mesh inserts
Zipped hand pockets, cargo pockets and large rear map pockets
Durable, seamless seat panel
Rear elasticated waistband and adjustable belt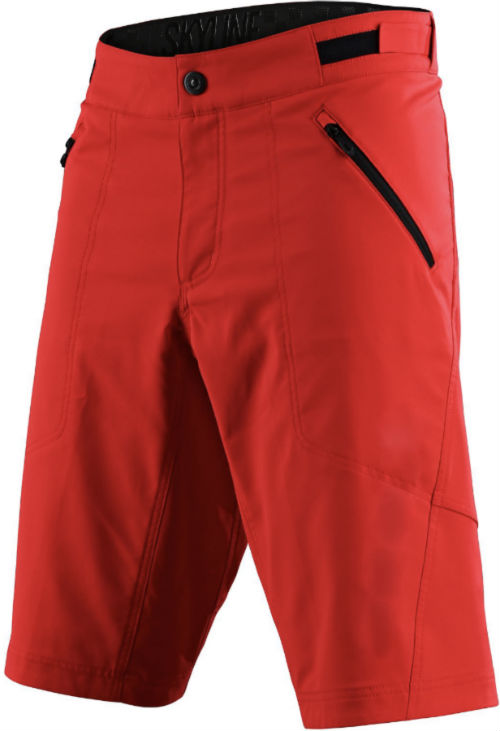 The Troy Lee Designs Skyline mountain bike shorts are great for trail riding short that offers a trim fit and shorter inseam that is ideal for long days when you have to pedal a lot. The slim fit, but baggy shorts are ideal for riders that want lightweight shorts, but don't want the risk looking like a roadie with lycra.
Even thought the skyline has a slim fit, they do have a durable feel that leads you with no doubt that they will last you a long time. 
The Skyline shorts are exceptionally comfortable. This is partly down to the included padded liner, which is of decent quality and has a nice feel on the saddle. The pad is designed and shaped to give you lots of comfort for longer rides without feeling too spongey and hot.
Compared to other options on the market, they aren't the best ventilated mountain bike shorts you can buy. So if you tend to ride in warmer weather, you may want to look elsewhere, as the material is quite thick and traps warm air in.
However, when it comes to comfort, Troy Lee Designs have done a great job with the Skyline shorts, thanks to the fit and pedal-friendly nature of the design. These shorts are perfect for all-day trail or cross country mountain biking. The fit perfect for long days in the saddle.
The trim fit of the Skyline shorts   brings them close to the body without feeling too tight. They give you excellent range of motion without being too baggy. But, if you have wide hips they may not feel particulaly comfortable for you, as they are better suited to slimmer or average sized riders.
Materials: 95% Polyester, 5% Elastane
One Mesh 2-Way stretch woven fabric with CoolMax technology
Optimal 2 zippered hand pockets
Self-fabric waist adjusters
Zipper fly with snap closure
Silicone print on inside waistband
Reflective heat transfers
Fabric is certified Bluesign® approved
TLD Air Mesh Liner with 4-hour TMF Pad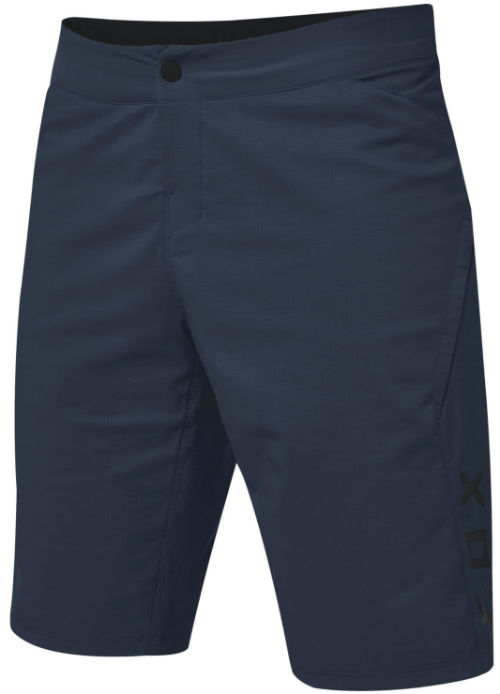 The Fox Ranger mountain bike shorts have gone through some changes over the past few years to make them even better. These changes include a revised pocket layout and a secure adjustable waist closure. But, they are also great value for money, especially with their removable chamois liner.

The Ranger shorts are pretty comfortable when riding and when walking around. They have a loose fit that is not too tight or too baggy. The waist is made to be comfortable when you are spending a lot of time on the saddle and doesn't dig in as some mountain bike shorts can. They have a 12-inch inseam, which leaves them sitting just above your knee when pedalling. This means that they don't rub your thighs or interfere with your knee pads. The design sees that all of the seams inside the shorts are flat and don't rub or cause chafing.

The main negative thing that you may find with the Ranger shorts, is that they are not very well ventilated. You will find that the medium weight fabric is great in most situations, but when you are riding in hot weather, you will feel the heat. However, if you ride in cooler climates, these shorts will keep you warmer than ones made from much lighter materials. Something else to consider is that the Ranger shorts aren't the quickest to dry, due to the weight of the material and lack of a DWR coating.

The waist is adjustable to help get the perfect fit for you. But the waistband is also very well designed, with it being higher at the back for extra coverage and lower in the front for comfort. Comfort is helped with the waist being slightly articulated for when you are pedalling. Fox calls it their "Rider Attack Position" (RAP) design, and it makes for a comfortable fitting pair of shorts on the bike.
Materials: 61% Polyamide, 34% Polyester, 5% Elastane
Lining: 83% Polyester, 17% Elastane 
Removable liner with dual-density chamois for improved saddle comfort 
Stretch Ripstop fabric maximizes performance on every ride 
Goggle strap inspired low-profile waist adjustment system ensures a perfect fit 
TruDri™ lined waistband moves sweat and moisture away from the body keeping you comfortable and dry 
Secured zip pocket to stash everything you need for a ride 
Durable Water Repellent finish sheds moisture, dirt, and debris
Fox screen print logo 
Inseam 12
Best Mountain Bike Shorts Of 2020
These are just some of the best mountain bike shorts of 2020. Keep checking back with this page for updates for more great options. If you have any thoughts or questions about these mountain bike shorts, please leave them in the comments section below.