Mountain Bike Pants: The best ones
On even the most miserable of days, mountain bikers still tend to wear shorts on their rides. But you don't need to ride with wet legs all day with a pair of mountain bike pants.
You don't have to resort to lycra on wet and windy days, proper waterproof mountain bike pants are durable, comfortable and protect you from the elements. This type of leg wear is common with downhill mountain bikers and commuters. They used to be thick, uncomfortable and restrictive, but thanks to modern designs and fabrics you can be much more comfortable. They have extra room for knee pads and the fabrics are stretchy and waterproof.
Why Do Riders Wear Mountain Bike Pants?
During the summer, shorts are the best option, as mountain biking is a high intensity workout. But, when it starts to get chilly, the you are stationary or taking on a long descent, you can get very cold and uncomfortable. Mountain bike pants are ideal for preventing this discomfort, but there is more to them than that.
Mountain bike pants also offer protection from some crashes, scrapes from blasting past bushes and they also keep your knee pads in place, even during a crash. A decent pair of mountain bike pants keep you protected from mud and spray. They are good fo all types of riding from park to long cross country rides.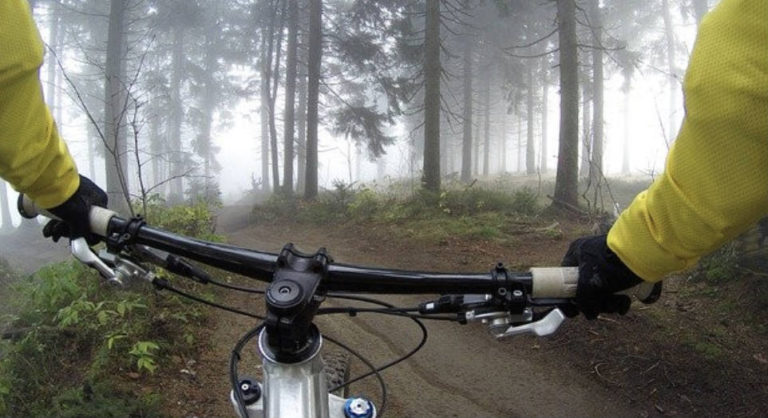 What To Look For In Mountain Bike Pants
We are always carrying our phones with us these days, so we can keep in contact with our fat mate at the back of the group, or to record our rides with Strava. Therefore mountain bike pants with a dedicated phone pocket are the best. They should be secure so you don't lose your phone and should not allow it to move around.
You should avoid mountain bike pants with mesh pockets. While they help to cool you down, whatever you have in your pocket will catch on the mesh material. Keys and multitools will make holes and will be uncomfortable.
For unrestricted movement stretchy fabric is paramount. Many of the best mountain bike pants are either totally stretchy or have stretch panels where it counts.
Stretchy fabric is great, but sometimes it isn't that durable. Some mountain bike pants have it on the seat, which shows signs of wear quicker.
If you have a tendency to fall off you bike, you will like the extra padding some mountain bike pants have built in. Knee pads will take the initial impact while additional padding will stop you ripping your mountain bike pants.
Mountain bike pants that only have one popper are not quite as secure as ones with two. One popper can cause them to open when wet, which isn't ideal when riding hard.
Waterproof Mountain Bike Trousers
To help you make a decision on what to buy, I have been looking at the best mountain bike pants on the market. All the ones I have been looking at have some kind of weather protection. I haven't gone in to "waterproof" mountain bike pants for total weather protection. This is because they are a bit overkill for most riders and sacrifice comfort, breathability and flexibility for 100% dryness.
Fox Racing Flexair Trousers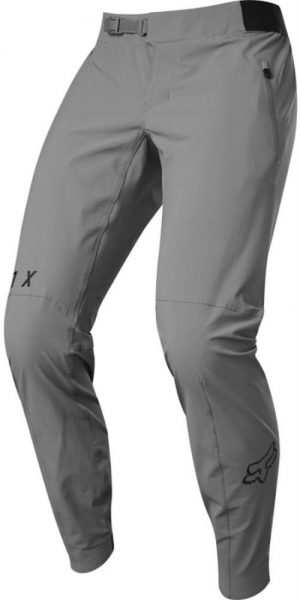 The Fox Flexair mountain bike pants are seriously lightweight and comfortable. This is thanks to the incredibly light and flexible material. They have two zipped pockets, but they are mesh lined, so you would be better keeping sharp stuff in your backpack.
They fasten with a ratchet strap, which is comfortable and secure. These are the type on mountain bike pants you could wear all year round, even on a hot day. However, the lightweight material means they wouldn't be ideal for bike park or uplifts. The opening around the ankle is pretty tight, which makes them a bit tricky to get off with cold hands.
The Fox Flexair mountain bike pants are for riders that are looking for the ultimate in lightweight leg wear. However, you may find them a bit too simplistic and loose.
Materials: Polyester 94% Elastane 6%
Ratchet closure provides a secure fit & quick on-the-fly adjustments
Secure zip hand pockets
Tapered lower leg reduces snag & drag
TruMotion all-way stretch fabric for increased mobility
TruDri fabrics move sweat away from the body to keep you dry
Body-mapping laser perforated on front & back to keep you cool
Durable Water Resistant finish sheds moisture, dirt, & debris
Inseam: 31.75″ size large
Endura Humvee II Trousers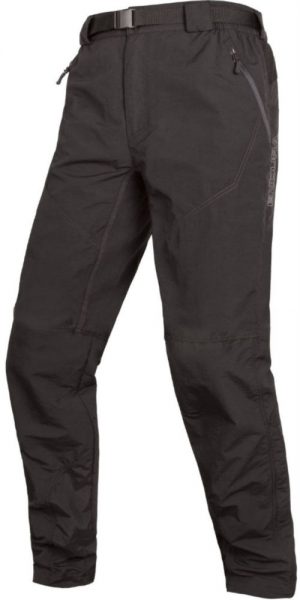 I have always been a fan of the Endura Humvee II shorts and the long versions are a great option. These mountain bike pants feature double map and hand pockets, a garage pocket and a zipped phone pocket with a key clip.
The legs are twin strapped in the lower part and have articulated knees. The Endura Humvee II trousers are made out of lightweight but durable material. The durability of Endura products is impressive, I have a pair of the Humvee shorts that I have used on the majority of my rides for the past five years and they show no sign of wearing out.
However, these mountain bike pants are not great in very wet weather, as they do soak up the water. But they are a great value alternative to the Fox Flexair above.
A very well priced pair of mountain bike pants that will last a very long time. The fabric isn't the best for very wet days though.
Material: 78% Polyamide, 22% Spandex
High quality Italian power Lycra® fabric
Coldblack® technology dramatically reduces heat build-up and provides UPF50
700 series pad
Computer cut "Continuously Variable Profile" (CVP) stretch pad with antibacterial finish and available in 3 pad width options
Ergonomic, pre-shaped multi panel construction
Laser cut rear pocket
Raw edge hem bands with inner silicone print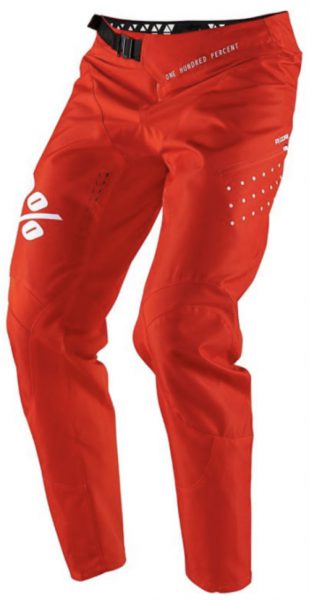 The 100% R-Core Pants have a skinny fit, but with a DWR Polyester/Spandex 4-way stretch fabric. These are the choice to make if you want something that doesn't flap around when you are hammering the downhill trails.
They have a BOA fastening system that is fast to close and open, while providing comfort and security. Extra security comes from the silicone material placed on the inside of the waistband to stop them slipping down. The stretchiness makes it easy to squeeze them over your knee pads. One of the other things I like about these mountain bike pants is the laser cut ventilation holes.
The zipped pockets are nice and secure with plenty of room for your phone or a multitool.
The 100% R-Core mountain bike pants are super comfortable thanks to their fit and stretchiness. However, the seat isn't particularly durable, so you may see signs of wear after a short while. Therefore, this are best for bike park days and uplift assisted downhill rising.
DWR polyester 600D fabric for ultimate durability
4-Way stretch woven panelling increases manoeuvrability and comfort
Stretch-mesh venting increases airflow and mobility
Mountaineering-inspired adjustable closure for the perfect fit
Silicone print on inner waistband to minimize slippage
Fade resistant sublimated graphics
Internal mesh lining provides additional comfort to minimize chafing
Zipper pocket for security of essentials