Best Mountain Bike Computer
Best Mountain Bike Computer
Here is my guide to buying the best mountain bike computer for you. Most riders love statistics. Distance, speed and ride time are just some of the numbers you can track with mountain bike computers. It is good to keep tabs on these numbers. Whether it is to monitor your fitness and progression, or to have a bit of banter with your mates. Some people even use their mountain bike computers to see how long they have been riding, in order to know when to service their shocks etc. There are many options, but there are a few things you need to consider before buying one.
There are new brands coming out all the time, unfortunately they don't always manage to meet the quality of the more established brands. This is because they may not have had time to develop their products to the required level. Whatever type of riding you do, riding bikes is a brutal sport, especially when you consider the following:
High altitudes
Bad weather
Dirt
Crashes
Low temperatures
High temperatures
Products from more established brands are tried and tested in these tough conditions. You may have already built up a lot of data over the years, and you don't want to jeopardise it with an inferior mountain bike computer.
How mountain Bike Computers Work
Mountain bike computers are pretty simple devices. You mount a magnet on your wheel, and as your wheel rotates, it passes by a sensor mounted on your fork. This makes a signal allowing your computer to calculate your average speed, maximum speed, distance and ride time.
Mountain Bike Computer vs GPS Smartwatch
A mountain bike computer is obviously great for riding however, you should weigh up the advantages and disadvantages of choosing one over a GPS smartwatch.
For example, while riding, it is easy to look at the data on a computer mounted on your handlebars. Whereas, looking at your watch while riding, isn't always advisable.
Depending on the model you are looking at, the mountain bike computer will be significantly cheaper. However, a GPS smartwatch can be used for multiple activities.
If you have a habit of falling off your bike, the computer attached to it can be prone to taking damage. But, having a watch on your wrist in hot weather can get a bit sweaty.
Therefore, it is a matter of preference and what suits the type of riding you do. Take a look at the best watches for mountain biking, to help you make you mind up.
Features and Functionality To Look Out For
Auto on/off – This function pauses the stopwatch when stationary. This is so you only record when you are moving, and not when you are eating cake in a café. This will also make your average speed and ride time accurate.
Heart rate – Some mountain bike computers have the ability to pick up the signal from a heart rate monitor. This is good if you want to monitor how hard you are working. Monitoring your heart rate is good to if you have a fitness goal. For example, you can make sure you are in the "fat burning zone" or improving your cardio.
Wired/Wireless – Cheaper computers are connected to the sensor with a wire, while the more expensive ones are wireless. The only thing you need to be aware of, is that you will need batteries in both the computer and the sensor. Wireless is best for mountain biking, as you don't have a wire that can easily catch on twigs and other bits of nature that happens to be pointy.
Waterproofing – Lets face it, we all get a bit soggy on rides sometimes. Water and electronics don't really get on very well with each other, so you need to make sure your mountain bike computer is reasonably waterproof. However, not all computers can be water tight. This is because, those computers with altimeters need a hole in the case to measure air pressure.
Common features of Mountain Bike Computers
Speed — Obviously How fast you're going.
Average speed — This is measured only when moving
Maximum speed — Always good to know for post ride top trumps
Cadence — This is how fast your legs are going. You will need another sensor for this, mounted on your cranks
Ride time — How long you have been out for
Time — Good for planning beer o'clock
Ride/trip distance — How far you rode today.
Odometer — How far you have ridden since you bought the computer. A good way of monitoring when your shocks need servicing
Now I will Gove you my recommendations of the best. mountain bike computers you can but right now.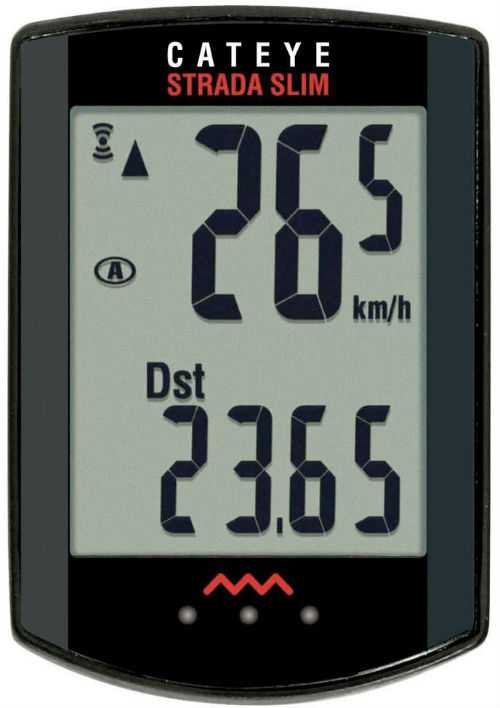 The Cateye Strada Wireless is ideal for any kind of cycling. It is really good value for money, especially when you compare it to its competitors.
What I really like about this mountain bike computer, is the large display allowing you to read your data when bombing the trails. It is also very easy to setup, but it is even easier to use on the move, due to the single button at the bottom of the screen. Therefore, you just tap it to scroll through the functions.
Head unit dimensions: 47x32x12.5mm
Sensor dimensions: 67.7x30x7.6mm
Weight: 12g
Current speed: 0.0(4.0)~105.9km/h
Total distance: 0.0~9999.9/10000-99999km
Trip distance 1: 0.00~999.99km
Trip distance 2: 0.00~999.99/1000.0~9999.9km
Elapsed time: 0:00'00″~9:59'59"
Average speed: 0.0~105.9km/h
Maximum speed: 0.0(4.0)~105.9km/h
Wireless transmission: Speed
Clock: 0:00'~23:59′ [1:00'~12:59′]
Pace arrow: Yes
Auto power saving: Yes
Auto mode: Yes
Dual tire size: Yes
Tire size: 100mm~3999mm (default:A 2096mm/ B 2096mm)
Battery: Computer: CR1616 X1 Sensor: CR2032 X1
Battery life: Computer: approx 1 year (1hr use per day) Sensor: approx 10,000km [6,250miles] in total distance
If you are looking for one of the best value for money mountain bike computers, that is very well made and easy to use, you won't be disappointed with the Cateye Strada.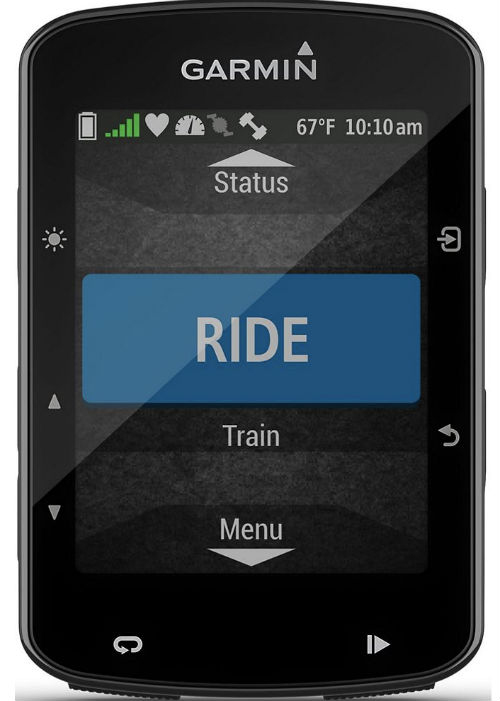 The Garmin Edge series of mountain bike computers is a very established range of products. The Edge 520 Plus is loaded with so many features you may not even get round to using all of them.
This computer is a very nice compact piece of equipment, with a very simple and easy to read display. The controls are very intuitive making the instruction book redundant.
There are a few different mounting attachments that come with the computer. It also comes with a tether, incase the mounts break in a crash.
With regards to data recording, the Edge 520 has the standard, speed, distance, heart rate, elevation, cadence and calories. But it also has training metrics. These tell you how long you have been in training zones and the power meter metrics. These are useful if you are training for an event and want to keep an eye on you progress.
Unsurprisingly, you can connect the Garmin Edge to your phone. This allows you to keep an eye on notifications and easy analysis of Strava in the pub.
When you set up your Strava account to the Edge 520, it will alert you to when you are approaching a segment. It will also give you simple directions for navigation
Up to 15 hours of battery life
Shows your cycling-specific VO2 max and recovery time
Smart notifications
Comes with Live Track and Group Track
Preloaded Strava Live Segments
Advanced navigation
Compatible with Varia cycling
This is a very nice piece of kit , that gives you a lot of information. It does all the basic things you expect and a whole lot more. The training features are the biggest bonus with this computer. The only gripe, is that if you have a short stem, it is easy to accidentally press the pause button when playing with the other buttons.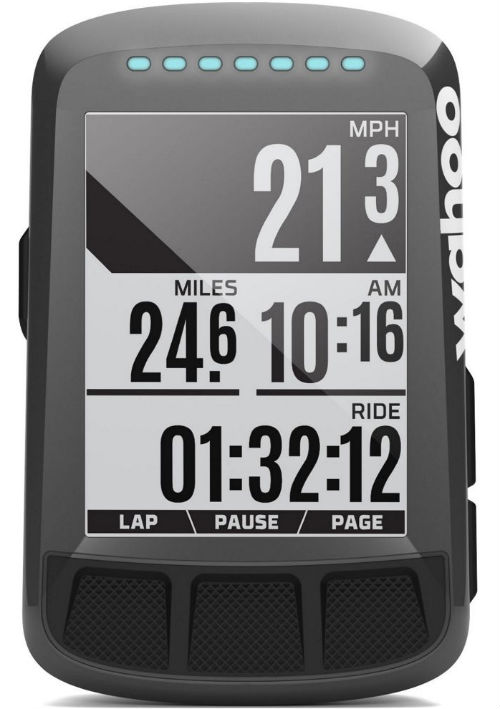 The Wahoo ELEMNT Bolt is a real contender for the Garmin products. By linking this computer to your smartphone (this is essential for it to work), you can set up your data screens via the app and connect sensors to get your heart rate and power etc. The data that you see is totally customisable, so you can choose what is important for you. The fact that you can do it through your phone makes it much easier to set up than when you need to do it from the computer itself.
There is no touchscreen with the Wahoo ELEMNT Bolt, as it is controlled with the three buttons on the front or the two side buttons. You can easily use this computer while wearing gloves, as the buttons are a good size without being too big.
The Wahoo Elemnt Bolt's 2.2in display on is clear and the data is easy to read easy to read. If you want a full colour screen, you will need to go for a higher-end Garmin Edge, as this one has a black and white screen. But that doesn't really take anything away from its effectiveness.
The maps that it displays are easy to follow too.In fact, they are easier to read than Garmin maps. Also it copes when better when you stray off course.
2.2″ diagonal screen
Planned Workouts
Automatic and wireless downloads and uploads
Back to start
Fully customisable screen
Global maps
GPS functionality
Integrated mount locking screw
Perfect view zoom buttons
Performance driven aerodynamic design
Route sync via Bluetooth
Smart buttons
Strava live segments integration
Text, email, and phone alerts
Turn-by-turn navigation with Komoot and ride with GPS routes
Wireless connection and uploads
USB rechargeable battery
Race plan integration
Duel band technology
Compatible with electronic gear shifters
Kickr smart trainer control
Compatible with muscle oxygen sensor
Live tracking
The Wahoo Elemnt Bolt is great bike computer that is a genuine alternative to a Garmin. It is is great value when you compare it to the competition, has very good battery life, works well and is easy to use.
Which is the best mountain bike computer for you? If you have any thoughts or questions about these computers, please leave them in the comments section below.