The Five Ten Trailcross MID Pro are flat pedal mountain bike shoes. They are designed to be high performing with TERREX trail running shoe technology, so they are to be used both on and off the bike.
Lets delve in to how Five Ten have managed to build a shoe that is so versatile. The first thing you notice about the Five Ten Trailcross, is that is a high top design. This gives you plenty of ankle support and stops mud getting in, with help from the neoprene gators. It also has a D30 foam outer layer to provide you with some protection while riding. However, it is worth noting that they are not waterproof, as the ventilation holes let water in.
Five Ten shoes are well known for taking ages to dry out, but these dry out in less than 24 hours with the help from a heater or radiator. This is because they are pretty lightweight, so there isn't much material to dry out.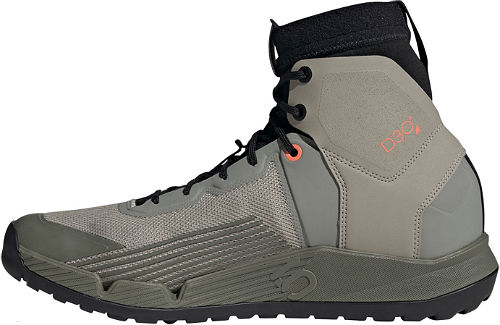 The upper is designed to be lightweight and breathable and it does this by using a breathable mesh. Breathability is very important for a shoe like this, as it is the type of shoe that you will spend all day in. This is not an easy thing to achieve, especially when you need to design a shoe that is very durable.
The soles are made from the Five Ten Stealth rubber, but in this case it is the "Phantom" version. This stuff is designed to give you excellent grip on the pedals and for when you are hiking over loose terrain.
The Five Ten Trailcross MID Pro mountain bike shoes are designed to be close fitting. They are also made to slip on and off easily, even with the neoprene gator. This is normally a bit of a faff, with shoes of this type, but Five Ten have given the Trailcross some proper consideration.
Even though the sole may seem a bit thin, Five Ten have made it quite stiff. The sole is designed to flex just enough to be comfortable, but stiff enough to give you good transfer of power to the pedals. The tread pattern allows you to adjust your foot position on the pedals, which can be quite awkward with other mountain bike shoes.
Despite the D30 reinforcement, the exterior design of the Five Ten Trailcross is actually quite slim. This is so they don't rub on your cranks whilst pedalling.
The Five Ten Trailcross shoes are meant to be used for both mountain biking and hiking. Therefore, they need to strike a good balance with the stiffness of the sole. They are extremely grippy on the ground and the stealth rubber extends right to the edge of the sole and wraps around it slightly.
Conclusion Of The Five Ten Trailcross Mountain Bike Shoes
These shoes offer a great balance for people that want a pair of rugged shoes for both mountain biking and hiking. They provide plenty of grip for both and are designed for excellent comfort. Customers that have bought them and spent a considerable amount of time with them are giving them some excellent feedback form their experiences.