How Dangerous is Mountain Biking?
A lot of people ask the question "How dangerous is mountain biking?".  The question is usually followed by references to mountain bikers hurting themselves or hitting massive jumps. This is thanks to a preconceived idea that comes from videos of fails and bails. There is obviously an element of danger, but there isn't much in life that we can't do without some kind of risk. Crossing the road, driving or even basic exercise has some risk.
By taking part in any sport, the risk of injury goes up. Football has risk of injuring your ACL, knees and ankles for example. There are sports that carry more risk of serious injury though and unfortunately, mountain biking is one of them.
Dangers of Mountain Biking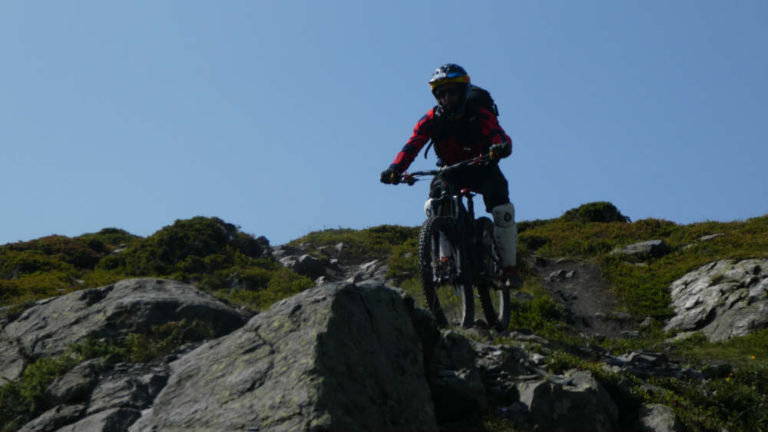 The terrain mountain bikes are designed to ride on tends to be quite rough! The trails have roots, rocks bumps, jumps, mud, loose gravel, berms, exposed switchbacks, trees and holes. All this variation is what makes mountain biking fun. The element of danger is what makes sports like mountain biking, skiing and snowboarding exciting.
The type of terrain you ride doesn't have to be super technical. There are many different levels and disciplines of mountain biking. At one end of the scale, you could be riding a hardtail along a canal path, a the other end you could be jumping off cliffs on a downhill bike. And there is everything in between.
What I am saying is, is that mountain biking is as difficult or as dangerous as you want it to be. If you want to play it safe, enjoying the views on a ride through the countryside, all that matters, is that you are having fun. However, if you want to get "sendy" , go for it, just make sure you calculate the risk. This is when mountain biking gets dangerous.

In theory, the better and more experienced you get at mountain biking the less dangerous it is. I think that is true to a point, as you get better at coping with certain situations. This is because you are able to react better.
However, when you start to get better at mountain biking, you tend to take more risks. You start to go faster, trying to beat your Strava times. You, take on more technical terrain, which has a lot more risk to it.
Know what you are getting yourself in to
Most mountain bike trails are graded like ski runs.
Green – For beginners
Blue – For beginners to intermediate
Red – Intermediate to advanced
Black – Advanced
They are all marked on trail maps  and usually marked at the top of each trail. I would recommend starting you first run of the day on something reasonably easy, especially if you are riding downhill trails. Get a feel for the terrain and then start doing something more interesting.
Ride Within Your Limits and Using Common Sense
A few years ago, I met a guy in a bar in Avoriaz, France. He was in a bad way, as the result of a crash. He had a lot of broken bones (one of them was his pelvis), cut and bruises. I asked him what happened. He decided to ride a black downhill trail as fast as he could for his first run and hit a drainage ditch, sending him over the bars. He said that the drainage ditch wasn't there last year.
Now, I can't help but think that this was a bit silly. Maybe he should have started with an easier trail for his first run. Or at the very least taken it easy to refresh his memory. Trails do change from time to time. So in the spirit of self preservation, when I am riding downhill trails, I don't go 100% on the first run, I save it for the second run.
To progress your mountain bike skills, you need to push your limits. But, do it with baby steps. Just because you managed to bunny hop over a log, it doesn't mean you should hit the road gap. What I'm saying, is, yes push yourself, but be realistic about it. Mountain biking takes time to get good at. Use fear as your friend!
72% of mountain bike injuries come from rider error and 31% is down to poor trail conditions. It is a fact that people make mistakes, either from being tired, trying too hard or being inexperienced. When mountain biking, you do need to accept that there is risk involved.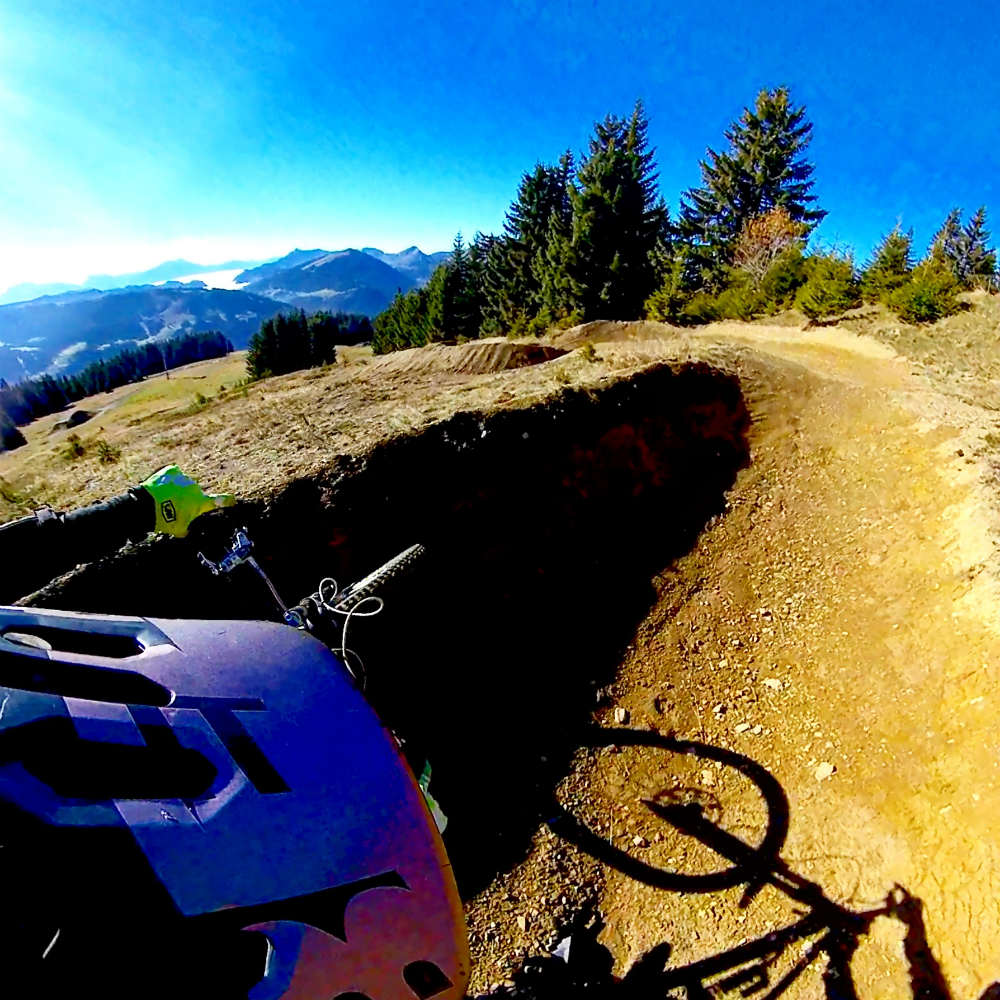 So we have established that mountain biking is dangerous. But, along with thinking about what we are letting ourselves in for, we can protect ourselves with the right kit.
There is a lot of different mountain bike protection you can buy. What you wear is down to your personal preference. Some people don't like to wear protective equipment, as it can be uncomfortable or restrict your movement. I always wear a helmet, elbow pads and knee pads. At first I thought they were uncomfortable, but, I soon got used to wearing them. 
Helmets are essential for mountain biking. You may read from certain sources that helmets don't actually do anything in the event of a crash. They say that the damage comes from the lateral and rotational forces. But, I know of people that have had their lives saved by their mountain bike helmets. 
The type of helmet you choose, depends on the type of riding you do.
Open Face/Half shell – Used mainly for cross country and light trail riding
Open Face/ Half shell Enduro – Heavier than cross country helmets, offering more protection especially for the back of the head. Click here to see the best ones.
Full Face – Offer the most protection and used for aggressive enduro and downhill riding. Click here to see the best ones.
Full Face with removable chin bar – This is my current choice of helmet. It is essentially two helmets in one. A full face helmet for when you need it, but the chin bar unclips to for climbing and less technical rides. Click here to see the one I wear.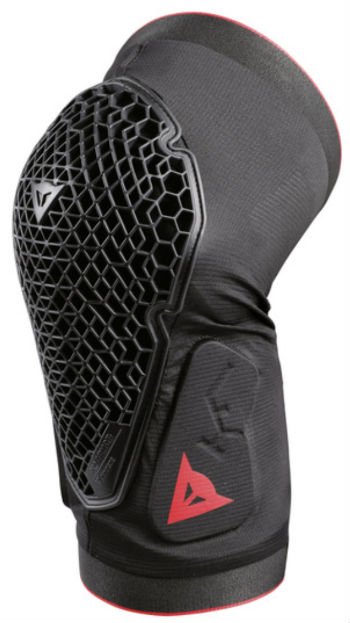 I wear big knee pads that also cover my shins. This may seem like overkill, but there have been moments when I have ended up sliding down a gravelly trail on my knees. During these moments, my pads have been the best thing I ever bought. Also I ride in the French alps, where I live, where we actually ride down mountains. However, a decent pair of enduro knee pads are a great thing to have. They are much lighter than the ones I use, but don't give you as much coverage.
Elbow pads are also a good idea. Unfortunately, if you don't fall directly on to the pad, they can slip, as you slide along the trail. However, they do give you impact protection. They also give you a bit of confidence when the terrain gets technical.
Body armour is worn by mountain bikers for different reasons. In some cases body armour instils confidence. This allows the rider to push themselves and ride stuff they wouldn't normally do. Some riders feel vulnerable without body armour. This can make riding unenjoyable, especially those who have a weak part of their body (maybe from an accident).
The subject of wearing mountain bike neck protection divides opinion. Some riders say that it slows them down and restricts movement too much. But, it is designed to limit the movement of the head in the event of a crash. If you are riding fairly tame trails, you won't want to wear it. But, if your mountain biking tends to be a more challenging and dangerous, you may want to consider it. Neck braces are used mainly for downhill racing and riding that includes big jumps. So they are not really required for a pedal along the local canal.
How Dangerous is Mountain Biking?
So mountain biking is a dangerous sport, but with some common sense and the right equipment we can reduce that danger. But, at the end of the day the benefits outweigh the risks. Mountain biking is great for fitness, gets you outdoors and above all, loads of fun!
Pleas let me know your thoughts and questions in the comments section below.