Oakley DRT5 Helmet Review
The Oakley DRT5 helmet was released last year and developed with help by none other than Greg Minnaar. It is a mountain bike helmet with a few distinguishing features that have never been seen before. For example, it has a grooved, rubber sweat guard on the brow, and some clips that hold your glasses on to your helmet when you are not wearing them.
Comfortable once you have got used to it
Secure fit
MIPS
Very adjustable
Looks really cool
Well made
Takes some getting used to, due to the fit
Not great if you wear large sunglasses
Probably not great for mounting a camera to
A great looking helmet with some nice features. The fit may take some getting used to, as it feels like it is hovering over your head. The eyewear landing zone is bordering on gimmicky, but is a nice feature. Overall, this is a really good mountain bike helmet. However, you may want to check out the Fox Dropframe as an alternative.
Features and Specs of the Oakley DRT5 Helmet
Eyewear landing zone: These are mechanical hooks on the back of the Oakley DRT5. They are designed to provide a safe place to put your glasses 
Boa 360 Fit System : Designed for optimum fit, this system has a soft textile feel and flexibility.
Silicone sweat guard: This helps to collect and divert sweat away from your eyes. The idea is to keep your eyewear streak-free.
Adjustable Visor: Six features with over 60 ° of total articulation can easily be used in the forward facing position. 
MIPS Integration: Designed to reduce rotational motion to the brain.
Polycarbonate shell
EPS protective foam
It may come as no surprise that the Oakley DRT5 helmet is orientated around the rider's vision. However, there are lots of vents and a stylish shape. Sometimes Oakley products can be a bit "out there" for me, but I like the look of the DRT5.
The Boa 360 fit system surrounds your head, and it actually suspends the helmet from your head. The system is very adjustable, via a rotating knob that clicks up and down in increments for micro adjustment. The straps are light and have an adjustable webbing splitter. This allows for larger ear holes.
The way it feels on your head may take some getting used to. Due to the retention system, it feels like the helmet is floating over your head more than sitting on it. This means that it does move around a bit. However, the parts of the helmet that touch your head doesn't move at all. But with the MIPS and retention system, you do get a slip plane where the shell of the helmet moves independently of what's against your head. Like I said, it will take some getting used to. However, if you are planning on putting a GoPro or Insta360 on it, this is going to really move around.
The Oakley DRT5 is quite a deep helmet, the brow is also quite low. Therefore, if you wear big sunglasses, you may get some rattling against it.
Oakley DRT5 Helmet Comfort
The Oakley DRT5 helmet has 13 large vents that allow plenty of air in. Additionally, it has air channels in the brow that let air in between your forehead and the helmet. Another way this mountain bike helmet keeps you comfortable, is with the brow pad. This is a silicone sweat guard that keeps the sweat going in your eyes and smearing your glasses.
Weighing in a 455g, it isn't the lightest mountain bike helmet in the world. However, it isn't significantly over heavy to cause you any problems.
Oakley DRT5 Helmet Eyewear Landing Zone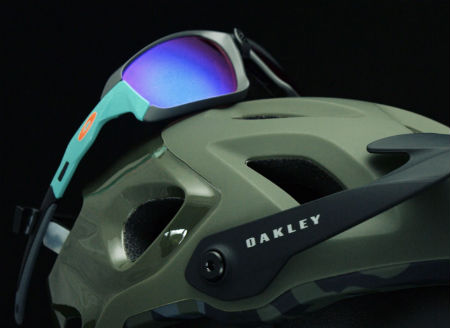 The Oakley DRT5 Helmet Landing Zone is a system of clips that go up and down when you want to let your face breathe and take off your sunglasses. They do a good job of holding your glasses. However, you can't just chuck them up there, it takes two hands, so you either have to stop or ride no handed to clip them in.
They are secure enough to let you not worry about your glasses falling off. But, if you are riding in an area with low branches, you may find yourself ducking a bit more than usual.