Dainese Trail Skins 2 Knee Guards: Review
I'm sure you are familiar with Dainese, but if you are not they make some of the best mountain bike protection in the world. They put what they learned protecting motorbike riders in to protecting mountain bikers. Here, I take a close look at the Dainese Trail Skins 2 knee pads, hopefully this review will help you decide if they are what you are looking for.
The Dainese Trail Skins 2 are definitely a contender for the best lightweight knee pads in relation to their high level of protection. They are lightweight and flexible, making them very comfortable. You need to make sure that you get the sizing right, but if you do, you will have an exceptional pair of knee pads suitable for trail and cross country riding.
Dainese describe the Trail Skins 2 knee pads as:
"Trail specific, highly breathable low-profile knee pads designed for unrestricted pedalling and all-day comfort."
"The successor to the highly-acclaimed Trail Skins, the second-generation again sets the benchmark for breathability, ergonomics and protection. Delivering the ultimate blend of mobility and protection, the low-profile design delivers unrestricted pedaling and all-day comfort while still meeting European standards for impact protectors. Additional side padding bolsters protection against the most common crashes and dual micro-adjustable elastic bands ensure a customised fit for every rider".
First impressions of the Dainese Trail Skins 2 Knee Pads
At first glance, it looks like they have hit the mark, and they look really cool too. The part that protects your knee, looks like a triangular honeycomb. The idea of this is to add plenty of strength, without adding weight. In addition, this design gives you lots of breathability.
The sides of the Dainese Trail Skins 2 are made from memory foam. This will keep you comfortable while protecting you from smaller impacts.
The back of the Dainese Trail Skins 2 is made from stretchy lycra to ensure they stay in place. This is helped by Velcro strips on the top and the bottom of the knee pads.
What is so good about the Dainese Trail Skins 2 Knee Pads?
Historically, breathability and light weight came at the cost of reduced protection. You had pads that were nice and light,  but compromised on protection. Alternatively, you had great protection, but had bulky pads that got pretty sweaty.
But, with modern technology and manufacturing techniques, the trade off isn't as dramatic. In fact, if you choose the right knee pads you barely notice this trade off. This is where the Dainese Trail Skins 2 come in.
These are probably the most well ventilated knee pads on the market. They are the the lightest ones offered by Dainese and are suited to cross country and trail riding.
Dainese wanted to create a knee pad that had more protection, ventilation and comfort than its predecessor. To do this, they incorporated its Pro-Armor technology in these new knee pads. You will find this tech in their Rhyolite jacket, which has a distinctive latticework rubber. This is designed to have very good shock absorbing properties, as it deforms under impact, distributing the shock.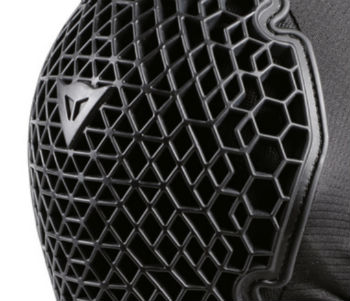 Dainese Trail Skins 2 Features
Lightweight soft shell sleeve-style knee pad
Asymmetric design
Dual velcro strap retention
Internal silicone gripper detailing
Breathable stretch mesh main body
Articulated Pro-Armour protective plate
Additional soft memory foam side padding
Sizes: Small, Medium, Large, X-Large
Dainese Trail Skins 2 - On the Trail
When you slip on the Dainese Trail Skins 2, you instantly notice how ventilated they are. The structure of the Pro-Armor construction gives you hundreds of ventilation holes, giving you lots of airflow around your knees.  Some reports I have read, suggest that they are a bit too well ventilated for particularly cold days. Also, you may be picking the mud out of them for a while after a crash.
The fit is good, however if you have chunky legs, you may find that the Velcro straps only just reach and may be a bit scratchy. If this is the case, you will probably want to go for the next size up. However, you don't want them to be so baggy, that they slide down. Therefore, as with many of these things, sizing is paramount.
Overall, you will find the Dainese Trail Skins 2 very comfortable, as they move with your knee very easily and don't have anything that will pinch your delicate legs.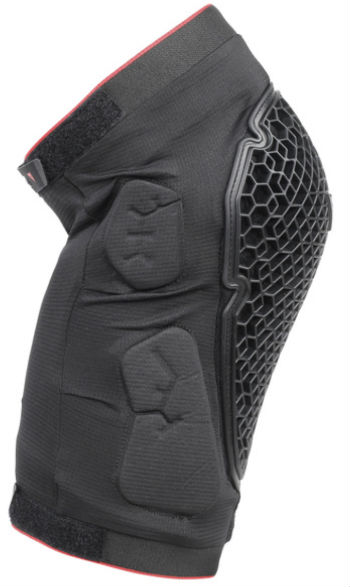 Dainese Trail Skins 2 - Protection
When it comes to protection, for this level of weight and airiness, the Dainese Trail Skins 2 have protection beyond anything else.
The structure is pliable with the hand, but you won't be able to compress the material. It is different to the D30 foam that you find in other mountain bike protection. D30 is soft until it receives an impact, then it hardens up to absorb the shock.
Who Should Buy The Dainese Trail Skins 2?
If you are looking for light weight knee pads without compromising on protection, the Dainese Trail Skins 2 are ideal. They are more suited to trail and cross country riding, than downhill and should be good for when you are spending all day in the saddle.