Mountain biking is risky, but we can manage the risk by protecting ourselves. Nobody should go riding without wearing a mountain bike helmet. The terrain we ride in has lots of hazards that can turn a simple fall in to a serious injury that can be prevented, or reduced by a good mountain bike helmet. The other great thing about mountain bike helmets, is that they can instill confidence and help you take the jump, or technical trail that you have always wanted to ride. Here is my guide on how to choose the best mountain bike helmet for you.
Types of mountain bike helmets
There are a few different types of mountain bike helmet to choose from. Which one you buy, depends on what type of riding you do and how protected you want to be.
Open Face/Half Shell Cross Country Mountain Bike Helmets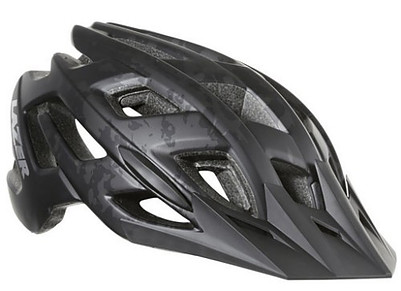 Most riders will use an open face (also known as half shell) cross-country mountain bike helmet. These are generally used for less aggressive cross-country riding or commuting. They look similar to road bike helmets, but there are a few differences.
Mountain bike open face helmets are bulkier than road bike helmets, especially around the back. This is to provide extra protection. They are also less aerodynamic.
They are usually equipped with a visor, to protect your eyes from the sun and rain. Road bike helmets don't tend to have visors, as they block the rider's view, due to their riding position. Mountain bikers ride more upright, meaning visors don't get in the way.
The surface texture is different of a mountain bike helmet is different to a road bike helmet too. Road bike helmets are smooth and shiny, so in the event of an accident, they slide across the road easier.
Open Face/Half Shell Enduro Mountain Bike Helmets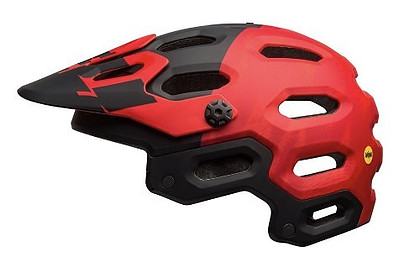 Enduro mountain bike helmets are heavier than cross-country helmets. This is because they have more protection as they are designed for more aggressive riding. There is even more protection for the back of the head with this type of mountain bike helmet. You will find that an Enduro mountain bike helmet has a much better shape and retention systems for keeping them in place. They are less ventilated than cross-country helmets as to minimise the chance of rocks and sharp objects getting in.
Full Face Mountain Bike Helmets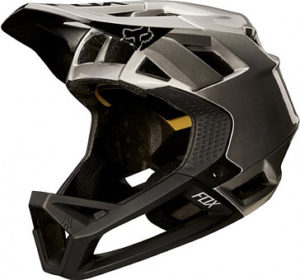 A full face mountain bike helmet protects your whole head, face and chin. These are used by downhill riders and those that take on very technical enduro trails or people with beautiful faces that really can't afford to break them. The disadvantage of a full face mountain bike helmet, is that the reduction in ventilation compared to open face helmets. Innovations in design and materials are improving this, however, up hill pedals will still leave you with a hot head.
Mountain Bike Helmets with a Removable chin bar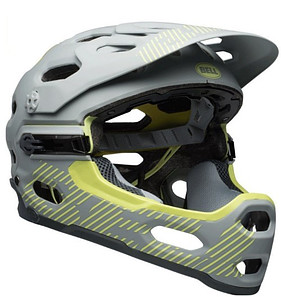 This kind of mountain bike helmet, is a great compromise, as it gives you two helmets in one. You can remove the chin bar when you are pedaling up hill, or when you feel that you are safe enough without it. But, for descents, you can re-attach it for the protection you need. I currently use the Bell Super 3R.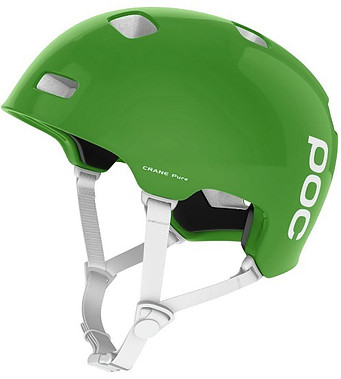 These look a bit like skate board helmets and are used for dirt jumping or by BMXers in the skate park. They are quite heavy and hot to wear, so they are probably not the best choice for other disciplines of mountain biking.
Using other types of helmet for mountain biking
Please don't use helmets designed for other sports for mountain biking in. The type and severity of impacts that other helmets are designed for, are different to mountain biking. Some people may think that a motocross helmet will provide extra protection when mountain biking. However, this is not the case, as to protect your head, the helmet needs to deform. A fall from a mountain bike may not be severe enough to deform a motocross helmet, causing the shock to transfer in to your head.
Choosing The Best Mountain Bike Helmet
You need to make sure you consider your style of riding, skill level and the amount of confidence you have. Don't choose a helmet for its looks over its safety. Mountain bike helmets should be certified to certain standards, and you do get what you pay for. A higher end mountain bike helmet will make the difference between being dazed and a concussion. More expensive mountain bike helmets will be more comfortable, as they will have better designs. Therefore, pay for a better mountain bike helmet.
Your mountain bike helmet should fit you properly, or it won't be effective. If you can try one on in a shop or a friend's helmet before you buy, that is great. However, if you are not in a rush, you can buy online and send it back if it doesn't fit properly, as long as you don't take it on to the trails.
Step 1 - Find the right size
All mountain bike helmet brands will have size guides on their websites, as will online shops. Women's helmets may have their own sizing guide too. Choosing the correct size is simple, all you need to do is measure your head with a tape measure and follow the sizing guide.
The shape of your head will determine how comfortable a helmet is for you. Just like clothing, different brands have different fitting characteristics. You will notice the difference between the brands when you try them on. You need to make sure that you don't have any pressure points that may start to hurt or feel uncomfortable after a while.
Step 3 - Make sure it is secure
If a mountain bike helmet is not secure on your head, it will move and leave you exposed. Therefore, you need to make sure that you have a snug fit and that it doesn't move around on your head. Some mountain bike helmets have a dial on the back, so you can adjust the fit.
Step 4 - Make sure it isn't too heavy
A mountain bike helmet should not be uncomfortably heavy. This can put strain on your neck and shoulders, while limiting your ability to turn your head. Lighter helmets tend to be more expensive, but they are worth the investment.
Additional Features of a Mountain Bike Helmet
Ventilation is important for a mountain bike helmet. A good one will have sufficient holes for ventilation, that allows air to flow through it. Again, well-designed and ventilated helmets are more expensive due to the higher end materials need to compensate for the holes.
If you use a GoPro or one of the new Insta360 cameras, you may want a helmet with a way to mount it. This also goes for those that want to mount a light to their mountain bike helmet. Some helmets have a built in mount, but you may want to buy a helmet with the correct vent shape for the mount you use.
MIPS stands for Multi-directional Impact Protection System. This reduces the rotational forces that result from different impacts. It works with slip-plane technology inside the mountain bike helmet, that mimics the brain's own protection system. There is a layer inside the mountain bike helmet that rotates to reduce the amount of energy transferred to the head.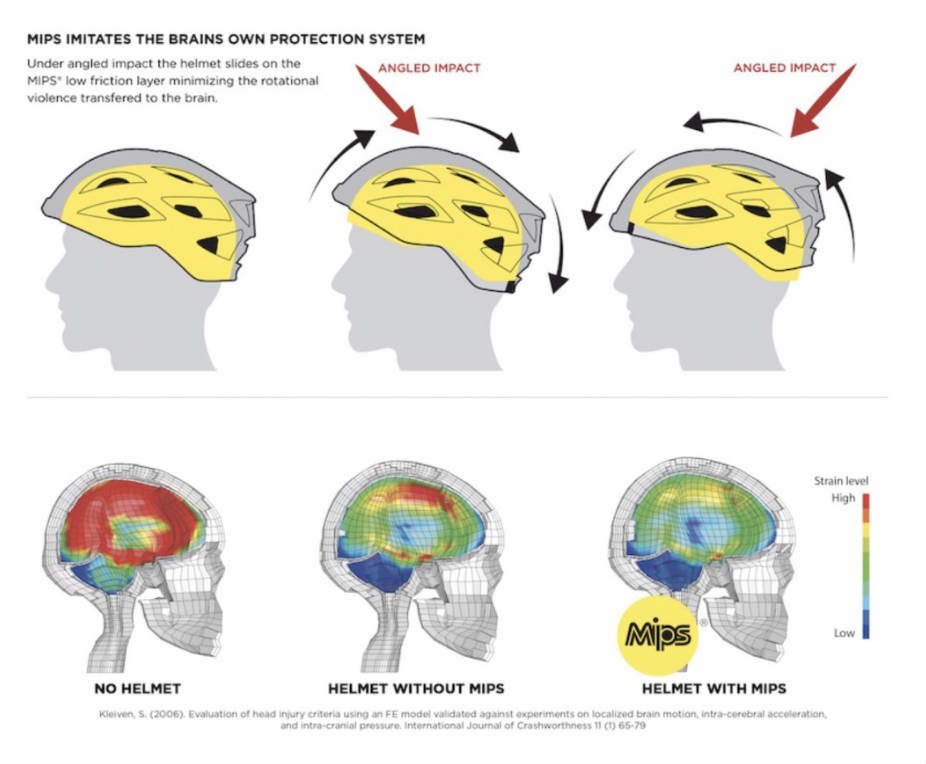 A mountain bike helmet with MIPS looks the same as one without it, until you look inside. A MIPS mountain bike helmet has a thin yellow layer under the pads. Having a MIPS helmet can mean the difference between serious injury and waking away from a crash. Obviously, this no guarantee, but reducing the transfer of force in this way will help in most circumstances.
When to change a mountain bike helmet
Your mountain bike helmet is good for up to 5 years, as long as you haven't "used" it or dropped it. This is because they weaken over time, due to the sun and your sweat. If you do drop it or "use" it, you really need to replace it straight away. The damage a mountain bike helmet can sustain, may not be visible.
Mountain Bike Helmet Safety Standards
The only European safety standard is known as POC:EN1078. The American standard is known as ASTM F1952, which is the equivalent to Downhill helmet bicycle standard. These standards are not mandatory, so you really need to make sure the one you are buying has this standard associated with it. This proves that it has been built properly and been throughly tested.
There are a number of organisations that offer and support mountain bike helmet testing and certification according to these standards.
Which type of mountain bike helmet suits you?
Now you know how ton choose the best mountain bike helmet for you. Let me know your thoughts and questions in the comments section below. Also, don't forget to sign up for the MTB-Threads newsletter!