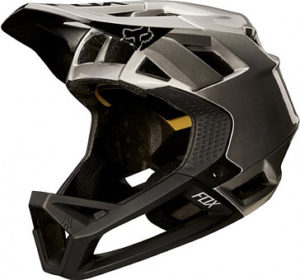 If you ride downhill or technical enduro trails, you are going to need a proper full face mountain bike helmet. They give you the protection you need and help with your confidence. This is because you are not held back worrying about your pretty face. You may think they are overkill and you may find a full face mountain bike helmet bulky to start with. However, you will soon get used to it and forget it is there. Here are the best full face mountain bike helmets you can currently buy.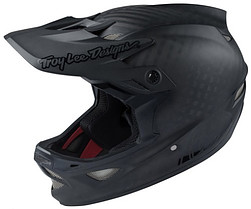 A pricey full face mountain bike helmet (depending on which one you buy), but the price is justified. This is for the rider who takes downhill or enduro riding very seriously. It performs exceptionally well and looks great. There are cheaper versions made from composite materials, if the carbon version is a bit too expensive.
Troy Lee Designs is known for making some of the best full face mountain bike helmets around. And the TLD D3 is true to the brand with a bold motocross inspired design. There are a few different helmets in the D3 range, but here we are going to talk about the carbon fibre version.
The D3 is a fantastic full face mountain bike helmet, this is kind of proved by the amount of pro riders that use it. Of course, as it is a TLD is has striking looks and is available in lots of different colour ways. However, the D3 isn't just about how it looks. It is a super comfortable full face mountain bike helmet, thanks to a wide choice of sizes and shapes. This makes it easy to get the perfect fit dialed in. Additionally, the helmet's plush padding can be easily removed and cleaned/replaced as necessary too.
The helmet has MIPS technology to reduce the forces going in to your head when you crash. The high tech materials used to make this full face mountain bike helmet, make it a lightweight as possible. For example, even the visor bolts and strap clasp are made from titanium.
TLD have spent a lot of time focusing on the aerodynamics of the D3 too. This is to ensure the shape is nice and slippy through the air, and to ensure the ventilation ducts work how they should. This kind of detail doesn't come cheap, but when you realise the level of detail TLD have put in to it, the price starts to become more justifiable.
Hand laid pre-preg carbon/composite/MCT weave blend for superior shell construction and weight reduction
Top layer UD (unidirectional) carbon weave provides strength and style
High modulus Kevlar reinforced high impact zones for increased strength and rigidity
Nylon reinforcement polymer in key high-wear and impact zones
Technologically advanced aerospace carbon/composite shell construction
MIPS brain protection system, reduces rotational forces to the brain
Digital wind tunnel-tested, aerodynamic shell design
Revolutionary injection-moulded air intake system
20 high-flow intake and exhaust ports for maximum ventilation
Added EPS and new head form shape for improved impact performance
Full incremental sizing for greater range of fitment
Deep EPS channeling for optimal airflow
Strategically placed interior chin bar shock pads for comfort and durability
Removable, washable padded liner with Coolmax™ and Dri-lex™ moisture wicking materials
Contoured 3D cheek pads fit anatomically
Quick-release cheek pads for emergency helmet removal
Purpose-built internal cavities for audio integration
Titanium hardware for reduced weight
Includes 2 lightweight, streamlined visors and a helmet bag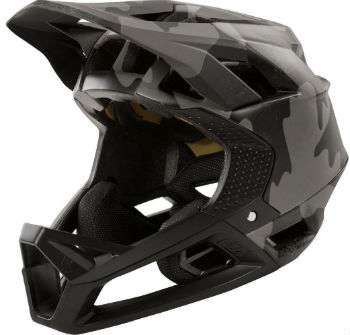 A fantastic full face mountain bike helmet, with a focus on ventilation. It is lightweight for a full face mountain bike helmet, but gives you way more protection than a half shell. The ProFrame is ideal for bike park days and trips to the alps, or for those who want a bit more protection, but don't want a sweaty head.
The Fox ProFrame full face mountain bike helmet is designed with "open face" breathability. Fox's aim for this helmet is to have the protection of a full face mountain bike helmet with maximum airflow. I can tell you…..it works!
It has huge holes in the chin bar to allow the air in. The chin bar has a padded rubber material that doesn't touch your skin and detachable cheek pads. The helmet's pads come in different sizes, allowing you to tweak the fit and comfort to how you want it. Which negates the need for an adjustable retention device, so it hasn't got one.
Protection comes from a high density expanded polystyrene and MIPS. I recommend buying helmets with MIPS or an equivalent technology. A nice little feature on the Proframe, is the magnetic buckle to make it easier to secure the helmet with gloves on.
The peak is fixed, but doesn't obscure your vision and will obviously accommodate your goggles. There is a molding on the back of the helmet to ensure your goggle strap doesn't slip at all.
Fox racing's lightest DH approved full frame helmet
Fox integrated chin bar
Highly breathable liner system
24 big bore vents
Fixed visor
Fidlock® Snap helmet buckle
MIPS™ (Multiple Impact Protection System)
Dual-density Varizorb™ EPS liner
Weight: 750g (size M)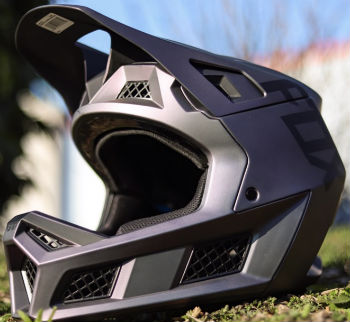 This helmet is a very high end product, therefore, if you are sending it on a regular basis, you need this level of protection. It is expensive, but the price reflects the level of comfort, design and protection. Click here to see cheaper non-carbon versions.
You will find that the best full face mountain bike helmets have motocross influences, and the Rampage Carbon is no exception. It balances moto styling with downhill protection perfectly. In my opinion it is one of the best looking full face mountain bike helmets you can buy. However, it is not just form over function, as it rates high on comfort and protection too.
You should be able to find one that fits you pretty well, as it comes in five different sizes. One of the things worth noting, is the spacing around the ears. This is a nice recess for your ear to sit in, and it is perfectly located ensuring comfort. The 3D moulded cheek pads wick away sweat exceptionally well and are very comfortable
It is very well ventilated, with 17 vents that channel air over your head. This helps your head stay comfortable no matter what the weather is. You should never be too hot or cold with this full face helmet.
The visor is large enough to provide your face with the necessary protection from the elements. But, it is also large enough to accommodate a GoPro mount. The visor also features an adjustable screw to lock it in to position and to easily change it on the fly.
It isn't the lightest full face mountain bike helmet, even for carbon. However, it isn't heavy enough to cause you any problems. This little bit of extra weight comes from the added protection. As we are talking about the best full face mountain bike helmets, you can expect this one to meet all the necessary standards to a high level, it also has the all important MIPS system.
MIPS equipped (Multi-Directional Impact Protection System)
Precision fit and designed using 2 shell sizes and 3 EPS dimensions
Maximum venting and airflow with 17 total vents and channels
High-tech Dri-Lex® luxury interior with 3D moulded cheek pads
Podium proven year after year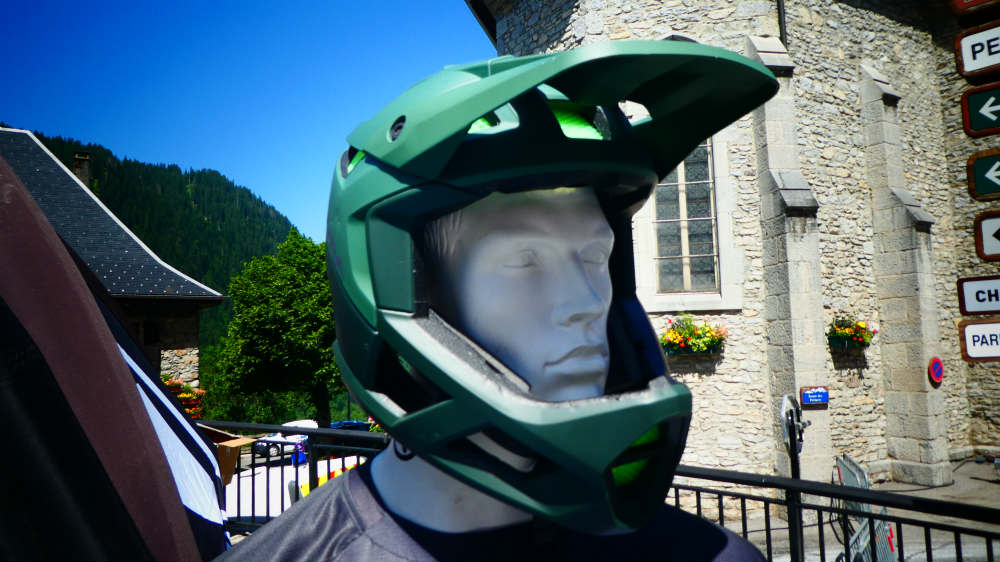 The Endura MT500 Full Face Helmet is super lightweight and very well ventilated. It is hard to believe when you pick not up that it is downhill certified.It has a unique construction made from a honeycomb style layer. This is what gives the helmet its strength and ventilation.
This is what I will probably replace my Bell Super 3R with when the time comes. If you want something for riding enduro all day, this is the helmet for you.
These are the best full face mountain bike helmets you can buy right now
You get what you pay for when it comes to a full face mountain bike helmet. Buy don't automatically go for something expensive because it looks good. It needs you fit your head perfectly, so if it is wrong send it back and try another one. Please let me know your thoughts and questions in the comments section below. Also, don't forget to sign up for the MTB-Threads newsletter!
If you want to try an alternative full face mountain bike helmet, you may be interested in the Bell Super 3 R. It has a removable chin bar, giving you two helmets in one.