What Is A Cross Country Mountain Bike?
When you are out riding, you will notice that there are different types of mountain bike wizzing around. If you are in the market to buy a new bike, you would be forgiven for being confused on what type is best for you. Once you have decided what type of rider you are, it makes it much easier to choose the best bike for you. In this post I am going to go in to the details and answer the question, what is a cross country mountain bike?
A cross country rider prefers twisty singletrack, riding uphill and the occasional jump to technical feature. Cross country riders like to put the effort in by doing lots of climbing in a similar way a road biker does.
Cross Country Mountain Bike Characteristics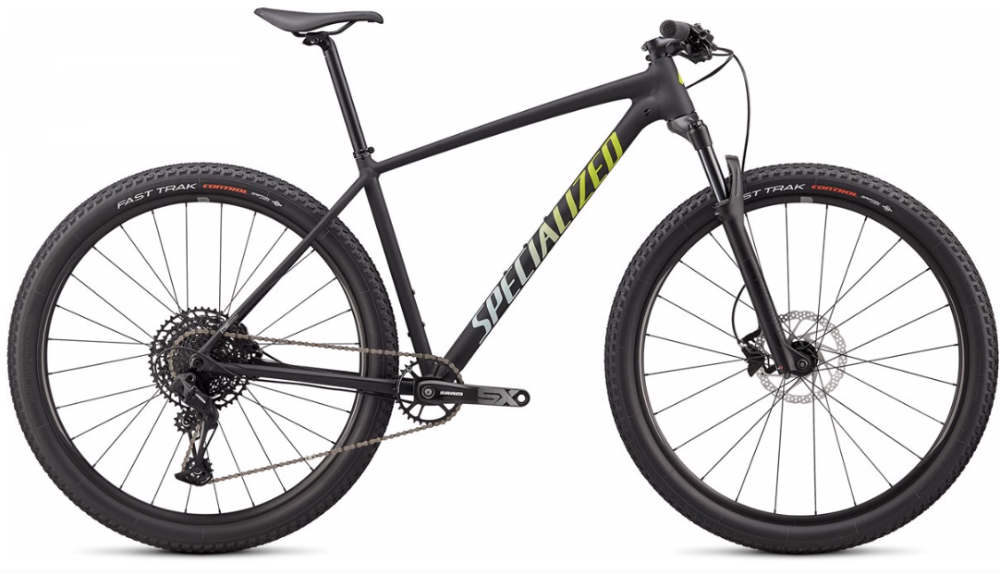 The fork on a cross country mountain bike can either be rigid or have suspension. Rigid forks give the bike more precise handling and they are much lighter than ones with suspension. Forks with suspension are usually have an air spring to keep it as light a s possible. Typically, they have between 100 and 120mm of travel. The suspension makes the bike more comfortable to ride and allows the rider to take on more technical terrain.
Cross country mountain bikes are either hardtail or full suspension. A hardtail mountain bike is more efficient to pedal, as all of the riders efforts are transferred in to the back wheel. They also offer great feedback from the trail, however they will suffer when the terrain gets more technical.
Full suspension cross country mountain bikes have an air sprung shock absorber connected to the rear part of the bike. This will typically have 80 to 120mm of travel. The rear shock on a cross country mountain bike can usually be locked out to make pedalling more efficient. The advantage of a full suspension bike, is that the rider has more control and will experience less fatigue on rough trails.
When we talk about the geometry of a mountain bike, we are referring to the shape of it according to the angles and lengths of the tubes that. make up the frame. Bikes of different types have geometry for their intended use.
A cross country mountain bike has a steeper head angle than other bikes (usually 69 to 71 degrees). This makes the handling much sharper than those with slacker head angles. Also, the top tube tends to be shorter, for even sharper handling.
The frames are designed to be very stiff. This is so that the maximum amount of power can be put in to the pedals. Their efficiency is also improved by a cross country mountain bike to be extremely lightweight. Higher end frames are made from carbon fibre, but aluminium frames are also quite common.
Cross country bikes need to roll easily, therefore you will find that most of them have 29″ wheels. Their wheels are generally narrower than other types of mountain bike wheel. This is because they have a much lower rolling resistance, but they do have less grip. 29″ wheels roll over bumps and obstacles better than smaller wheels, which makes them faster in a straight line.
You will probably see cross country mountain bikes with 27.5″ wheels too. These make a bike easier to change direction than 29ers, but don't roll over the rough stuff as well. If you are buying a used cross country mountain bike, you may come across a bike with 26″ wheels. This wheel size is pretty much obsolete now, so it is difficult to buy good tyres for them. Therefore, I would avoid a 26er these days.
Cross country mountain bike is one of the most popular disciplines of mountain bike racing. Each race has a mass start and riders compete against each other at the same time. This is different to downhill or enduro racing, where riders set off at timed intervals and just try to ride as fast as they can.
To be a cross country mountain bike racer, you need to be very fit as the tracks often have steep climbs. The tracks also have technical features, such as rock gardens, jumps and drops, so racers need to have the skills to cope with all of these aspects.
Is Cross Country Mountain Biking For You?
Do you like the idea of long rides in to the countryside, taking on steep climbs and technical descents? If so, maybe you should give it a try. Please let me know your thoughts and questions in the comments section below.