How To Buy A Used Mountain Bike
How To Buy A Used Mountain Bike
I don't need to tell you that mountain bikes aren't exactly cheap things to buy. Sometimes the budget doesn't quite stretch to buying a brand new one; also, you can often get a much higher specced biked if you buy a used one. You shouldn't be discouraged from buying a used mountain bike, but it is best to know what to look for so you don't get burned. So in this post, I am going to give you my tips on how to buy a used mountain bike.
The first thing to do is determine what kind of bike you need. Your choice of bike will chiefly depend on what terrain you ride and your budget. 
If you are not quite sure what type of mountain bike you need, check out the following posts:
Things you need to think about when choosing a bike will be wheel size, suspension travel and geometry.

The next thing you may want to think about is how good you are with a tool kit, or how willing you are to learn. You may be able to save more money by buying a used mountain bike that needs some work doing to it. Often, you will be able to buy a bike the may not be entirely to the specification you want, but you will be able to upgrade it when you need to.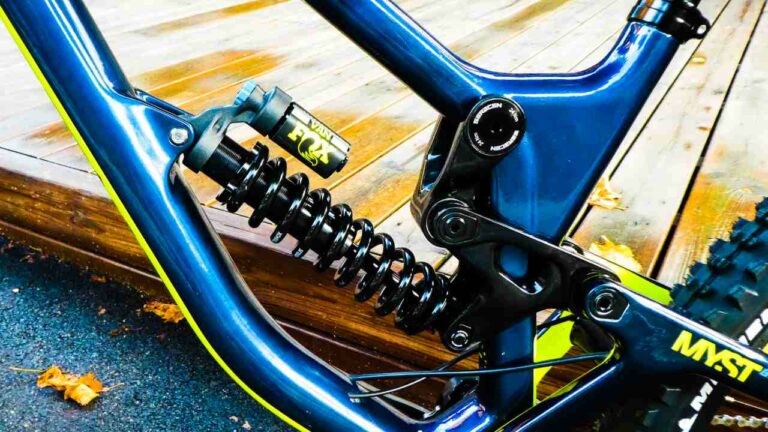 Checking the condition of the frame of a used mountain bike is critical. If it looks like it is in good condition, there is a good chance that the rest of the bike is okay.

Look for cracks and dents in the frame. The main areas to look for these, are the shock mounts, bottom bracket and chainstays. If you are looking at a carbon-framed bike, it is especially important to look for cracks and thin lines in the paint. Modern carbon frames are over-engineered to make sure they are tough, but it is worth giving them a proper look over.

You can easily replace frame bearings, but you will have to budget for replacing them or haggle the price down.

Once you have decided that the frame is all good, you need to check out the shock and the fork. Ask the seller when the last time they had been serviced. You will need to factor in at least €100 to service each part.

Carefully inspect the for stanchions and the finish of the shock for any scratches or wear. Then check to see if the bushings are worn on the shock. You can do this by making sure the wheels stay on the ground while gently lifting the frame. If there is movement, the chances are that the bushings are worn. The movement will only be slight if this is the case unless the shock bolts just need tightening.
Make sure you test all action of all the adjusters and listen for any squeaks when you compress the suspension. In an ideal world, you will test ride the bike. During a test ride, you will be able to get a feel of the responsiveness of the suspension and if the rebound is working correctly.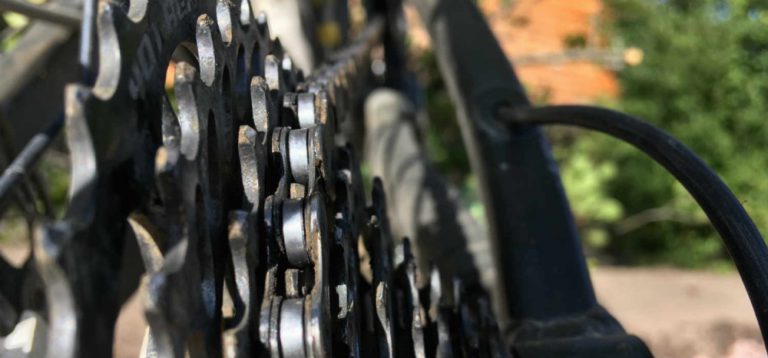 The first thing to look at when inspecting the drivetrain of a used mountain bike is the chain. If the chain is worn, the chainrings and/or the cassette are on their way out.

Next, check the rear mech, mech hanger and the gear shifters. These are prone to damage from crashes, so make sure that they are not bent or damaged. Ride the bike around and go through all the gears up and down several times. You will be able to tell if it is all working as it should be while listening out for creaks while pedalling. If there is creaking coming from the lower end of the bike, the bottom bracket hasn't been set up correctly, or its bearings are worn. However, it may just be loose bolts on the chainring.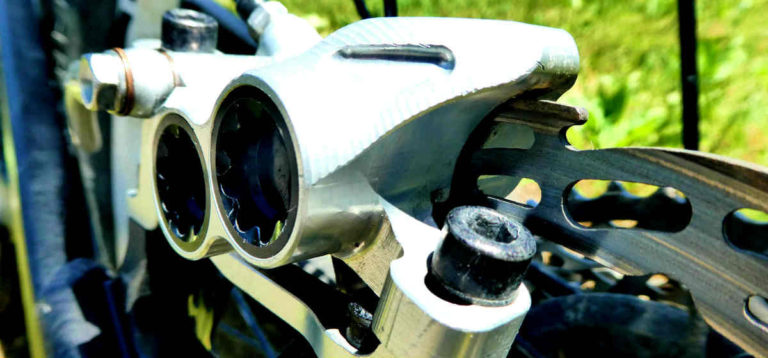 Brakes are the parts of a mountain bike that get worn out the most. The intense pressures they experience, take their toll on the pads and discs. Worn brake pads and discs are not a reason to not buy a bike, but replacing them is a job to do and will cost a little bit of money. Therefore, make sure this is reflected in the price.

Worn discs will be discoloured or marked like an old record. Ride the bike around a bit and brake hard to check if they work correctly.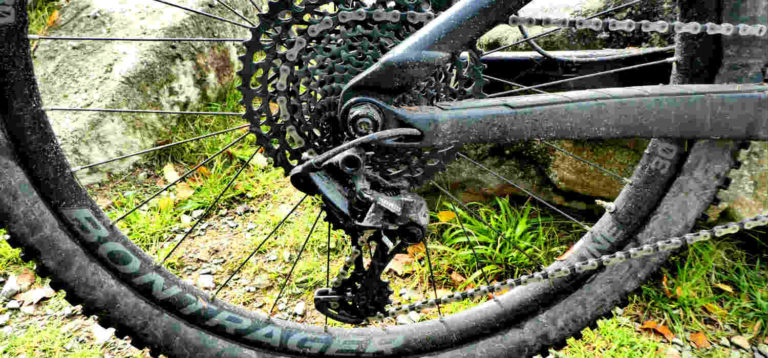 Wheels are susceptible to dents and buckling. A good way to check if a wheel is true, turn the bike upside down and spin the wheel. Grab the chainstay or fork and stick your thumb out as a point of reference and keep it still as the wheel spins. You will be able to see any wheel wobble much easier this way. However, the tyre may not be on correctly, making it look wobbly.

Next, you want to see if the wheel bearings are OK, by simply moving the wheel from side to side to see if there is any lateral play. Dodgy wheel bearings are not a game-changer, but you will need to factor in the cost of changing them.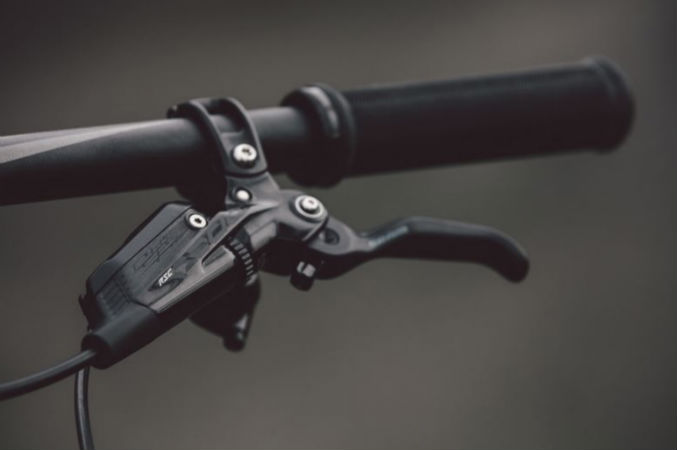 When someone crashes a mountain bike, the shifters, brake levers, handlebars and stem are vulnerable to damage. It is worth giving these the once over to make sure they are all fine.

The grips wear out over time, so it is a good idea to check to see how much life they have in them. You may want to change them for newer versions, or ones more suited to you.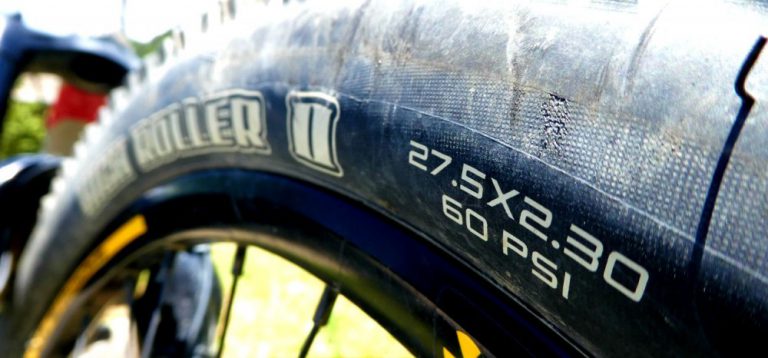 The choice of tyres on a mountain bike will make a massive difference in how it rides. Often the seller of a used mountain bike will just put cheap tyres on it, or sell it with worn ones. This isn't something that should make or break a deal, but it is is worth considering when it comes to negotiating a price.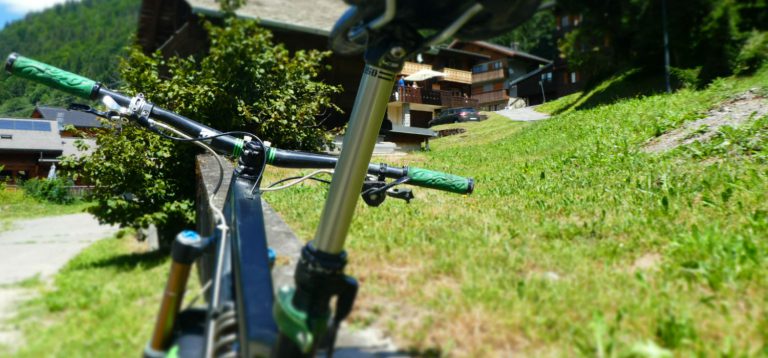 A dropper seat post is a game-changer, and all mountain bikes should have one. However, they do need looking after, as they are prone yo damage. Make sure that it goes up and down smoothly, doesn't drop under load and that there is no play in the stanchion. If you find any issues with the dropper seat post, it will need a service.
First Impressions And Questions To Ask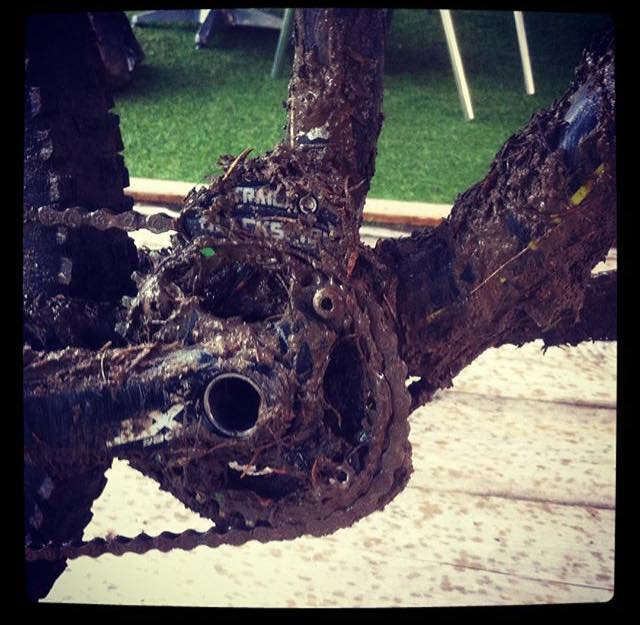 When you arrive at the seller's location, you may get a good idea of how the bike has been looked after. If the bike is dirty and the chain has no lube etc, there is a good chance that the bike has not been well maintained by the owner, so keep these things in mind.
All the things I have mentioned above are all fixable problems, but I wouldn't bother with repairing a damaged frame. The fact that they are all fixable means that you can use any issues you find as a bargaining tool when it comes to negotiating the price.
To get a better picture of how the bike has been treated, there are a few questions you can ask the seller:
How often has it been used?
Where do you ride it?
Have you ridden it in bike parks?
Have you ever raced it?
How many owners has it had?
Who has maintained it?
Are You Going To Buy A Used Bike?
In this guide on how to buy a used mountain bike, I have gone through all the things you need to look out for. But, it is worth looking at new bikes within your budget too. The spec may not be as high, but you will be surprised what is available, you just might get lucky.
There are some great mountain bikes from manufacturers, such as Vitus. These bikes feature components that you will find on more expensive mountain bikes.